Want to buy a Virtus GT Plus but one thing is really bothering me
This was the same reason why I had to cancel my Hyundai Verna Turbo booking.
BHPian bil.007 recently shared this with other enthusiasts
Dear Team-BHPians,
I hope this message finds you all in good health and high spirits. I am writing to you today as I find myself at a crossroads in my quest to own the Volkswagen Virtus GT. As a fellow auto enthusiast, I have always valued the opinions and insights of this community, which is why I am turning to you for guidance in making the right decision.
After much anticipation and excitement, I recently had the opportunity to test drive the Virtus GT, and I must say, it's an exhilarating car to be behind the wheel of. The turbocharged engine, sporty handling, and overall performance are truly impressive. However, there's a significant dilemma that I need your expertise to help me resolve.
During my test drive, I realized that the headroom in the GT Plus edition was insufficient for my comfort. It's a bit disappointing because I was eyeing the GT Plus primarily for its digital instrument cluster, better headlamps, and ventilated seats. These features had me sold, but the headroom issue has thrown a wrench into my plans.
Upon further exploration, I discovered that the GT DSG variant, without the sunroof, offers the headroom I need. However, this variant lacks the digital instrument cluster, and I'm concerned that I might miss out on the superior visibility offered by the better headlamps.
As a dedicated member of the Team-BHP community, I value your opinions and experiences. I'm reaching out to seek your suggestions on how to approach this situation. Should I compromise on the headroom and stick with the GT Plus for the digital instrument cluster, better headlamps, and ventilated seats, or should I go for the GT DSG without the sunroof to ensure my headroom comfort?
Practically speaking, the headroom on GT Plus is a 2 finger gap between my head and the roof with seat height at the lowest,(the view is also partly blocked by the front sun visor/ticket holder), in GT DSG the headroom is a good 4-5 finger gap. Note: this difference is only noticeable for the front driver seat, co passenger seat is also okay however the rear seats are almost equal in terms of headroom in both the GT DSG and GT Plus.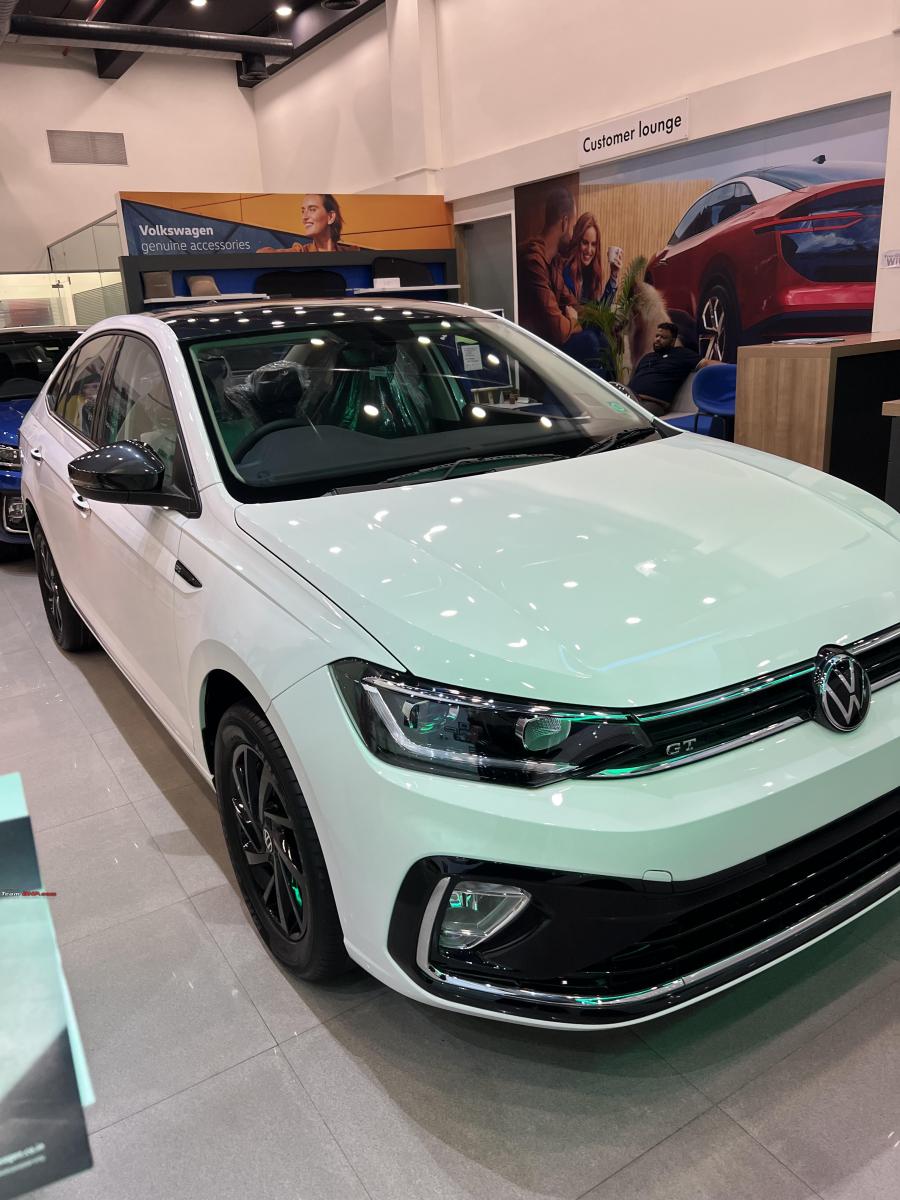 Also, this was the same reason why I had to cancel my Verna Turbo booking.
Additionally, I'd like to hear your thoughts on changing the alloys on the GT DSG variant, as the stock ones are not a deal-breaker for me. If you have any insights on alloy upgrades, please share them as well.
Your guidance means a lot to me, and I trust your collective wisdom in making this decision. I look forward to your valuable feedback, and I'm eager to hear your thoughts on how to make the most informed choice when it comes to the Volkswagen Virtus GT.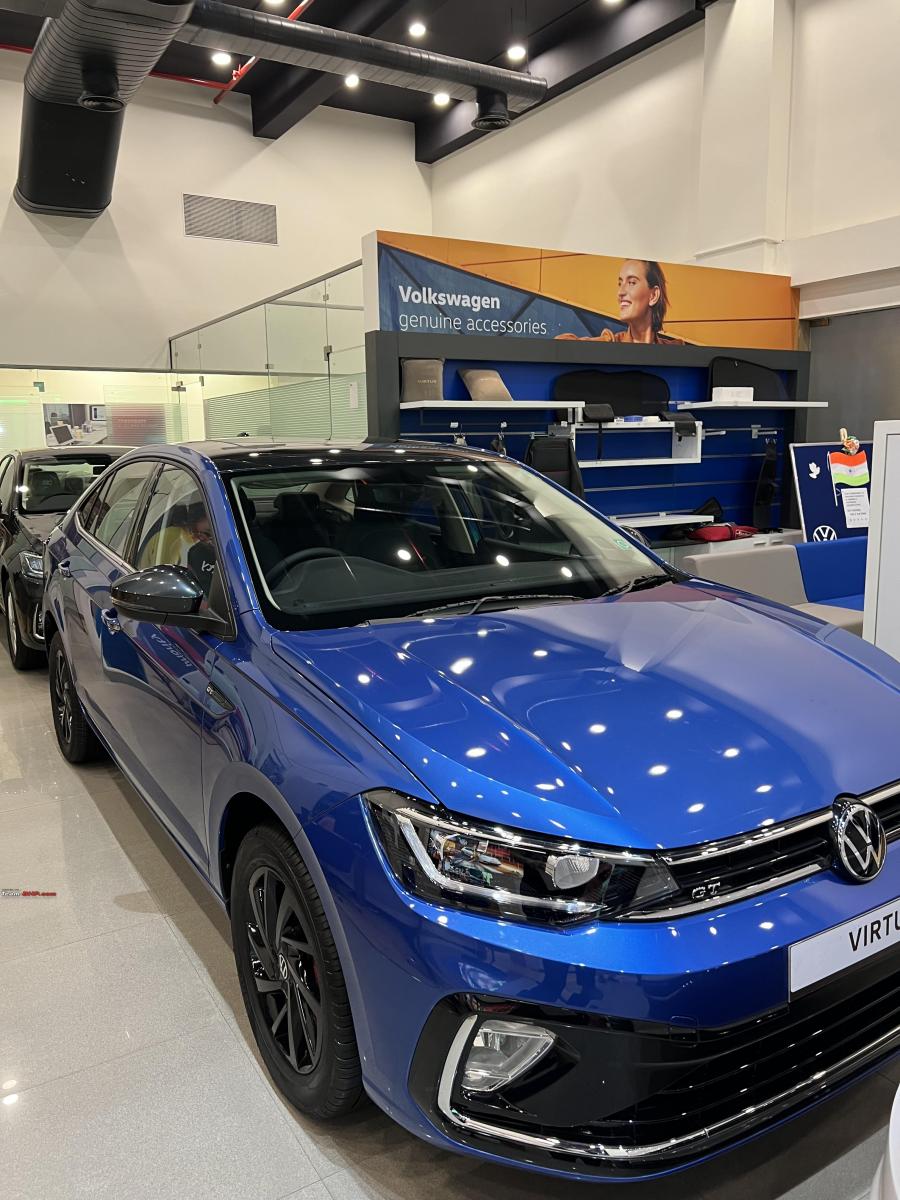 Thank you in advance for your assistance, and I'm excited to become a proud owner of this remarkable car with your support and insights.
Here's what BHPian tsi_niks1989 had to say about the matter:
More than the sunroof and instrument cluster, what the GT DSG misses majorly from the GT Plus is 6 airbags which I would suggest not to ignore.

Did you try adjusting the back of the front seat to different positions, maybe a little slide backwards would help you get a better room in the GT Plus too. I have a habit of keeping the back of my seat tilted instead of straight, maybe you can give it a try once.
Here's what BHPian bil.007 replied:
I did try to get my way using the reclining adjustments but it didn't help much, if it did help; I wouldn't be able to drive tilted backwards, I drive with slight adjustments say about 95-100 Degrees backwards only. However if you're saying this I'll give it another try in the near future with a fresh approach, it may help as initially not much time was given adjusting the seats.

Also if VW/Service Center could figure out something to make the seat even lower would sort the issue.
Here's what BHPian CentreOfGravity had to say about the matter:
At your comfortable seating position, is your head brushing against the roof to such an extent that it is outright uncomfortable? If yes, you might as well go with the Highline trim. It comes with LED headlights (though reflectors).

If your head is just touching the roof / you are able to strike a comfortable balance between seating and headroom, IMO you should get the top variant. You will not regret it.
Check out BHPian comments for more insights and information.
Source: Read Full Article