11 years with my Suzuki Access 125: Likes, dislikes & maintenance
Pretty much the ownership has been delightful, but I have been facing a particular issue for the past 7 years
BHPian JDMBOI recently shared this with other enthusiasts.
Howdy! Team BHPians
This is my very first post and before proceeding, I would like to thank the moderator/Administrator for approving my membership.
Purchased in May 2012. It has been 11 Years and it's still going strong.
Recent Pictures: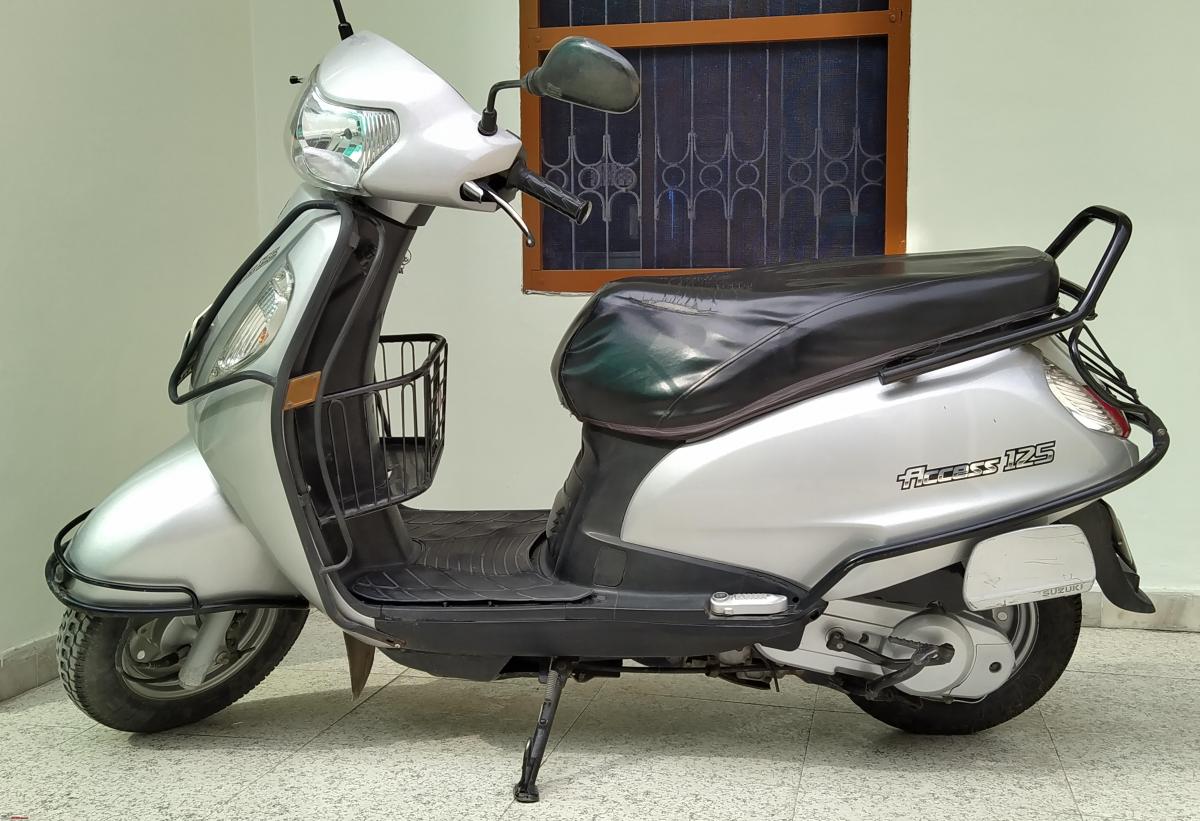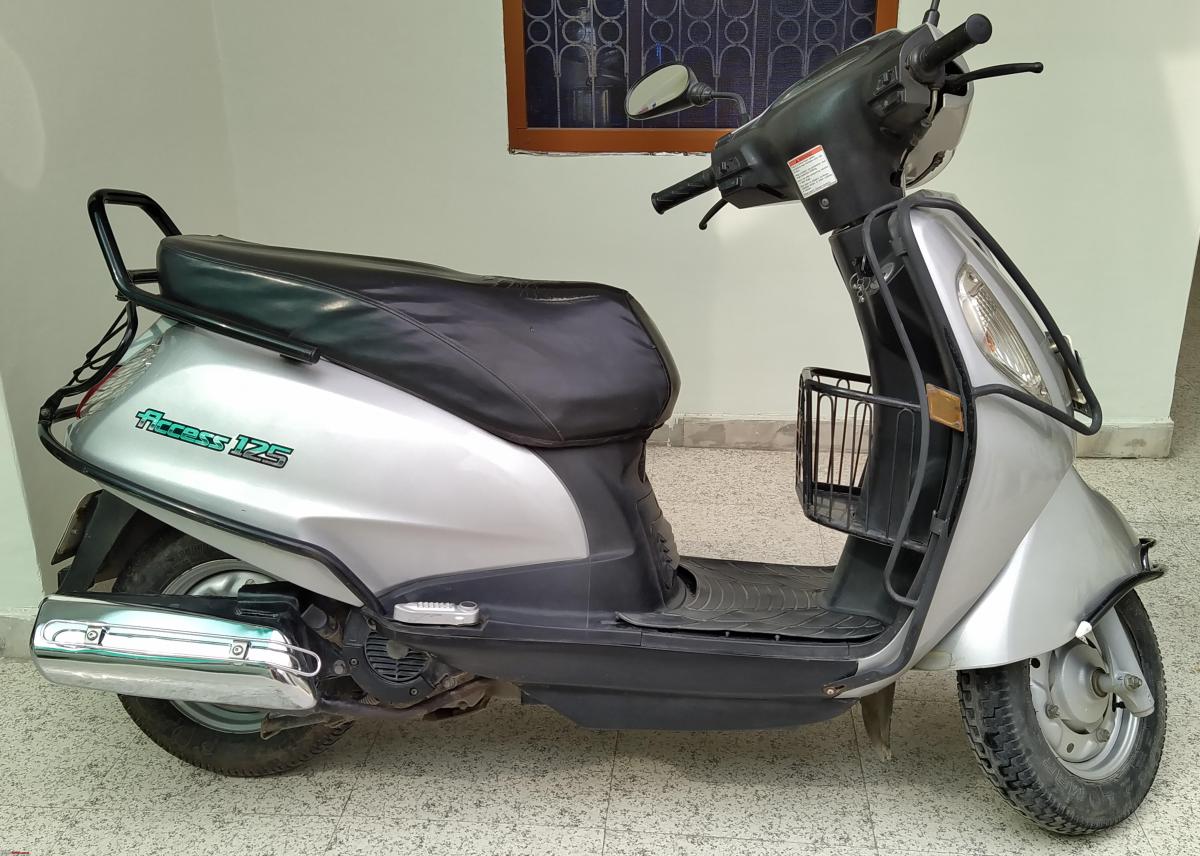 Back in 2018:
Double plate might trigger someone (the body is fiberglass didn't want to take the risk of drilling and possibly making a crack).
Odometer Reading:
33,285. Mostly done by me except 1000-1500 done by my father and relatives.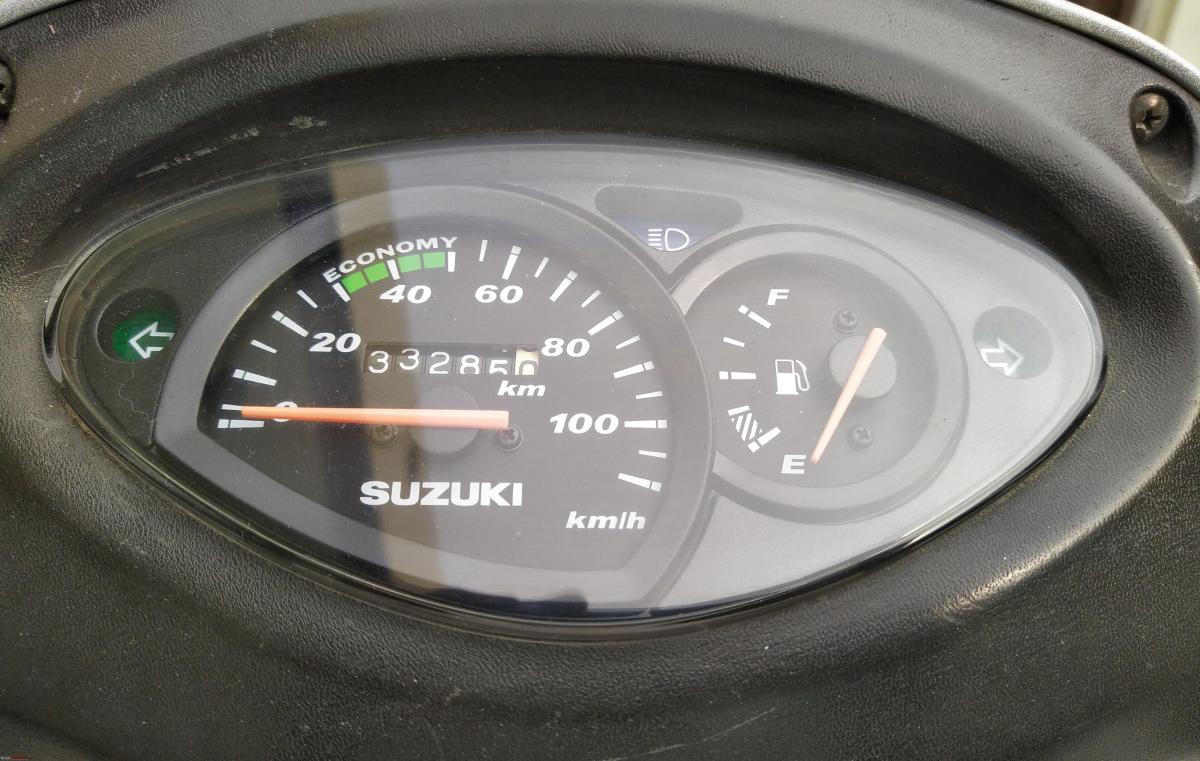 It's pretty much brand new (thanks to my OCD) many people have complimented me on that. A small story on that – Was outside a shop with my mother ( September 2023) an old person around 50 asked me if it was electric and when I purchased it. When I said it's a 2012 model and it was not electric (you won't believe it) he was flabbergasted and even told his other colleagues to come and check out my ride.
Love the silver colour: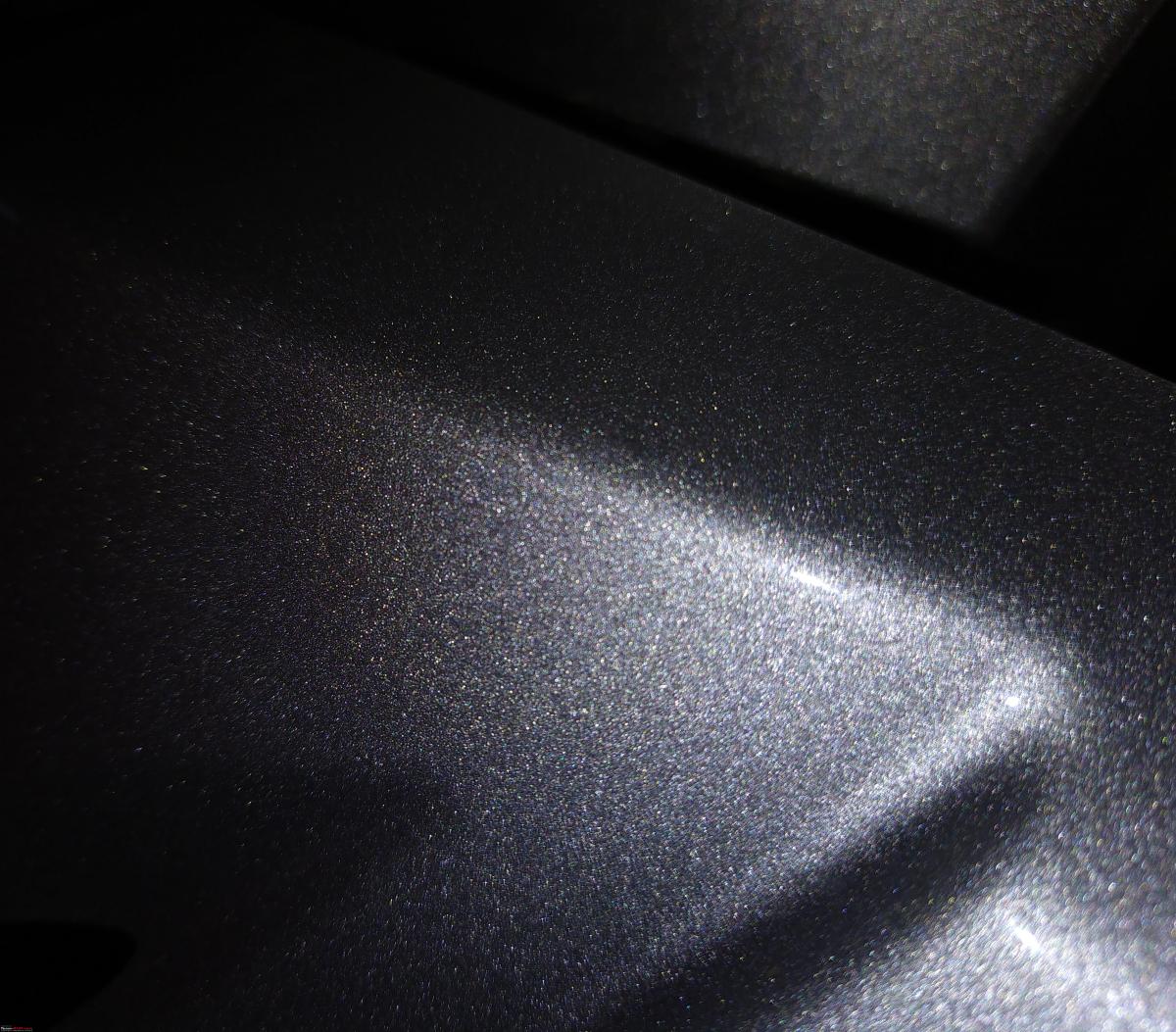 Mileage:
In the city I usually get 40-42 kmpl and on long trips 50+ (I do it occasionally, but would not recommend doing more than 50KM one way). Mileage is not calculated by the Tank to Tank method. I usually fill with Rs. 300 when the fuel needle comes to the lowest bar (not empty) and check the kilometres done when it reaches the same spot. With Rs. 300 worth of petrol, I do 120-125 KM easily sometimes 130 in the city
Likes:
Storage – I love the huge storage under the seat it stores more items than the new access.
Acceleration – There is a power band that starts around 35 KMPH and then it moves fast and the exhaust note changes too and I love that.
Design – Love the design that's why it was purchased over Activa back in 2012 and still LOVE it over the new access.
Pillon grab handle – The pillon grab handle gives a secure hold to old age people and gives support to their back too (just like an Avenger pillion seat)
Lock – Love the locking mechanism of access, it's killing two birds with one stone. I think you all know that you could open the seat plus lock the handle without removing the key.
Low front fascia – The front fascia doesn't protrude like new access while riding. Even my cousin noticed that and said your access is like "Small bacha" (Small Kid) he could see more of the road.
Side footrest – The side footrest (small) is perfectly executed, way better than other competitors. Suzuki ruined it in a new one.
The big footrest is robust and well tucked in compared to the new one where it's at some slight angle.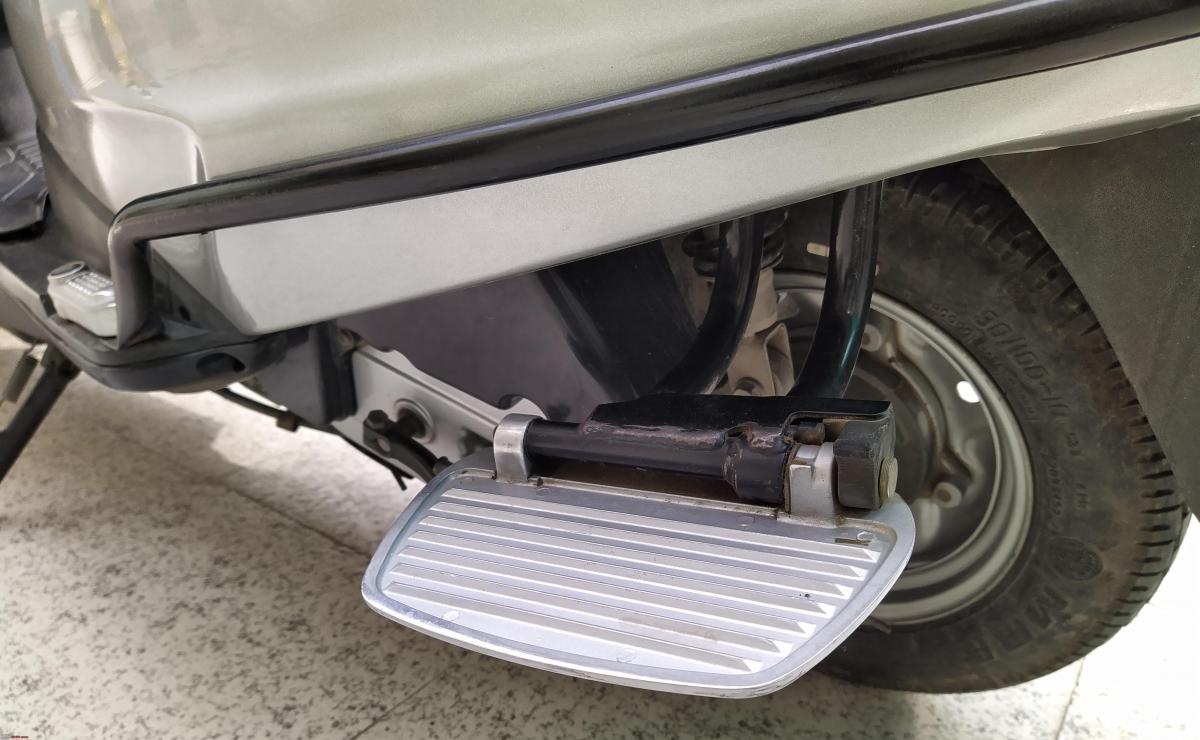 Tucked in well.
Ground Clearance – It's great I have had no issue at all and have scraped 2-3 times in its life
Fuel cap position – I prefer under-seat position rather than outside (on new one) Small story- I was riding my cousin's new access (May 2022) and had a devastating experience closing the cap. Would post an ownership review on that too.
Exhaust Note – Love the exhaust note, it changes based on input and around 35-50 KMPH it gets throaty.
Fiberglass body – The front mudguard doesn't develop rust as you might have seen on Activa.
Dislikes:
Small tyres – The tyre profile is 90/90-12 inch you have to slow down on bad road surfaces and even for small potholes.
Stiff ride – The ride is stiff if you are solo and good when it's duo.
Pass – No pass button provided but can't complain since it was 2012 but it is still not available in new access.
Brake – The drum brake does the work but would appreciate more bite.
Brake lever colour – It started fading way early, with poor paint quality. it fades more during winter and all the black residue ends up on fingertips.
Rear brake lock – I found it to be less useful as most of riders keep their brake tight and there is no way you could engage it, to do so you would have to adjust the brake.
Plastic mud guard – The rear tyre hits the small guard provided above the tyre if the pillion is healthy and like to sit more toward the back.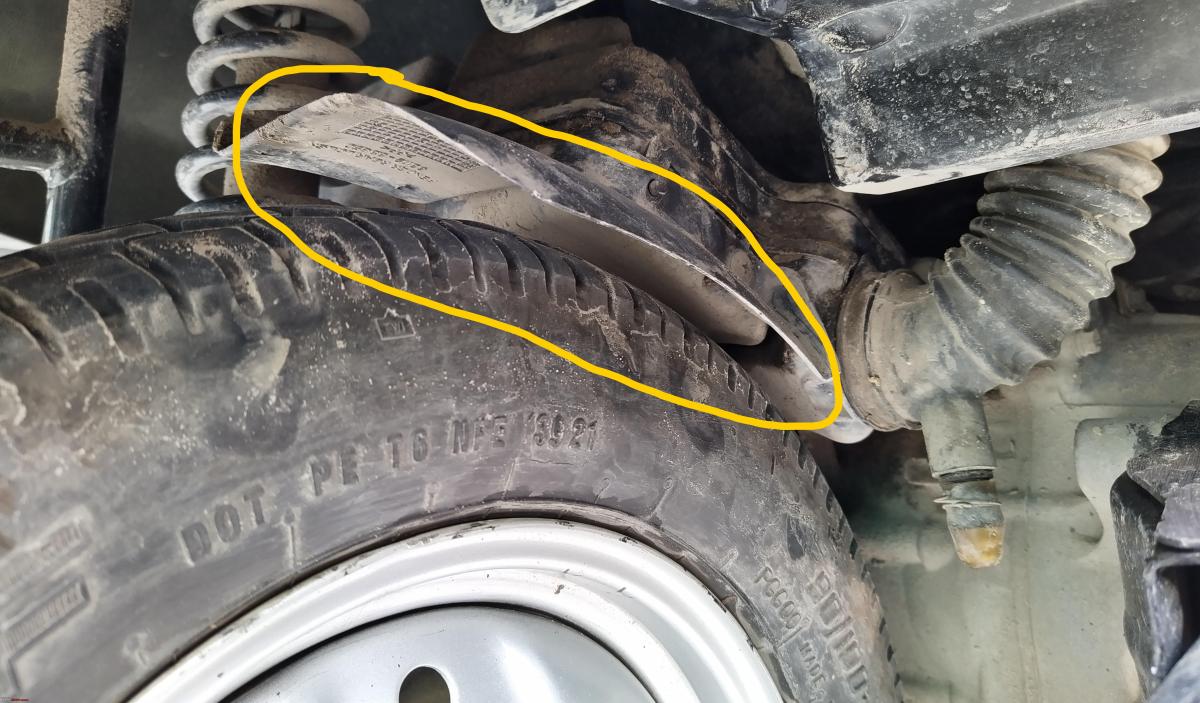 Wire rubbing – Below the headlight area, have to do a DIY to save it.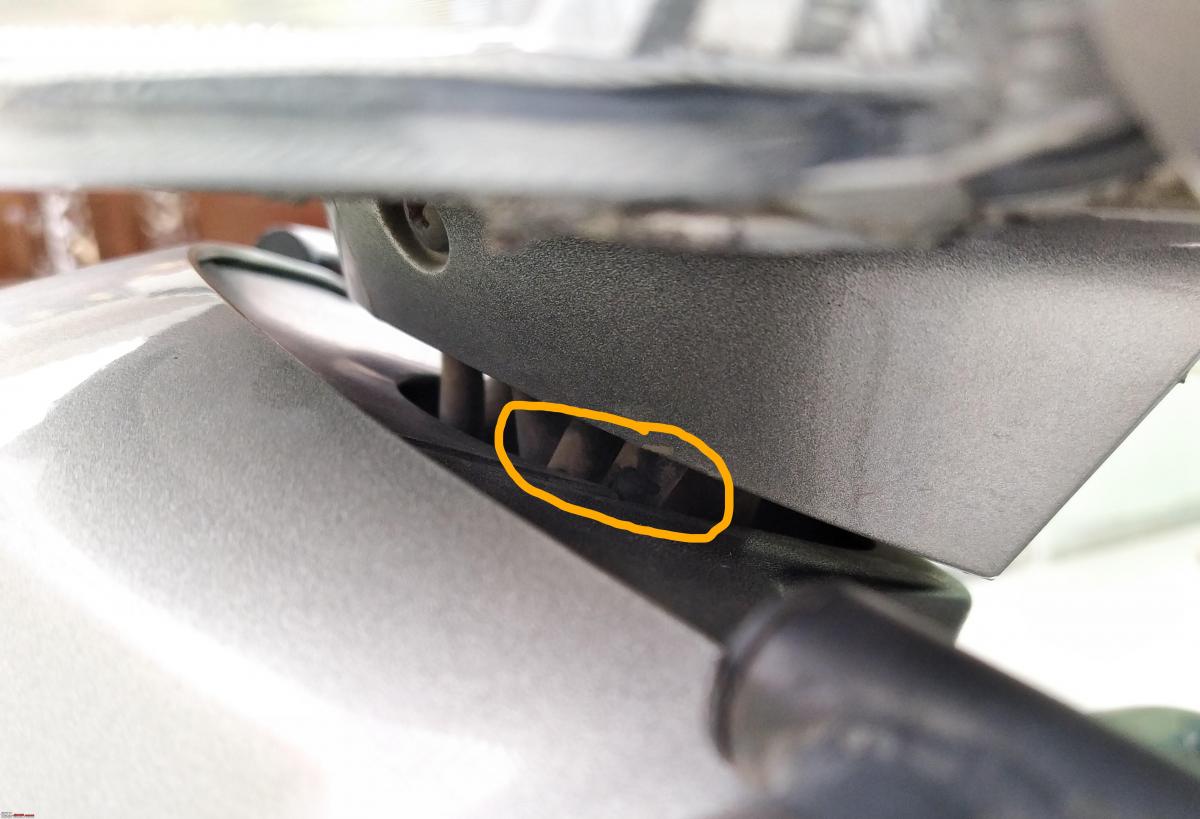 Top Speed:
The top speed I have attained is 80 KMPH on the highway, I don't condone high speed it was just a test. Above 60 you will start losing confidence. maximum speed that you should do is 55-60 km/h.
Things I Want:
Pass button.
Bright headlight. The current one does the work.
Bigger size tyres.
Disk brake.
Service Cost:
Always got it serviced at the authorized service centre, average service cost is Rs. 900. The most I have paid is Rs. 1400 (some parts were changed more on that later) and the least is Rs. 650 ish.
Few recent service bills: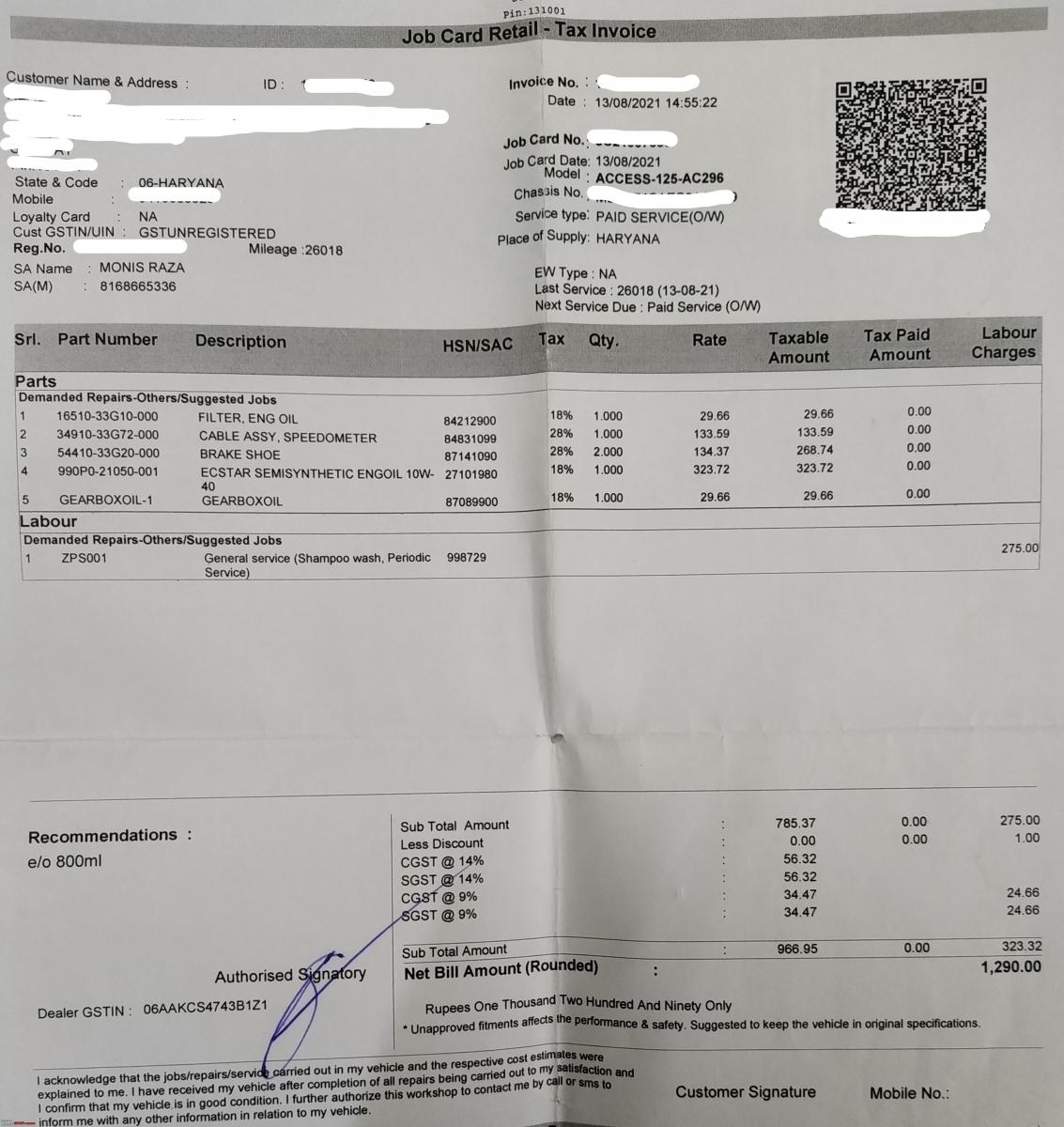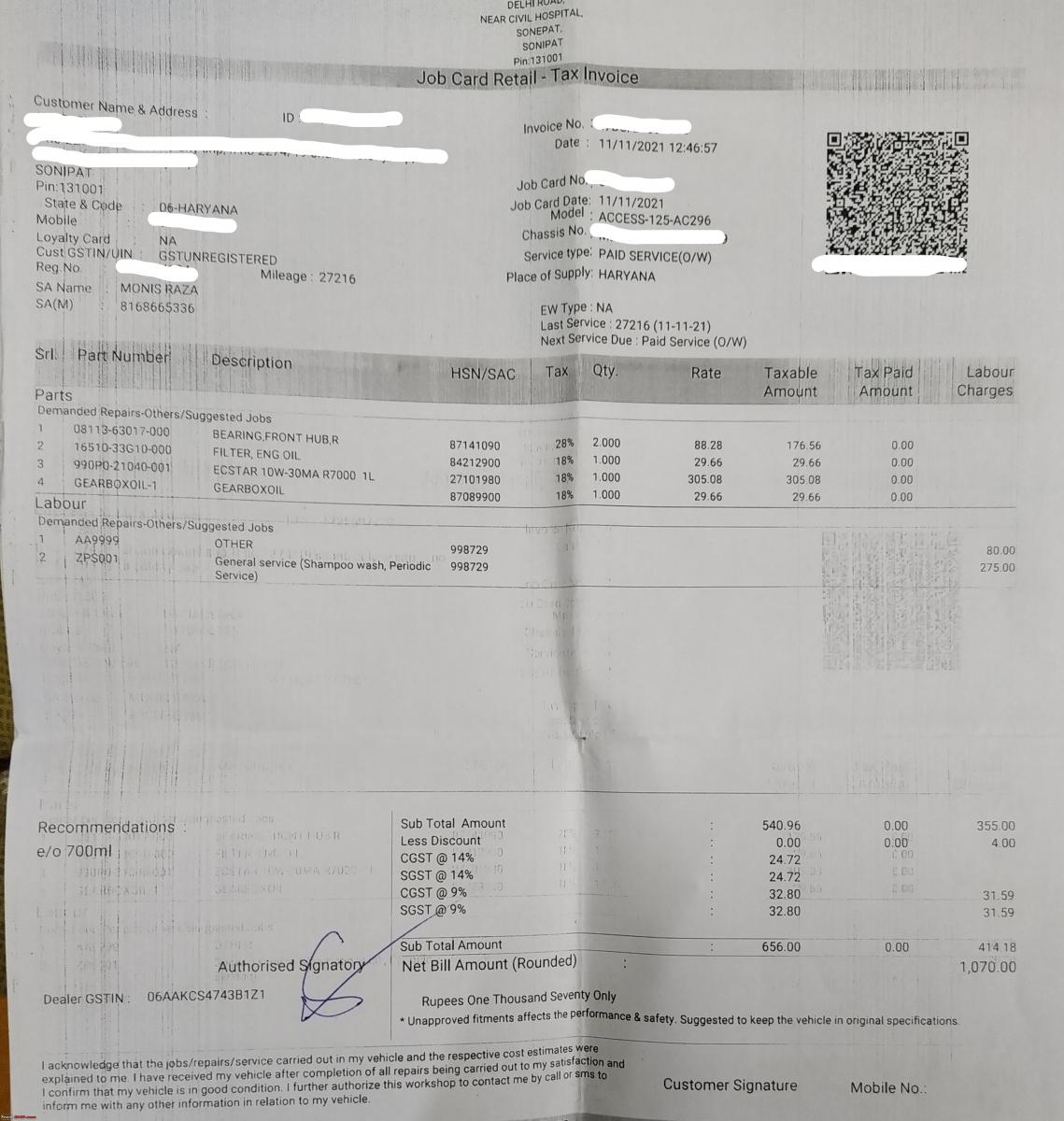 Service Experience:
As I said every service is done at an authorized service centre near me i.e. Sodhi Suzuki, Delhi Road, Sonipat, Haryana. I would rate them 8/10. They get things done when you point out the problem you are having. The best thing is if any part needs replacement they ask on the phone before changing any expensive part found in bad shape and might give up in future apart from what you have told them.
Insurance:
The only thing I don't like is the insurance from United India Insurance Company Ltd. Never taken a single claim and I have been paying Rs. 1100 ish for the past 11 years. Except for 2 years where I paid 720 something each time. (insured from IFFCO Tokio back in 2013 and 2014) Why did I do that?
Poor experience at the Sodhi dealership, at that time, it was Saturday when I reached out to get the insurance renewed and they said we don't do insurance on Saturday when I asked them about Monday they said we would do it and don't worry about the date then I went on Monday and to my surprise the guy who does the insurance was not present. I went the next day and they had the AUDACITY to say, Sir, your insurance has expired and it has been 3 days so we will not do it.
In 2015 IFFCO insurance agent closed his office and had to go to the dealer again to get United insurance they hesitated and said no but after convincing they agreed.
Latest insurance cost Rs, 1259.
Problem faced and stranded (kind of):
Pretty much the ownership has been delightful, but I have been facing a particular issue for the past 7 years i.e. engine would stop all of a sudden. Faced it 6 times.
First in 2015 at that time I thought it was because of poor petrol quality and it started back within a minute after a few tries. It happened a few more times always thought about poor quality petrol and told the service advisor, he changed the spark plug and when I completely forgot about this issue it happened again but started back within a minute and I finally found the culprit behind all this in 2022
How?
When I got it serviced and took it out after a day or two, to pick up my mother it stopped responding to my throttle input and a small blast sound from the exhaust and DIED my mother was concerned as she knew I take very good care of the ride. I called the service centre and told them to come and take a look they arrived within 10 minutes (was 2-3 KM away from the service centre) they tried self-start and used kick too but no luck and finally opened the seat and Found no spark while cranking. A technician named Jitender (from Sodhi Suzuki) said I know the issue he wiggled some wire behind the front panel (behind the number plate) and it started in 1 try and said the wire was loose if it happens again just wiggle the wire.
Reason:
It was the service guys and them being lethargic. It probably happened when they changed the speedometer wire and just shoved it off by not doing it the proper way and possibly hitting the other wire joints.
See the photo attached.
Encountered it once again in September 2023 and it was Déjà vu as my mother was with me, I simply hit the exact spot (see arrow in picture) as told and it started in 1 try.
I have noticed play in the handle, it can be felt by holding the front brake and giving a push forward & going over a speed bump. Told the service guy he didn't believe me at first but later on said you were right the screw was loose and he had torqued it. Faced it again after 300 KM waited for the next service and got it fixed (again torqued), has done 800 KM ish so far and now it has appeared again. (kindly give some suggestions on how can I fix this).
Parts changed:
So far few parts have been changed.
Rear brakes – 3 times
Speedometer wire – 2 times (I think it got damaged due to driving on a waterlogged road, more on that later on)
Engine belt – 2 times (cost around Rs. 470 was changed a year ago for the second time) Again thanks to JITENDER who willingly checked just to be sure and there was a crack and some rubber groves were missing and possibly saved me from being stranded.
Front brake wire – 1 time
Rear tyre – Went with OEM spec of 90/90-12 inch MRF at 28082 KM
Battery – Changed twice always went with EXCIDE.
Rear brake light bulb – Once
Front Wheel bearing – Once (on 11-11-2021 at 27216 KM)
Air intake pipe – Once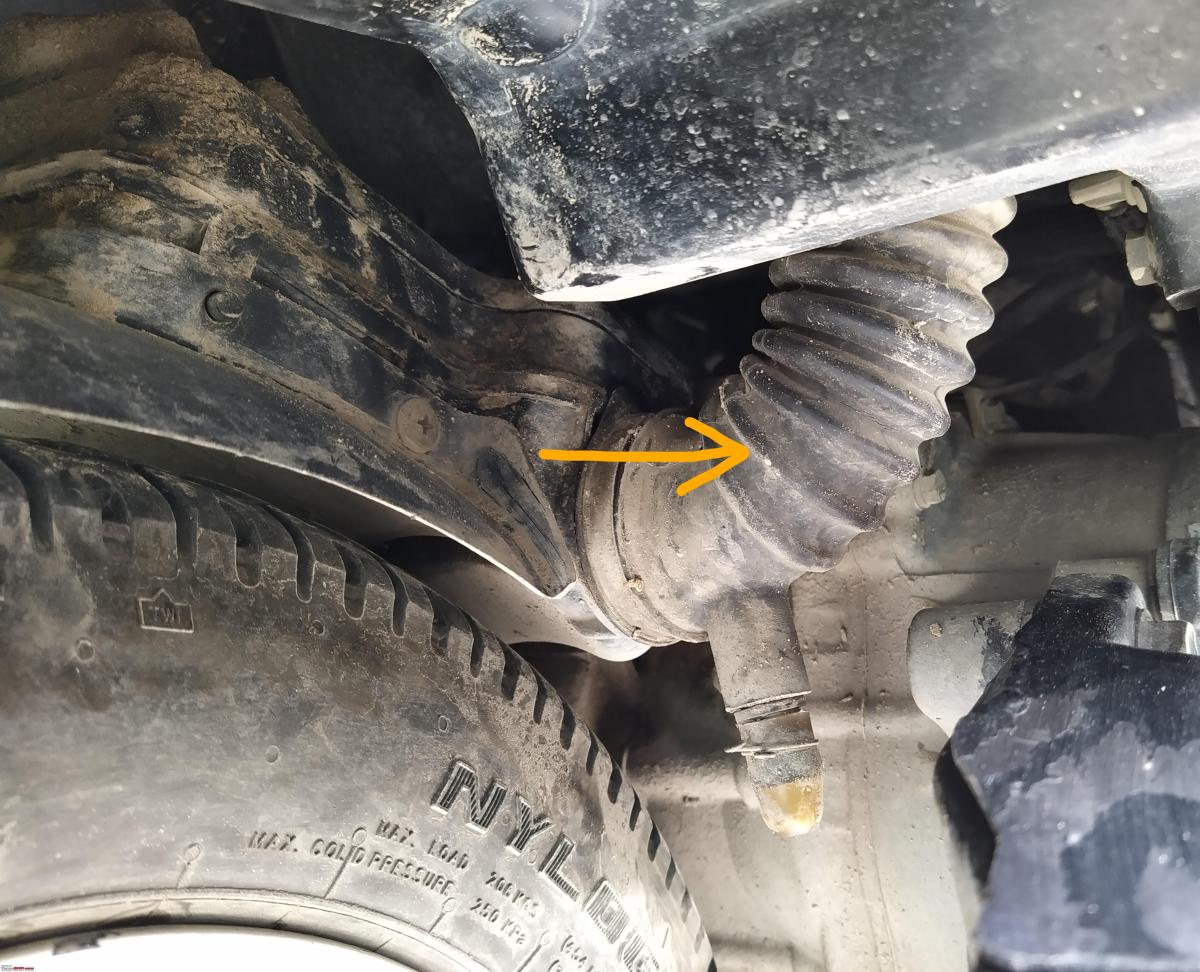 Spark plug – Once
Rear brake spring – 2 times
Broken Parts:
The front mudguard developed cracks over the years and now it moves back and forth (also rubbing against the front speedometer and brake wire resulting in losing some part of it (see picture))
Tried replacing it but the cost was around Rs. 1500 (a few years back) few months back asked the price it was Rs. 2600 plus labour I tried to do it under insurance and was told it would take at least 7 days to process it and I would have to leave the vehicle here and then few more days to fix it. I asked about a loaner vehicle and was outright denied (Don't have this service). Was ready to do it but was told to pay Rs. 3000 because insurance (United) will pay only 30% max (Rs. 900) of the said amount and it will be credited to your account after repairs are performed. Since it was not bothering me I didn't opt for a claim. Poor experience with United The front foot mat has also shrunk.
Rust:
The silencer has developed some rust, have painted it three times and it is always the same exact spot.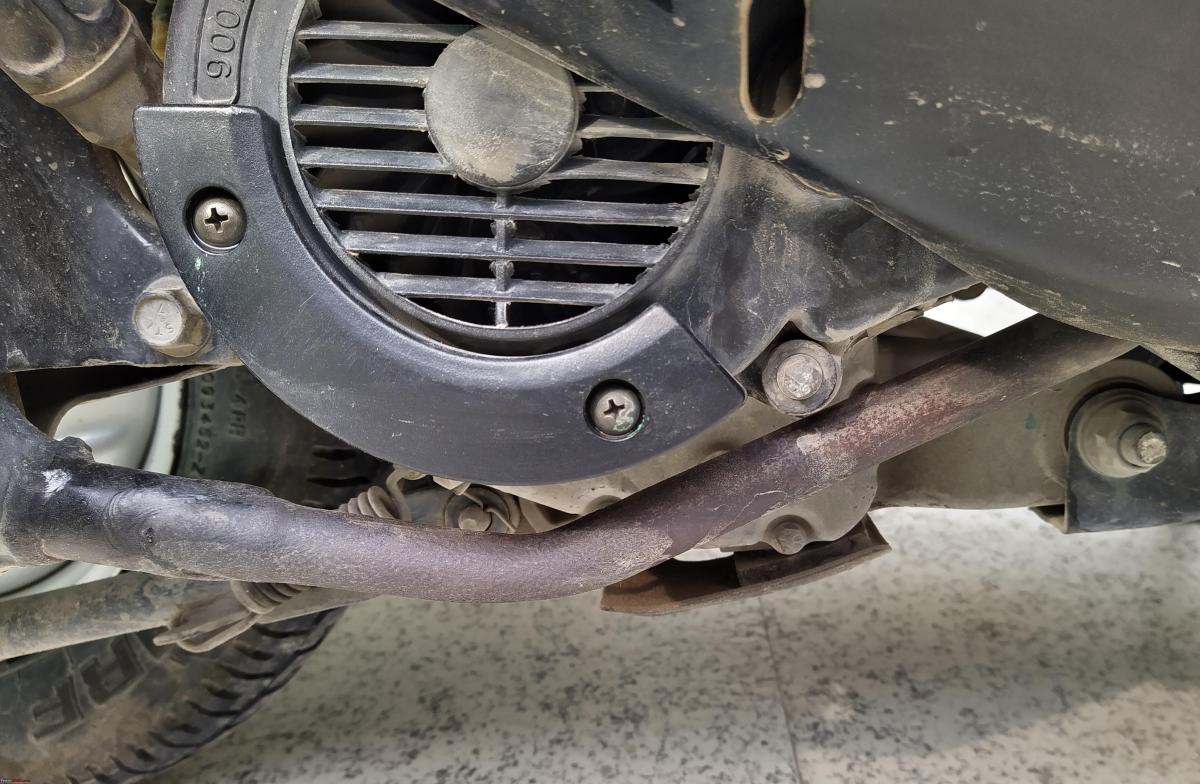 Rust on wheel:
The front suspension lower mount has some discolouration on both sides due to being exposed to water (did some riding in heavy rain clogged water)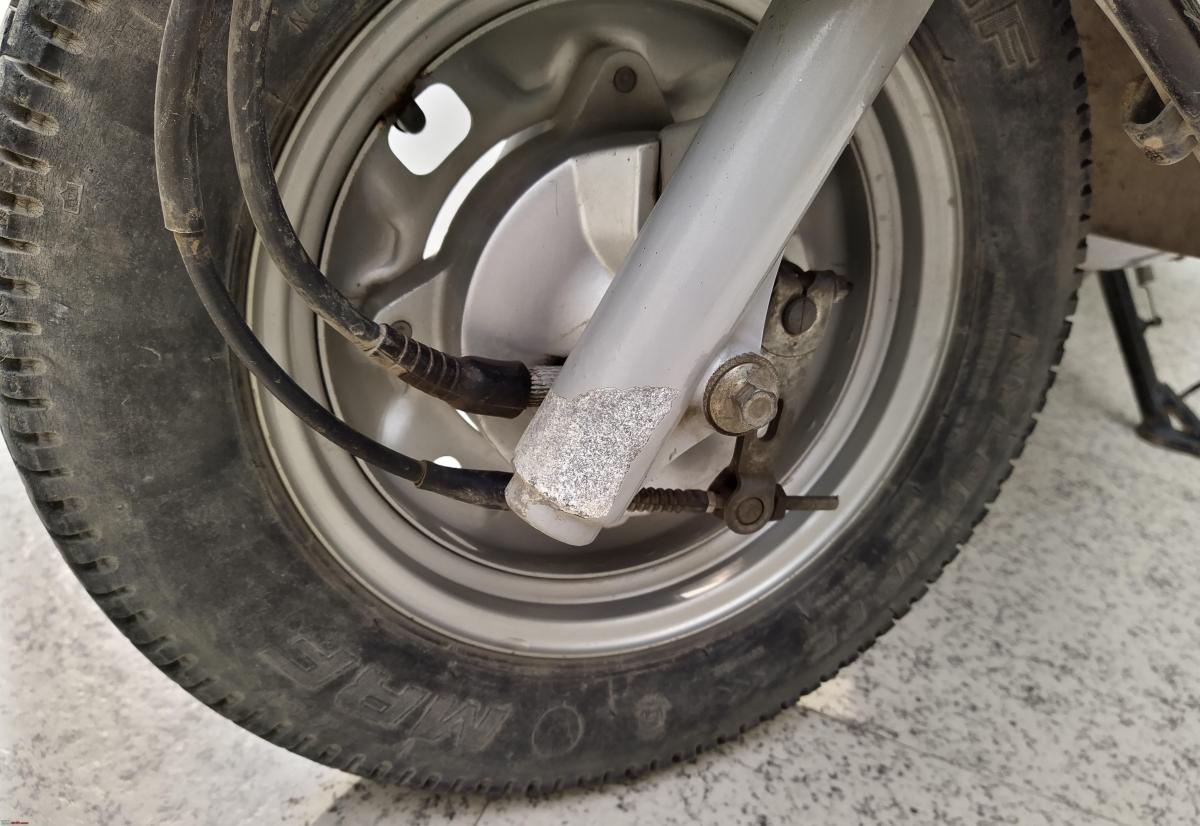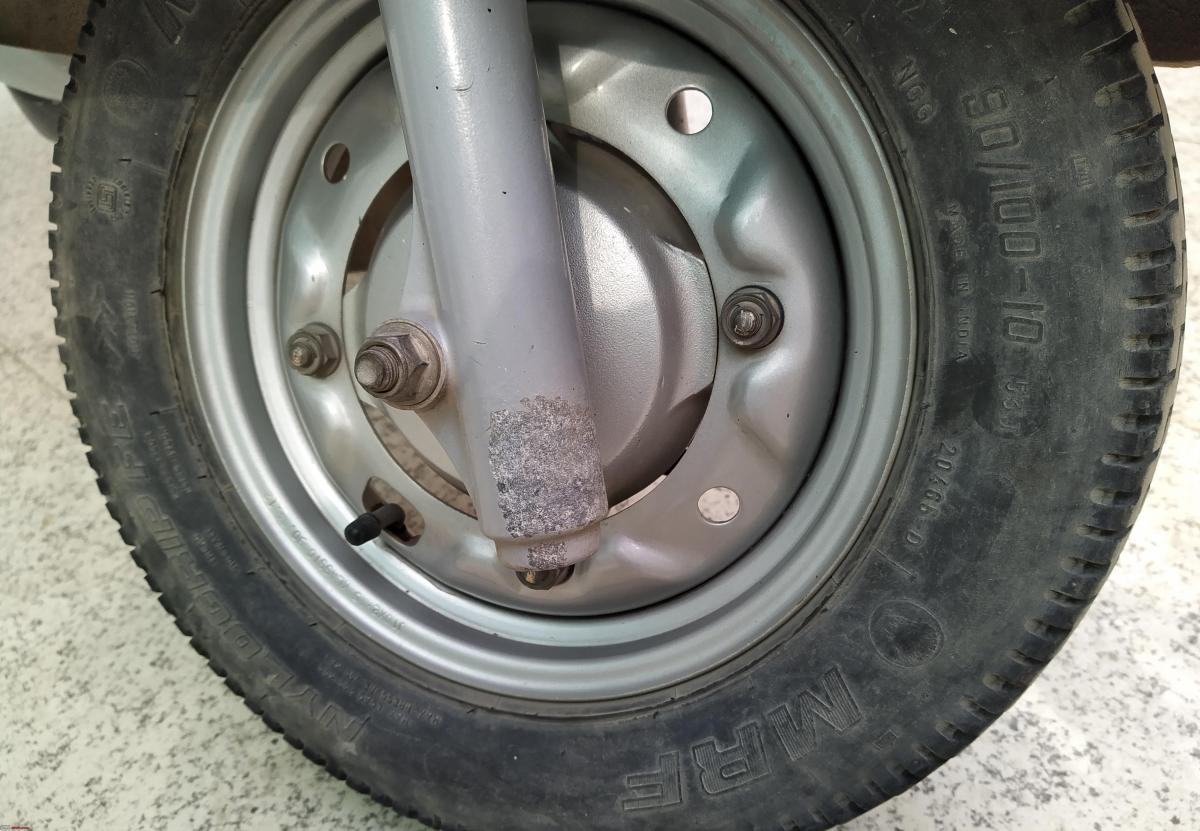 Waterlogged riding:
I have ridden around 4 times (always to pick up my father when there was no public transport available in heavy rain) and let me tell you it doesn't disappoint I have seen Splendor and other bikes plus Activa, Jupiter etc. stopped but this thing goes and my father appreciates the capability and always say, "They don't make them like they used to."
Conclusion:
The ownership has been bliss so far and I am very happy with the purchase.
Note – This is my first post so pardon me for any mistakes I may have made and constructive criticism is appreciated so feel free to give some ideas/suggestions on how I can improve.
Ciao
Check out BHPian comments for more insights and information.
Source: Read Full Article