Travelling on a 200 km/h train in Europe: Experience & observations
The train was pretty poised even at such high speeds. Only if I checked the speed, I would have known that I was going at 200 km/h.
BHPian RRA_Blogger recently shared this with other enthusiasts.
Greetings, I wish to write about my experience with the ICNG, the newest train in the Netherlands (as of date), and a few general observations and inferences.
Prelude and Prologue:
The ICNG trainsets are built by Alstom under the Coradia Stream platform. These trainsets are designed for a maximum operating speed of 200 kmph, meaning they can be utilized on High Speed Lines (HSL) in the Netherlands. The major High Speed Line in the Netherlands is Schiphol Airport – Rotterdam – Breda, which extends further into Antwerp. So, there are quite a few route series based on the HSLs:
Series 900 – Amsterdam Centraal – Schiphol – Rotterdam Centraal
Series 1000 – Amsterdam Centraal – Schiphol – Rotterdam Centraal – Breda
Series 1100 – Den Haag Centraal – Den Haag HS – Delft – Rotterdam Centraal – Breda – Tilburg – Eindhoven
Series 9200 – Amsterdam Centraal – Schiphol – Rotterdam Centraal – Breda – Noorderkempen – Antwerpen Centraal – Antwerpen Bechem – Mechelen – Brussels Airport (Zaventem) – Brussels Noord – Brussels Centraal – Brussels Zuid/Midi (Not aware of the Belgian High Speed Line)
Until March/April this year, all these train series were operated with ICRm carriages (I would have reviewed them previously, and I was super impressed with their comfort, but unfortunately outdated technically) hauled by TRAXX Class 186 Locomotives leased from AKIEM. The ICNG trainsets are meant mainly to replace these old ICDs (Inter City Direct). The ICNG trainsets are classified under three series:
3100 – Five car domestic trainset
3200 – Eight car domestic trainset
3300 – Eight car international trainset
It should be noted that the trainsets under the series 3300 are painted with the new flow livery scheme of the NS, which can already be found in VIRMm-2/3 trainsets (An image of a VIRMm-3 trainset is attached for reference).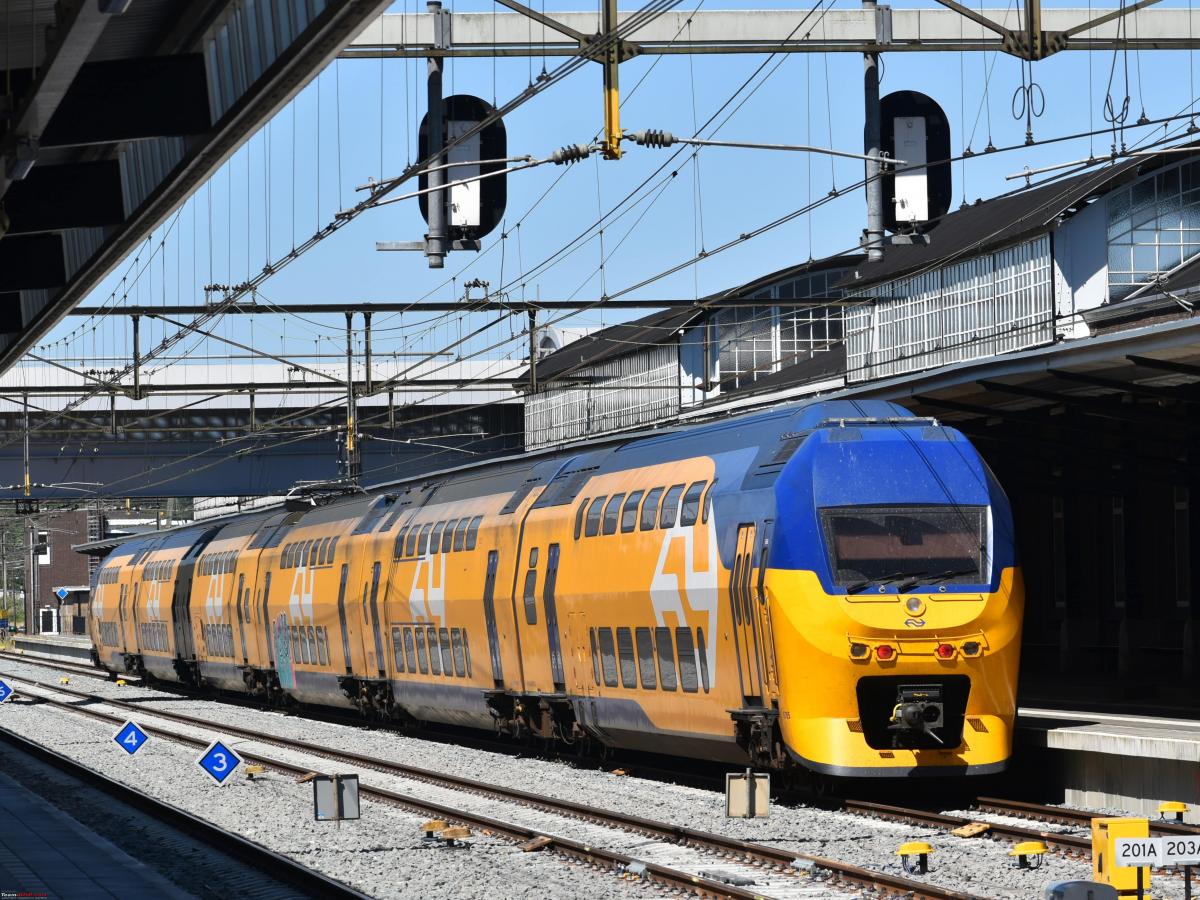 Which route series have been replaced?
A few lines of the route series 900 were initially replaced in March or April IIRC, with a couple of trainsets of the 3100 and the 3200 series. During July, a few lines of the route series 1100 got replaced. Recently, a few lines of the series 1000 got replaced as well. Series 9200 is totally running with the old trains as yet, but the trainsets under the 3300 series are being tested in Belgium, without passengers.
Off to the journey!
So, on 24-Aug-2023, I got a chance to ride with the ICNG on train series 1100, between Eindhoven Centraal and Rotterdam Centraal, after a failed attempt during July.
To be exact, I was onboard route series 1148, departing Eindhoven Centraal by 14:14. The train arrived at the designated platform from Den Haag Centraal (Ride 1147) just about the stipulated departure time, and the departure was therefore delayed by five minutes. Trainset 3224 was responsible for hauling me to Rotterdam on that day.
Trainset 3224 (My journey partner):
Trainset 3222: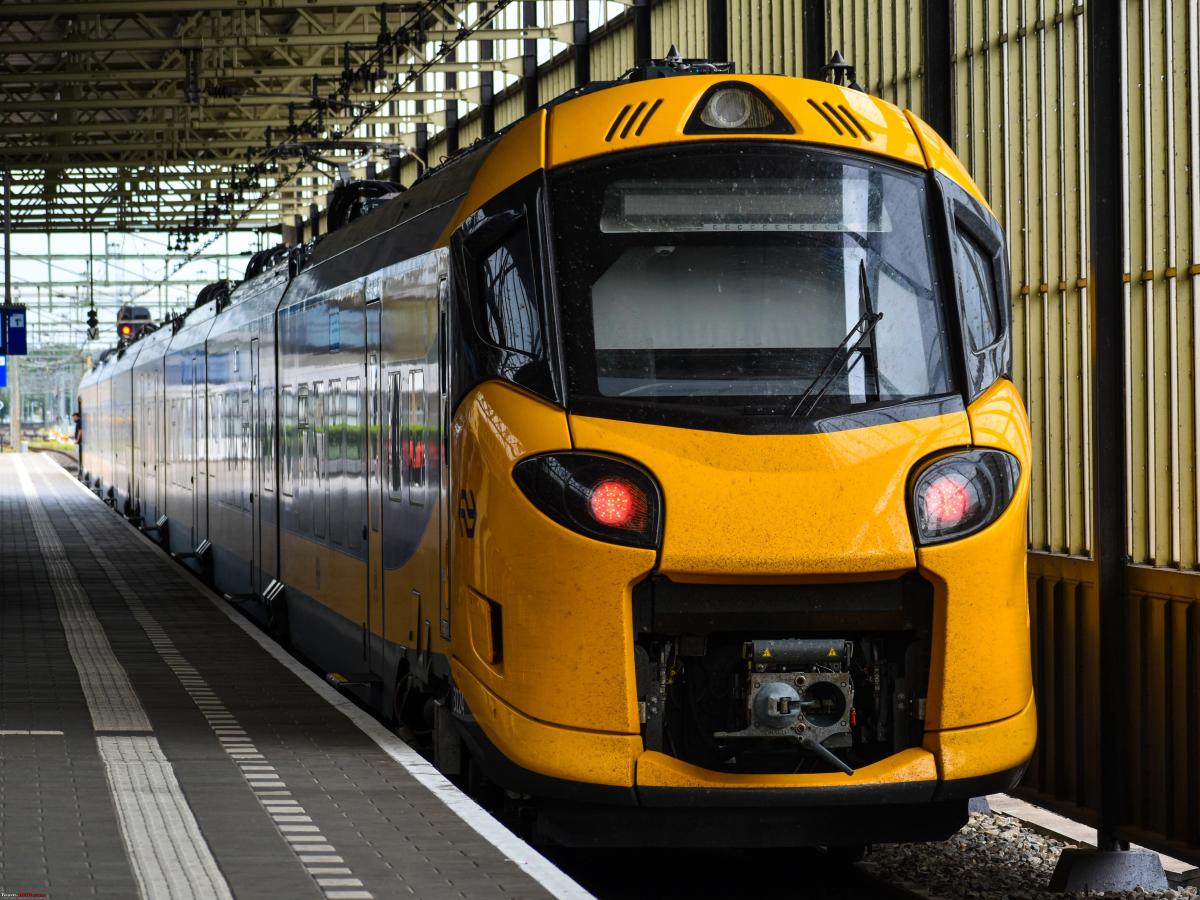 I should say that the first feeling towards the ICNG, felt a bit as though I was looking at a wasp. I like the design though, the front aerodyne is decent, and the train is well built on the outside, with route displays in the front, sides and back. I, of course, like every unsuspecting common man, felt a bit that it looked more like a sprinter material, because of the ultra-low floor, but in that respect, it is more accessible to the physically challenged people.
I have a seasonal second-class pass (NS Flex Dal Vrij), so I am entitled to travel only in the second class. Stepping inside surprised me pretty much. There were automated door passages between compartments, and the biggest surprise was how spacing was planned inside the mini looking trainset. There was plenty of space for luggage, and there were separate luggage compartments, making them friendly for airport-based lines. In contrast, the ICR had a dearth of luggage spacing.
It was pretty awesome that these trainsets had chargers (both USB and Laptop) for the second hand, one per row, as can be seen
The seat comfort (in terms of head and neck support) was not the best for me. It felt a bit above average, but the leg space was indeed awesome. There was also a display containing the current information about the train, and also a few advertisements about the trainset itself.
Like any other train, this train also is divided into three zones, but unlike other trains that have signs and stickers to differentiate between zones, these trains have an overhead lighting system to differentiate between zones.
Work zone – Blue lighting
Silence zone – Purple lighting
Meet and greet zone – Orange
In all, I was greatly impressed by the interiors. Kudos to NS and Alstom for the heavy interior customization!
Assessing the ride quality starts shortly into departure. We pulled off from Eindhoven Centraal with a 5-minute delay as said earlier, and I was also very impressed about the external noise insulation. The train was pretty much isolated from the outside world in terms of noise. I could hear a distinct push of air into the compressor pistons occasionally, and I did not know what its source was. But apart from that, the running comfort at standard speeds (140 kmph) was indeed good, in my opinion. There was no unnecessary vibration or jolt from underneath the tracks.
Because I wanted to mainly test the train at its maximum speed, and the only trajectory I could do it without additional cost was Breda – Rotterdam (because Rotterdam – Schiphol comes with additional supplement cost, separate for peak hours and off peak hours), I continued all the way till Rotterdam, so I could spot a Eurostar and return via Gouda, Utrecht to Sittard. In the HSL, I did not feel a significant difference in the ride quality at 200 kmph, and it was pretty poised at such speeds as well. Only if I checked the speed, I would know I was going at 200 kmph.
The ride ended at Rotterdam, with a 2 min delay upon arrival. My overall impressions were:
Above mediocre seating comfort
Incredibly planned interior layout with spacing
Good riding comfort
Not the most striking exterior design, but indeed decent
Cannot help a slight feeling that it felt to be a sprinter material
The ultimate question is, whether these trainsets are better than the ICRm carriages or not. To answer that, let's go beyond this ride and adopt a few practical issues faced by the trainsets.
Practical issues faced by the ICNG
Despite having said that my ride was overall a bit above satisfactory, I have to say that these trainsets indeed face sudden failures on duty, at least once a week. They then cancel the deployment of the ICNG, and if available, the old trains are deployed for that ride. As far as I've learnt from my spotting colleagues in the Netherlands, the train-software is not properly calibrated with the trainsets, causing sudden disruptions, and there sometimes are weird braking noises upon deploying emergency brakes (which I don't personally remember experiencing).
Penultimate inference and Epilogue
It should be noted that NS did not deploy them out of nowhere, and as I have read, these trainsets were being tested without passengers right from 2020. Even then, the calibration of these trainsets with the rail network is indeed not complete. The intention behind NS testing its newer trains a lot is because of the well known Fyra crisis. Because of the frequent failures that this trainset faces, a suspicion that it could be the successor of the Fyra doesn't cease to arise, amongst many people. But, as far as I have read, one of the biggest failures of Fyra occurred during winter, and it is not yet the season to test it for the ICNG.
Apart from that, I don't really see it as the successor of the Fyra, but I also have to truthfully verdict that it is a modern train yet to be completely calibrated on the Dutch Rail network, so it faces much fewer problems in the future. In my personal opinion, the train is indeed a nice product. Calibration problems are usual for newer trains on the tracks, and the stronger Railway operators are with testing, the better. In all, it is a good product that needs improvement mainly in calibration.
The future?
At the moment, because the ICNG is yet to be completely calibrated on the tracks, there indeed is a furore on these route series, because:
The locomotive leases with AKIEM are ending soon.
NS has already decided to phase out the ICRm carriages (GreenCityTrip might become a potential customer of those carriages)
Deploying ICNGs completely on service could, in my opinion, cause frequent disruptions in the lines for the short term, but I am pretty sure that in the long term, these trainsets would be more reliable and calibrated onto the network.
This ends my review of the ICNG!
Check out BHPian comments for more insights and information.
Source: Read Full Article