Visiting Kashmir in winter in a Mahindra Bolero: 11-day long road trip
We planned to cover as much distance as possible but two leaves of the rear left leaf spring broke.
BHPian PointZero recently shared this with other enthusiasts.
Well, after the THAR came home, we had only a few trips to North Bengal and Sikkim. So to have a THAR-like trip, my brother and I planned for a winter trip to Manang ( Nepal ) and we were very excited to experience the performance of the beast.
Oh, are you already confused with the title of the blog and our plan? I was even more dazed till the day of starting the journey. Everything was set for the Manang trip and on a Saturday morning I got a call from my brother that he had an accident with the THAR. As he was new to driving, he started in the early morning to go to our native place from Kolkata, and on Belghoria Expressway he had an accident with an MG Hector.
THAR was in operating condition but the front bumper and wheel arch were broken. So we claimed insurance on the same day and expected the car to be ready in 7 days and we can go with the plan as we still have 12 days in hand to jump. However, after much effort and escalations, Mahindra could not set up parts in 12 days and I had no other choice than to take the Lazy Turtle for another long-distance trip.
My brother was a little upset as he wanted to be onboarded and experience driving on mountain roads as much as possible. As the Lazy Turtle is a very crude vehicle without ABS, EBD, Airbag, etc., I do not suggest he drive the Lazy Turtle on a trip. So he knew that he had very little chance of driving on the trip.
Glimpse: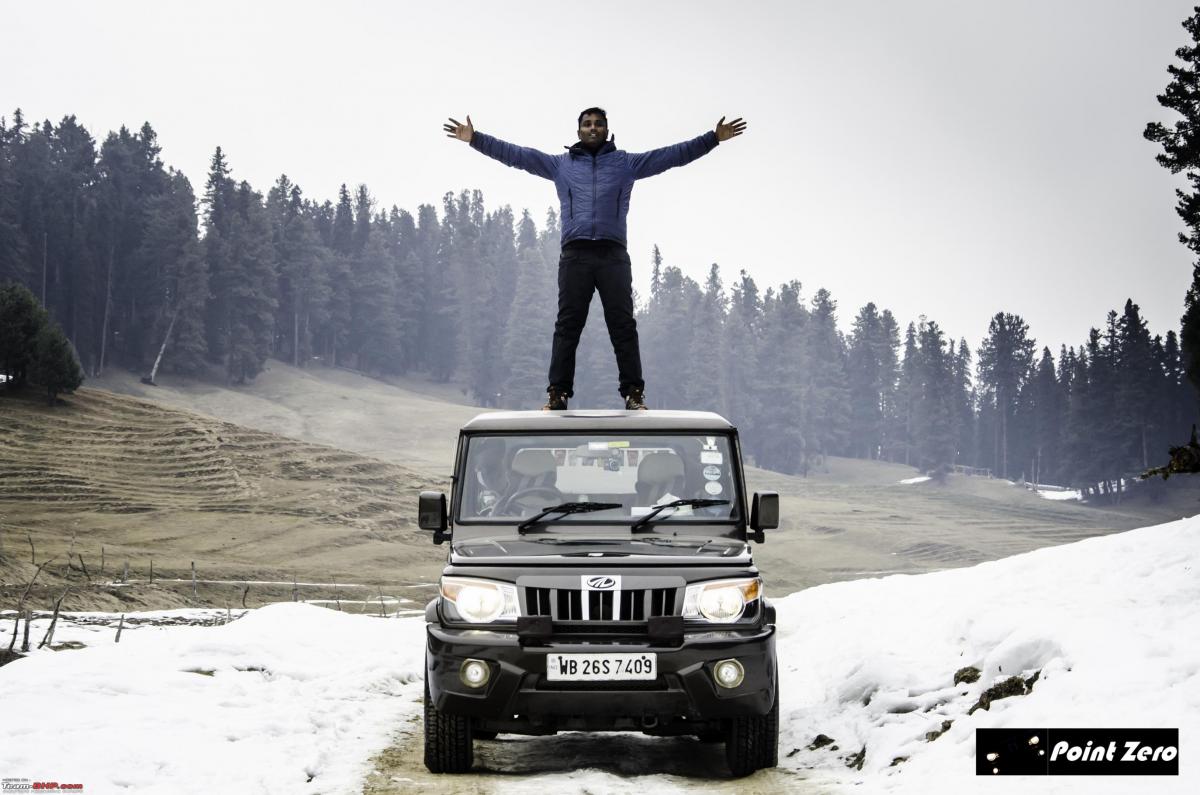 Relying on Lazy Turtle is living unrestricted
We both desire mountains will be our home someday
Raw and Wild = Pure
Why is my head so heavy?
Sometimes Lazy Turtle wants to pose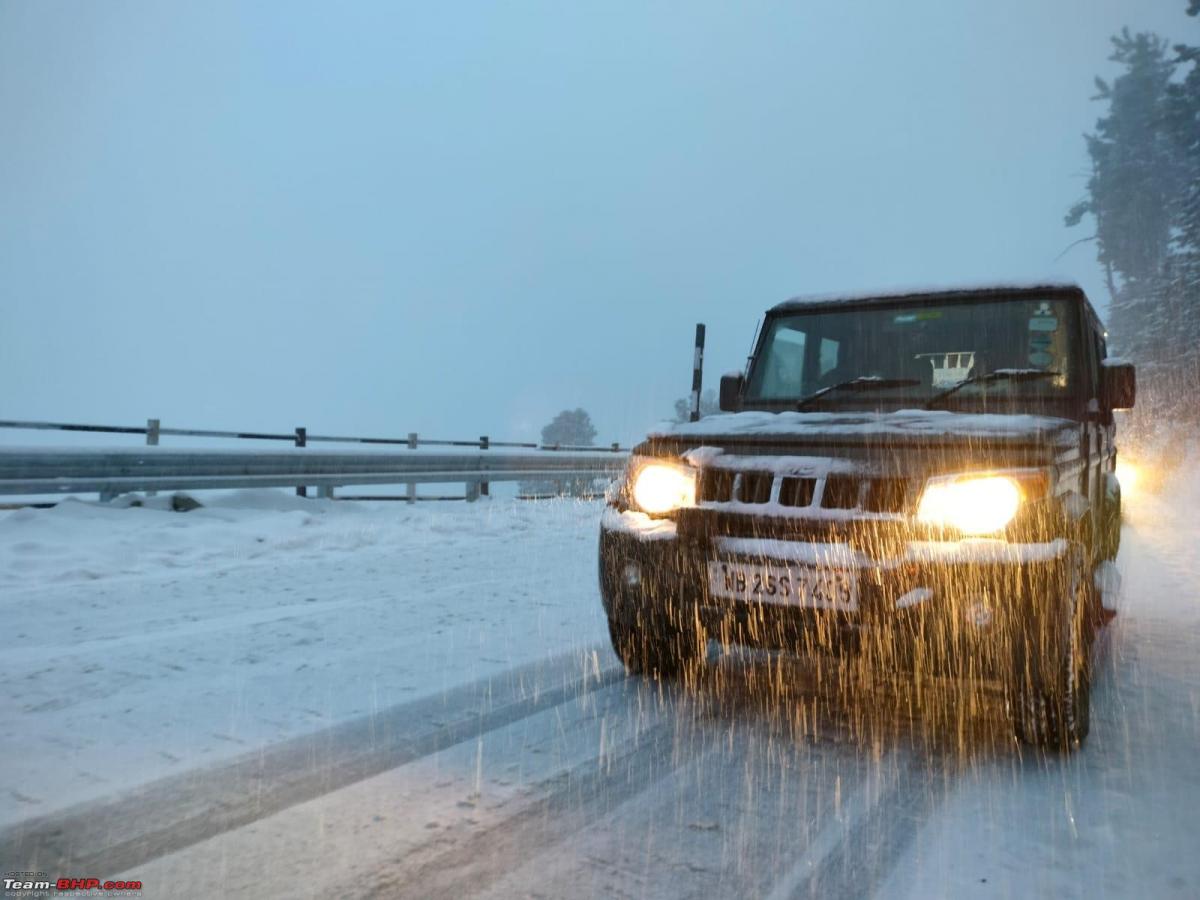 Winning against the snow
Itinerary:
DAY 01: Kolkata – Varanasi, UP
DAY 02: Varanasi – Panipat, HR
DAY 03: Panipat – Patnitop, J&K
DAY 04: Patnitop – Pahalgam – Chandanwari – Pahalgam, J&K
DAY 05: Pahalgam – Betab Valley – Pahalgram – Aru Valley – Lal Chowk – Srinagar, J&K
Day 06: Srinagar – Gulmarg, J&K
Day 07: Gulmarg – Srinagar, J&K
Day 08: Srinagar – Jalandhar, Punjab
Day 09: Punjab – Agra, UP
Day 10: Agra – Dehri, BH
Day 11: Dehri – Medinipur, WB
Preparation
Nowadays Lazy Turtle is always packed with a hard box with cooking essentials, a camping stove, a camping stool, a shovel, ropes, sleeping bags, some blankets, utility and wrench-box, and big plastic to cover the car. So we did not have to spend much time packing. We just took some dry foods and soft drinks with us for emergency purposes.
The Journey
DAY 01: Kolkata – Varanasi, UP
With almost no plan we started towards the North considering Himachal or Kashmir could be our destination. When we changed the plan from Nepal to North India, one of my cousin's sisters wanted to join us as she had some leaves simultaneously. So we three started from Kolkata in the early morning and had yet to finalize the place.
While I intended to visit Kashmir, my brother (Tanmoy) and cousin sister (Antara) were more interested in Himachal or Uttarakhand. They were a little worried about the leave period as we had only 9 days of leave officially and it was almost unthinkable to make a Kashmir trip in such a short period. Rather a trip to Kumaon could be a better idea to utilize the 9-day trip. And in the discussion, we found that if we want to visit Kashmir, we need at least 11 days if I drive alone. So, before anything else, we need to manage the additional 2 days leave which was tough for Antara as she works in the Reporting / Media industry. However, with many phone calls and many excuses, she was able to manipulate the additional two days of leave and we finally decided to visit Kashmir.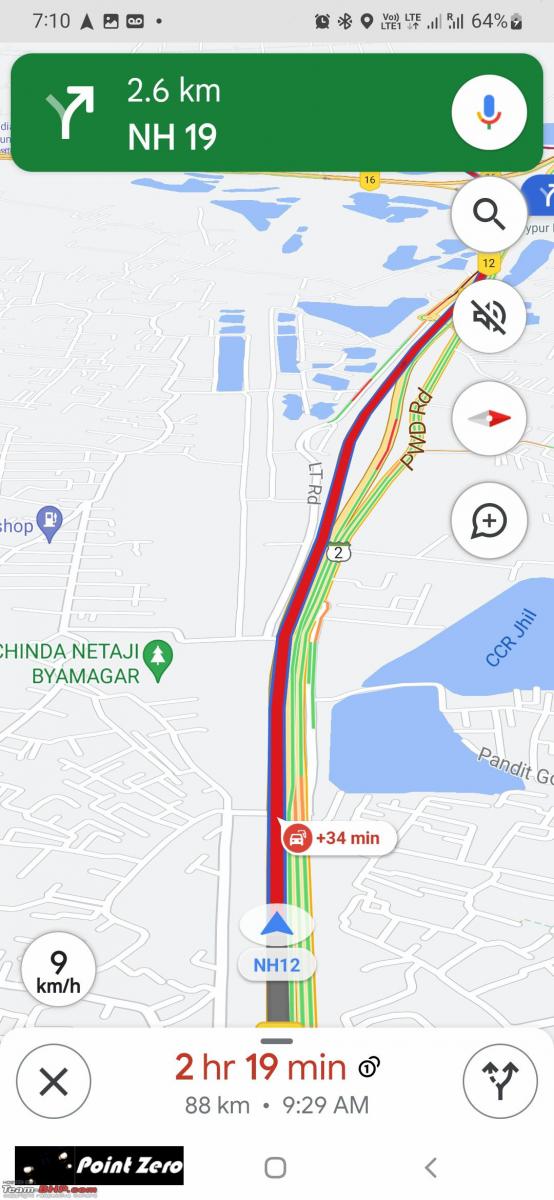 Pathetic Traffic at NH2 connector from Kolkata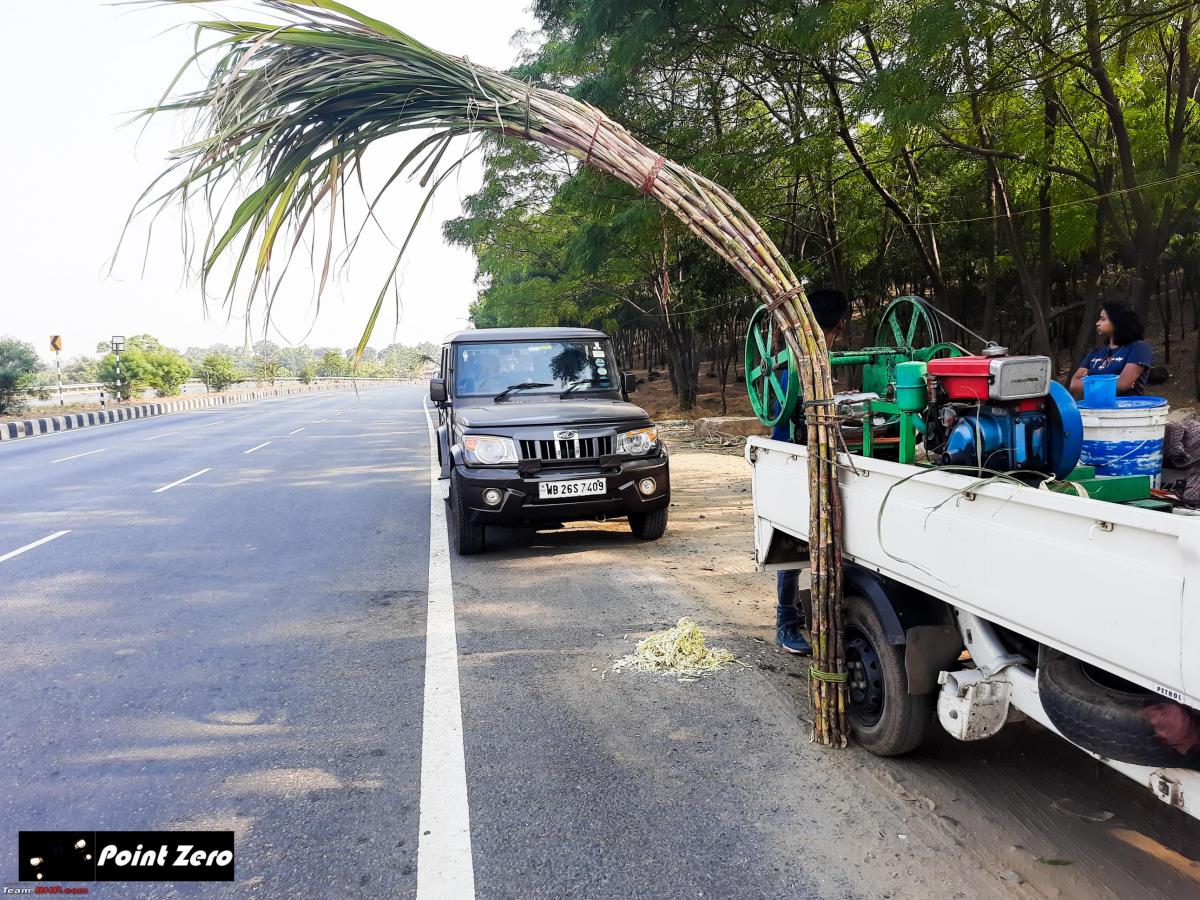 Somewhere in Jharkhand
Somewhere near Varanasi
For day one we kept our journey short and checked into a known hotel at Varanasi to start early for the next day.
DAY 02: Varanasi – Panipat, HR
As per the plan, we started early from Varanasi and we were planning to take minimum breaks and cover as much distance possible for the day. A few kilometres before Kanpur I was feeling something wrong in the rear suspension. Well, I found out very easily that 2 leaf springs have been broken on the left side. As the plan was to go with the THAR and I was too busy for the last couple of weeks I didn't even get time to service the vehicle properly and do a mechanical checkup. So something like this can be expected and I was not very surprised.
We called a few service centers nearby, but none of them was in operating mode as it was Christmas Day and Sunday. We found one of the service centers in operating mode at Kanpur. The manager was a complete idiot. We described what we required, and also told him that we were on a long-distance trip and could not wait much. After hearing everything he suggested visiting his workshop. We visit his workshop with the assurance that it will be done quickly. When we reached there we faced an entirely different scenario. He kept us waiting for a long time, then inspected the vehicle, and finally informed us that they do not have any mechanic to do the leaf spring work, and neither do they have the required parts now.
The only picture for the day
We kept on moving and searching for any local shop to get the leaf spring replacement done. Near Bekewar, we found a shop that assured us that he could do it quickly. They took around 2 hours and even after that, they could not assemble the leaf spring. I noticed that they are very naive in their particular work. Finally, I had to make my hand dirty to get it assembled and fitted in the car. Finally, after almost wasting 2.5 hours it was time to proceed with the journey.
With the blessings of the Lucknow-Agra Expressway, Yamuna Expressway & Eastern Peripheral Expressway we could make it to Patnitop for the day. Because of the unnecessary waiting period in the Mahindra Service Center and the unavailability of proper tools and setup, we became exhausted for the day and went to bed early.
DAY 03: Panipat – Patnitop, J&K
Last evening we were worried about the foggy road in the morning. And yes it was truly difficult to start in the early morning and drive through such dense fog. We started the journey in the morning but till 11:00 AM the journey was extremely slow, Finally when we reached the J & K border it was already afternoon.
With not much delay we moved forward to Patnitop. After three continuous days of driving, we reached a place where we were really happy with the chilling weather and the wonderful setup of our stay.
Early Morning in Haryana
Somewhere before Entering J&K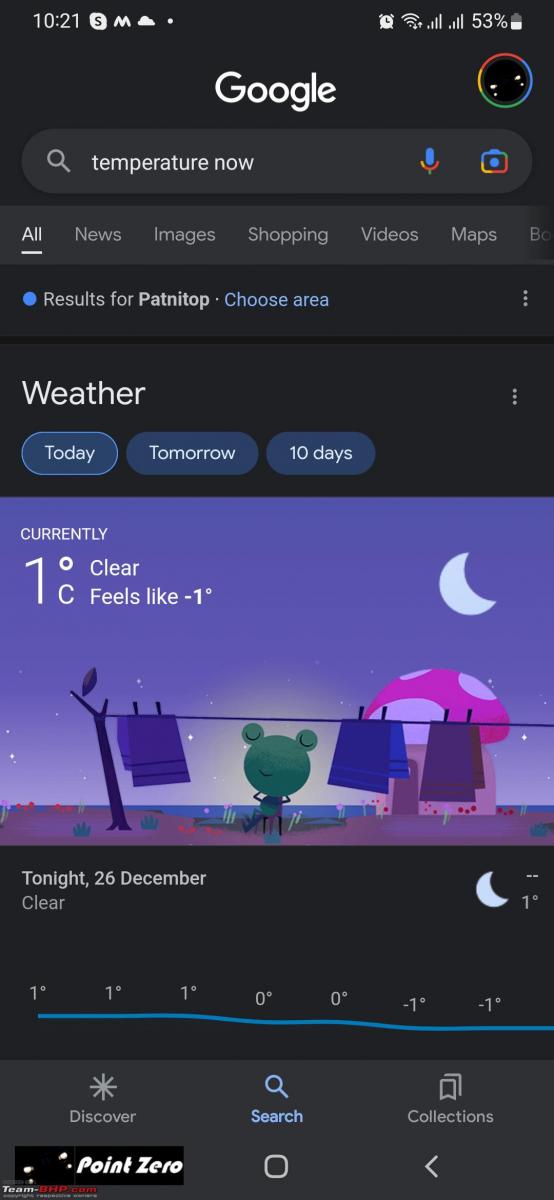 Patnitop
Though it was a festive season, we did not face much crowd in Patnitop and enjoyed the chilling evening (Temperature -1 degree C)
Continue reading PointZero's road trip for BHPian comments, insights and more information.
Source: Read Full Article