Valtteri Bottas: Everything went wrong from lap 1 | F1 News by PlanetF1
Valtteri Bottas says his Turkish GP was all about "surviving" as "everything went wrong" from the very first lap onwards.
Bottas had a wretched time at the Istanbul Park, arguably his worst race weekend of this season.
Qualifying down in ninth place on the intermediate tyres on Saturday, he hoped to work his way forward in the race.
It wasn't to be.
The Finn had an early incident with Esteban Ocon, tagging the Renault driver after he had been spun by his own team-mate Daniel Ricciardo.
Bottas' W11 suffered minor damage but it was enough to make staying on the track a difficult task on what were already trying conditions.
"That was a long race," he said. "Such a long day.
"From the first lap onwards, everything went wrong.
"I don't know who it was, but someone was spinning in front of me in the first corner and I was avoiding, and then I spun as well.
"Then I had contact in Turn 9 and then the car wasn't the same anymore.
"I struggled to stay on track. I couldn't stay on track, the steering wheel was like this, and there was a piece missing from the front wing.
"It was just about surviving from then on, not good."
Get your hands on the official Mercedes 2020 collection via the Formula 1 store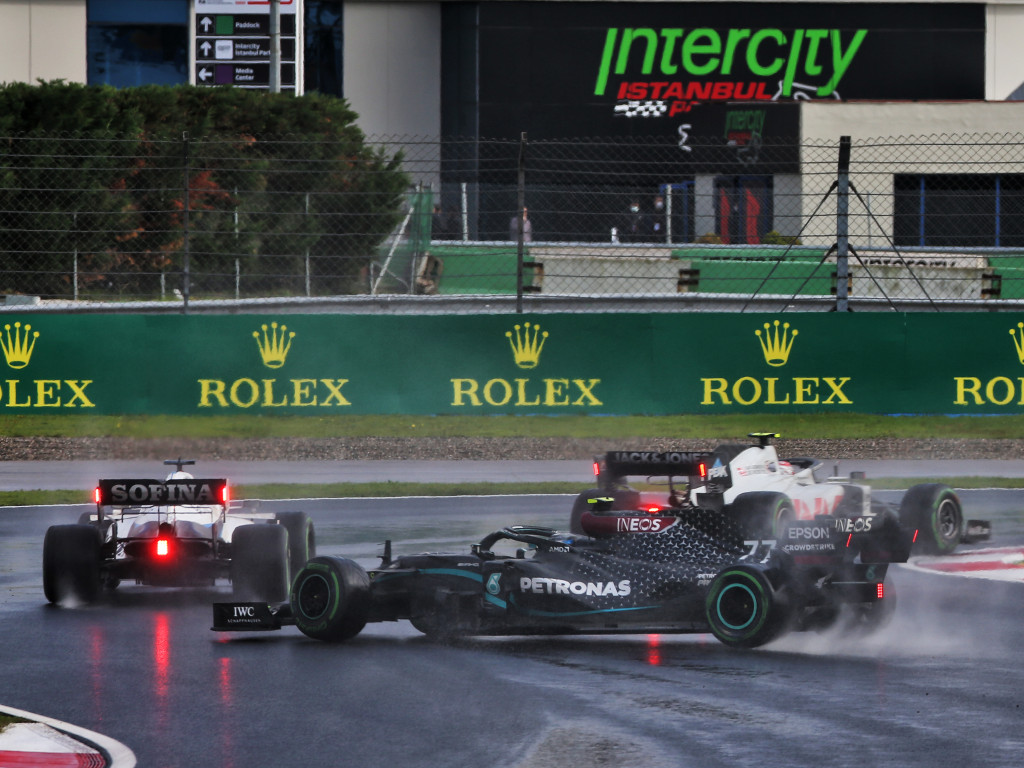 Bottas spun six times in the wet.
He finished the grand prix down in 14th place, lapped by his team-mate and race winner Lewis Hamilton.
Hamilton's latest victory, his 94th, gave him an unassailable lead in the Drivers' standings, handing him his seventh World title.
"Congratulations to Lewis as well," Bottas added.
"He deserves this title completely: he was the better one of us this year overall and seven titles is a very impressive achievement in our sport."
Bottas still has to fend off Max Verstappen in the battle to finish the season runner up.
He leads the Red Bull driver by 27 points with three races remaining.
Source: Read Full Article