Sebastian Vettel : Not enough time to advise Sainz about Ferrari
Sebastian Vettel has joked that there is not enough time in a single interview to set out all the advice he has for Carlos Sainz about racing for Ferrari.
But that's okay, the Spaniard is "smart enough" to get it right by himself.
After six seasons with Ferrari, Vettel left the team at the end of a difficult 2020 championship.
While Ferrari struggled for pace, Vettel was off the boil, scoring roughly a third of his team-mate Charles Leclerc's points.
It was a frustrating final year with ever-present rumours that Vettel and Ferrari were at odds with the German saying goodbye after the Abu Dhabi GP, his race seat going to Sainz.
The Spaniard, who joined from McLaren, has made a solid start to his time in red, not quite at Leclerc's pace but not too far off.
Vettel was asked by Spanish publication AS if he had any advice for the 26-year-old.
He replied with a laugh: "We would probably run out of time in this interview.
"But each person is different and it is very difficult to give advice that suits everyone.
"Carlos is smart enough to learn fast and has a suitable environment of people, I know this well because I have worked with many of them.
"It will be fine. As long as the Spanish press leaves him alone."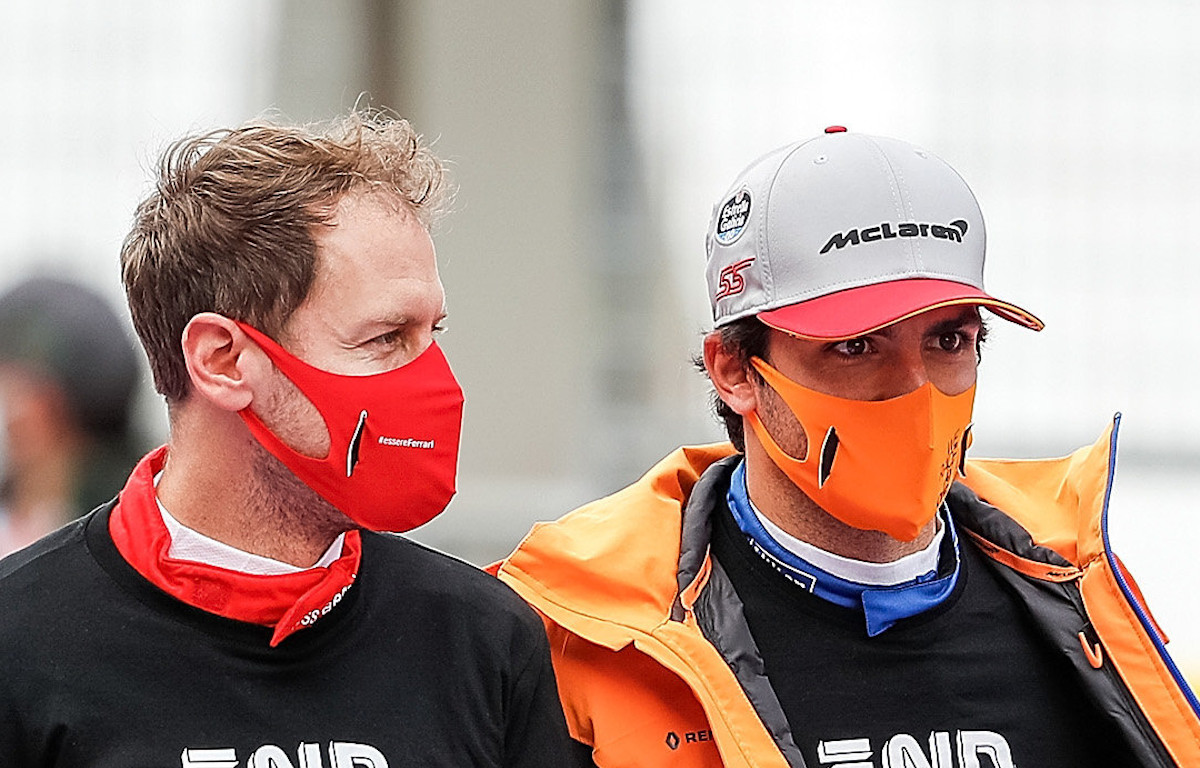 Kit yourself out in Ferrari colours via the official Formula 1 store
Following Ferrari's announcement that Vettel would be leaving, there were rumours that Daniel Ricciardo would be taking his Ferrari race seat.
In the end, though, it went to Sainz.
Vettel believes the Spaniard – an "incredible talent" – is the right driver for Ferrari.
"Carlos deserves the steering wheel he has," he said.
"I've known him for a long time, since he was very young, because he went through the Red Bull program.
"Now it seems that a long time has passed, but it is because he was really young when he arrived.
"He has incredible talent and he has also developed very well as a driver, so I think it is a great opportunity for him and I am very happy for Carlos, I told him last year when he was confirmed.
"I'm glad that I have the opportunity to drive for Ferrari, because they are one of the most iconic teams in F1.
"I hope he does well. I've always liked him, he was supportive even when I was a junior driver and did a lot of simulator work which then also helped us win championships.
"He's got his head in place, he's smart, and he deserves to be where he is."
Sainz scored in his opening two races with Ferrari, bagging 14 points to sit P8 in the Drivers' standings.
Source: Read Full Article