Red Bull burn Mercedes and Racing Point | F1 News by PlanetF1
Saying goodbye to 2020, Red Bull's twitter account did it in style as they responded to Mercedes' retiring the W11 with a "Racing Point, our 2021 car is ready for collection" comment.
Mercedes hit back.
Sunday evening's Abu Dhabi Grand Prix marked the final race of the 2020 championship, a season that was dominated by Mercedes.
Taking 13 of the 17 grand prix victories, the team claimed the Constructors' Championship for a seventh year in a row and also the Drivers' with Lewis Hamilton taking his sixth in seven seasons.
Red Bull, though, had the last laugh, both on the track and on social media.
Max Verstappen took his first pole position of the campaign as the Yas Marina circuit before going onto win the season-ending Abu Dhabi GP, joined on the podium by Valtteri Bottas and Hamilton.
The Mercedes drivers celebrated the end of the season with a few donuts, Mercedes "sending W11 into retirement".
Serving them up HOT ? Sending W11 into retirement with some fresh ? ? ?! #AbuDhabiGP pic.twitter.com/9FwcvCXXcq
— Mercedes-AMG PETRONAS F1 Team (@MercedesAMGF1) December 13, 2020
Get your hands on the official Mercedes 2020 collection via the Formula 1 store
Red Bull were quick to respond only for Mercedes to remind them of their late season form.
Even Racing Point got involved.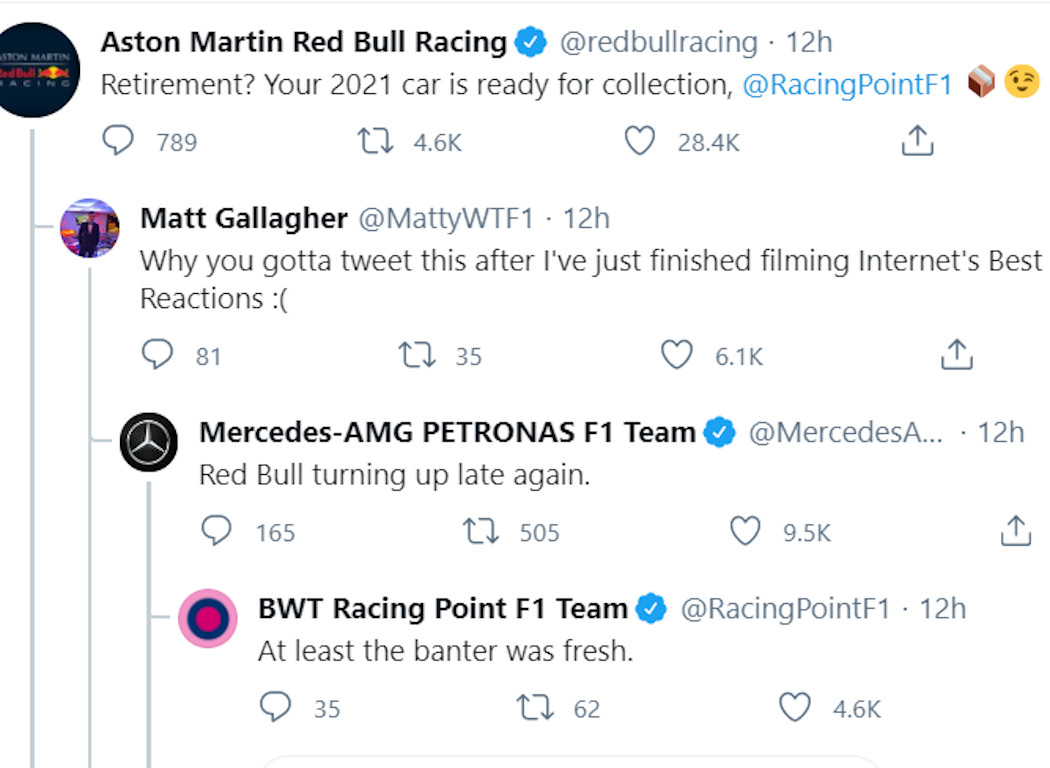 Just in case you somehow missed it, Racing Point arrived on this year's grid with a pink Mercedes, their controversial car based on Mercedes' 2019 championship-winning W10.
Rivals, including Red Bull, often questioned the legality of the car with early season protests from Renault and Ferrari resulting in a fine for the Silverstone team and also a 15-point deduction.
Racing Point, though, were allowed with the car and finished fourth in the Constructors' Championship with 195 points. They missed out on P3 by seven.
The team did at least take its first win under the Racing Point banner with Sergio Perez winning the Sakhir Grand Prix.
Source: Read Full Article