Nature called for George Russell…then Mercedes did | Planet F1
George Russell has revealed the call from Mercedes confirming he would replace Lewis Hamilton for the Sakhir Grand Prix came when he was in the bathroom.
Hamilton tested positive for COVID-19 following the Bahrain Grand Prix, which means he is unable to take part in the Sakhir GP around Bahrain's 'Outer Circuit'.
And Mercedes were able to convince Williams to release their junior driver Russell from his 'loan' deal for the event.
Amusingly, the call to action came at around "2am on Tuesday morning" when Russell was in the bathroom.
"It's all happened so fast, it's been an intense 48 hours," he told reporters ahead of the Sakhir Grand Prix.
"I got a phone call from Toto [Wolff] at 2am on Tuesday morning. I was actually in the bathroom at the time, which was slightly awkward. I answered the phone, he said 'George, are you in the bathroom?' I said 'sorry, I am in the bathroom'.
"He said 'Unfortunately, Lewis has caught Covid, he's doing well, he's healthy and feels fine, which is most important, but we want you to drive'. I said 'Right, okay'. Obviously a bit of a sleepless night.
"Then we made it happen throughout the following day. I had 64 phone calls on Tuesday pinging between so many different people. I'm glad we got there in the end.
"I was very anxious on Tuesday waiting to find out if we could strike a deal with Williams. I need to say a massive thank you to them for allowing me this opportunity, and here we are.
"It feels strange to be back with Mercedes. Obviously I spent two years as their test and simulator driver.
"I know all of the guys, which makes things a lot easier to get back into the team. I'm just being bombarded with information at the moment to learn, ready for the weekend ahead."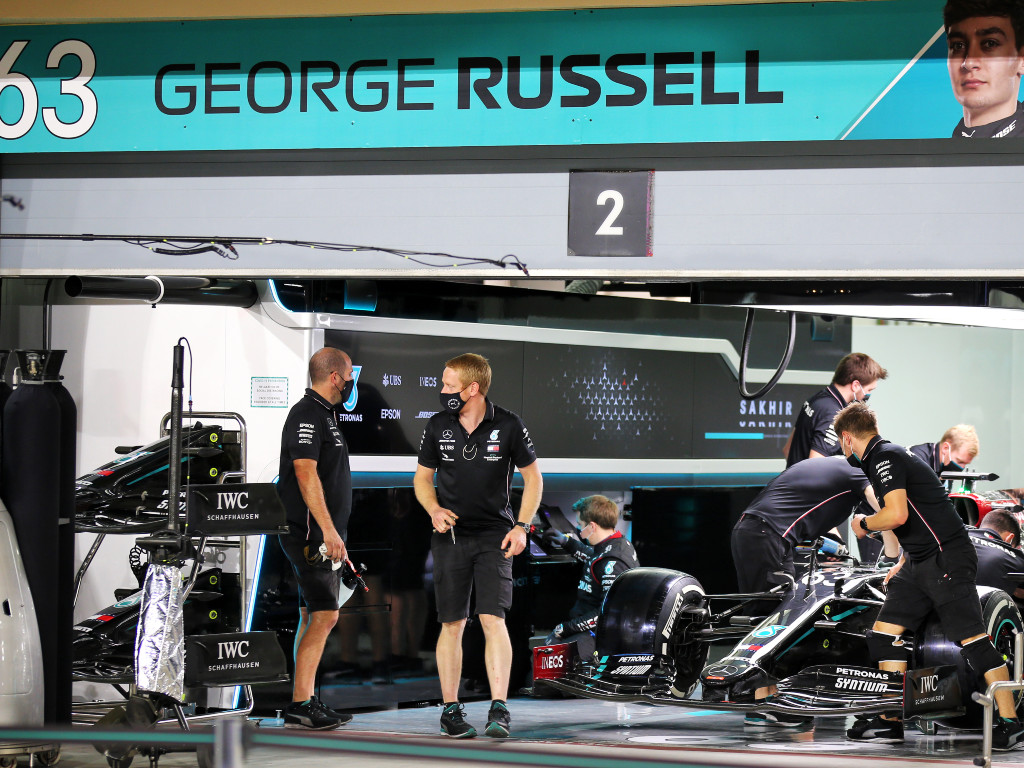 Get your hands on the official Mercedes 2020 collection via the Formula 1 store
The Sakhir GP will be something of an audition for Russell – he was overlooked for a 2021 drive with the Silver Arrows, who chose to retain Valtteri Bottas, but if he is able to get the better of the Finn or get close to him over the race weekend, he will go some way to putting himself firmly in the conversation for a permanent Mercedes seat.
That said, Russell is well aware Bottas is no easy driver to beat.
"Valtteri has been pushing Lewis a huge amount over the years. I know it's not going to be an easy task coming in," he said.
"When you're in the groove, you're integrated into the team. The level I was at with Williams, just having spent two years in the same car with my same engineers, same mechanics, changing suddenly, there's so many new things to learn.
"I've got no expectations, no targets. Just build up to it over Friday, learn as much as I can and just do my best."
Asked if his performance could influence Mercedes' thinking on their driver line-up, Russell replied: "One race doesn't define a driver's capabilities or the decision-making for something that's over 12 months away, so from my side that's not even in the back of my mind.
"I'm going to go out there, enjoy it, learn as much as I can. Because obviously I have a job to do back on my return to Williams, which is to try and push that team forwards as well, to maximise that learning from Valtteri, the team, whoever.
"In terms of the future, that will be judged over the course of the season and what's happened in the past as well, not just one or maybe two races.
"From my side, I think there's no pressure. I'm being thrown in at the last opportunity. I haven't driven their simulator in two years. My seat is three years old. I've got so much information to learn and going up against Valtteri isn't going to be easy."
Russell is one of the taller drivers on the grid, so for a driver who is almost four inches taller than Hamilton, the cockpit of the W11 is a bit of a "tight squeeze".
"It definitely was a tight squeeze. Also, my size 11 feet were a struggle, so I'm having to wear a slightly smaller shoe than is ideal," he revealed.
"So that's slightly uncomfortable, but I'm sure I can endure the pain to get this opportunity."
Follow us on Twitter @Planet_F1, like our Facebook page and join us on Instagram!
Source: Read Full Article