NASCAR's Most Memorable Moments at Michigan International Speedway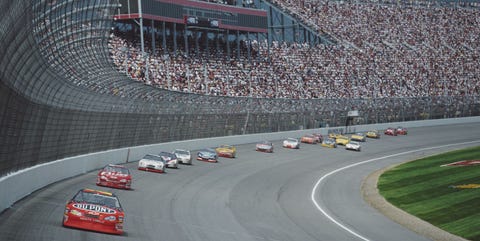 The Michigan International Speedway Speedway of the 1970s and early 1980s featured a much different on-track product compared to what fans are used to today.
A track record of 65 lead changes that still stands to this day was set during the 1981 Champion Spark Plug 400, with Richard Petty, Neil Bonnett, Benny Parsons and Bobby Allison being among the drivers to take turns at the front of the field.
Petty ultimately came out on top in this competitive event by passing Allison with five laps remaining to claim his 195th career Cup Series victory.
Following a stellar five-win season and a second place points finish in 1981, Bobby Allison made the decision to leave Harry Ranier's operation and join with DiGard Racing for the full 1982 season.
Allison immediately found success by winning the 1982 Daytona 500, albeit under controversial circumstances, and had won four other races with DiGard prior to the 1982 Champion Spark Plug 400 at Michigan.
Allison led a race-high 120 laps on the day but had to hold off a strong challenge from Richard Petty on the last lap. A strong defensive drive from Allison, which included breaking the draft he had on Petty, was enough for him to secure his sixth of eight victories in 1982.
Dale Earnhardt Jr.'s decision to leave Dale Earnhardt Incorporated at the end of 2007 to join Hendrick Motorsports shocked many NASCAR fans but also left them wondering how long it would take for the sport's most popular driver to visit victory lane.
After opening the year with a victory in the Budweiser Shootout, Earnhardt Jr. tallied six Top 5s in the first 14 races but had yet to win a race despite leading a combined total of 527 laps across those events.
Earnhardt Jr.s' luck finally changed on a fuel mileage gamble at Michigan. A perfectly-timed caution for a crash involving Patrick Carpentier was enough for Earnhardt Jr. to coast across the line on fumes and win his first race for Hendrick in front of an exuberant crowd.
Rain threatened the 1997 DeVilbiss 400 all afternoon but Mark Martin put himself in the best position to come out on top by claiming the outside pole and leading 70 of the opening 85 laps.
Martin's fortunes turned when he lost a left rear tire. No caution came out and Jeff Burton inherited the lead of the race with Martin losing two laps, all while lingering rain put the race in danger of not making its scheduled distance of 200 laps.
A light mist resulted in two separate caution periods, one of which lasted for 34 laps. Martin made up both of his lost laps during those cautions and was able to pass Burton, Ted Musgrave and Jeff Gordon in the closing laps to pick up his third win of 1997.
The 2009 season was a renaissance for Mark Martin, who had already visited victory lane at Phoenix Raceway and in the Southern 500 driving the No. 5 for Rick Hendrick.
Martin had another strong car for the 2009 Lifelock 400 but he found himself behind Greg Biffle and Jimmie Johnson for most of the afternoon until a caution for David Stremme's crash forced teams to save fuel for what would be a 44-lap run to the finish.
Johnson, who had led 146 laps, ran out of fuel coming to the white flag while Biffle's engine sputtered on the backstretch. With the two fastest cars out of fuel, Martin had no opposition as he coasted across the start-finish line to win at Michigan for the final time in his career.
Fresh off a dominating win at Dover International Raceway, in which he led 381 of the 400 laps, Jeff Gordon looked to continue his efficiency in the summer at Michigan and kickstart his quest to claim a fourth Cup Series title.
Hendrick Motorsports once again provided a dominant car for Gordon but a string of late-race cautions kept Ricky Rudd within striking distance of the lead, who was looking to break a winless drought that extended back to 1998.
Coming to the white flag, Rudd crossed over Gordon in Turn 4 to edge the three-time champion at the line. Rudd was unable to make the car stick in Turn 1 and Gordon proceeded to re-take the lead and deny Rudd the opportunity to visit victory lane for the first time in nearly three years.
NASCAR's most popular driver from 2003 until his retirement at the end of the 2017 season, there were only a handful of instances in which Dale Earnhardt Jr. earned scorn from the NASCAR fanbase.
One of those occasions took place during the 2006 Carfax 250 at Michigan, where Earnhardt Jr. found himself in a battle with Carl Edwards and Robby Gordon, only for Earnhardt Jr. to turn Edwards around on the backstretch during a green-white-checkered attempt.
Earnhardt Jr. claimed the victory as a result of the maneuver, but Edwards was furious and slammed his car into Earnhardt Jr.'s during the cooldown lap. The fans shared Edwards' disgust and jeered Earnhardt Jr. as he celebrated in victory lane.
Kyle Larson had won two consecutive races at Michigan prior to the 2017 Pure Michigan 400 but many casted doubt on whether or not he would be able to win his third straight after narrowly missing out on a Knoxville Nationals victory the night before.
Larson stayed inside the Top 5 for most of the afternoon but was initially unable to challenge race leader Brad Keselowski before his car faded, allowing Kyle Busch, Denny Hamlin and Martin Truex Jr. to take turns leading the race.
A green-white-checkered attempt saw Larson lined up behind Truex on the outside of the second row. Larson proceeded to split the two Furniture Row Racing cars of Truex and Erik Jones in a bold move down the frontstretch that ultimately earned him his third consecutive Michigan victory.
When Neil Bonnett was injured in an accident at Darlington Raceway in 1990, a then-unknown Dale Jarrett was given the responsibility of piloting the Wood Brothers No. 21 Ford that had been made famous by drivers such as David Pearson, Cale Yarborough, Marvin Panch and many others.
Jarrett had put together several Top 10s in the Wood Brothers during the 1990 and 1991 seasons but he found himself in a great position to win his first career race for the historic team after a decision to take fuel only on the final pit stop put him in front of Davey Allison.
With fresher tires, Allison bided his time before driving to the outside of Jarrett and nipping him at the start-finish line on the white flag lap. Jarrett held his own on the bottom during the entire final circuit and managed to edge Allison in a photo finish, all while his father Ned Jarrett got to observe his son's first win while calling the race for ESPN
The final years of the 2000s and the early 2010s were some of the roughest for Dale Earnhardt Jr., who frequently struggled to find his footing with Hendrick Motorsports while Jeff Gordon and Jimmie Johnson enjoyed plenty of success.
The decision to move crew chief Steve Letarte over to Earnhardt Jr,'s pit box in 2011 gradually began to pay off for him, as he nearly won several races in their first season together before tallying five Top 5s in the first 14 races of 2012.
Four years of frustration for Earnhardt Jr. finally culminated into a long-overdue victory in the 2012 Quicken Loans 400. Earnhardt Jr. led 95 of the 200 laps and pulled away to a 5.4 second lead over Tony Stewart coming to the checkered flag, all while Earnhardt Jr.'s fans erupted into a thunderous frenzy to celebrate his return to victory lane.
Source: Read Full Article