NASCAR Drivers Sometimes Wonder: \u2018To Race, or Not to Race?\u2019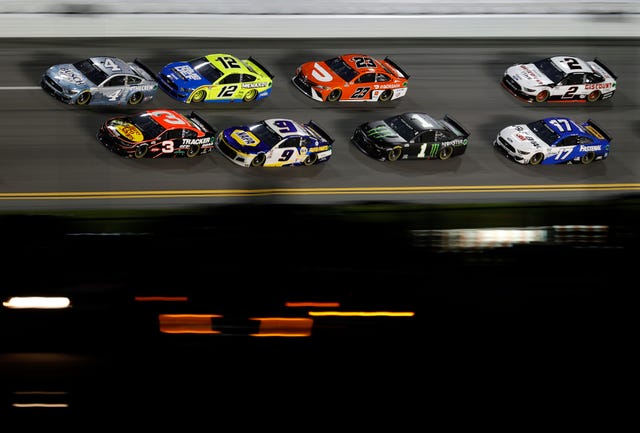 NASCAR did something this week they have not done since March of last year; they had practice sessions along with qualifying. Not just any qualifying, but the quirky, odd, hard to figure out, qualifying for the biggest race of the year, the season opening Daytona 500.
Not only did cars take lone qualifying laps but they held two 150-mile qualifying races that split the field in half and determine not only where everyone will start, but which teams will race, and who will go home.
The only positions that are secure are the top two, the pole sitter and the second-place starter. This year, as in six of the last seven years, Hendrick Motorsports swept the top two spots with Alex Bowman winning the pole and William Byron taking the second spot.
That doesn't mean those top two starting spots are actually "secure." Just because a driver is awarded a starting spot, doesn't mean that's where they will actually start.
Seven drivers in Thursday nights Duel races found that out the hard way. Brad Keselowski, Chase Briscoe, Kaz Grala, Cole Custer, Ross Chastain and Anthony Alfredo all crashed in their respective races meaning they will be forced to backup cars and when the green flag waves for the 63rd running of NASCAR's "Great American Race" under NASCAR's rules, those drivers will start from the back. They'll make the parade laps in the positions they earned during the qualifying process but drop to the back of the field just before the race goes green.
William Byron will be joining them. Byron will have to give up his second place starting spot after crashing late in his qualifying race. Which begs the question. "If you are locked into the front row, should you even be racing hard during a race that really doesn't matter?"
Up until the end of last season Chad Knaus was the crew chief for William Byron. Knaus was promoted to Vice President of Competition for Hendrick Motorsports at the end of the 2020 season and now has responsibility for all 4 of Hendricks Cup cars.
Knaus has been through plenty of Daytona 500s. He was not only the crew chief for seven Cup titles with Jimmie Johnson, but the duo also won the 2013 Daytona 500 and two Daytona 500 poles together.
He said Friday that of course, the last thing any team wants to see is their car crash during a qualifying race, especially when they already have a front row starting spot locked up.
"It's awful," Knaus said. "We hope it doesn't happen; you know.
"That's always something you're trying to weigh: When you qualify in the front row, how aggressive do you get in the 150? Do you race hard?"
Knaus points out that the rewards seem to outweigh the risks.
"It's a balance," he said. "But the only way for these guys to get legit practices is to race."
He added that the Chevrolet of Byron has been showing a great deal of speed all week.
"We're all pretty excited about that," he said. "So, I think they made the right call."
Hendrick driver Chase Elliot has a decade of experience in the Daytona 500. The reigning NASCAR Cup champion has won the Daytona 500 pole twice and once for the summer race in 2018. He said racing in the Duel needs to be all or nothing, but not necessarily for a trophy, or even a good starting position.
"You have to go and race and push," Elliott said. "Try to figure out what you can and can't do within reason. I mean it starting a good starting spot is great. Like that's, that's awesome. And, and if you can achieve that great, but that's definitely not the key to success in the 500 and in my opinion."
According to Elliott there is a good reason to race hard in the Duel.
"It can help you along the way," he said. "Maybe not necessarily your starting spot but having a good pit selection on pit road. I personally think that that's probably more important than the starting spot itself.
"I mean, if you can get that first pit box, that can be an advantage for, you know, caution flag, live pit stops."
Throughout the Duel race a driver might be looking for decent pit selection but they also have to avoid destroying the car and being forced to a backup.
"Obviously there's a reason that you bring the car that you unload with down here," Elliott said. "That was your first choice for a reason. You put more effort into that one or, or you wouldn't have picked it to bring. So that being said, absolutely. You want to try to have that car on Sunday and that's the big one. As you lead into all of these events."
When all is said and done the entire qualifying process is just that, a process. And part of that process is having a plan for Sunday's big race. According to Knaus racing from the back of the field and trying to avoid another accident is no different than racing at the front of the field.
"It is not a huge deal," Knaus said "Obviously you're, you're exposing yourself maybe to some problems early on if it's hot and it's slick and guys are trying to find their groove, you could potentially get caught up into an accident.
"I've gotten crashed leading the race at like lap 24 before. Right?" he added. "You just don't know what's going to happen. I don't think it's a huge player in the whole scheme of things."
At the end of the day Kanus isn't worried about where his cars start Sunday.
"The guys are going to be able to recover," he said. "I feel like our cars are fast enough that they're not going to have trouble rolling through the field and getting up to where they need to be.
"Just doing it wisely and mindfully is obviously very critical to not tear up your race car, because even if a lot of the race cars crash out and you're one of the few 10, 12 cars at the end of the race that are out there competing for the win, the guy with the least amount of damage and the car that's most intact is probably got a better opportunity to win than somebody that has his car torn up."
Perhaps no driver summed up the week leading up to the Daytona 500 better than Austin Dillon who won the second Duel race Thursday.
"Obviously, everybody wants to win, it's the first race back," Dillon said. "But you kind of as a driver forget out there what we're really racing for, and that's on Sunday, the Harley J. Earl trophy."
What do you think? Go all out, or hold back in a qualifying race? Let us know below.
Source: Read Full Article