Lewis Hamilton 'not thinking of stopping' after Grosjean crash | F1 News by PlanetF1
With nothing left to prove in F1, one wouldn't fault Lewis Hamilton for walking away from the sport after watching Romain Grosjean's fiery crash in Bahrain.
The Brit, though, says that doesn't change his mind, he's "not thinking" about retiring.
Nearing the end of a season in which Hamilton has broken or equalled the sport's biggest records – most race wins and most World titles – Formula 1 was given a harsh reminder of what's at stake when the lights go out.
Grosjean crashed heavily on the opening lap of the Bahrain Grand Prix, his Haas spearing in the guardrail where it split on impact and burst into flames.
The Frenchman climbed from the car unaided, taking roughly 30 seconds to escape the fireball as his Haas melted around him.
Speaking in a short clip on social media from his hospital bed, the 34-year-old expressed his gratitude at Formula 1's ever-improving safety and most notably the Halo that he reckons saved his life.
Grosjean's lucky escape saw race winner Hamilton questioned as to whether watching such a crash made him question whether he really needs to continue in Formula 1.
He replied: "I'd be lying if I was to say no, of course, you think it's so important to continue to respect the sport and the dangers that are there.
"I've been racing 27 years and I've seen from a young kid to Jules, his experience.
"When I was nine, I saw a kid die on the same day that I won a race and so I've always been aware of the dangers and the risks that I take and for sure, as you get later on in life I would say you would probably question it more than perhaps when I was in my early twenties.
"So yeah, today, definitely I was.
"I'm also thinking for Romain, I was thinking jeez, he's got a wife and kids and that must be something he will for sure have to think heavily on because it's a privilege to be able to do what we do but there's so much life also and so many other things to do beyond.
"But as I say, we've seen something that was pretty… it was huge that crash and the safety definitely reminds us of the great job that has been done but more needs to be done so we will continue to work on it.
"I don't have any fears so I'm sure for all of us we just get back in and do what we do but yeah.
"I'm not thinking of stopping because of that, no."
Hamilton has yet to re-sign with Mercedes for 2021 but is expected to agree an extension before the year is out.
Get your hands on the official Mercedes 2020 collection via the Formula 1 store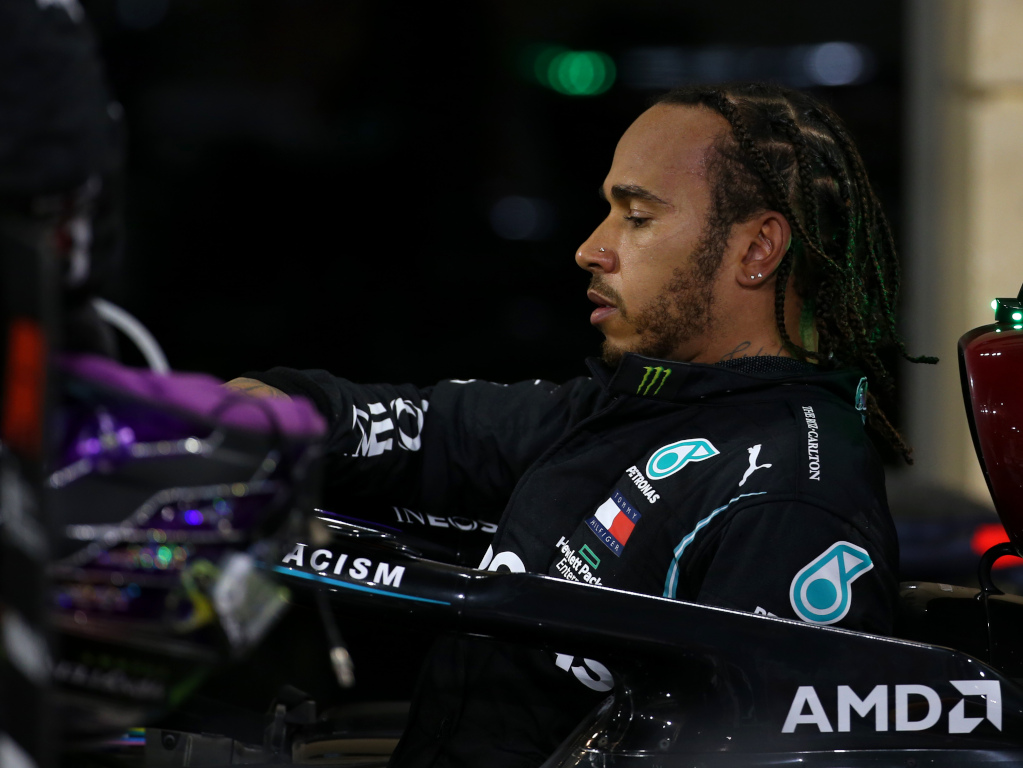 The drivers waited an hour and a half for the race to restart during which time they watched the footage of the crash over and over.
Hamilton says it was a reminder of the dangers the drivers face.
"It was terrifying to see," he said. "I haven't seen something like that for a long, long time.
"It really hits home for a driver, because I think while we are all competing with each other and want to beat each other we definitely I would think want safety for everyone and worry about one another when there is an issue, when there is a crash.
"I'm really grateful that he is safe and was able to get out. But it is a real stark reminder just how dangerous this sport can be – the speeds that we are travelling, the energy that we are carrying when we are travelling at those speeds.
"The FIA have done an amazing job, but we can't stop where we are, we've got to keep on trying to improve. That's what also makes this sport great. We are constantly evolving. It is still a dangerous sport.
"I'm sure there are people who tuned in who have never seen something like that and it just shows that those things can happen. I think we are aware of that as racing drivers, the risks we take. Now everyone else is."
Source: Read Full Article