Here's How to Watch All This Weekend's Esports Action
Since most of the motorsports calendar has gone down the drain for 2020, esports has filled the gap. We've seen a number of series spring up — some official, some not — in the virtual world to grab the bored and quarantined eyes of the motorsports fan.
With real-life racing drivers mixing it with celebrities and well-known faces in the world of esports, the events have proved engaging. Viewers keep tuning in by the hundreds of thousands, with one even setting records on traditional broadcast television.
There's so many series now it might be hard to keep track of them all, so here's our handy guide to what to watch this weekend — and, more importantly how to watch it. We'll post stream links as they become available, but in the meantime you can catch up on any previous action and view teaser videos below.
IndyCar iRacing Challenge
IndyCar kicks off the weekend's esports with the iRacing Challenge. The first race will take place this weekend, with 25 professional IndyCar drivers — boasting nine championship titles and more than 100 race wins between them, and including current series champion Josef Newgarden — racing off at Watkins Glen.
It's the first in a series of six races over the next six Saturdays, filling the drivers' time while the real-world calendar is paused. IndyCar and iRacing will both broadcast the events, which you'll be able to watch below from 2000 UTC on Saturday, March 28.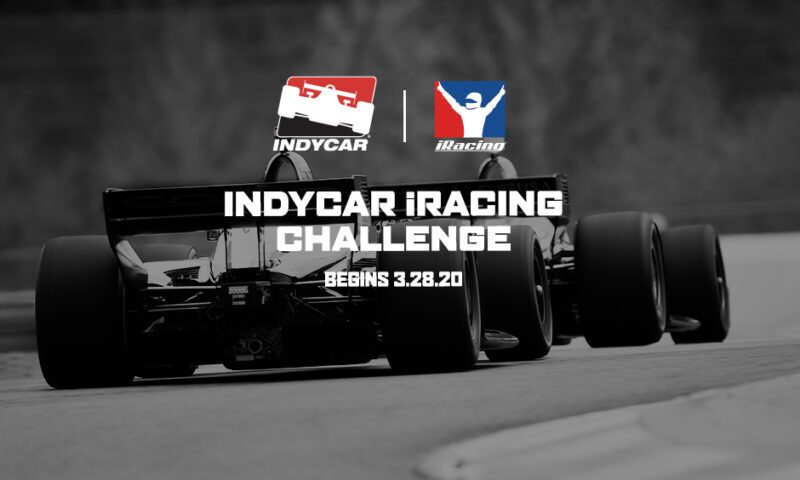 SRO Esports Charity Challenge
SRO, the governing body behind much of GT racing, has teamed up with Kunos Simulazione to run a two-hour long race program on Sunday, March 29. There'll be three races across the evening, in Assetto Corsa Competizione, featuring real world drivers and ten 'wild-card' entries from a hot-lap contest within the game. Drivers include pros from the GT World Challenge and British GT Championship, along with virtual stars David Tonizza and Cody Latkovski.
The races will be for charity, with all competitors required to make a minimum €15 donation to the COVID-19 Solidarity Response Fund. GT World Challenge will stream the event on its YouTube channel, starting at 1500 UTC.
https://youtube.com/watch?v=8wC-TGZj3o8%3Ffeature%3Doembed
The Race All-Star Esports Battle
The Race is in its third weekend of esports, with the All-Star Esports Battle pitting drivers from all over the world of motorsports and esports too, from several different disciplines. While most of the other events are filling in for or recreating real events, the All-Star races use a variety of different formats not keyed to any one specific postponed race.
This week's event, which you'll be able to see on The Race's YouTube channel from 1600 UTC on Sunday March 29, will also add a "Legends Trophy" beforehand. That will see double-F1 and double-Indy 500 champion Emerson Fittipaldi making his own esports debut.
https://youtube.com/watch?v=SRv7-gKAqlE%3Ffeature%3Doembed
Veloce Pro Series
Veloce Esports has been running Grand Prix equivalents over the past two postponed F1 weekends, but with no scheduled F1 this weekend it has a new series. "Not the… GP" will continue to run on GP weekends, other Sundays will now see the Veloce Pro Series. Promising 30 pro drivers — including F1 'meme-lord' Lando Norris — the race will take place at an as-yet undecided circuit.
This week's event gets underway at 1800 UTC on Sunday March 29 on the Veloce Esports YouTube channel, which you'll be able to watch below when the event goes live.
https://youtube.com/watch?v=vVLTdi4BtPE%3Ffeature%3Doembed
NASCAR iRacing Pro Invitational Series
NASCAR is also running an iRacing event for its pro drivers, again including past and present names. The record-breaking TV audience for the first round, at Miami-Homestead, saw Denny Hamlin passing Dale Earnhardt Jr. right at the finish line (with a little paint trading!) and it continues this week with another race at Texas Motor Speedway.
Fox will again broadcast the race on its network, but you'll also be able to catch it on the NASCAR on Fox YouTube account, with the race starting the same time as the Veloce Pro Series above, at 1800 UTC on Sunday March 29.
https://youtube.com/watch?v=1MBERWvF0TY%3Ffeature%3Doembed
Formula 1
As this weekend wouldn't have been a Grand Prix weekend, F1's Virtual Grand Prix is on a pause. That doesn't mean that there's nothing on though, as F1 is launching a new challenge for non-GP weekends. This week, F1 will choose from all the players who send in their Steam IDs on social media for a one-off race in F1 2019 between fans and none other than the clearly very busy Lando Norris.
It will broadcast "#ChallengeLando" at 2000 UTC on Sunday March 29 on its official YouTube channel.
https://youtube.com/watch?v=QwcRDOjgfkE%3Ffeature%3Doembed
Source: Read Full Article