Haug: Schumi wasn't forced to retire for Hamilton | F1 News by PlanetF1
Michael Schumacher "wasn't" forced to retire to make room for Lewis Hamilton, says former Mercedes boss Norbert Haug.
In fact he reckons if Schumacher had stuck around for a few more years, he could have added another title or two as a Mercedes driver.
Schumacher quit Formula 1 for the second time at the end of the 2012 season, calling it time after three disappointing seasons with Mercedes that yielded just one podium result, third at the 2012 European Grand Prix, and one pole position.
The latter, though, was stripped from him as he had already been given a five-place grid penalty for crashing into Bruno Senna at the previous race in Spain.
Schumacher was replaced by Hamilton with the Briton going on to win the 2014 World title before adding a further five to his tally with Mercedes.
Bagging his seventh this season, the 35-year-old has equalled Schumacher's record for the most Drivers' Championship titles.
He has also helped Mercedes to seven successive Constructors' crowns, the success unparalleled.
Haug, a former Mercedes man, was recently asked about Schumacher and Hamilton and whether the German was "forced" out to make room for the Brit.
"No, he wasn't," Haug told Sport1.
"If you look, you will see that Michael was close to his 44th birthday when he retired, but that does not mean he was no longer capable of winning in 2013, 2014 and 2015 and could even have had a World championship title.
"As I said, anyone who takes pole position in Monaco in 2012 can, in my opinion, also win in 2014 with that kind of car, and with an even more superior one.
"Everything here was geared towards the hybrid engine era, which – because the competition hadn't finished – began in 2014 instead of 2013.
"And, as is well known, Mercedes has won all Formula 1 World Championship titles since 2014, seven times in a row with drivers and constructors.
"An unimaginable and unique achievement in the history of the Formula 1 World Championship, which speaks for the team, driver, team and team management."
Haug also weighed in on Nico Rosberg.
Get your hands on the official Mercedes 2020 collection via the Formula 1 store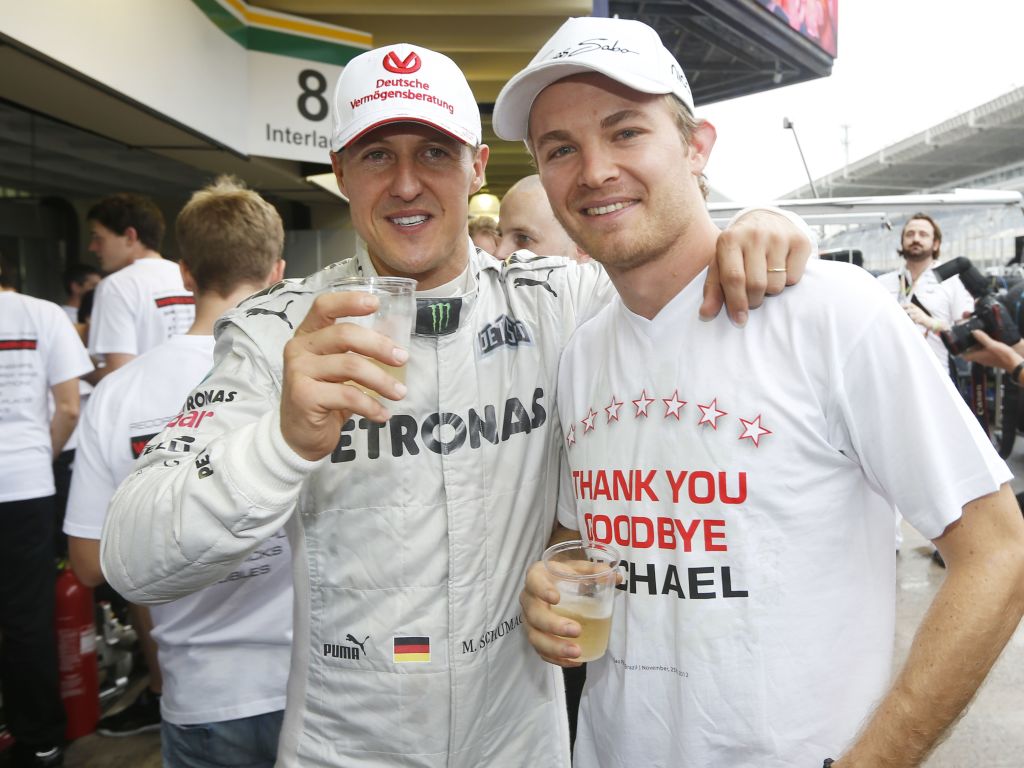 The 2016 World Champion is the only team-mate to have beaten both Schumacher and Hamilton out on track.
He finished his three seasons alongside Schumacher ahead in the standings and in 2016 beat Hamilton to the World title. Days later, he announced his shock retirement.
Asked 'what does that tell you?' about the German getting the better of the two legends, Haug replied: "That he would have preferred to continue driving…
"Seriously, Nico knew exactly why he drew the line under his Formula 1 racing career in 2016, he communicated that in detail.
"And I can absolutely understand and respect his decision.
"There are more important things in life than driving around in circles. But little that is more beautiful, more demanding and more instructive."
Source: Read Full Article