GT Sport Time Trial: Mazda Attack and Tuned Racers
The new GT Sport Time Trial mode has its second set of events right on cue this week.
Following its introduction with the most recent content update, Polyphony Digital hasn't said that much about this new online game mode. As far as we can tell, there are no prizes available, nor — despite the name of "qualifying time trial" — does it seem to act as a qualifier for anything. Even the in-game link to the "event website" merely takes you to the main Sport Mode section of the game's official site.
What we do know though is that it's a worldwide hot lap competition. It doesn't matter if you're in a territory eligible for participation in the FIA Online Championships or not, you can see how you stack up to the game's best. That's not just for driving ability either, as some of the events permit vehicle tuning too.
This week's two events both use racing cars, at least in name. The first event sees you tackle the East short course at Suzuka, in the new Mazda Roadster Touring Car. Despite the name, PD classes the car as a road car — perhaps a time attack car in the mold of the Amuse S2000 — so you'll be using Comfort Soft road tires for the event. There's no tuning permitted, so just set your best lap.
If you do fancy getting your virtual socket set dirty, the second time trial gives you free rein on settings. It's an event for tuned Gr.3 race cars; simply take any Gr.3 car from your garage and, within the power and weight allowance of GT Sport's Balance of Performance, tweak it to go as fast as possible around the Interlagos circuit in Brazil.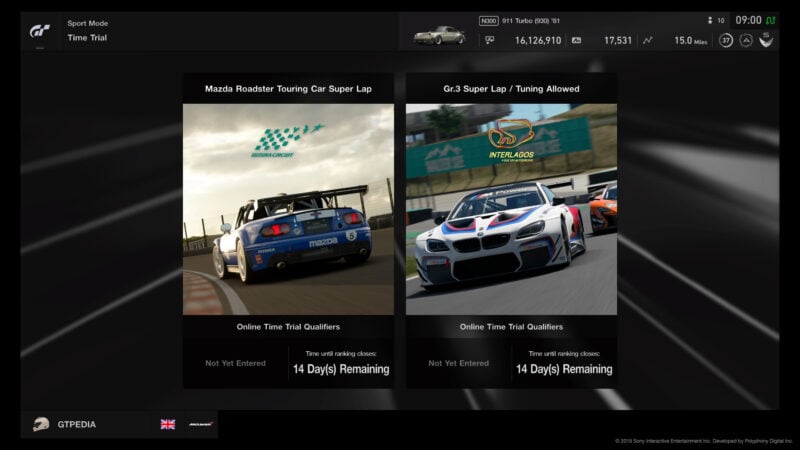 Mazda Roadster Touring Car Super Lap
Track: Suzuka Circuit – East Course
Car: Mazda Roadster Touring Car – Garage Car
Tires: Comfort Soft
BOP: On
Power/Weight Limit: N/A
Settings: Fixed
Gr.3 Super Lap
Track: Autodromo de Interlagos
Car: Gr.3 – Garage Car
Tires: Racing Hard
BOP: On
Power/Weight Limit: N/A
Settings: Adjustable
These will run through to August 28 and, if the pattern continues, will be replaced by two further time trial events.
Featured image courtesy of sebmugi.
Source: Read Full Article