GT Sport Daily Races: Goodwood's Debut, Minis, and Seaside Speed
It's Monday, so it's all-change again in the GT Sport Daily Races. This week we've got an old favorite, a new favorite, and some Minis at Suzuka.
Race A provides that combo. You'll be racing the classic Mini Cooper S 1965 for seven laps of Suzuka East. It's a specially provided vehicle, you'll be on sport hard tires, and there's no fuel or tire wear to worry about. Just pick your color and go.
The middle race this week provides the very definition of a "sprint" race. Dragon Trail Seaside — arguably the best original track at launch — is the venue for a five-lap race with Gr.3 race cars. It's another simple format, and you'll just need to pick your favorite Gr.3 from the 35 available (if you own them all, that is) for the race, on race hard tires.
Our brand-new track, Goodwood Motor Circuit, provides the location for this week's endurance race. It's a quick old track, so it'll be a 15-lap race in your choice of Gr.4 race cars. Interestingly, the tire wear multiplier is a little lower this week than we've been used to, at x11, so this may bring the four- and front-wheel drive cars back into the mix.
Be aware that Polyphony Digital has disabled the Countersteer Assist (CSA) aid for all races this week.
These three races will run through to 0900 UTC Monday, June 10.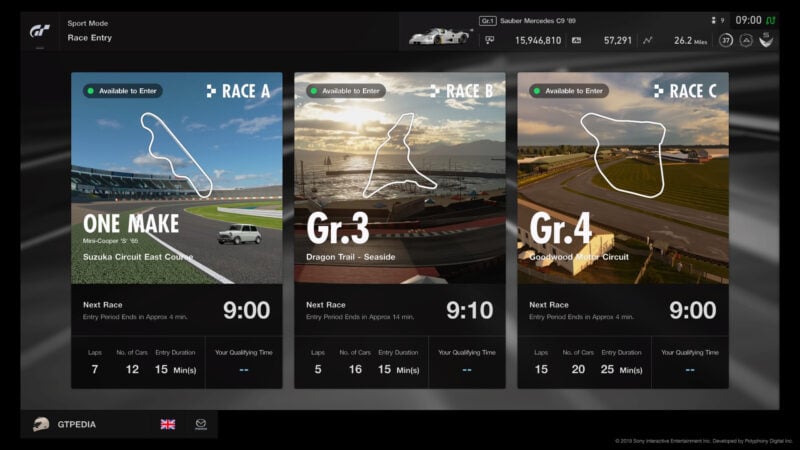 Race A
Track: Suzuka Circuit – East Course, 7 laps
Car: Mini Cooper S '65 – Provided Car
Tires: Sports Hard
Fuel use: Off
Tire use: Off
Race B
Track: Dragon Trail – Seaside, 5 laps
Car: Gr.3 – Garage Car
Tires: Racing Hard
Fuel use: Off
Tire use: Off
Race C
Track: Goodwood Circuit, 15 laps
Car: Gr.4 – Garage Car
Tires: Racing Hard
Fuel use: 7x
Tire use: 11x
Source: Read Full Article