GT Sport Daily Races: French Hills, Australia's Mountain, and Taking Twins for a Spin
This week's Daily Races give you an unusual chance to have some fun with twins, and takes us back to a circuit not seen in a while.
Race A is another of those pick and mix affairs that we've seen in recent weeks. It's not a wide array of cars within the same class this time though, but a choice of two. You can drive either of the badge-engineered "Toyobaru" twins: the Toyota 86 GT and the Subaru BRZ. Whichever you pick, they're provided for you — no special liveries here — you've got a four lap race at the "short" version of Fuji Speedway. That's the one without the chicane at the Dunlop Corner, which lops a whole 53 yards off the track length…
We get the traditional race car events in the other two races, but one takes us to a long-absent friend. Race C uses not only the Alsace Village circuit, but the reverse version of it with that tricky chicane to start the lap. You can use any of your Gr.2 garage cars — that's the 2008 and 2016 Super GT cars — which might make for a bit of a challenge, especially on 13x tire wear.
The middle race takes us to more familiar territory. It's a straightforward, three-lap sprint race, around Australia's Mount Panorama. Just pick any Gr.4 car that takes your fancy, strap on Racing Hard tires and aim at the horizon.
All three races will run through to Monday, June 17.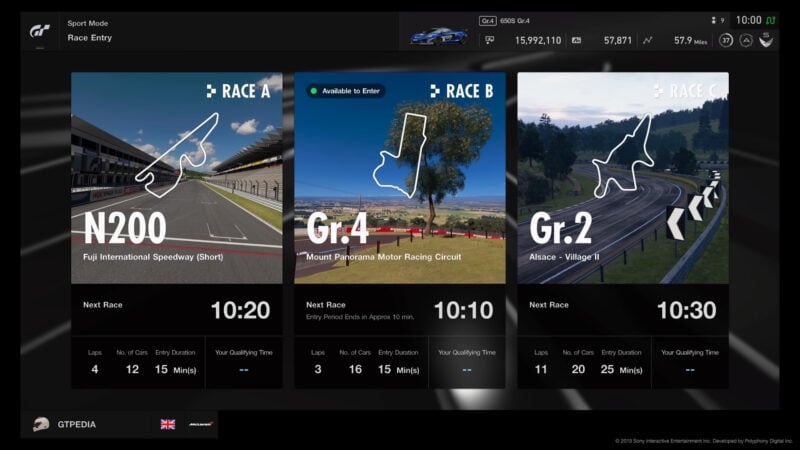 Race A
Track: Fuji International Speedway – Short, 4 laps
Car: Subaru BR Z S '15, Toyota 86 GT '15 – Provided Car
Tires: Sports Hard
Fuel use: Off
Tire use: Off
Race B
Track: Mount Panorama, 3 laps
Car: Gr.4 – Garage Car
Tires: Racing Hard
Fuel use: Off
Tire use: Off
Race C
Track: Alsace Village II, 11 laps
Car: Gr.2 – Garage Car
Tires: Racing Hard
Fuel use: 3x
Tire use: 13x
Source: Read Full Article