'George Russell's rant at Valtteri Bottas was to deflect attention'| Planet F1
Jolyon Palmer thinks George Russell's reaction to his crash with Valtteri Bottas at Imola was to "deflect attention" from his own mistake.
The duo, who were Mercedes team-mates at last year's Sakhir Grand Prix, wiped each other out in a high-speed collision on lap 32 of this season's second race while Russell was trying to overtake Bottas.
After their badly-damaged cars came to a standstill, a clearly furious Russell approached Bottas, who remained in the Mercedes, and after being shown the middle finger by the Finn, angrily slapped him across the helmet.
In media interviews after the Emilia Romagna Grand Prix, Russell laid the blame squarely at Bottas' door for the incident, saying he had "asked him if he was trying to kill us both".
His rival responded by insisting: "I don't know what he's on about because it was clearly his mistake." The race stewards found neither more culpable than the other and issued no penalties.
Former F1 racer Palmer agreed with Bottas and thought Russell's verbal defence had been a diversionary tactic – and one the Williams driver would potentially have second thoughts about when the dust had settled.
Check out all the latest Mercedes merchandise via the official Formula 1 store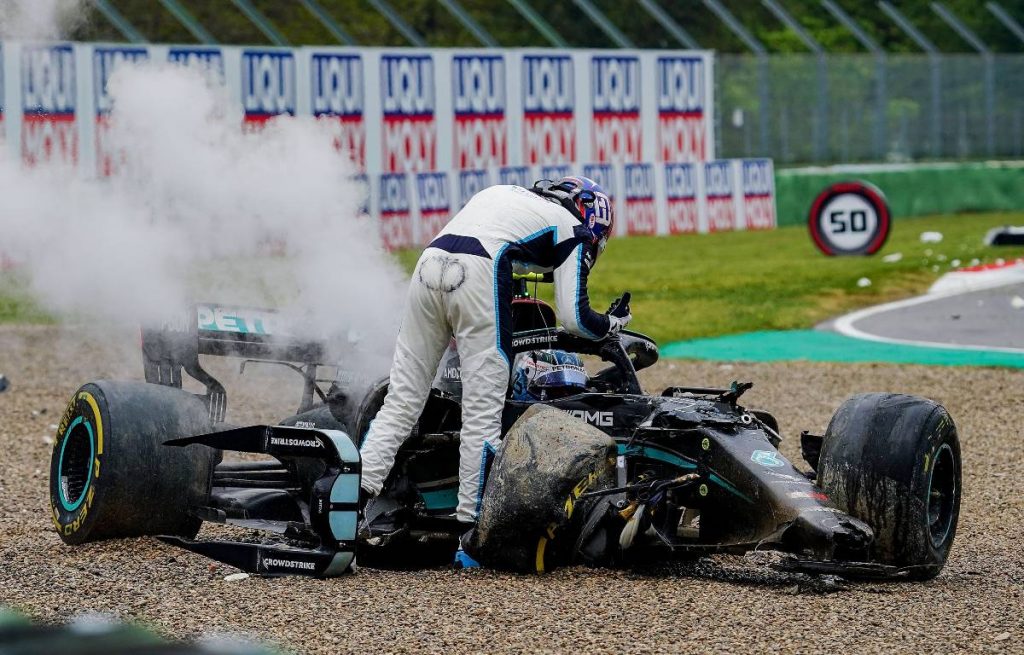 "It's Russell to blame really for this one, although I'm calling it a racing incident because of the difficult circumstances," said Russell during the BBC's Chequered Flag podcast.
"It's so tough when you're at nearly 200mph, you're finding a really narrow gap to try and overtake someone on the outside when there's damp around and low grip.
"All the remonstrations and the anger, I think if he didn't do that, if Russell didn't go over and start pointing the finger so aggressively at Bottas, I think everyone would just say 'Russell's lost control of the car and crashed'.
"I think pointing the finger almost deflects the attention a little bit, and then he will have watched the replay and I don't really think he's believing what he's saying as he's saying it in that interview.
"My feeling is he'll have watched it and thought 'actually, I was pretty hard on Valtteri when he was off in the gravel', came marching up, said whatever he said and Valtteri didn't hear, but he made his anger absolutely clear.
"In the moment, you think you've been dealt a gross injustice and someone else has done a hideous bit of driving and then you see it and you're like 'ooh, maybe that was on me'.
"I think it's all a bit muddled, his explanation in the end."
Palmer admitted that from his own experience, he knows incidents can look differently from outside to how they appear in the cockpit.
He added: "Bottas had a horrible race – to be in a position where he could be passed by a Williams isn't great.
"When you see Russell absolutely stompingly furious, I thought 'I can't wait for this replay as Bottas must have done something awful'.
"But we cut to it and I thought 'I don't know what he's done wrong here'. Russell has just misjudged it, if we're brutally honest, and it's just a bit awkward between them now."
Follow us on Twitter @Planet_F1, like our Facebook page and join us on Instagram!
Source: Read Full Article