Gallery: Esteban Ocon Wins F1 Hungarian Grand Prix for Alpine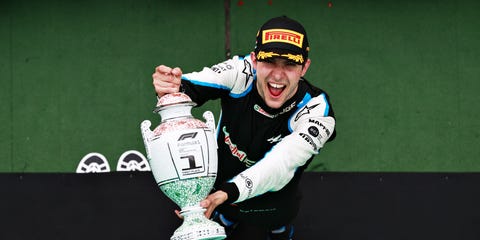 Alpine's Esteban Ocon won the F1 Hungarian Grand Prix on Sunday to give Formula 1 fans one more thing to talk about going into the sport's summer break. Sebastian Vettel finished second and Lewis Hamilton completed the podium in third.
Max Verstappen, who entered the race with an eight-point lead in the standings, finished 10th and now trails Hamilton by six points with 11 of a scheduled 23 races in the books. The series returns to action August 29 for the F1 Belgian Grand Prix at historic Spa-Francorchamps.
Here's some of our favorite images from Sunday's F1 Hungarian Grand Prix: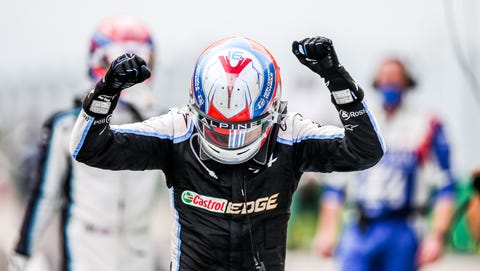 Esteban Ocon scored his first career win on Sunday at Hungary, completing a podium that included runner-up Sebastian Vettel and third-place Lewis Hamilton.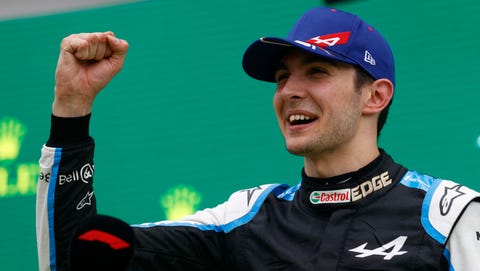 Alpine's Esteban Ocon became the fourth different Formula 1 race winner in 2021, joining Lewis Hamilton, Max Verstappen and Sergio Perez.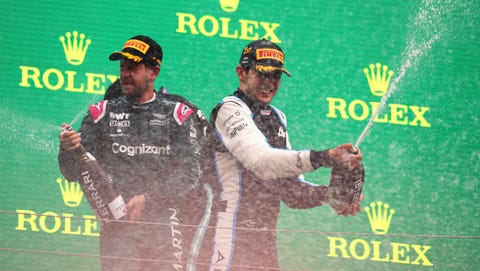 Esteban Ocon, right, became the first driver outside of the sport's big two of Mercedes and Red Bull to finish first since Sergio Perez won for AlphaTauri last year at Bahrain.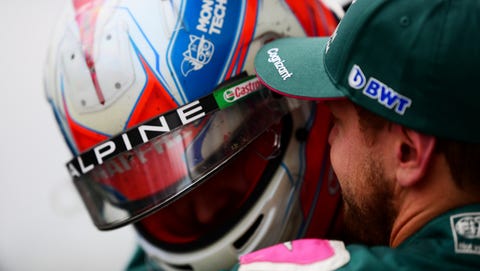 F1 Hungarian Grand Prix runner-up Sebastian Vettel was one of the first to congratulate Esteban Ocon on Hungary on Sunday.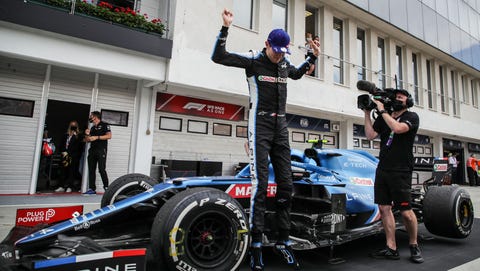 Esteban Ocon celebrates at his car after winning the F1 Hungarian Grand Prix.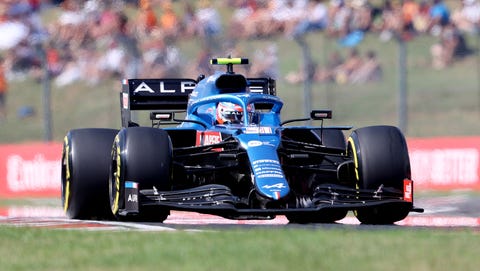 Ocon led the final 31 laps and held off Sebastian Vettel by 1.8 seconds for the win.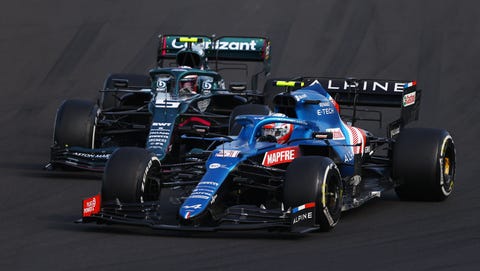 Sebastian Vettel, left, challenged Esteban Ocon, but he was unable to make a pass for the lead over the final 31 laps. The runner-up finish was the second of the season for Vettel, who also finished second at Baku.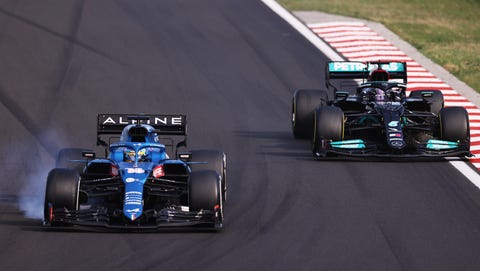 Esteban Ocon teammate Fernando Alonso, left, battles Lewis Hamilton during the F1 Hungarian Grand Prix. Alonso kept Hamilton at bay just long enough to keep Hamilton from having enough time to mount a change at Ocon in the final laps.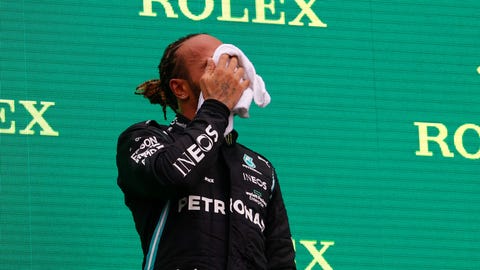 While Lewis Hamilton was disappointed to finish third after starting from the pole, he still left Hungary with the championship points lead after 11 races.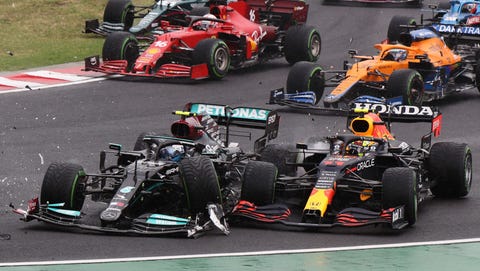 Valtteri Bottas, left, crashes into Red Bull's Sergio Perez on the first lap of the F1 Hungarian Grand Prix. The contact collected other drivers, including Charles Leclerc, Lando Norris and Lance Stroll and jumbled the field.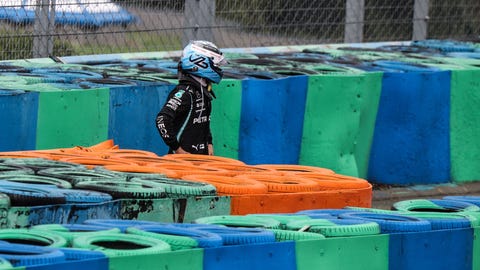 Mercedes' Valtteri Bottas stands next to his damaged car after his first-lap crash at Hungary. Stewards deemed Bottas at fault, and he was assessed a five-place grid penalty at the next race.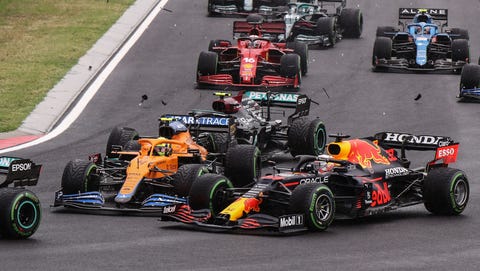 McLaren's Lando Norris, left, is about to be collected by Sergio Perez on the first lap of the F1 Hungarian Grand Prix. Norris retired due to damage after just two laps.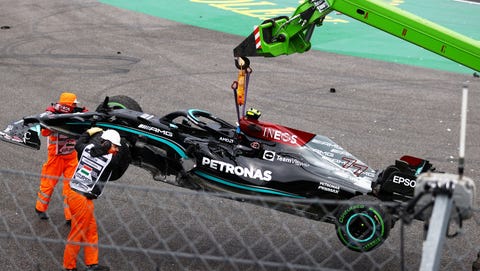 Valtteri Bottas' Mercedes gets an early exit after a crash in Hungary.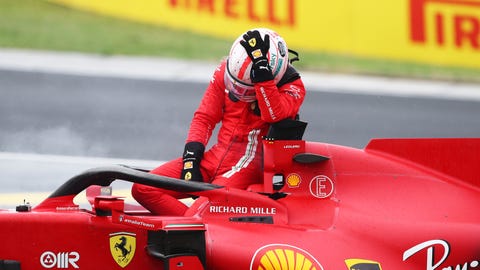 Ferrari's Charles Leclerc also had an early exit in Hungary due to damage from the opening-lap crash.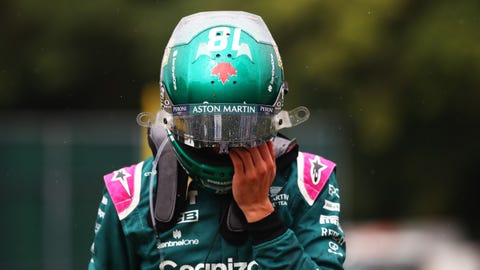 Lance Stroll of Aston Martin was knocked out of the race in the first-lap crash in Hungary on Sunday.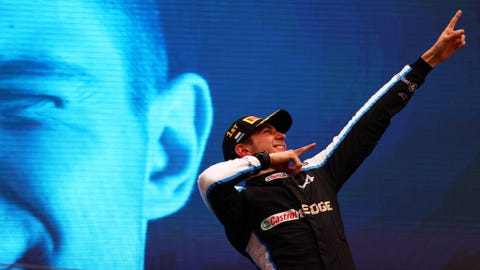 Esteban Ocon celebrates his first win in Formula 1.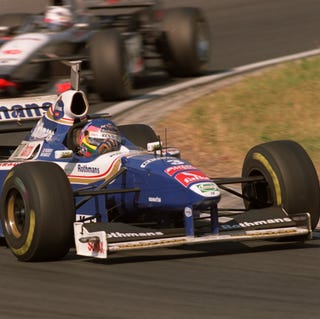 Source: Read Full Article