FIA do not plan to change Monza kerbs after crash
The FIA will not alter the sausage kerb at Monza's Rettifilo chicane, despite its role in the Max Verstappen and Lewis Hamilton crash.
Verstappen had been contending for the Italian Grand Prix race lead with McLaren's Daniel Ricciardo, but an 11-second pit stop left the Red Bull driver with work to do if he even wanted to make the podium.
Hamilton also had a sluggish stop at the Mercedes garage, though not to the same extent as Verstappen's, meaning he emerged from the pit lane neck and neck with his title rival.
Verstappen took the outside line into Turn 1, looking to go up the inside of Hamilton at Turn 2, but the sausage kerb would jolt Verstappen into Hamilton.
From there Verstappen's Red Bull would go over Hamilton in the cockpit, with a rear wheel clipping Hamilton's head as both cars became beached in the gravel.
If it were not for the Halo device, then Hamilton likely would have suffered serious injury, but the FIA do not see a need to change the sausage kerb at that chicane.
"In that situation I think the sausage kerb works quite well in that particular corner," Formula 1 race director Michael Masi is quoted by Motorsport.com.
"It was a driver's choice. You can drive into a kerb or go to the left of it, which we saw numerous times that that happened over the course of the weekend.
"A number of people in similar situations chose to go to the left through those little bumps and rejoin."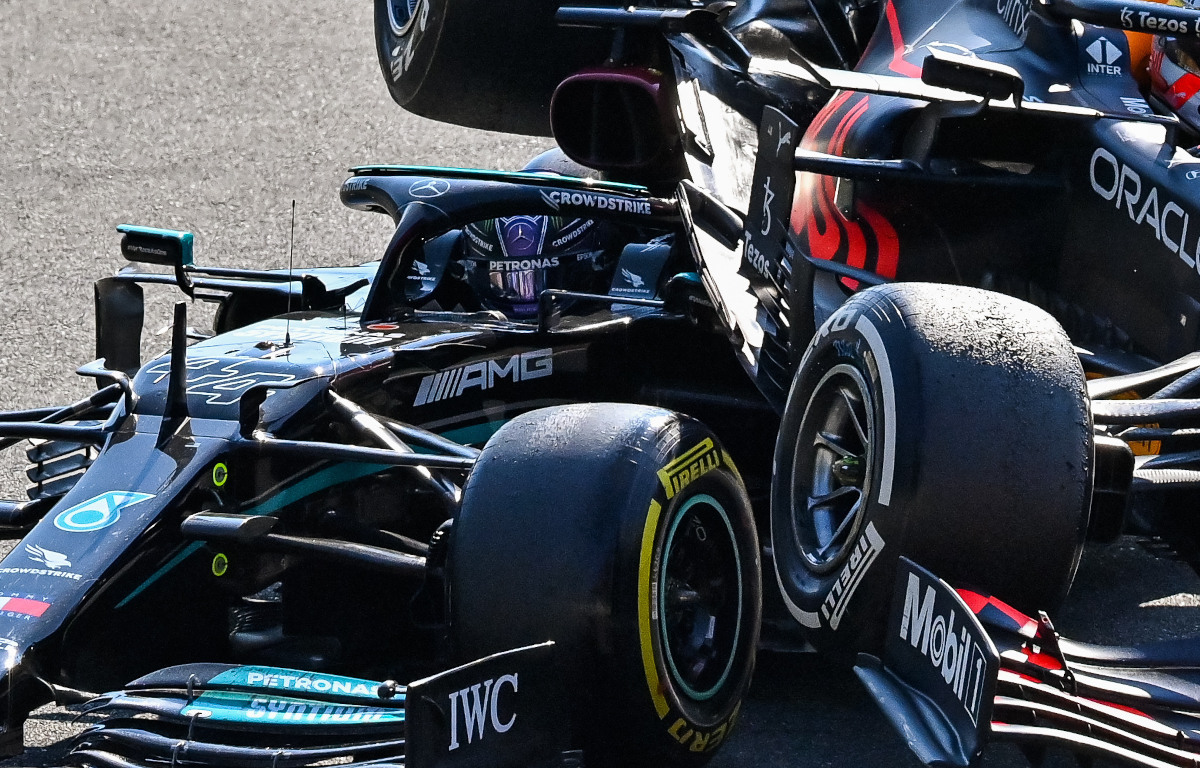 Check all the latest 2021 teamwear via the official Formula 1 store
With both drivers eliminated from the race in that incident, Verstappen was handed a three-place grid penalty for the Russian Grand Prix, with the stewards deciding he was predominantly to blame.
Should Verstappen have remained in the Italian Grand Prix, then Masi says a time penalty would have been issued, but said it could not be compared to the collision between Verstappen and Hamilton back at Silverstone.
Hamilton received a 10-second time penalty at Silverstone after colliding with Verstappen at Copse on the first lap, eliminating the Dutchman from the race.
"I think one of the things that we've generally agreed amongst the teams is that a five-second or a 10-second penalty, give or take, is there or thereabouts between the two of them," he said.
"You need to look at it on the basis of if they had continued, it would have been a time penalty in the race. However, they didn't.
"In Silverstone, you can't compare them at all, you've got two cars taken out in one incident, versus one car taken out in another incident.
"They could not continue to serve the penalty, so a grid penalty, as we've agreed with all of the teams, is applied for when someone doesn't continue."
PlanetF1 verdict
Source: Read Full Article