Christian Horner: 'I don't need to kiss Toto Wolff's arse like others do'
The pantomime that is Christian Horner versus Toto Wolff, but without the music, hit the Qatar stage with the former saying he doesn't need to "kiss" his rival's "arse".
While their drivers fight for the World title on the track, Horner and Wolff are seemingly engaged in a battle for the best sound bites off it.
Part 20 of the 23-part show saw the two going at it at an FIA press conference in the wake of a testy Sao Paulo Grand Prix.
Last time out in Brazil, Lewis Hamilton was disqualified from qualifying for a technical infringement, Max Verstappen was fined for a parc ferme one, Mercedes were not allowed to fix Hamilton's rear wing, Red Bull were permitted to do so with Verstappen's, and then the two went wheel-to-wheel for the win with Mercedes criticising Verstappen's defending, and Red Bull saying it was good hard racing.
The weekend ended with Mercedes threatening to have the FIA look at "every piece of tape" on the Red Bull, and then later requesting a right to review Verstappen's defensive driving, a request which was denied.
And all the while Red Bull are going on about Mercedes' rear wing and whether it has a "hidden" trick that gives the W12 a performance advantage.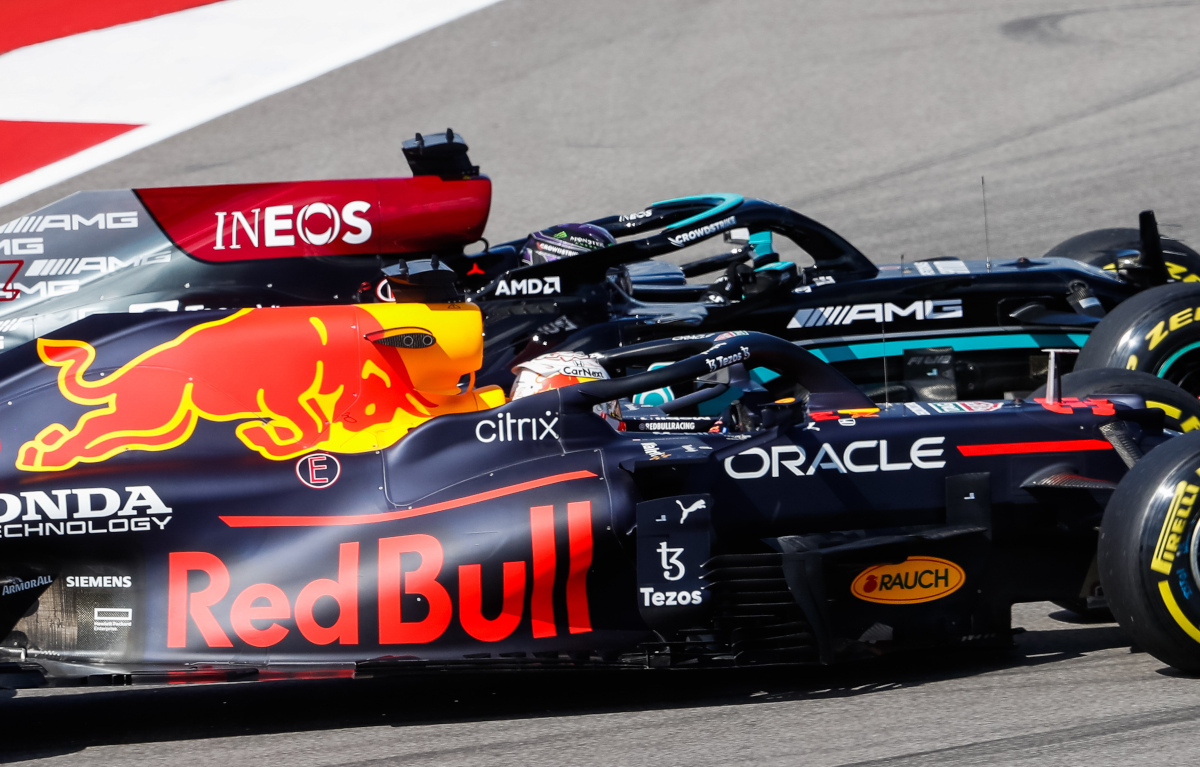 It begs the question is there any respect remaining in their relationship.
"I think relationship and respect are two different things," Horner said when it was put to him.
"Of course there is respect for everything that Mercedes have done and everything that Lewis Hamilton has done, but I don't need to go to dinner with Toto.
"I don't need to kiss his arse, or anything like that. There are a few other team principals that might but from my perspective it's a competition and I think it's great that we're in this position, that we're fighting.
"We're fighting for the World Championship, we're fighting for the Constructors' World Championship and it's the first time in seven year they have been challenged, so that intensifies it and I think the sport is a big winner out of this and I just hope that we have a hard and fair fight between now and the end of the season."
He added: "There is no relationship. There is a competition and I think it was interesting to hear Toto's views after the sprint race last week and I think that on his team radio.
"Look, we are going to push to the maximum. We worked hard to get into this position. It's the first time they have been challenged. It's interesting to see how people react when they are under pressure, when they are challenged. It's by far the most intense, political title fight we've been involved in in our time in the sport.
"Does our car comply with the rules? Absolutely. Do we have concerns about the gains in straight-line speed we have seen since Budapest, but which have been exponential in the last couple of races? Absolutely.
"Do we expect the FIA, as the scrutineer and the policeman of the sport, to ensure that all the cars are compliant? The rules are a complex set of regulations so you know we rely very, very heavily on the FIA to ensure that it's absolutely scrupulously fair, because what we absolutely want going into these last three races is a fair fight.
"Whoever comes out at the end of this on top, it shouldn't be in the stewards room or in a court of appeal, it needs to be done on track. We just want to ensure that going into these last three races that these cars are being scrupulously policed and are in full compliance, because there is too much at stake.
"You've got two teams and two drivers that are fighting for the biggest prize in sport and the stakes are incredibly high and you want to make sure the playing field is level."
As for Wolff, he says the gloves are now well and truly off in this year's title fight.
"As far as the punches between the teams, there are many great people working in Red Bull and obviously many great people working in Mercedes and it's a hell of a fight," he said.
"There is a respect for the capability that Red Bull has, definitely. And it's clear that this is tough.
"It's the World Championship of the highest category in motor racing and what started as Olympic boxing went to pro boxing and is now MMA, but that's OK. We are in the ring there trying to do the best job possible, elbows are allowed now because the rules say so and gloves are off and nothing else is to be expected."
And don't expect any invitations to end-of-year parties.
"I think the competition is just too high," said Wolff. "You cannot expect that you are going to dinner with your rival or with a rival team or with your enemy in that sporting competition, irrespective of the personalities and the characters, nothing else.
"Everything else would be not normal and that's as simple as it is. No negative emotion or positive emotion. The emotions are pretty neutral.
Horner agrees, saying he and Wolff "are very different characters and you know we operate in different ways and I think that…. Am I going to be spending Christmas with Toto? Probably not, unless you're in panto this year, I might take the kids."
He added: "I think that from my perspective it's a tough competition and that's Formula 1. I don't think… you don't have to be best mates with your opponents. How can you be? I think that would be dishonest in many respects, to fake a façade when you are competing against each other."
Source: Read Full Article