Christian Horner 'disappointed to read' Toto Wolff's world title crash comments
Christian Horner is "disappointed" that Toto Wolff thinks this year's classic World Championship tussle could be decided by a crash.
Some of Formula 1's most iconic title battles have ended with collisions – two in consecutive years between Alain Prost and Ayrton Senna (1989-90), Michael Schumacher v Damon Hill (1994) and when Schumacher lost out to Jacques Villeneuve in 1997.
This season, Lewis Hamilton and Max Verstappen have already made major contact twice, ending the Red Bull driver's race both times, while the reigning World Champion also had to walk back to the paddock from the Monza gravel.
Wolff, the Mercedes team principal, stated recently he thought the climax to this thrilling head-to-head could be another such incident.
The Austrian said: "If you are racing for the championship and you see it fading away because the other guy is overtaking you, what tool have you got other than the one that makes sure he can't overtake?"
Now his Red Bull counterpart Horner, with whom Wolff has clashed verbally all year, has hit back again, saying he was "disappointed to read the comments".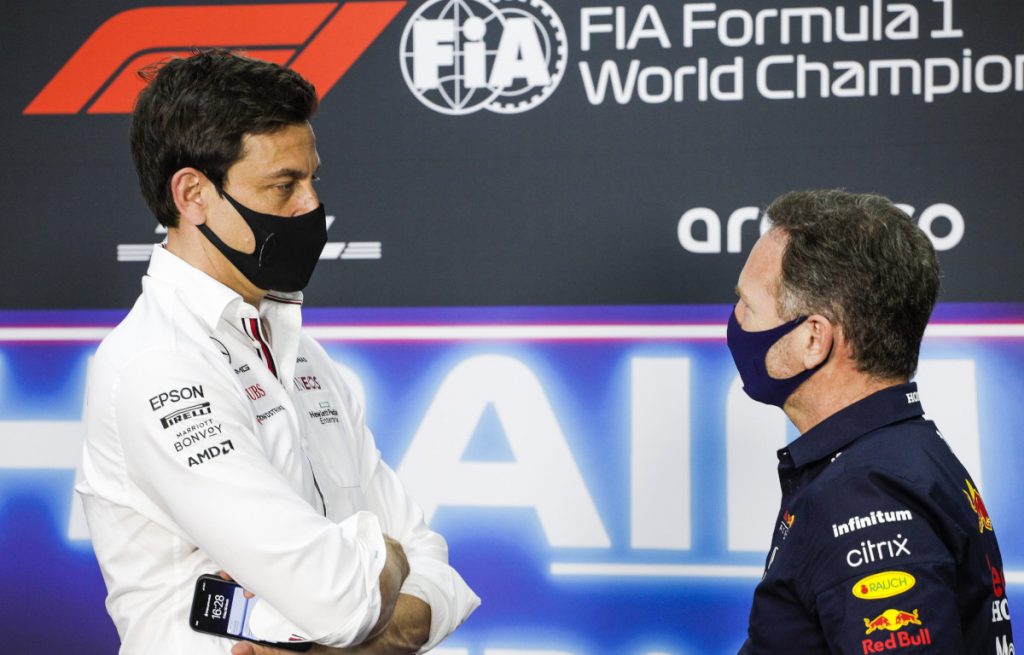 His driver, Verstappen, leads Hamilton by 12 points with five races of the campaign remaining, having held on for a potentially pivotal victory in the United States Grand Prix last time out.
"I think we want a really fair fight between now and the end of the championship, and I think any driver would want to win the championship on track," said Horner at the Mexican Grand Prix press conference, quoted by Autosport.
"We are a team of racers. If we can pull off this feat, and it's a massive, massive task, then we wouldn't want to win a championship through a collision between the drivers. There has been enough of those this year already.
"I think what we saw in Austin was a great fight between two drivers very much at the top of their game, and [with] a few more races like Austin between now and the end of the year I think the biggest winner would be Formula 1.
"Nobody wants to see a championship decided in a gravel trap."
Horner also praised his 24-year-old driver for the way in which he has tackled the huge task of trying to dethrone the seven-time champion.
"It's been so tight between the two drivers toing and froing, pretty much from the first race in Bahrain, and I think it's been an intense battle between the two of them," said Horner.
"The way Max has handled that has been totally commendable. It's his first time in this situation in Formula 1 but I think he's just sticking to his principles, the way he races, the way he drives.
"He's got five or six seasons behind him now of experience, which he's using to great effect."
Source: Read Full Article