Carlos Sainz wants podium battles with Fernando Alonso and 'victories in 2022'
Carlos Sainz is dreaming of regular podium battles next season and has even picked the driver he most wants to race against – Fernando Alonso.
Sainz already has three podiums to his name as a Ferrari driver, arguably the racer who has been the best, and fastest, at adapting to his new team this season.
While his Russian Grand Prix podium saw him join this year's traditional 1-2, Lewis Hamilton and Max Verstappen, he sprayed the champagne in Monaco with his former McLaren team-mate Lando Norris and in Hungary it was Esteban Ocon who was the driver on the top step of the podium.
Sainz is looking forward to a time when it is instead Ocon's team-mate up there with him, Alonso.
"I would like to see Fernando and me fighting for podiums and victories in 2022 instead of being like now, fighting for fifth and sixth places," Sainz said in an interview with Europa Press.
"It will be more fun for all the fans. In Spain, it would be brutal to have a driver in a Ferrari and an Alpine fighting for podiums. It would be something very nice."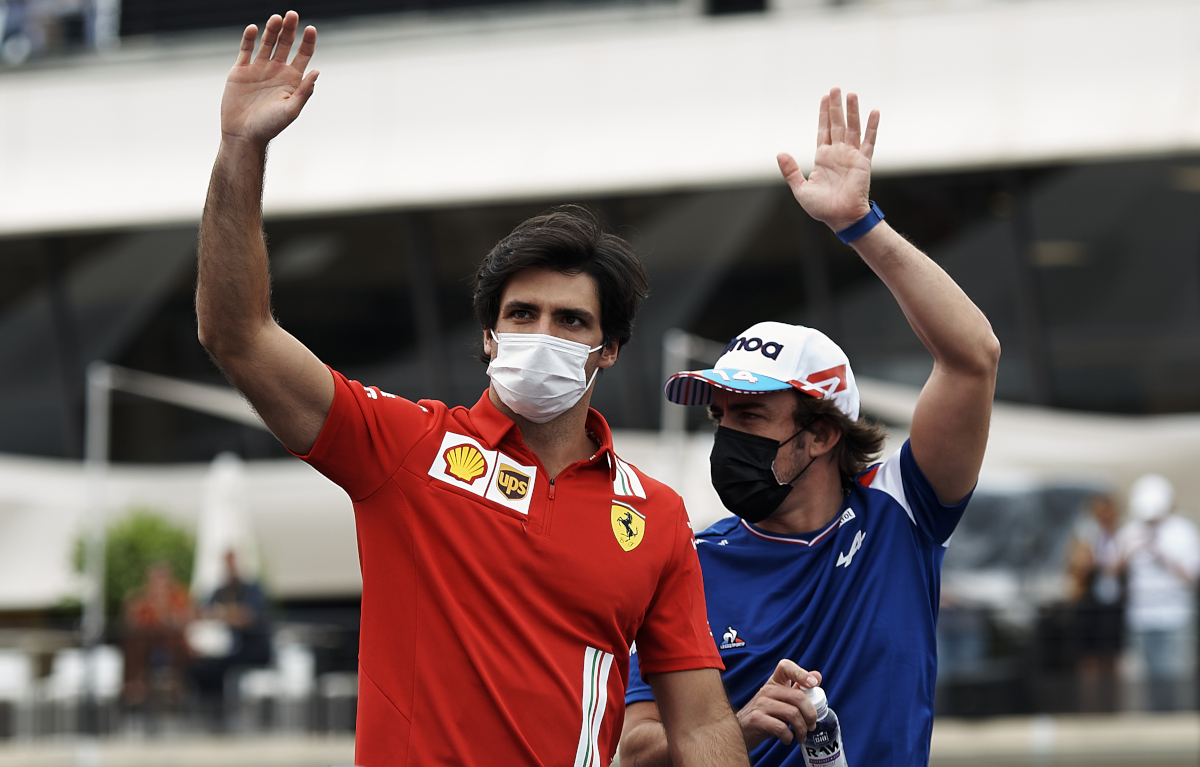 Carlos Sainz's Ferrari merchandise is available via the official Formula 1 store
The Spaniard feels next year's pecking order will be decided by who "understands the new aerodynamic regulations" the best.
"Right now, the cars have a lot of aerodynamic face produced in one way and next year they will also have a lot of aerodynamic face, but produced in another way," he explained.
"The new wheels, we have duties with the engine and others do not. There are many things we need to try to improve and get right.
"Everyone starts from scratch and it will not be necessary to recover those six or seven tenths that separate us from Mercedes and Red Bull."
He added: "Mercedes and Red Bull are still at a very high level, but Ferrari have made the necessary changes to adapt to this new Formula 1.
"I would love to say we will be at the top but we have to wait, see where the others are and take care of ourselves, focus on what we can control and make sure we don't leave anything to do."
With 112.5 points on the board, Sainz is ahead of his team-mate Charles Leclerc in the Drivers' standings and has done it while still not feeling entirely comfortable in the Ferrari.
That, he says, will come with time.
"I am sure in this season finale with more laps, more qualifications, more races, it will get better and better with the car," said Sainz.
"Now I'm much better than at the beginning of the season, that's for sure, but you can't ask too much of this season without testing and practically no time to adapt. I've been quite fast and I've been quite comfortable from the beginning.
"There are races in which I feel a little more comfortable and I can be, and others in which it costs more for one thing or another and it's time to score with that sixth or seventh place that helps the team in the Constructors' Championship. But I am not so happy because I would like to be fighting higher. But it is coming and every time I feel closer."
Source: Read Full Article