Why I decided to retain my Ather 450 after end of lease period
The completion of three years not only meant that the lease was over, it also meant that the vehicle and battery warranties are over too.
BHPian hemanth.anand recently shared this with other enthusiasts.
5 months since I last updated this thread.
The positive things first…The scooter ride statistics sync problem finally is solved. All my ride ride statistics appear correctly. However whenever I return back home and park the vehicle in the basement, that particular ride is not seen until I take out the vehicle the next day. This is attributed to the poor signal strength. I'm satisfied with this although I still don't understand why this problem wasn't there in the first year and why the ODO is updated but not the ride statistics.
March 2022 and my scooter completed 3 years. This meant that the scooter lease lease term was over. It was time to decide whether to retain the vehicle or return the vehicle. Quoting my own post from 2019 below…at that time I had decided to return the vehicle after 3 years:
Buying options:

…took a look at the leasing policy and it looked interesting.

We can pay 45-75K down payment initially; based on the term (min 1 year to max 3 years) a monthly rent would be fixed. At the end of the term, I can return the vehicle and I'd get my full down payment back! I also have an option for upgrade or even exit the lease anytime after 1 year. If I exit after 1 year and return the vehicle, I'd get back 60% of my down payment. After 2 years, I'd get back 80%. If I decide to retain the vehicle, the down payment would not be given back and there would be an amount that I'd need to pay in addition to get the vehicle registered in my name.

The lease includes all the Insurance policies for the period, all periodic services including labour, Their flagship subscription plan Ather One, road side assistance. So it was effectively ZERO cost for the entire term. Over and above this, two other things that I thought about:

EV technology is still developing and going by the current automotive scene, EV is likely to see huge changes pretty soon. That would mean that after 3 years, vehicles will be much better and resale value of the current vehicles is expected to be poor (or unknown). I'll ignore Mahindra here as they have literally done a pathetic effort with their early player advantage IMO.

The battery will deteriorate no matter what. Ather provides 3 year warranty on the battery and say that after that, it may not deteriorate more than 70%. But again, it's not an ICE vehicle to just fill petrol and keep on running for many years. This will again have a negative impact on both the performance and resale value.

I worked these out and found that Leasing is the best way to go in this case. The final thought in my head before I decide to take the leasing was "When I am buying a different vehicle, why not buy it also in a different way". I took the number of the Leasing company Autovert and spoke to Mr.Uday at length and got all my questions cleared. He was very helpful and cleared all my questions to my full satisfaction. Their intuitive website helped me in quickly doing the math.

I decided to pay 65K and a 3k rent for 36 months. That would mean I'd effectively pay 108K over the entire term. Upon return I'd get back the 65K down payment. If I decide to retain the vehicle, I have to pay 10K. For a comparison, the OTR price of the 450 is 130K If I buy it with full payment. Insurance for 2nd and 3rd year would be 13k. Their Ather one subscription plan costing 700 per month (since I was a pre-booking customer this would be free for 1st year), would come to 17K for 2nd and 3rd year. Assuming a resale value of 50K, it would come down to 110k.
 My calculation at the time of buying was like this: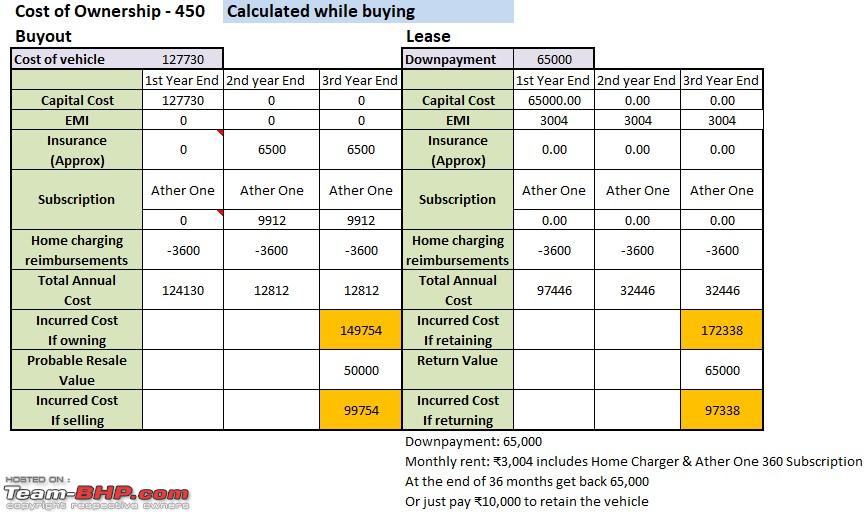 Lease or Outright purchase? (at the time of buying):
Based on this the cost if I return the vehicle was lower and hence I had decided to return the vehicle after the lease term is complete. But then, unsurprisingly life is so uncertain…things didn't go as per plan:
The complimentary free subscription for non-lease customers was extended for quite some time after one year. What was supposed to be a benefit for Lease customers was negated by this extension.
After some time the subscription was made chargeable for non-lease customers but the prices itself were reduced. Again the cost benefit of lease reduced further.
Subscription fee Refund: Due to discontinuation of 3G by Vodafone, we had to live with 2G connectivity till Ather upgraded 4G. for this Ather refunded subscription charges on pro rata basis. This was not passed on to us lease customers.
Subscription fee Refund: In November 201 Ather announced that the Connect subscription is made complimentary to all till 15th May 2022 and they gave some refund of subscription charges on pro rata basis. Again, this was not passed on to us lease customers.
The Pandemic – it reduced the vehicle usage drastically and the electricity consumption reimbursement was next to nothing. So the cost advantage in lease further came down.
Insurance premium… I had estimated premium prices on the higher side (too high) and calculated the benefit. But the actual premiums were way lesser. So the advantage of going for lease was actually less.
The resale value of my 450 is still very good. I had expected this to drop greatly as new vehicle options would arrive after 3 years. I was wrong as the EV space hasn't developed at a pace that I had expected.
The actual calculation ended up somewhat like this:
Lease or Outright purchase? (during Lease completion after 3 years):
The decision to buy on Lease didn't turn out to be profitable in the end. I took a hit of ~25k going for lease and not outright purchase. Buying it outright would've been a better idea.
Further to these calculations, currently there are hardly any compelling vehicle options in the market either:
The new 450x is not a big jump to warrant an upgrade from 450.
The maturity of Ola S1 as a product is still low and has a long way from being fully developed. I almost got it but fortunately I cancelled my booking.
Chetak and iQube are decent offerings but not so good to warrant returning my 450 and going for them.
So it was clear that retaining the vehicle is the correct way to go in the circumstances.
Autovert, which is the lease partner of Ather, was really proactive and they were in touch with me over email from as early as January. They communicated clearly about all the formalities for either eturning or retaining the vehicle. After I told them  I'll retain the vehicle, they completed the activities quickly. By the first week of March, they had couriered all the documents over to me and also gave me the contact details of an agent who would complete the transfer formalities at the RTO. Of course I could do the formalities by myself but I just chose to get it done by that agent. He came home, collected all the documents and even within 2 weeks the vehicle transfer was complete. My experience with Autovert was wonderful throughout.
The completion of three years not only meant that the lease was over, it also meant that the vehicle and battery warranties are over too. My vehicle's battery condition is still good and I'm still getting the same range as I used to get earlier. Even other people who bought during the same time have had no issues with the battery. However some owners from 2018 and early 2019 have reported some issues with other components like the onboard charger, wiring harness etc. which was replaced in-warranty. Some of those are rather expensive components. Looking at those, an extended warranty program from Ather would've been nice. Many including me would definitely buy it.
With regards to the Subscriptions, My complementary Ather 360 plan (which included the electricity consumption refund) expired by End of March 2022. I've not renewed it till now. The connect subscription is complimentary till May 15 2022 and I've no intention of renewing after that. This is for two reasons…One I'm not really happy with the value I'm getting for the payment made (both Service and Connect Subcriptions) and two I'm ok to run it just as a scooter without any smart features.
Below is the usage record that I have maintained: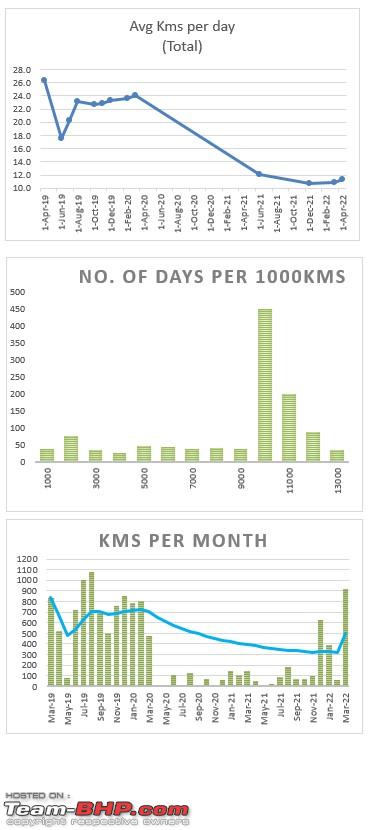 Usage after 3 years:
The first year running was 8600kms. Second year it was 1200kms. Third year it was 1800 kms and the last two months after that it has been 1600 kms.
In other things, the scooter has been running more these days. with offices restarting partial to full capacity, our usage has also increased. it has crossed 13200 kms as of today and it has run around 2000kms in the last 2 months.
The saree guard and the Number plate holder screw regularly becomes loose and makes noise but tightening with Allen key sorts it out. the tyre pressure also frequently goes down. Apart from these two no major worries and the scooter is doing it's duties well. It is still a looker. Below is an image I took recently near my home: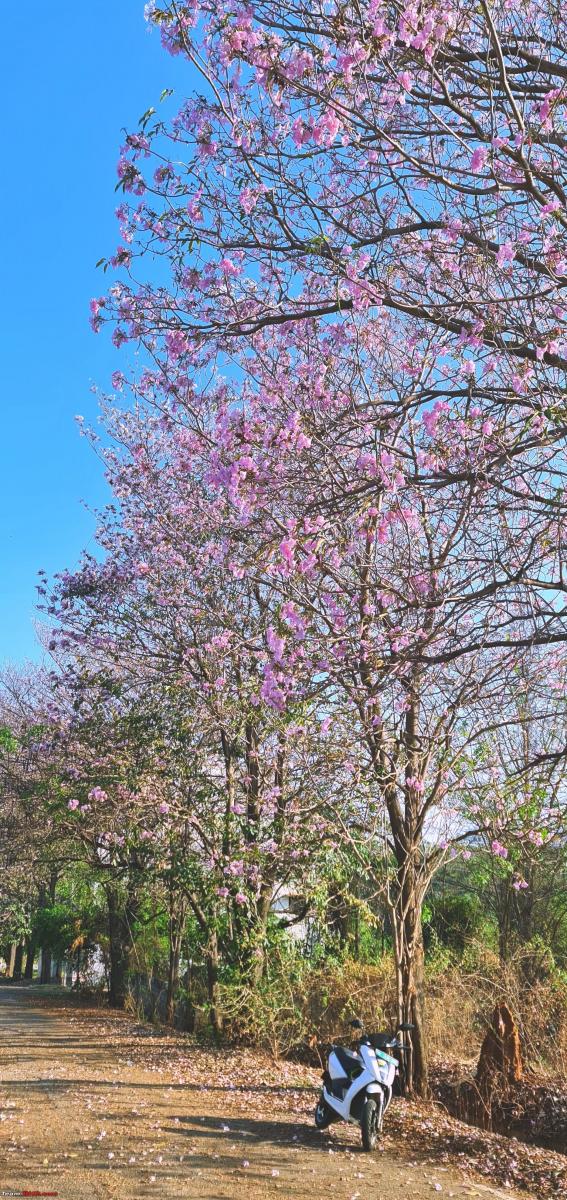 Check out BHPian comments for more insights and information.
Source: Read Full Article