What's it like to own a Jaguar I-Pace: Completed 17,000 km in 6 months
One of my significant concerns while buying this EV was the charging network. Hence, I didn't sell my 12-year-old Skoda Laura 1.8 TSI.
BHPian sudhirsen recently shared this with other enthusiasts.
After many minor incidents, I decided to give my Skoda Laura 1.8 TSI some rest. The Laura has been my primary vehicle and companion for the last 12 years. It ran 150,000 Km. But the engine is relatively new; Skoda was kind enough to replace it at 100k km and ten years for free.
So it was clear that I had to buy a new car for my long journeys. I frequently make Thrissur – Bangalore run of 500km. And then a lot of shorter travels and holidays.
I am primarily a sedan guy who loves driving; corners and handling are vital for me. Unfortunately, I also wanted to try an SUV this time, the trend of the time. So I had two choices, Range Rover Velar P250 and Porsche Macan.
I asked for a test drive of the Range Rover Velar from Muthoot Motors. I was in no hurry. After a couple of weeks, they bought the vehicle for a test drive. I drove it for around 10 km but was left unimpressed. Though the interiors and the design were brilliant, I was left uninspired by the drive. I did not feel that I had upgraded much from the Skoda with the drive. I may be exaggerating a bit here. It may also be because the vehicle they bought for the test drive was a diesel while I wanted petrol. I believe most people who own a Range Rover in Kerala probably occupy the back seat.
I gave the same feedback to the service consultant. Then he loosely mentioned the Jag F Type and I-Pace. Now F Type was not practical for me. But frankly, I had never heard of I-Pace. The fact is that I have never looked at an electric vehicle as an option. That was partly because I had only heard of Tesla till then, and after being in a Model X a few times, I was left wanting more. I never felt it was a luxury car. In fact, I had for sure decided that Tesla is not for me. It just does not have the finesse I need in a vehicle. It does not provide that level of attention to detail that I expect from a car in that bracket.
So I researched and realized that Jag had recently launched I-Pace in India. Reviews are, of course, terrific; an award-winning car, right. But where do I see this? I could not find a single one on the road. So again, I took a drive to Cochin on a Saturday. They had a Black and White offering in the showroom. But what I had seen in the images and how the car looked on the road were completely different. The car is massive, with 19-inch wheels; you do not realize it until you stand next. Plus, the air suspension brings it even lower for easy exit and entry when at rest.
So, I saw a sports car with the space of an SUV and practicality that will make me take it everywhere I go. The fit and finish were of an actual Luxury car and not a Tesla Model X. I do miss the Sentry and Summoning capability.
Having said that, I definitely think Jag needs a few marketing lessons. A sports car with the right curves, why would someone put the demo car in white or black. In black, the shadows do not come out. The white is too bland. I seriously think they need to take a couple of pages out of Porsche. Show a RED or a metallic Grey, that's where it looks good.
Now, the bad news the dealership in Cochin told me that they don't have a red or a grey with a beige interior and will take six months to come through, which I knew was going to be way longer with the Chip Shortage looming on.
So I called up Marqland. They said a service consultant would call back. And I got a call back the same day from Hemanth. From there on, I have to say the experience was smooth. They had a Caldera Red with black interiors available, but I wanted a Red with Beige interiors and a top-spec(HSE) with air suspensions and optional. They said there is one coming in 2 months' time.
He sent me a series of videos to give me a feel of how it will look. Sample attached.
So here I go. I paid the advance for the car. Luckily, there were not too many options, Audi and Merc had EVs, but I did not personally like the exterior views. So I did not even give a test drive.
Meanwhile, Hemanth initiated the conversation with Tata Power, and he managed the installation. However, after evaluating, I decided to set up the 7.2kw charger in Thrissur and a regular power plug in Bangalore.
Got the vehicle and now after completing 17k km in 6 months with multiple long trips. So here is my experience.
Sales and Pre-sales
This has been one of the best experiences I have ever had. From the time I got the first call from Hemanth/Marqland. The communication has been exact. He knew every aspect of the car, and was able to clarify every question I had. This may not be important for an ICE car, but this is an electric car, and a lot of things are different compared to the ICE models and specific to India. The industry is still evolving. Then, you have to understand that being a techie, I am a bit deep when it comes to features and functionality. He created multiple personalized videos to take me through the car's features and capabilities.
Then there was the time for payment. I drive down to Bangalore, and for the first time, I see the Caldera Red in real. They also had samples of other paints. I had this inclination toward grey, but I was sure about what I wanted when I saw the Red. This is the first time we meet. I told him exactly the amount I wanted to finance. Considering the EV Tax breaks and low-interest rate on the car loan, I wanted the loan amount to be the max. I also got to see the I-Pace in some exciting colors.
I requested to see the car parked in my basement car park as I have some tight corners in my basement parking. They happily arranged for that the next day. It was tough, as the car's wheelbase was way longer than I thought, though the car was not very long. He also got the bank guys for the loan. So both are done together.
The team was exact on the dates the car could be delivered. And the details of the vehicle were shared even before it reached the port from Austria. Each step, including customs clearance and shipment, was made transparent.
Finally, on the third meeting, the day of delivery, they sent a Range Rover Velar to pick us up from the apartment some 40 km away. Unfortunately, I was in Bangalore only for a day and wanted the car to be delivered on a Sunday. But no problems, they made all the arrangements on a holiday. Again, I thought it was just a matter of picking up the car and going. In fact, it took more than 3 hrs to explain every feature of the car and finish the formalities. I drove back to Thrissur the same day.
Post Sales Service
My experience with after-sales service is very minimal. I did not get my number plate on day 1. So again, during one of my trips to Bangalore, Hemant set up a time with the service center. As usual, when you have a lot of things to do on the same day, I reached the service center (which again is very close to my apartment) during lunchtime. Again, no worries, they took the car in, and in less than half an hour, they got the number plate fixed, and I was out. Well organized.
Overall, I would rate my experience with Marqland as a 10/10. Fantastic experience and Hemanth did it well. Young guy, but very passionate about the car, and what matters most is customer empathy.
What I liked about the car
Absolutely stunning performance – You can feel the G force. In fact, I had neck pain for a few days after the purchase.
I was blown away by the interior design. The fit and finish. The interiors are nicely done. No noise, very clean, done perfectly.
I liked the exterior design as well. But that is extremely a personal choice. Either you love it or you hate it.
There is no need to control anything other than the accelerator. The lights adjust automatically, the wipers, the away light, the suspension height adjusts when you open the door, and an array of stuff like that.
The Pivi pro, the newer generation, is nice and responsive, unlike the regular complaints I hear.
The single-pedal driving.
The super silent cabin. Most of the time I am on a call when driving, and not many people realize that I am on the road doing good speeds.
Most importantly, not much of a range anxiety. The range predicted by Jag is pretty accurate to 5% variance. And I mostly drive in the sports mode.
Charging and Long Distance Travel
One of the significant concerns, when I bought the car, is the charging network. So I never sold my Skoda Laura 1.8 TSI. On short trips, you don't have a big challenge. Most of the time, I charge at home. In fact, a normal plug takes around 30 hrs to charge, but I never found it a problem as I do have at least 2-3 nights between my long journeys when I am in Bangalore. The 7.2KW is an overnight charging, typically 11-12 hrs.
Jaguar claims 480km range. But based on my driving, they predict around 454 immediately after charge. But, as you go a few km, it will drop to 430, and that's exactly what I get. Note – I don't make any compromises; I drive in sports mode (in high traffic routes like Bangalore – Krishnagiri and Coimbatore L&T highway) and in comfort mode the rest of the time. With AC and ventilated seats and everything. Driving at a 120. So think this way; you push it the way you would drive a BMW M.
Bangalore-Thrissur Trips (~480 km)
The day I picked up the vehicle from the showroom, I drove down to Thrissur. I was not sure how good the charging networks were. So without taking any risks, I got to Krishnagiri and left it for a charge at the Zeon charging station.
I have to say, without Zeon, this purchase would have gone into the showcase. On the Bangalore highway, I only have Zeon which provides 50KW chargers, and they are generally very reliable. All the other chargers I have used till now have been touch and go and nowhere near the reliability of Zeon. I would say Tata has a long way to go. I tried at multiple places; some places it works, and others do not. More about this later. I have to say Relux, I tried only once near Walayar, but it did not work. KSEB, did not even start. I continue to try them. I wish they catch up fast.
I think overall Zeon is in a different league. The ABB charging machines that Zeon uses are of way higher quality. I seriously wish these guys could grow faster and put more 50/100 KW machines on the road.
Typically, I would stop at 1 of the 4 Zeon 50KW chargers for 15min to half an hour. I have my dinner while the car charges.
Charging at 49KW
Generally, the car is extremely accurate on the highway. I stop charging the moment I have a buffer of 5 km. And I reach home with 2 km remaining etc. But no range anxiety, the car gives you what it says. Then there was this one day when I ran out of charge completely when I was 5 km away from home. The meter said 0 km remaining and shut down the machine.
Luckily, I was near a Tata showroom. But bad luck, it was midnight, and the charger was showing as working on the Tata app, but it was not working. It was not even powered on. The security had no clue. When I asked for the car charger, he went inside and got me a mobile charger. So I took the risk of driving. That day I realized that the Jag has a 20km reserve. So reached home narrowly.
So Banglore – Cochin highway is a breeze.
Thrissur – Ooty – Bangalore
Now the range of the electric vehicle depends a lot on the road itself. So when I decided to make a trip to Destiny Farm in Ooty, I thought it was a cakewalk. Just 200 km to go. The plan was to go to Ooty, and then on the way back, I will charge it at Avinashi. Which together should not be more than 300 km.
This was the first drive to a hill station. I had a very stark realization. I was running out of battery way faster. Luckily, there was a Zeon charger in Gem Park Ooty. However, it was a slow charger. So we had a very long lunch.
Plus, the electricity in Ooty was not very consistent. So the charging station lost power at least two times during my lunch, and I had to stop eating and go back and restart charging. This is a pain, but I guess we can't do much. At least the system sends a notification on the mobile that the charging has stopped.
So we reached Destiny Farm, a trendy place. If you have been to Destiny farm, you would know how bad the approach road is.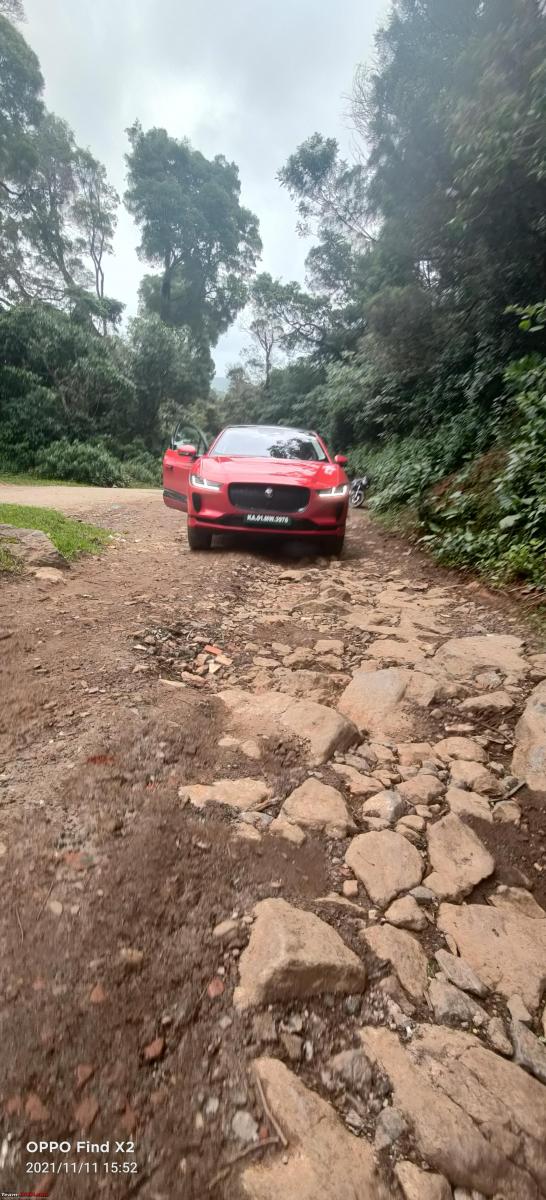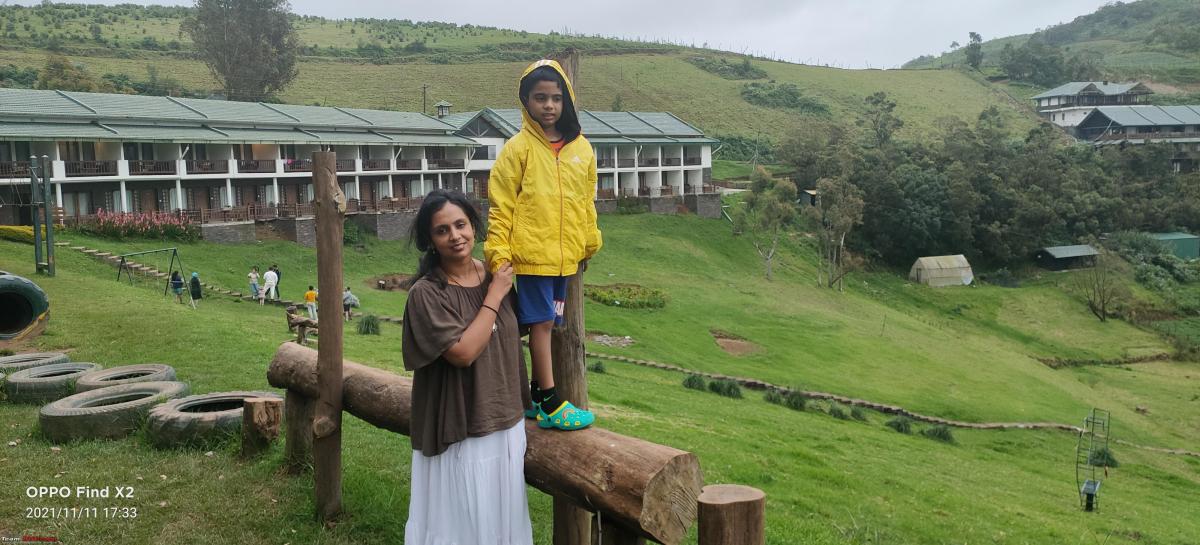 The images do not do justice, the approach road is extremely poor. These are the moments I feel that it was absolutely the right thing to have got the car with an air suspension. Raise the suspension and drive over. Note- this is a battery car, and the first thing that anything will hit is the battery if you do not have ground clearance. But the Jag went through that very well.
On the way back, I stopped at Gem park again for a charge and lunch and then straight to Bangalore. The best part is the remaining charge and distance increase on a downhill journey. So I realized that I would have managed without charging. But anyway, these were initial days and unknown roads, not worth the risk.
Remaining trips I will update in another post.
What I don't like about the car
The only challenge is the long wheelbase. It has not been easy to manoeuvre. Not really a car for grocery trips. So I had to put an alternative in place though nowhere near the pace of Jag.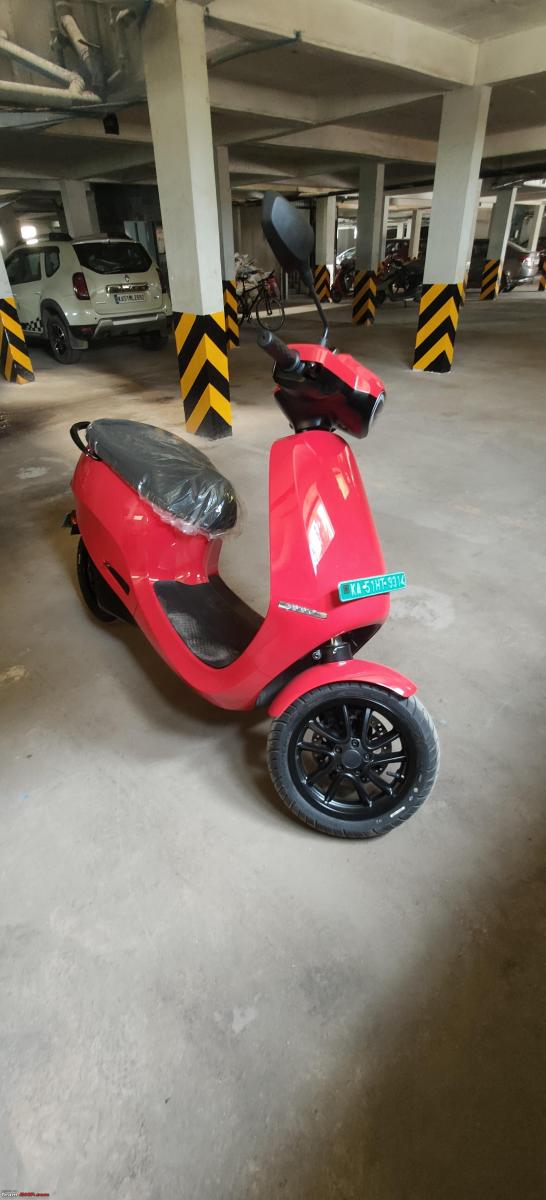 Check out BHPian comments for more insights and information.
Source: Read Full Article