We Drive the Greatest 911 GTs of all Time…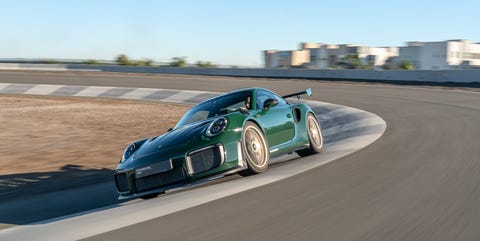 The new GT3 is due out soon, so to celebrate, Porsche lined up five of its greatest GT3 and GT2 911s and let us drive them on the 1.8-mile road course at the Porsche Experience Center in L.A. These five cars were the personal picks of Porsche's long-time GT car manager Andreas Preuninger, the patron saint of GT greatness at Porsche. They were wonderful choices, a chance to see and feel the progression of the greatest sports cars Porsche has ever made. Even my driving instructor for the day, a former formula racer named Michael Johnson—who would be leading me around the track all day in his own GT3, and who gets to do great things with Porsches all day and every day—was in awe.
"Getting to see the entire chronology in the entire history of a car like the GT3 is really special," he said. "You might see one here, and you might see one in some show somewhere else, but having them lined up in a row where you can just walk down and see how each car changes from generation to generation, that's really special."
Getting to drive them all was even more special, a once-in-a-lifetime opportunity. The chronology starts with the rise of Andreas Preuniger and the first car he worked on, the 2003 996 GT3 RS. So I buckled in and followed Johnson as fast as I could go.
"As lead driver I was able to just feel the difference in speed," Johnson said of his experience in the lead GT3 that I followed all day in my various cars. "There's one thing I noticed that with the first generation of those cars, compared to our modern cars, I was going quite slowly to set a good pace for the drivers of those cars. And then as the cars got newer and newer my pace got faster and faster, throughout the day, to the point where when you're in that (2018 991) GT2 RS, it was darn near everything I had to safely go to a good speed that would keep you entertained, driving that machine. So it was interesting to see kind of that progression, how much faster these cars have gotten, how they've changed a lot over that time, over about 20 years."
Indeed they did change, but each one was the best of its day. Here we go: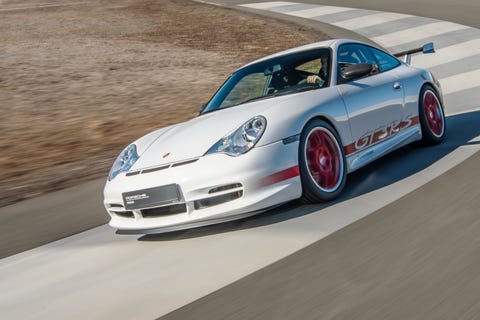 The 911 changed fundamentally in the late-'90s with the switch from air-cooled to water-cooled engines, and that change started with the 996 chassis. The first "best" Porsche from this period in the pantheon of Porsche power was the 2003 996.2 GT3 RS.
This car was essentially an homage to the 1973 Carrera RS 2.7, which was itself a very lightweight, racing-focused car. The 996.2 GT3 RS you see here came out as a homologation model for motorsport in 2003, about 30 years after the original RS 2.7. "There were actually some suspension-related parts that they found that would be beneficial to the racecar at the time to reduce tire wear," said Porsche's Frank Wiesmann. "Thirty years on from the Carrera RS 2.7, (the GT3 RS) was a celebration, hence the styling cues and the color schemes on that car."
It was also supposed to be fast.
"When the 'RS' was developed, the emphasis was on achieving the best possible power-to-weight ratio," Porsche wrote at the time of the car's debut. "A figure of 4.86 kg/kW(7.99 pounds per horsepower) has resulted—a further improvement of four percent compared with the Club Sport version of the GT3. The new model is 50 kilograms lighter, and tips the scales at (2,998 pounds) with a full load of fuel (24 gallons) in the tank."
The GT3 RS had lightweighting all over it: carbon fiber hood and wing, polycarbonate windows, a bucket seat and some of the first Porsche Carbon Ceramic Brakes. That's how it got down to those 2,998 pounds, though some sources say 2,990 pounds. By today's standards, where we're all spoiled, 381 hp doesn't seem like a lot, but it was more than enough to launch the GT3 RS out of the PEC's two long hairpins and numerous other curves, while the brakes did superbly once they heated up a little. Cold fade was not really evident on my drive, but that might have been because my track leader Johnson was easing me up to speed.
My laps in this car were my first around the Porsche Experience Center Los Angeles, so in addition to heating up the brakes a lot to get them working, I was also learning the track. With Johnson's guidance, track knowledge came easily and soon I was squeezing all 381 hp out of every corner exit. This car did a 7:43 Nurbrugring lap time back in its day, and I'm proud to say I was much quicker than that around PEC LA.'s 1.8 miles (joke, don't send hate mail). With no traction control or stability control you'd think the GT3 RS might be a handful, but it never stepped out of line. It remained stable even though I was wheeling it as fast as Johnson was letting me, which certainly felt fast to me. Plus, it had modern Michelin Pilot Sport Cup 2 tires, which certainly helped. Even though this was the earliest GT of the day, at the end of my laps in it I would have been perfectly happy to own this and drive it every day in the mountains, coming down only for fuel and an occasional currywurst. One drawback to it is it was never imported to the U.S., so you will have to wait until, what? 2028 to legally bring one in? You can handle waiting. Be strong!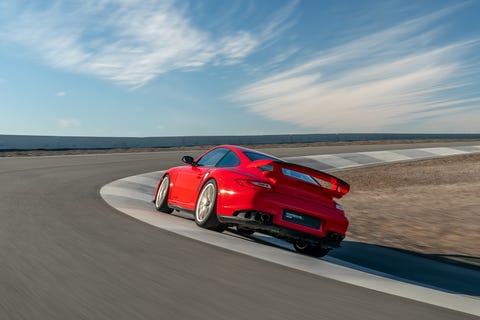 This GT2 RS was basically the brainchild of the mechanics and engineering team within the motorsport department that said, 'Well, what would happen if we paired a GT3 RS chassis with its brakes, suspension, and aerodynamics with the turbo motor?
Wonderful things, that's what would happen. So extensive work was done to the then-existing GT2 997 motor, which produced 530 horsepower, to make almost 100 hp more, for a total output of 612 hp in this GT2 RS. What an engine.
"All of the RSs are a big step up from the GT3s," Porsche's Wiesmann said. "RS of course means Renn Sport, race sport. The 997 GT2 was track-focused but comfort-oriented. They said, 'We have this RS chassis, what if we had a turbo engine in it?' So they built a car. Walter Rohrl drove it and said, 'I don't know what this is but build it!"
So they did. The resulting car managed a 7:18 Nurburgring lap time, knocking 25 seconds off the 996 GT3 RS. With 612 hp from 3.6 liters of displacement in a car that weighed right around an even 3,000 pounds, this was darn-near unprecedented performance. On the track, that horsepower didn't come on like a hammer. Thanks to Porsche's first use of variable-geometry turbos, it came on in a very useable band right across the tach. The engine didn't have the same flywheel getting in my way so I found myself shifting much more easily than in the previous GT3. There was more power, but I was better able to access it. This was Porsche progress.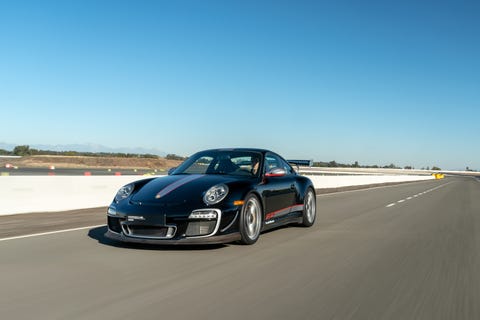 This one really stood out because of its so-called Mezger engine, the largest powerplant put into a 911 at that point at 4.0 liters. Hans Mezger had been designing engines for Porsches since the '60s. It was he who decided that the first 911 would have a flat-six instead of the flat-four that had powered the 356, for instance. There is a lot more to Mezger's time at Porsche than just this powerplant, but there is a lot of his philosophy in it. For one thing, that big displacement. It was one way Mezger got more horsepower from his creations. Indeed the 4.0 made 500 PS, or 493 of our SAE horsepower. In a car that weighed just 2,998 pounds, that was significant. This car was a rocket coming out of corners and, once the PCCB brakes got heat, it was just as impressive going into the corners.
The driving difference in this car was the free-revving nature of the engine. Every time I lifted off the gas to upshift, the flat-six kept going, and I had to wait a second or two before engaging the next gear, whether up or down. You, sure, you could match revs perfectly and engage gears all day long, but I'm no you. I was learning a new track and not wanting to grind any cogs into one another, so I was as delicate in shifting as I could possibly be. These things can go for as much as a half million bucks at auction, and who knows how much of that is in the six-speed manual transmission? Nonetheless, the freewheeling really got in my way of enjoying this particular Porsche. More seat time, better rev-matching, and less concern for the teeth in the gearbox and I would surely appreciate it fully, just as the car's thousands of rabid fans do right now.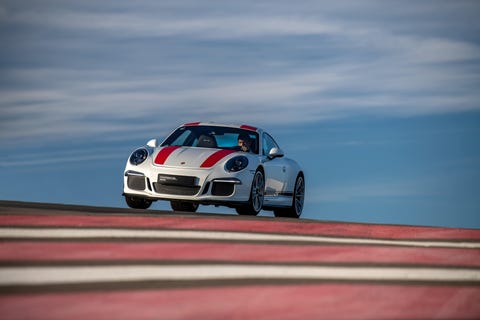 You could say this was the purist's 911, made not for the race track but for pure driving pleasure on great roads. The 2016 911 R was inspired by a stripped-down, lightweight, race-intended model of the same name that came out in 1967 and which did succeed in a few racing events in its day, though it was usually overshadowed by the 904 and 910. The 2016 generation of the 911 R that you see here took a little bit of a different approach in terms of its focus.
"(The 2016 911 R) used a similar concept of a lightweight, racy engine—it's the engine from the contemporary 2016 GT3 RS, the 4.0-liter engine, but it was really meant more for people to enjoy their favorite backroads."
Carbon fiber hood and fenders combined with a magnesium roof, and a lack of wings and meaty splitter helped drop weight by 110 pounds to 3,241. With a 500-hp engine that looks mighty promising on the spec sheet. But the biggest difference for buyers was probably the six-speed manual transmission. At the time, GT3 customers couldn't get a manual, only the PDK. There was much rejoicing among manual transmission purists.
"A PDK is great on track and certainly better for everyday use, especially in traffic," said Wiesmann. "But a lot of people said, 'I don't care about performance, I don't care about lap times, and I'm not looking for that last tenth of a second, I'm looking for the last bit of fun.' And that is specifically what that car spoke to."
That's all well and good, and just given that, I should have loved this one. But the gearing was, in my opinion, all wrong. The ratios were way too close together, far closer than the wide torque band called for. You could have knocked out second and maybe even third gear and upped the ratio of first. As it is, the box requires way more rowing than necessary. I found myself having to shift up and down far more than with any of the other cars I drove that day. Which really got in the way of my ability to enjoy all the terrific grip and dialed-in steering.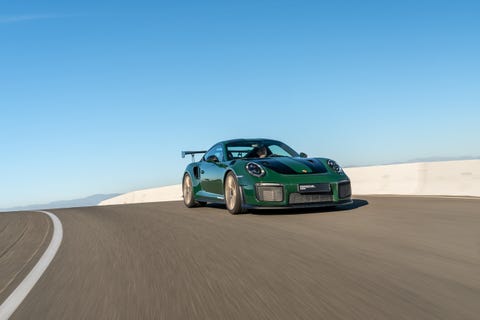 Oh man. This thing is a quantum leap over the previous four cars, with near-otherworldy performance. At its debut two years ago Porsche called it "…the fastest and most powerful street legal 911 of all time," and I'm not going to disagree. Its 3.8-liter twin-turbo flat-six has 700 metric hp—691 SAE hp—and 553 lb-ft of torque controlled by a thoroughly modern chassis that does almost everything for you, up to and including steering the rear wheels. Whatever the chassis misses, the PDK transmission takes care of. All you really have to do is steer. With a magnesium roof, polycarbonate windows, titanium exhaust and carbon fiber hood, wing, and fenders, the RS weighs only 3,241 pounds. Each pony has only 4.69 pounds to push around.
"It was all about creating the most powerful roadgoing 911 that we had ever made, a couple of years ago, in the 2018 model year. And it was the car that set the production car lap record at the Nürburgring, in 2017, of 6:40.725 to be exact," Wiesmann said.
"Behind the driver-side window it had little track stickers, or track maps, and those are the tracks that that car held the production car track record, and not one of those cars like it, that actual car," Johnson said. "That was one that we have to be really careful with, because it's just so fast."
Maybe I had just grown accustomed to having the GT2 RS do everything for me, but almost immediately I liked this one the best. No work, no worry, just keep it between the lines and think about which way you want to steer. That's almost all it takes here.
Maybe someday there'll be a new Porsche 911 GT that I'll like even more, maybe that'll be the new GT3, as soon as that comes out. Can't wait.
"What a day," said Johnson. "What a cool program."
Source: Read Full Article