VW Polo GT TSI vs Ameo TDI DSG: Which one to pick as my project car
The Polo is 4 years old with around 30K km on the odo & the Ameo is almost of the same age but has clocked 45-50k km.
BHPian QuentinTino recently shared this with other enthusiasts.
Hey everyone!
I happen to be someone who has a Polo GT TSI as well as an Ameo TDI DSG in his garage, and now, I believe the time has come to spice things up in life just a little bit! LET'S GET IT TUNED!
However, I'm confused about which one to choose.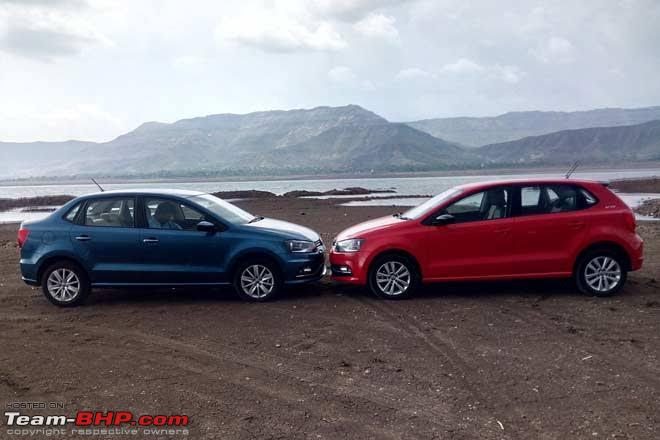 POLO 1.2 GT TSI
White colour, 4 years old, with around 30k on the odo.
A refined engine with punchy low and high range but down on outright torque and fuel economy. Also, has a stiffer suspension and thus is a better handler.
Ameo 1.5 TDI DSG
White colour (again), almost of the same age but around 45-50k km on the odo.
Punchy engine with great mid-range, higher capacity, better FE, and more space and feels oblivious to the emission norms. It has a very raw, kinda noisy motor, with a softer suspension and at 50k km, I'm worried about how long the beautiful DSG is going to hold up.
Being a resident of Dehradun, where and how should I get a tune in my car and which one should I choose to go forward with?
Here's what GTO had to say about the matter:
The Polo. Looks better, wicked turbo-petrol, is extremely mod-friendly, can get a great-sounding free-flow exhaust, and is a better handler. The Ameo's styling is a bit weird and however good that 1.5L TDI is, there's nothing quite like high-revving a petrol.

Mod the petrol and keep the diesel as the family workhorse.

Man, you really have the guts to own two DQ200s, and that too in Dehradun!
Here's what BHPian bijims had to say about the matter:
Wow! Two DSG cars, one in diesel and the other in petrol – absolutely wicked! Now moving on to which one to tune, obviously the Polo. It's the hot hatch and would be a better handler as well.

The Diesel DSG Ameo would be a great mile muncher and best left for the family, being a more spacious car with a practical cabin and a slightly better boot.
Here's what BHPian vishy76 had to say about the matter:
Get the Ameo DSG tuned. The 1.5 TDI has far better tuning potential than the 1.2 TSI.

Fellow mod suhaas307 has documented the shortcomings of the 1.2 TSI very well on his GT TSI ownership thread. It's an old-school 8V engine with below-average heat management and is prone to higher IATs under high loads. It isn't what I would call particularly rev happy either. The internals aren't all that strong. It might have been "cutting edge" almost a decade back in the midst of vanilla 1.2 and 1.4 NA petrols, but it simply doesn't make the cut anymore, in my opinion.

The 1.5 TDI on the other hand has very strong internals and can easily touch 170-190hp on stock internals, with a turbo and intercooler upgrade. BHPian braj did it on his Polo 1.6 GT TDI.

What you do need to worry about irrespective of engine choice is the DSG. Torque limits are officially capped at 250nm. You can put higher torque through it post-TCU remap, but a stock DSG on these is prone to be problematic, so you can imagine what I am hinting at.

To sum up, from a pure performance POV, you will max out the 1.2 TSI's tuning potential far earlier than the 1.5 TDI. Unless you give a lot of importance to exhaust sound and the higher redline of the petrol (as I said, this is sort of pointless since the 1.2 TSI doesn't rev very freely for a petrol thanks to the SOHC setup), the 1.5 TDI wins this one for me.
Check out BHPian comments for more insights and information.
Source: Read Full Article