Used ZF AT transmission oil in my VW DSG: Was it the right thing to do?
In search of genuine transmission oil, I went to every spare parts store in town, but no one had genuine Volkswagen transmission oil.
BHPian TDI_Power recently shared tis with other enthusiasts.
Hello everyone on Team BHP. I own a Volkswagen Vento Diesel with a 7-speed DSG transmission (DQ200).
Few days ago I had my car's dual mass fly wheel replaced by a local mechanic in our town.
I went with a local mechanic because the service centre asked around 75000 rupees for this job however, this job was done by a local mechanic for only 25000 rupees. Because I purchased the flywheel online for 16500 rupees and the mechanic's labour was 8000 rupees.
What's the issue is that the mechanic drained the vehicle's transmission oil while changing the flywheel. I'm not sure if this was required or not, but the mechanic said that it was. I asked my mechanic will original VW transmission oil be available in this small town? The mechanic confirmed that original VW transmission oil is available at Arora Motor Parts. After that, the mechanic replaced the flywheel and properly assembled the gearbox. He asked me to go to Arora Motor Parts and buy the 2 litre automatic transmission oil but when I went to Arora Motor Parts, they told me that Volkswagen's original transmission oil is out of stock now, so they suggested ZF transmission oil for my car, but I asked for genuine Volkswagen transmission oil and they said it is unavailable at the time.
In search of genuine transmission oil, I went to every spare parts store in town, but no one had genuine Volkswagen transmission oil. I returned to my mechanic in the garage, and he told me, that the ZF oil which is available at Arora Motor Parts is the original one, and you can use it as an alternative to VW transmission oil. He told me that ZF provides transmission oils to the Volkswagen group. I was helpless at the time because the service center was 170 kilometers away from my city. I also called the service center and requested the required oil, but they told me that they could not sell any parts outside the workshop.
Because there was no other alternative, I asked the mechanic to fill the ZF oil. I drove my car 400 kilometers after adding that oil. but I haven't had any issues with that oil or with gear shifting. Gear shift is smooth and accurate. I politely ask all members to advice me whether this oil is suitable for my gearbox or should I change it asap. According to the mechanic, I can use this oil for at least 35000 kms. This is the first time I am getting my car's transmission oil changed. Members' opinions are welcome.
Below are photos of the transmission oil used in the car: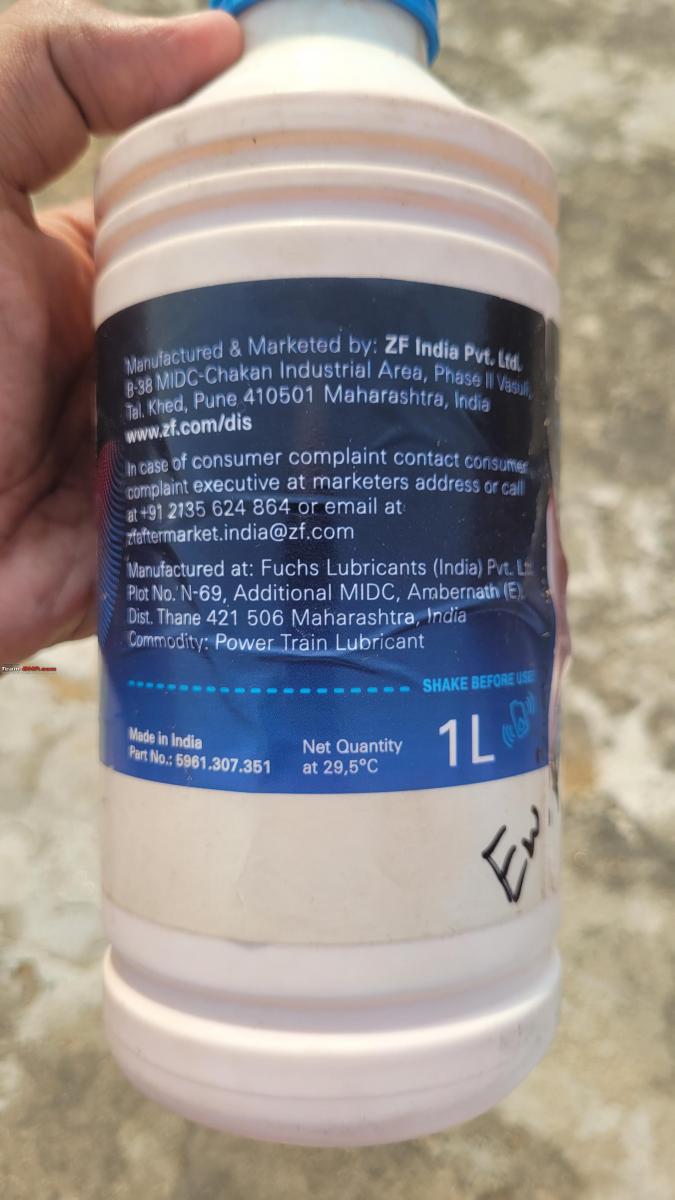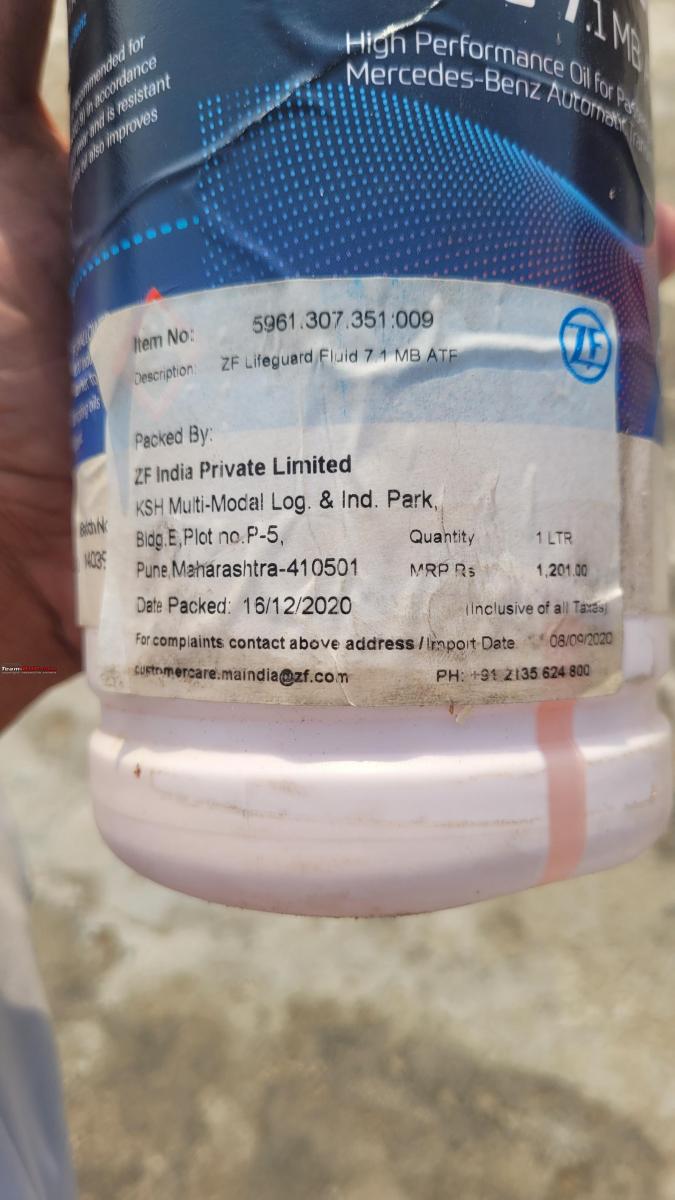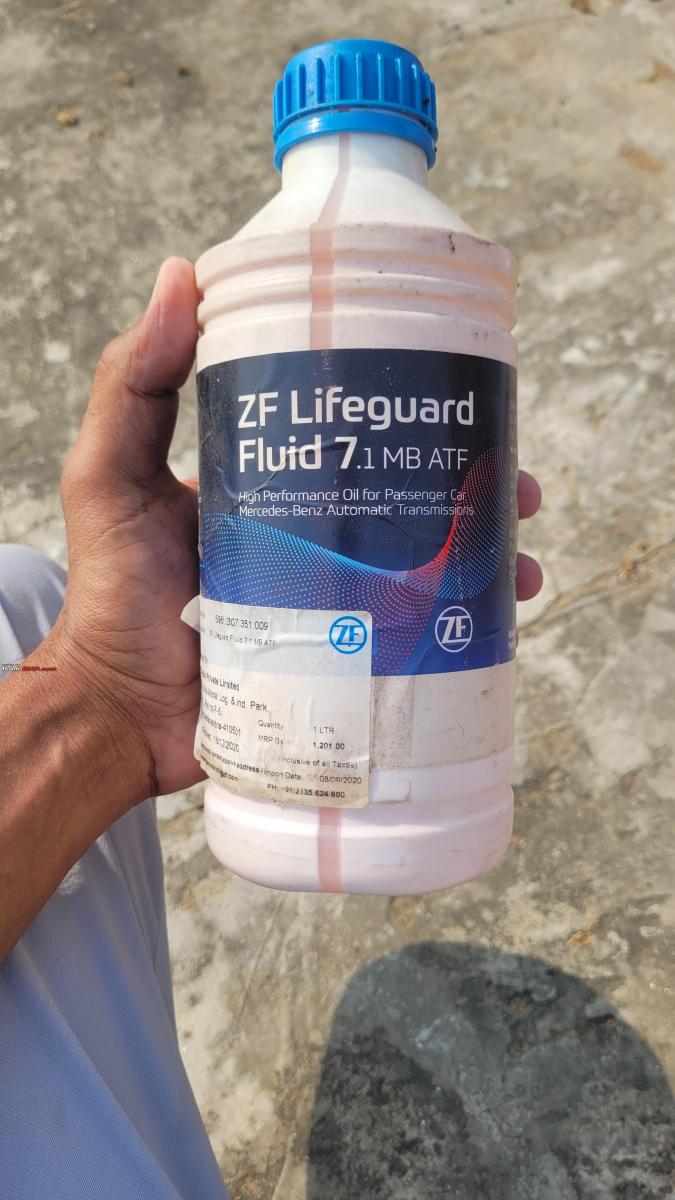 Here's what GTO had to say on the matter:
With a gearbox as complex as the DSG and one with a high failure rate, it would be risky to deviate from VW's recommendations. In fact, VW had in the middle changed the recommended oil to another grade too. I would strongly recommend you source your DSG fluid from a VW dealer or a reliable independent shop which will give you the OEM stuff.

Related thread – DSG, demystified! All you need to know about VW's Direct-Shift Gearbox.
Here's what BHPian Akshay1234 had to say on the matter:
The ZF oil used is for Mercedes 722.9 torque converter applications. You need a dual clutch gear oil, be it an original VW oil or even aftermarket such as liqui moly, motul or rowe. Change it asap!
Here's what BHPian ike had to say on the matter:
You have not mentioned what grade the ZF oil is and what grade is recommended by OEM. If this is the same I'd sleep a little better but with a DSG you can never be too careful.
Here's what BHPian zeng had to say on the matter:
This ZF fluid is a low viscosity ATF. Not sure what's the factory oil specs, but my guess is it should be fine.
Check out BHPian comments for more insights and information.
Source: Read Full Article