Upgrading my Mahindra XUV700's lights: Stedi & Baja Designs review
The end of the Street is 110 meters, I feel I can comfortably see 120 meters with this light bar alone.
BHPian VizagRider recently shared this with other enthusiasts.
Hello, everyone,
This is my first review on TeamBhp, so if in case of any mistakes pls excuse me.
Don't take me wrong if the review is lengthy.
I wanted to purchase auxiliary lights for my XUV700 AX5 Diesel.
So many people might say XUV700 has pretty good stock lights why even auxiliary lights are required?
I'm spoiled with the lighting setup on my Duke 390 – 1pod Baja designs Squadron Pro in Driving/Combo beam (Spot+Spread) with 5000K (180$) and 1pod of DiodeDynamics SS3pro in driving beam with 4000K ($150)and wiring harness ($30) totalling to Rs.26,000. These are good enough for spirited riding at 120kmph at night with good enough reaction time to avoid any surprises. And it's not that I encourage you to drive at high speeds at night.
I don't have nighttime images as of now but trust me after trying several combinations of beam patterns on both the pod lights I have arrived at the above-stated setup. My aim was always to replicate a beam pattern close to the output of a projector with a Bright spot in the centre and reducing intensity towards the periphery so that we could see as much distance as possible and I feel I have achieved a large extent as much as possible with my set up.
For my XUV700 Cheap Chinese lights were not an option as I know, especially in Lighting you get what you pay for.
Following were my requirements:
Beam pattern similar to Projector lens
Should be able to see at least 400 meters at 10lux. (A Vehicle travelling at 200Kmph requires at least 180meters visible distance to avoid an Obstacle) Source: Baja Designs Effective Lighting Score white paper.
Require cornering/ditch lights in as small a package as possible to fit near the mirror to see before I turn into a corner
I hate reflection coming off the bonnet, so Lights should be able to fit in between the front grill and the radiator (also don't want to get pulled over by Police and not give thieves easy access to expensive lights).
Efficiency of lights(with less power consumption, more light out put in the right place to see more distance) and also less load on Alternator
As much less weight as possible(want to keep weight of lights to minimum, Mahindra have gone great lengths to reduce weight of engine compared to XUV500 and I don't want to spoil driving dynamics of the vehicle by adding more weight in an overhanging position)
Want to control the brightness of lights
Switch panel to control (ON/OFF) different lights individually based on need/situation and also to avoid rats' nests of wires in the engine bay and in the cockpit.
Complete lights and lighting accessories cost not to exceed Rs 60,000 (close to double the price of lights on my bike)
After exploring different lights from VisionX, BajaDesigns, Diode Dynamics, KC Hilites, Morimoto and Laser Lamps UK. For forward lighting, I have short-listed the following:
Finally purchased the following:
DiodeDynamics SS5 3 pod cross-link bar with one-SS5pro in Driving beam and Two-SS5sport spot beam($490/Rs.40K) and Stedi ST3301Pro 24.5inch light bar (250AUD/Rs.12K) as I wanted a combination of reflector style lights and TIR optics for a both intense and smooth blend of light in my budget. Purchased From Hotshot off-road.
I thought quite a bit before purchasing of Switch Panel as I'm exceeding 15K over my budget but made a choice to go ahead as it will simplify the wiring in the engine bay, no need to fumble around if some fuse blows off, instead of running multiple wires for 5 individual lights(light bar, SS5 driving, SS5 spot, S1 left and S1 right) into the cabin there will be only one single thin harness coming from controller/fuse box to Switchpanel.
Review/Opinion-Power consumption/ lights test: Stedi ST3301 PRO 24.5 INCH 16 LED LIGHT BAR
I have asked my friend to buy this light bar in Australia and bring it to India while coming.
Stedi has different light bars with different beam patterns but I bought ST3301 24.5 Inch model as it has a very smooth bend between the spot and spread beam Stedi also has Night time light output images for each light they sell, images are overexposed in my opinion which gives a feeling that they are too bright. But it gives an idea of how the light output is going to be. Below is the image from the website.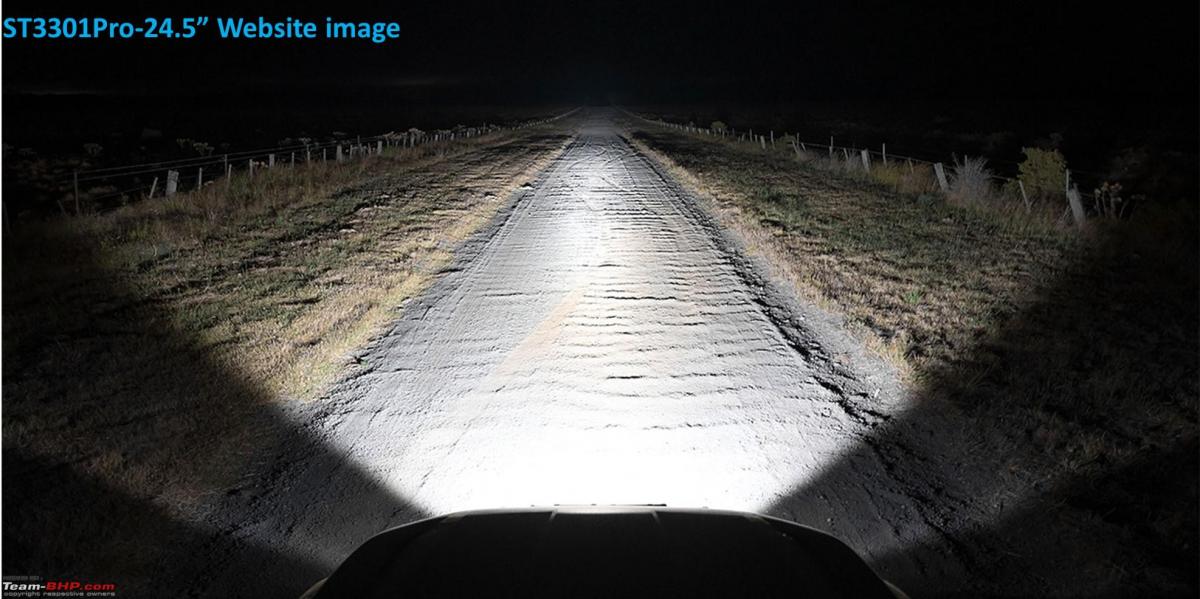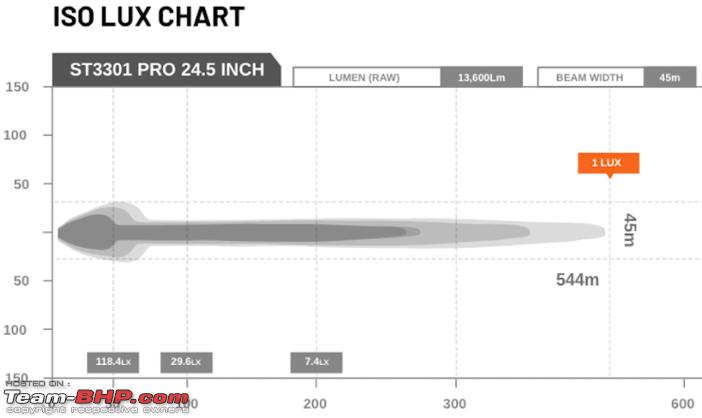 And below are the real-world images comparison of the light output, sorry I couldn't take pictures in a completely dark location. The end of the Street is 110 meters, I feel I can comfortably see 120 meters with this light bar alone.

Even though the light bar build quality is quite good, somewhere I felt the performance of the light was not meeting its spec.
Since I wanted brightness control by Connecting to the Skene iq275 module, I wanted to see the actual power of the Stedi light bar as the Skene module can carry max current 12amps on one circuit, if the Stedi light bar pulls more than 12amps current the controller might burn.
So I wanted to test the light bar by connecting it to a test setup where I can vary voltage and see the max current draw and calculate the actual power draw. Power(watts) =Voltage(volts) X Current(Amps).
Below are the specifications of the lightbar from a website and they state 9.7A @ 13.6v which means 132 Watts of power.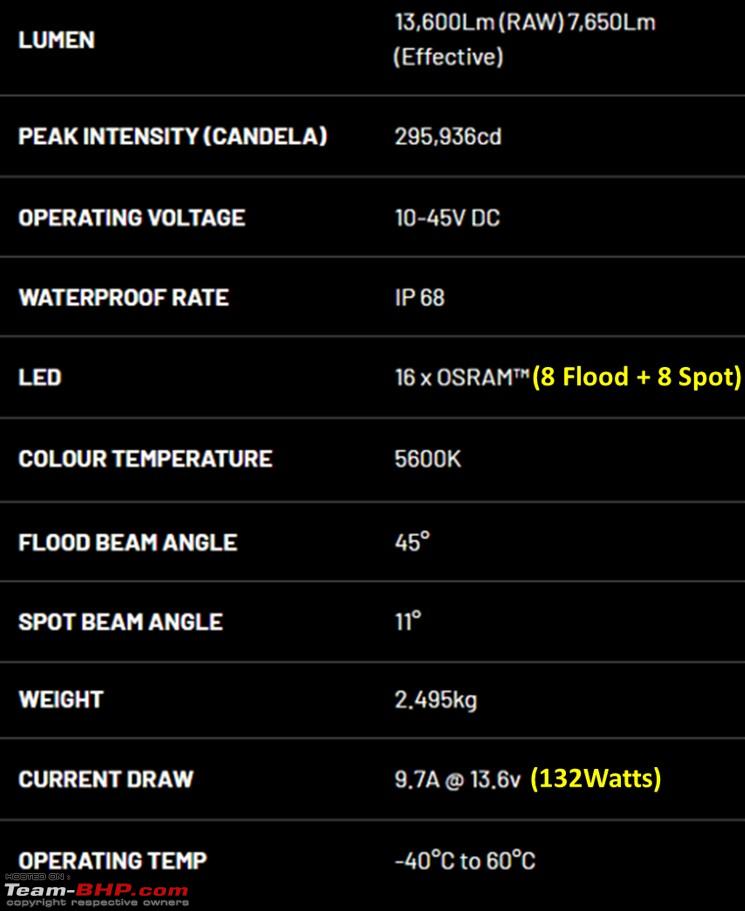 Below are the test results, with room temp at 26degC.
All the readings are taken as soon as the light bar is powered on
7.1A @ 13.5V = 95.85W
6.5A @ 14.3V = 92.95W
8A @ 12.1V = 96.8W
10.8A @ 9V = 97.2W
5.8A @ 16V = 92.8W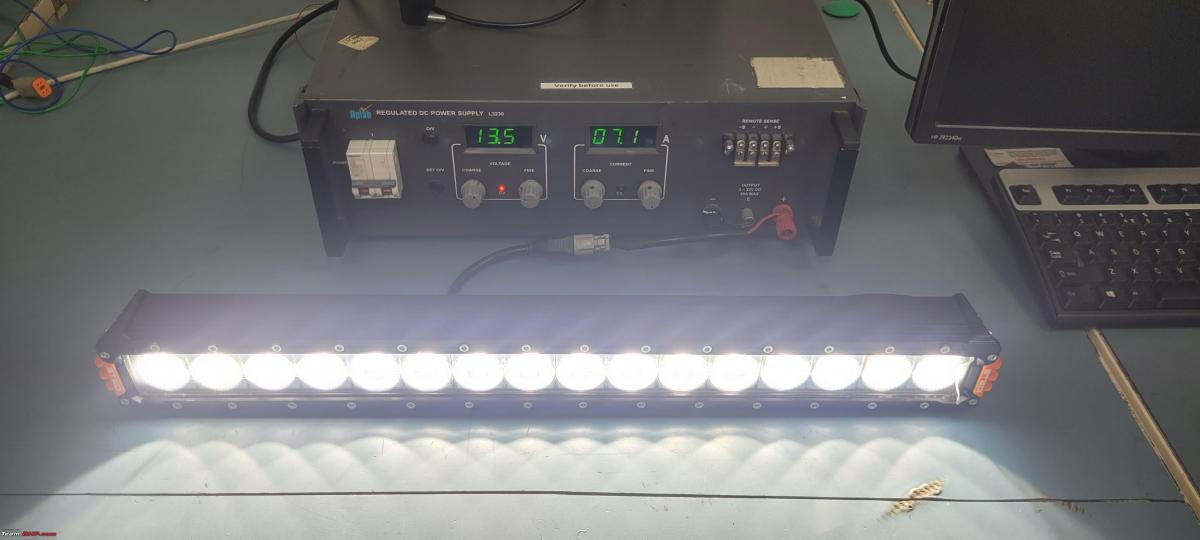 The average Power stands at 95.12W when the light bar is still not fully warmed up, which is 28% less than the stated power of 132Watts
After the light bar is stabilized for 45 minutes the current draw is 4.9A @ 12.7V = 62.23W. This is less than half of the specified power of 132 Watts.
Here, I'm not saying Stedi makes bad products but the point is they are not meeting the stated spec (132W) right out of the box. And I feel Stedi's thermal/Heat management is not very good.
Reputed lighting manufacturers like Diode Dynamics have minor losses after 30 minutes of stabilization and with no moving air around the lights.
One more thing I didn't like about the wiring harness provided by Stedi is, the wires are made of aluminium, not copper.
Just to double confirm whether it is tin-plated copper or aluminium, I have cut the wire of the Deutsch Connector pigtail provided along with a light bar and it is found to be aluminium.
Some might say Aluminum wires are also ok for electrical conduction, but aluminium wires need to be much thicker than copper, which results in the wiring harness being heavier compared to the copper wire harness.
Power consumption and First impressions of DiodeDynamics SS5 3pod cross-link light bar with one-SS5pro in Driving beam and Two-SS5sport spot beam:
SS5 Sport and Pro Spec sheet:
Test results are taken at room temp 26degC. The below reading is taken as soon as the SS5 Pro light is powered on 9.5A @ 11.9V = 133W
The below readings are taken after the stabilization of 45 minutes of SS5 Pro-light:
6A @ 13.6V = 81.6W
5.7A @ 14.3V = 81.5W
5.1A @ 16V = 81.6W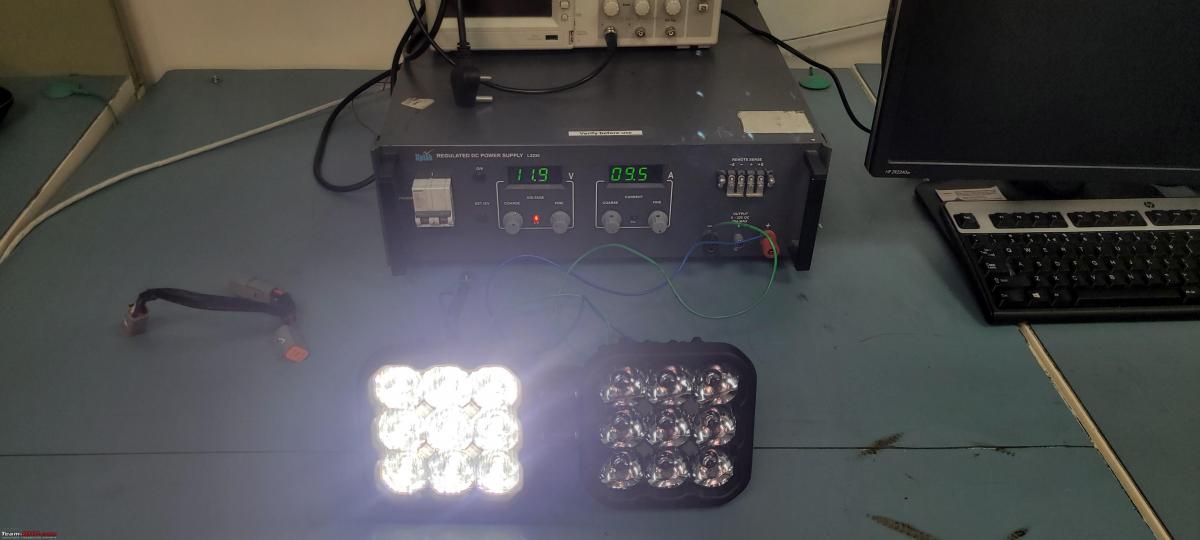 SS5 Sport didn't have any effect over 45 minutes of operation, below are the measured values:
3.5A @ 11.9V = 41.6W
3.3A @ 12.7V = 41.9W
3A @ 13.6V = 40.8W
2.9A @ 14.4V = 41.7W
2.6A @ 16V = 41.6W
Currently, I do not have the light output images of Diode dynamics lights. Once my installation is complete on my car, I will upload all the final images.
Thanks for your patience reading. This is my first post/review hope it is useful and informative. Any advice is most welcome
Check out BHPian comments for more insights and information.
Source: Read Full Article