Upgraded from Ritz to a preowned S-Cross petrol AT: Initial impressions
4 speed AT gearbox is very convenient in the city.
BHPian Shrek8421 recently shared this with other enthusiasts.
Hi,
I bought a preowned Maruti S-Cross.
Odo 10k
Reg Nov 2021
Silver Zeta AT
Single owner and well maintained.
1 dent fixed on left panel and windshield replaced due to a crack from a stone.
11L vs 14.3(OTR)
Initial impressions:
Ride is sublime and handles amazing.
4 speed AT gearbox is very convenient in the city. Yet to test on the highway.
Lots and lots of space. Coming from a Ritz.
Smartplay studio works fine. Wired AA but no issues so far.
Boot is small but convenient due to no loading lip.
MID is monotone but all important info is available
Getting 10 to 11kmpl in Bangalore traffic.
Performance is linear and responsive.
Few issues:
Existing OEM mats are of poor quality. Velcro has come off and need to be replaced.
Turning radius takes getting used to.
Rear camera lacks adaptive guidelines but has adequate clarity.
NVH is audible when pushed.
Gearbox is slow to shift in lower gears compared to the new 6AT.
Overall I am extremely happy with the car. It drives like a dream and the experience can't be captured on a spec sheet.
I have a few questions:
Will Grand Vitara mats fit the S-Cross?
Should I get extended warranty?
Any other accessory suggestions.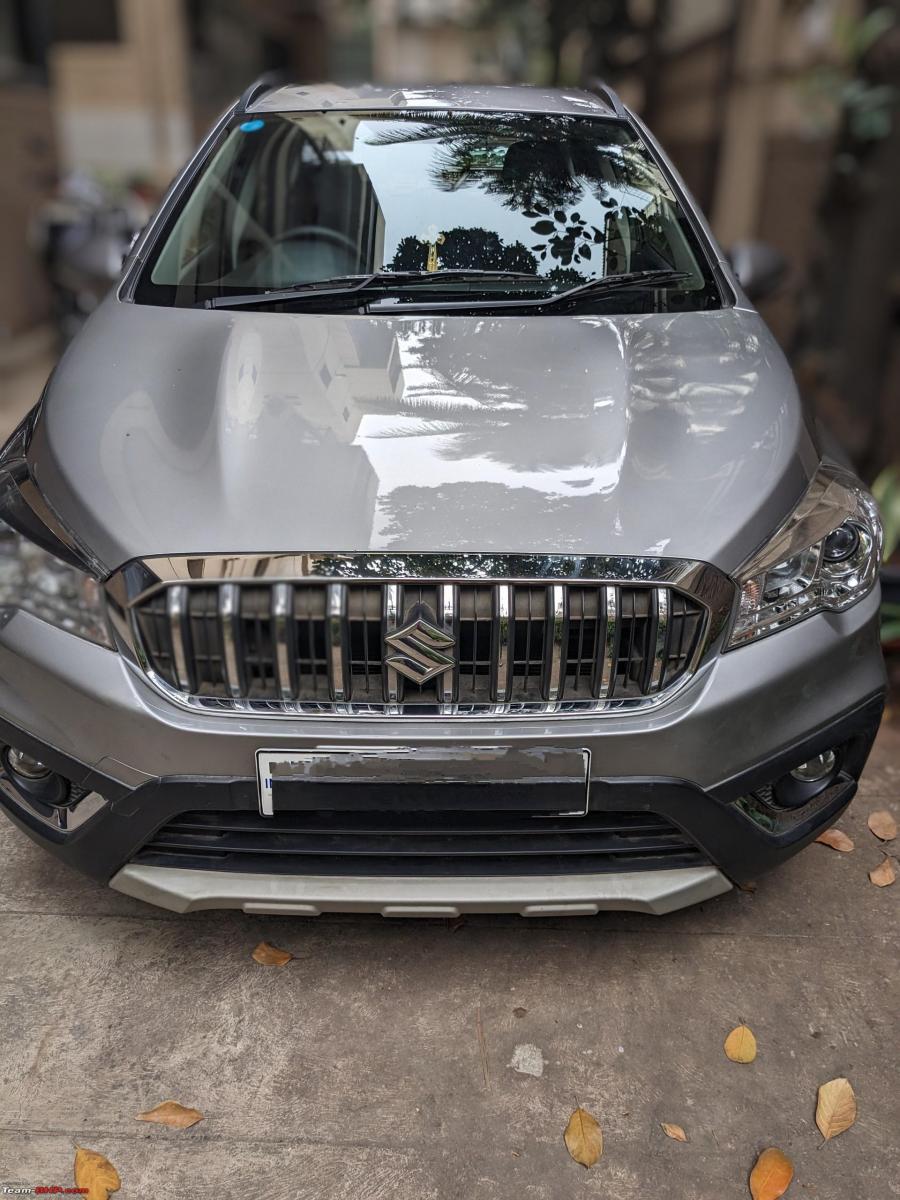 Here's what BHPian swapzero had to say on the matter:
Two accessories I can recommend:

Wireless Android Auto: It is such a convenience. No more fiddling around with usb cables.
Internal TPMS. I would recommend Treel from JK. I got the same. Happy with their after sales service and warranty. One of the sensors stopped working after ~ 1.5 years and they promptly couriered me the replacement.
BHPian Shrek8421 replied:
Thanks a lot for the suggestions.

Which wireless AA did you get? There seems to be lack of options in India.
I was hoping to get an external one because of the complicated fitment. But I will check JK out.

Is it accurate? Does it work only on solar or does it need charging?
Here's what BHPian PaddleShifter had to say on the matter:
I am using external TPMS (many options available on amazon). I have never had the need to charge it and the battery is always charged through solar. I have driven for extended hours during night time as well. Display based TPMS are better than app based ones which consume some phone battery for sure to transmit data via bluetooth. Also, there is no need for pairing and you can remove and refit the sensors in any car (if required). The only con is that you need to remove them if you wish to fill air in the tyres. I need to do this once in two months on an average. A special tool is provided as an anti theft measure so you need to keep that with you at all times as well. I have kept it along with my car documents.
Check out BHPian comments for more insights and information.
Source: Read Full Article