This Week's Forza Horizon 4 Season Change: Rimac Shocks the Spring System
Spring has sprung once more in Forza Horizon 4. The new season switch brings fresh events and content for players to go after.
This week marks the last of Series 10, with new and returning cars up for grabs. Next week looks set to get really weird with the Track-tor, so let's see what is in store right now.
An Electrifying Hypercar Debuts
Prizes are a mixed bag this week, with different types of cars for everyone available. Prizes for completing the season to 50% and 80% are also waiting for players. A big series debut will grab the keen eye of fans.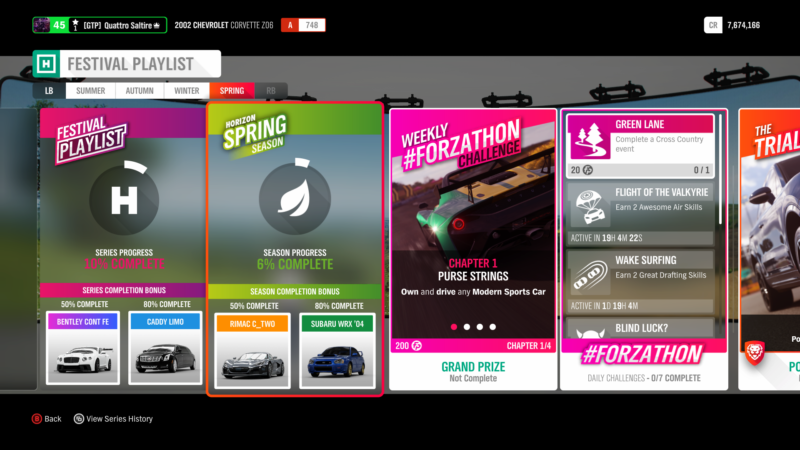 New Events
This week's headline prize is another brand new hypercar. Last month saw the Apollo Intensa Emozione make its gaming debut, now it's the turn of the 2019 Rimac C_Two.
This Croatian hypercar completely tears up the traditional rulebook, by making its grunt from electricity, rather than an internal combustion engine. With an electric motor powering each wheel, the Rimac produces a scarcely believable 1,900 horsepower. That makes the C_Two the most powerful street car to ever feature in a Forza game.
For something a lot less deranged, players can enjoy the 2004 Subaru Impreza WRX STI. This rally-bred sedan is built to tackle the winding UK tarmac roads and making easy work of dirt trails.
Under the hood is a turbocharged 2.0-liter flat-four with 280 horsepower. With a sophisticated four-wheel-drive system, JDM fans will love the STI's all-round ability.
Amongst the other prizes is the Ferrari F50. Modena's replacement for the legendary F40 is a hit-and-miss affair among fans, but there is little argument about the F50's powerplant.
That engine is a 4.7-liter V12, derived from the Ferrari 641 Formula 1 car. The V12 makes 513 horsepower, and is capable of sending the F50 past 200mph. Players can acquire the F50 by winning the "Back to the 90's" championship.
Those after an SUV for their collection can attempt to win a 2018 Porsche Cayenne Turbo. This bruiser is the flagship of the third-generation Cayenne range, with a twin turbocharged 4.0 liter V8 and 550 horsepower. The Cayenne can be acquired from the "Porsche Cup" Trial event.
This week's events and challenges are detailed below:
Holden To Your Hats
Series: Street Scene
Cars: Holden
Restrictions: C Class, 600 PI
Prizes: 15,000 CR, 25,000 CR, Wheelspin
Spring Developer Championship
Series: Dirt Racing Series
Cars: Offroad
Restrictions: A Class, 800 PI
Prizes: 15,000 CR, 25,000 CR, 2011 Ford Raptor
Spring Games – Series 10
Series: Playground Games
Cars: Microcars
Restrictions: A Class, 800 PI
Prizes: Green Man Outfit
Back to the 90's
Series: Street Scene
Cars: Super Saloons
Restrictions: S1 Class, 900 PI
Prizes: 15,000 CR, 25,000 CR, Ferrari F50
The Trial: Porsche Cup (Co-Op Championship)
Series: Road Racing Series
Cars: Porsche
Restrictions: 100-998 PI
Prizes: Porsche Cayenne Turbo
Hilltop Vista Danger Sign
Season Objective: 620.1 ft
The Bridge House Speed Zone
Season Objective: 110 mph
Hythe House Speed Trap
Season Objective: 195 mph
Forzathon Events
Forzathon casts a wide net this week, as modern sports cars are under the spotlight. With plenty to choose from, the first objective is to simply own and drive any modern sports car.
Next, push to the limits and earn 3 stars at the Moorhead Wind Farm Speed Trap. The third objective will need you to get a bit creative with driving, as an Airborne Pass Skill is needed to progress.
For the final objective, battle your way to 2 podium finishes in Road Racing Series events to finish up this week.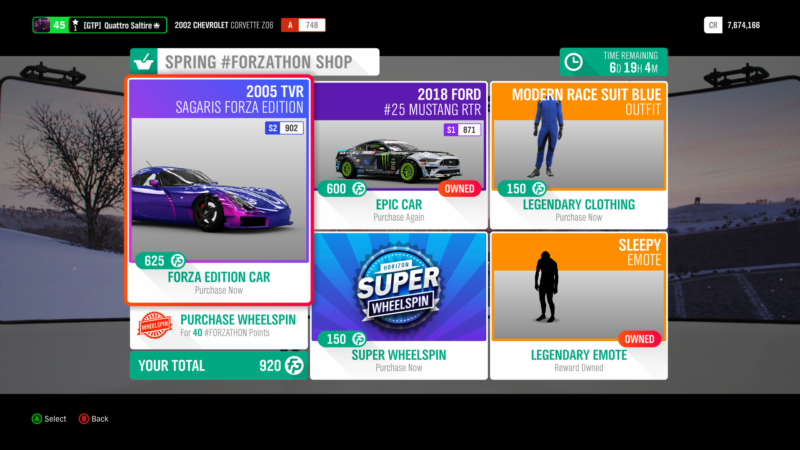 Forzathon Shop
A specialized drift machine and a rare TVR grace the shop this week. The headline act is the 2005 TVR Sagaris Forza Edition.
The Sagaris is one of TVR's most insane road cars, with a 4.0-liter straight-six engine making 400 horsepower. The Forza Edition also comes with a Speed Skills boost. Costing a hefty 625 Forzathon Points, if you haven't managed to unlock it from the skill tree for the standard Sagaris, this may be a faster option.
Sitting alongside the TVR is the 2018 Ford #25 Mustang RTR drift car. Driven by Vaughn Gitten Jr, this pony car comes with a 1,000 horsepower V8 and a drift tuned chassis.
The RTR Mustang last appeared as a prize back in March, so if you missed it then, you'll need to pay up 600 FP while it's in the shop.
Novelty items up for purchase this week are the 'Sleepy' emote and the Blue Modern Race Suit outfit.
Source: Read Full Article