This Must-Have Car Emergency Gear Has Been Heavily Discounted for Amazon Prime Day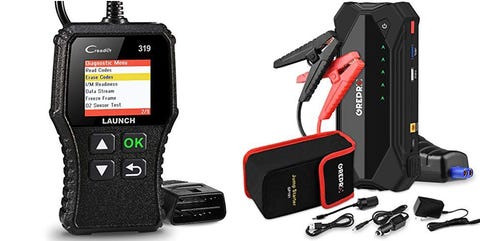 Getting stranded on the side of the road without the right gear could spell disaster. You should always have an emergency kit stashed in your trunk in case something goes wrong. Secure peace of mind with these items, all of which have been deeply discounted for Amazon's Prime Day 2021.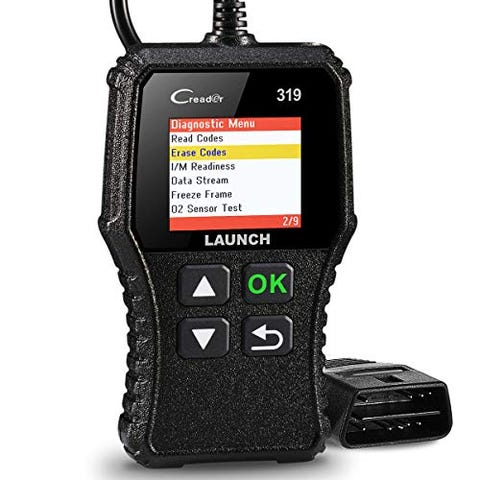 Seeing that check engine light pop on when you're far away from home is never a good feeling. Determine whether you're actually in trouble by keeping an code scanner like this one nearby.
The one shown here, made by Launch, has a built-in color screen for easy read-outs, and a pre-loaded library with a database of over 3000 code definitions, so you don't have to bounce back between the reader and your phone to find out what each code means.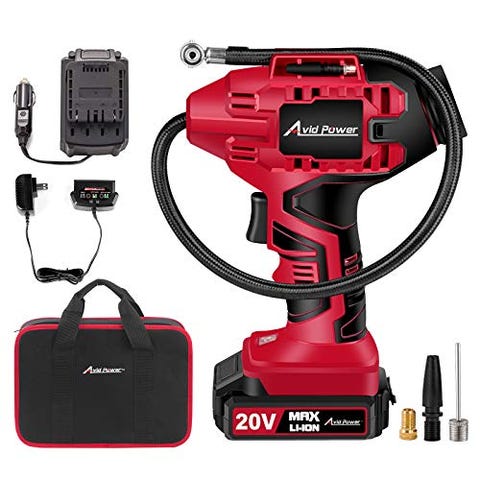 There's nothing more stressful than arriving at your car to find all the air from one of the tires has slowly leaked out, leaving you with a flat. Be prepared with this cordless tire inflator from Avid.
It has a built-in light to illuminate your workspace, as well as a digital pressure gauge to fill your tire with the right amount of air. Best of all, it can be recharged via the 12-volt socket in your car.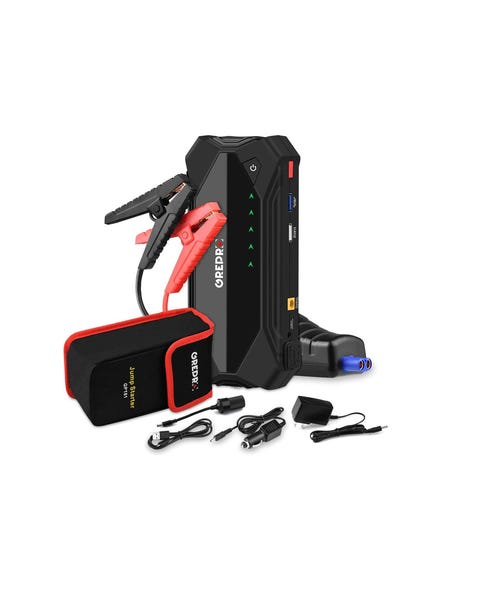 Worried about your battery dying overnight? Relive some stress by bringing along this jump starter by Grepro.
Not only can it fire up big engines with ease, but thanks to USB charging ports and a 12-volt output, it can power your other devices as well.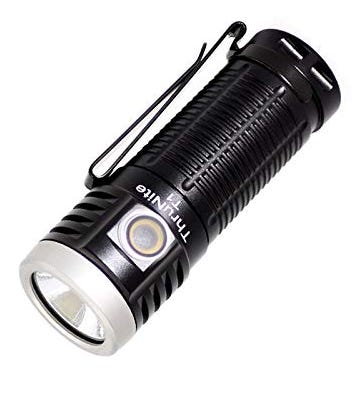 There are a dozen reasons why you might want to have a flashlight in your car. We suggest picking up this one from ThruNite because it can be charged via a USB port—something found in most cars today.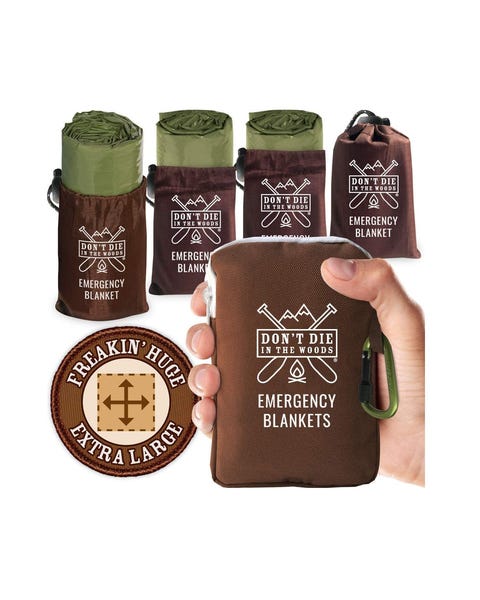 Getting stranded in the cold can turn dangerous quickly, especially if you're in the middle of nowhere. Keep one or two of these emergency blankets on deck to help ensure you don't freeze to death while waiting for help.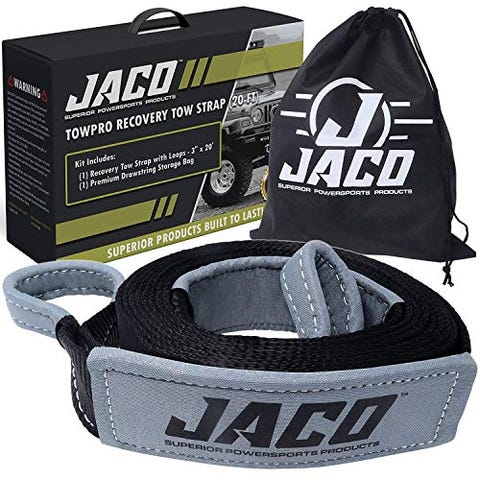 If you venture off-road often, you'll likely know what it's like to get stranded. Make sure you're ready for any scenario with a heavy duty tow strap like this one from Jaco (3″ x 20 ft).
With a load limit of over 10,000 pounds, it should be capable enough to pull out any car or truck you come across that's stuck in a ditch or stranded in snow.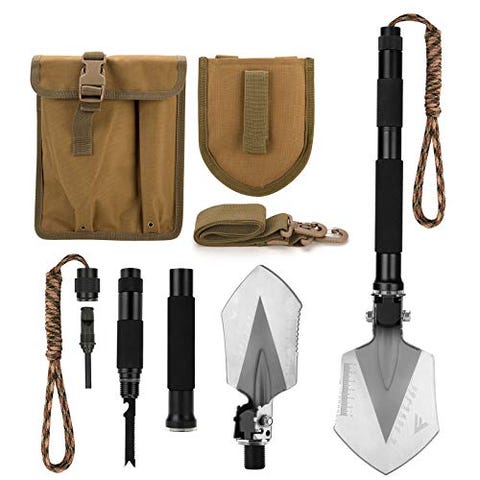 There's nothing worse than discovering your car buried in snow. Carry along a compact shovel to dig yourself out of trouble in a pinch.
We like this shovel multitool from FiveJoy, as it also doubles as a hammer and an emergency glass-breaker with its sharp-edged tip. There's also a serrated saw edge on one side for cutting things.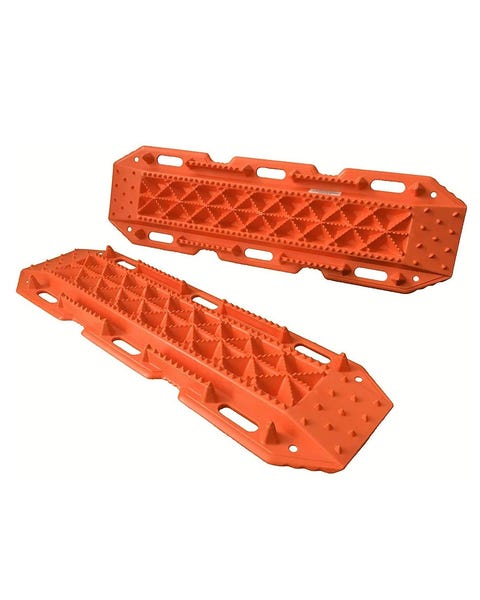 If you don't think that shovel is enough to get you out of trouble, consider bringing along a pair of traction mats. These static plastic molds are meant to be placed right in front of or behind your tire, and dig into the surface your stuck in as you drive over them to help you get out.
These are perfect for solo off-roading trips, providing an extra layer of security in case you get stranded.
Have a car that burns oil from time to time? You're going to want to keep some extra on you in case you have to top it off.
Shell's Rotella brand is the go-to for many cars—I've used it without issue on my Subarus and older BMWs. We recommend keeping a gallon in the trunk if your engine is running low.
Be sure to choose the right viscosity for your vehicle.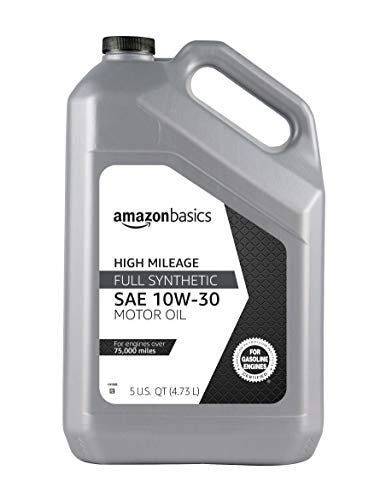 If your car uses a more common 10W-30 oil weight, AmazonBasics is running a big sale on its own fully synthetic motor oil as well. You can never be too cautious.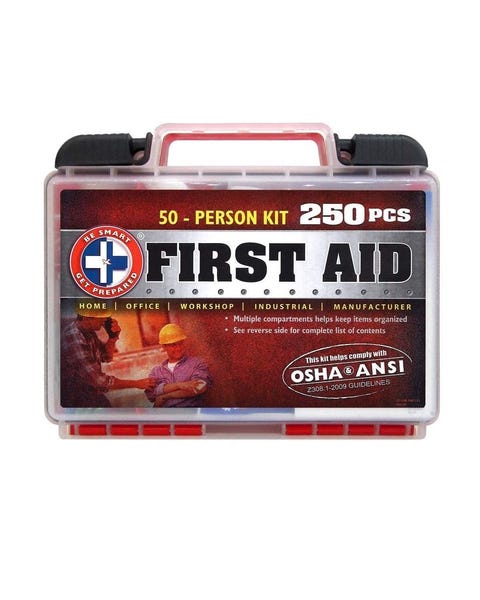 Obviously, you never hope to have to use a first aid kit. But stuff happens, so having one in your car is a must. This 250-piece comprehensive kit comes packed with everything you might need to perform basic first aid in the event someone gets hurt.
From: Road & Track
Source: Read Full Article