The 10 Biggest Yachts at the Monaco Yacht Show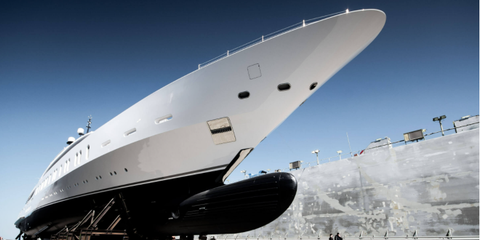 I don't know about the rest of you, but when I'm struggling with how to construct and decorate my latest gigayacht (yes, gigayacht, no one buys megayachts anymore), I go to the Monaco Yacht Show. The MYS runs this year from Sept. 22-25, offering seminars on the following topics, topics that are appreciated by high ballers and shot callers like you and me:
Perspectives on industry trends and aspects of chartering, buying, building and operating a superyacht.
How to choose your superyacht and your broker.
Practical steps involved in commissioning and building a new construction project from a client perspective, panelists include shipyard, naval architecture, project management and legal expertise providing their guidance to delegates on undertaking a new construction project.
So hard to find really good naval architects nowadays.
Parked in Monte Carlo harbor right now are the stars of the show: many magnificent monster yachts. While you may be dragging out the canvas cover to store the Boston Whaler away for the season as the leaves change on Harsen's Island, these yachts will allow you, or your crew, to follow the summer to the Southern Hemisphere where, if you're truly a maja playah, you have your own country somewhere.
Here are the top 10 attractions in Monaco this year. Pick a favorite. Some are for sale, some are for charter, all are available for a price. I suggest superyachttimes.com or boatinternational.com as unbiased sources of gigayacht-buying info.
If any of these yachts prove too expensive, you can get something 150 feet long for less than $20 million if you don't mind an older build. You can go 100 feet for $10 million, again, an older construction. Nobody has to know. But a class act like yourself will want one of these. And remember, if it's less than 300 feet long, no one's going to take you seriously.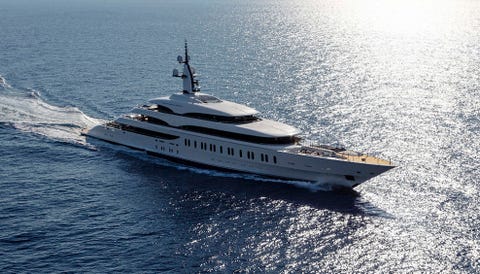 Length: 354 feet
Asking price at MYS: $205 million
The letters IJE are the initials of the children of Australian billionaire James Packer, a casino mogul reportedly once engaged to Mariah Carey. The ship offers guests five decks from which to choose, with up to 22 guests spread out among 11 guest cabins. A crew of 28 shares 15 cabins. Built by Benetti SpA in Livorno, Italy, maximum speed is 21 knots but cruising speed 16 knots. It'll hold 96,000 gallons of fuel, good for a range of 6500 nautical miles. You can outrun your entire constituency in this.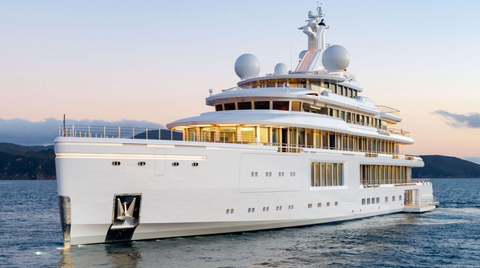 Length: 351 feet
Asking price (last year): $264 million
We're not sure the price of Luminosity this year, but it has 12 cranes for lifting various smaller boats onto and off of the main superstructure, so it's probably worth it. There's a separate jet ski garage, of course, and inside there are (not kidding) 264 white magnolia flowers on the main saloon wall that "silently open and close as a person passes through." The opening lines of the novel Moby Dick are etched in the roof pillars of one floor. And a "sinuous configuration of hand-forged steel, polished to a mirror, encloses a thousand Bohemian crystal bulbs to illuminate the main lounge." And to keep things totally pleasant at anchor, a three mega-watt lithium-polymer battery bank gives 12 hours of power when the generators switch off. Oh man.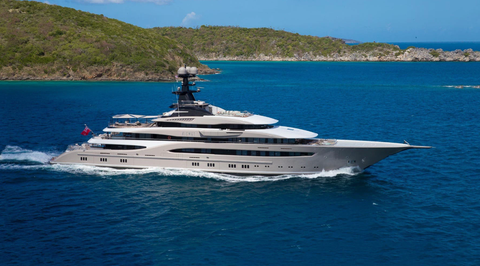 Length: 312 feet
Asking price at MYS: $198 million
Yes, it is over 300 feet long and stickers for almost 200 mill, but Kismet was built way back in 2014. Perhaps you can deal with that, perhaps not. But you will get a splendid yacht that sleeps either 12 guests in seven cabins or 16 guests in eight cabins, the sales page claims both. Crew size is 28. The master stateroom features direct access to the yacht's helipad, should you spot insurrectionists approaching and need to beat a hasty retreat, sans staff and guests.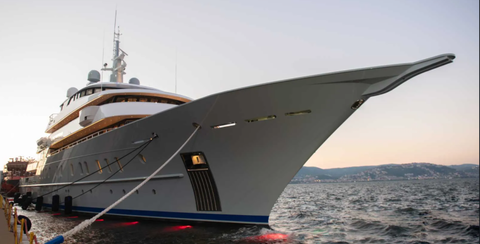 Length: 279 feet
Asking price at MYS: $147 million
We now drop down to yachts of only 200 feet or larger, so readjust your cravat and grab another martini. Victorious was just finished at Turkish builders AK Yachts. Previous pictures show a large, round helicopter landing pad at the bow, which seems to have been removed in favor of a forward sun deck. It gives the boat a spear-like lunging profile, which maybe you'd like, in case you have to spear the yachts of your rivals. At 279 feet, it's the fourth-biggest thing in the water at Monaco this year.

Length: 278 feet
Cost to build: $100 million
Bold could refer to the approach to design with this gigayacht. It looks almost militaristic. Yet it sleeps 16 guests and 21 crew. Bold belongs to German businessman Guido Krass, who also owns a Cessna Citation 525 in case you were wondering. He is also the founder of Silver Yachts, the company that made Bold. Superyachtnews.com quoted him as saying, "I always have one boat in use, one boat in build and one boat in the design and engineering phase." I want to party with this dude.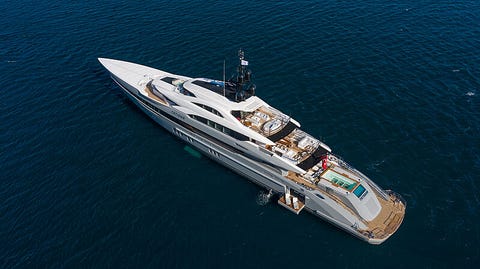 Length: 263 feet
Cost to build: $100 million
Tatiana is reportedly owned by the former head of Tata Group, Cyrus Pallonji Mistry, so there's your automotive connection. Cost to build this beauty of the high seas is listed on internet sources at $100 million. You can charter it for $775,000 a week.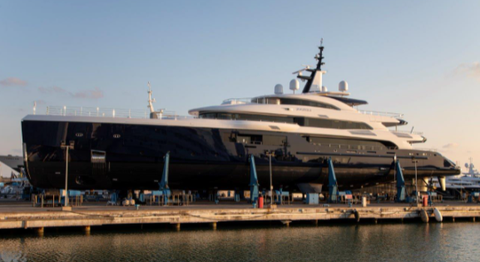 Length: 213 feet
Asking price: n/a
Zazou was only recently finished by Benetti SpA in Livorno, Italy. Livorno is fast becoming our favorite place. They make some of the world's largest private yachts. It is Benetti that is exhibiting Zazou in Monaco, not a yacht broker, as near as we can tell. Yet asking price is not obviously listed anywhere that we could find. Time for the old adage, "If you have to ask…"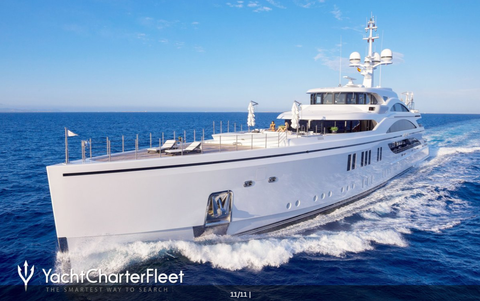 Length: 207 feet
Asking price: $211 million
11/11 was built way back in 2015, practically ancient times by gigayachting standards. If the $211 million asking price is too much, you can charter it for $763,000 a week. In the summer you'll find it in the Mediterranean, in the winter it'll be cruising the Caribbean, Bahamas, and Central and South America. It'll hold 12 guests, or about your entire cabinet and more. When your latest fiscal reform policy goes south, you can go south, too!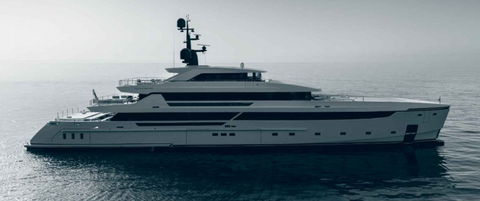 Length: 202 feet
Asking price at MYS: $69 million
With the latest-generation of diesel-electric engines, this is another yacht with a small(er) carbon footprint. That's what the owners tell themselves, anyway. Cloud 9 holds 12 passengers and 13 crew.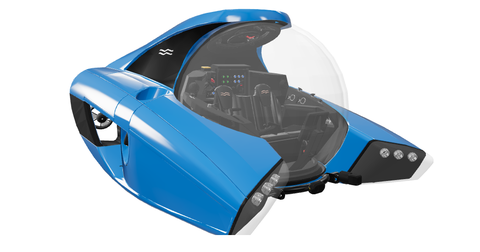 Length: 5 feet
Price: $1 million+
U-Boat Worx makes all kinds of these cool little mini-subs. The entry-level model is the Nemo, meant for stowing on your gigayacht to keep the kids entertained or to dive for treasure in pirate shipwrecks. Or to make a Bond-villain escape. Nemo can reach 330 feet and run for up to eight hours.
Source: Read Full Article