Take a Quick Spin in a Shelby GT350, Lamborghini, Ram TRX and Porsche Cayman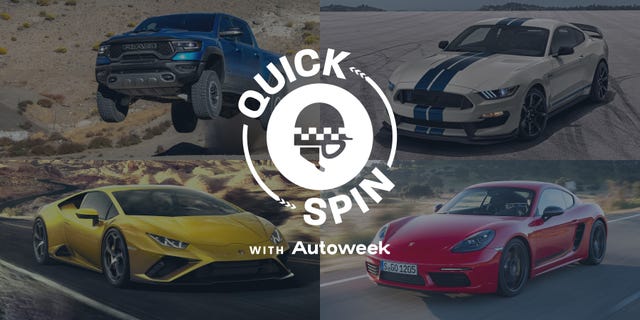 Over the last four episodes of Quick Spin, the Autoweek team has reviewed a diverse collection of cars from the inside out: the Ford Mustang Shelby GT350, Ram Rebel TRX, Porsche 718 Cayman T, and a Lamborghini Huracan that featured Blondie's guitar player Tommy Kessler. In case you missed any of 'em, we've bundled them together here for your listening pleasure.
Like what you hear? Don't forget to subscribe on Apple Podcasts, Spotify, Stitcher, or wherever podcasts are played!
The Lamborghini Huracán Evo Is Rockstar Ready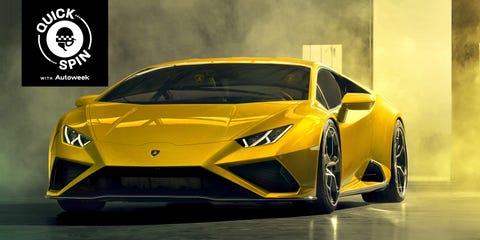 The Lamborghini Huracán Evo is no stranger to Quick Spin. It already appeared in one of the show's first episodes. This V10-powered Italian supercar makes 610 hp in rear-wheel-drive trim and 630 hp in its all-wheel-drive configuration, or enough power to safely make a trip to your local store. The updated Lamborghini also features some styling enhancements adding more visual impact to emphasize that this is the evolution model.
On this episode of Quick Spin, this Lamborghini is reviewed by Blondie guitarist and sports car enthusiast Tommy Kessler. Kessler takes you into this Lambo with a walk around and then brings you along with him while he takes it for a spin. Kessler then joins host Wesley Wren and Robin Warner in the studio to flesh out his feelings about the Italian machine.
The 2020 Porsche 718 Cayman T Is a Budget Brawler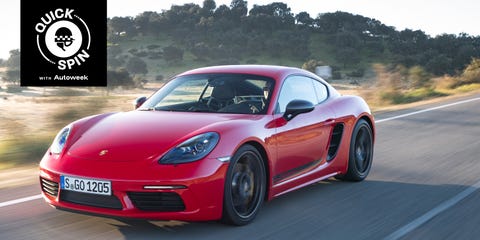 While the 2020 Porsche 718 Cayman T doesn't have a flat-six mounted behind the rear-axle like its iconic big brother, it delivers one of the best driving experiences you can get for the money. This mid-engine, turbocharged 2.0-liter flat-four-powered coupe makes hopping in a Porsche slightly more accessible than the pricier 911. This Cayman T model also sports some weight-saving measures like mechanically adjustable seats and fabric door pulls.
On this episode of Quick Spin, editor Wes Raynal puts this Porsche through its paces and brings you along for the ride. Raynal evaluates how the car drives, how it feels, and how it sits in the Porsche lineup. He guides you through the car's features in a brief walk around of the Cayman T before taking you along while he reviews the car. In between those pre-recorded sections, Raynal expands his thoughts in a discussion with host Wesley Wren.
The 2020 Ford Mustang Shelby GT350 Rides Off into the Sunset
The 2020 Ford Mustang Shelby GT350 is one of the coolest Mustangs to ever leave a Ford factory. Powered by a 5.2-liter, naturally-aspirated, flat-plane-crank V8, this Mustang changed the perception of Ford's legend. This high-performance Mustang pushed the coupe further into the direction of a true-blue sports car. Mated to a six-speed manual transmission and revving to an ear-splitting 8,250 RPM, this Mustang is an enthusiast's dream. Unfortunately, nothing can last forever and this Shelby is going out to pasture after the 2020 model year.
In this episode of Quick Spin, managing editor Robin Warner takes you along for a ride in this Shelby Mustang while he evaluates it. Robin shows you how the car handles, how it sounds and relays how it feels while he puts it to the test. Mixed between those sections, he elaborates and adds context to the Mustang with host Wesley Wren.
The 2021 Ram 1500 TRX Snarls at the Competition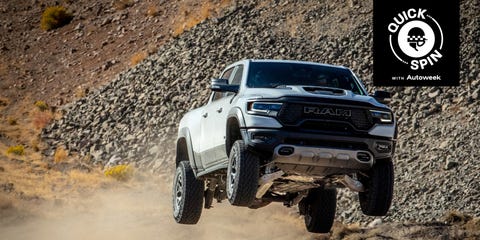 It's been a long time coming for a true competitor for Ford's F-150 Raptor pickup, which has been largely unchallenged in the world of trophy truck inspired pickups. Well, Ram debuted a concept four years ago, which is finally ready for the public. Dubbed the Ram 1500 TRX, this Hellcat-powered pickup sends 702 hp through the eight-speed automatic and then to all four wheels. Add to that, that this truck is suspended by a serious set of shocks and springs and has a host of other desert-racing goodies: This might be the current king of showroom off-roaders.
In this episode of Quick Spin, Mark Vaughn takes the TRX's reins during the truck's launch event to give listeners some insights. Vaughn captures the truck's exhaust note from the outside of the rig while it's at full song. He also captures the experience of launching the high-horsepower hauler with some off-road honing thrown in for good measure. In the studio, Vaughn talks with host Wesley Wren about the truck's ability to jump and drive on roads.
To hear more episodes of Quick Spin, head over to Apple Podcasts, Spotify, Stitcher or wherever podcasts are played.
Source: Read Full Article