Take a Deep Dive Into the Human Element Behind the Acura NSX in This 10-Minute Video
We've spilled tons of ink on the new (2016) and new-new (2019) Acura NSX hybrid supercar. But today we have a deep dive on the ethos behind its creation.
As you probably know, the NSX is built by master craftsmen at Honda's place in Anna, Ohio. Each twin-turbo V6 takes about five hours to build, while the rest the of plant pumps out thousands of lesser mills per day on regular assembly lines.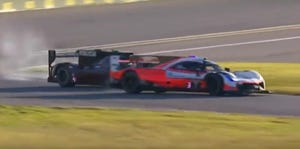 Acura made a commitment up front to go racing with this car, according to Honda Performance Development head Ted Klaus, as opposed to making that decision later, as with the first NSX. By the way, the current car is the only one in its class to run a straight stock engine, even at 24-hour races.
There are a bunch of other cool bits in the video about GPS torque wrenches and pre-shipment engine break-ins. It's all very interesting stuff about a car that isn't the fastest on the street, isn't the most powerful, but looks as exotic as anything in the world. It's also a really fun car to drive slow.
Source: Read Full Article