Suzuki V-Strom 250 test ride impressions by a KTM 390 Duke owner
This bike is for the person who likes to cruise along highways effortlessly at a calm speed and not for the person who wants to aggressively accelerate at every traffic signal.
BHPian saikishor recently shared this with other enthusiasts.
Had some time to spare on one evening, so decided to take a test ride of the baby Vstrom. If I had to compare this bike with a car from the Indian automobile scene, it would be the Toyota Yaris i.e, jack of all trades but master of none.
Upon entering the showroom, there was this Yellow Vstrom under the lights. And I have to admit, this yellow is a never before seen kind of colour. The one on the older Karizma's is a little different than this yellow. If you're getting a Vstrom, I would urge you to pick the Yellow!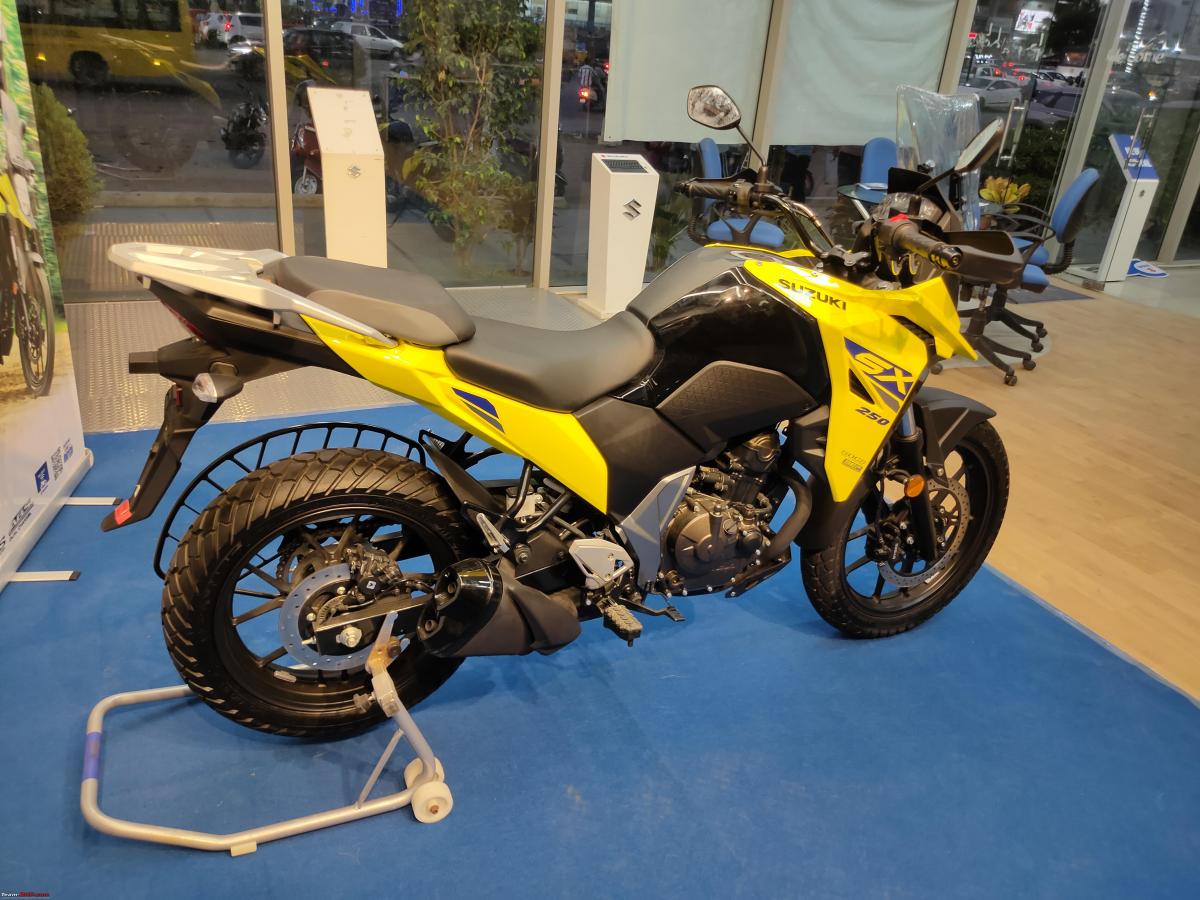 I went closer to the bike and had a good look at it. The build quality is top-notch, everything feels solidly put together and built to last. After spending 5 minutes with it inside the showroom, I asked the SA for a test ride. Had to wait for 2-3 minutes as he was busy with some scooter booking and the other staff at the showroom were minding their own business.
Another guy comes and gives me the key after I ask the SA again. I told him I wanted to go solo, to which he agreed after a slight hesitation. Took the keys, slotted them in position and hopped onto the bike in typical Adventure bike style. The seat felt lower than my Duke and the weight was way less than my Duke. This was something that I instantly felt once I hopped onto the motorcycle.
Started the bike, and it felt familiar. I have faint memories of the Gixxer SF 250, and I remember how smooth the engine was back then. The smoothness hasn't changed one bit. Slotted the gear into position, left the clutch and I immediately notice how much low-end grunt this bike has. Might be lower than the Himalayan, but my Duke feels dead compared to the Vstrom. The Clutch is very slightly heavy but not an issue at all. I hit the main road and then start to work with the gears. This 250 engine was a gem on the SF250 and that hasn't changed here. It is smooth throughout the powerband and delivers power in a very very linear fashion. This is the kind of engine which will impress you but will not excite you (remember the Toyota Yaris reference I used in the beginning?). You can do 100-110 all day long without breaking a sweat. However, I feel 120 will be a bit of a stretch with little reserve power left for overtakes. 100-110 should be the ideal comfortable speed on this motorcycle. The seating position is nice and upright. Should be supremely comfortable for long-distance mile-munching. The brakes were decent, but a little more stopping power would have been appreciated. I remember the bike had a little nose dive when I was braking. I guess this is normal for a bike with a little more suspension travel. The gearbox is smooth and slick-shifting, just like the one on the SF250. No complaints here. I will not comment on the grip provided by the tyres, as I hardly got any chance to cut through corners. The wind protection offered by the windscreen was adequate. I had touched 80 and there was little to no wind hitting my helmet.
Took some pictures on the side of the road and went back to the showroom to return the bike.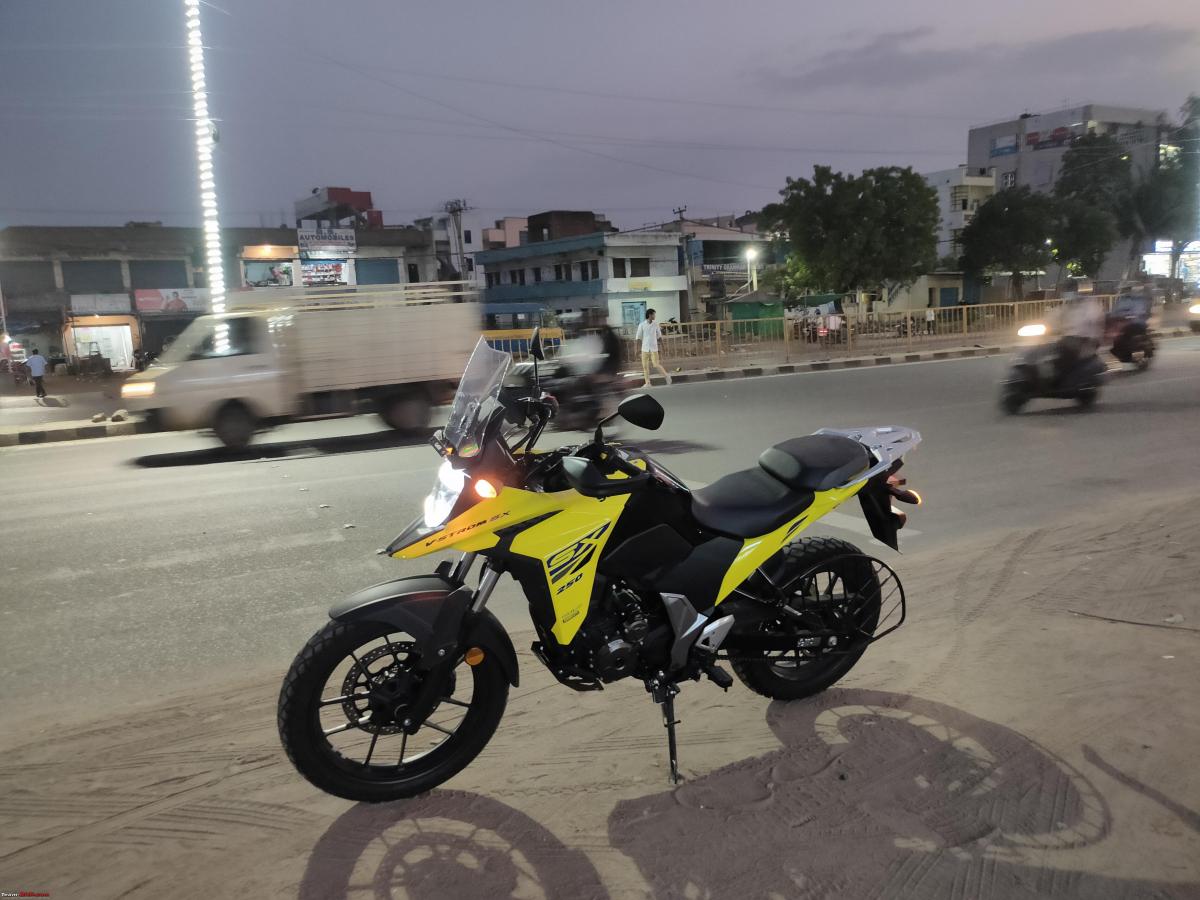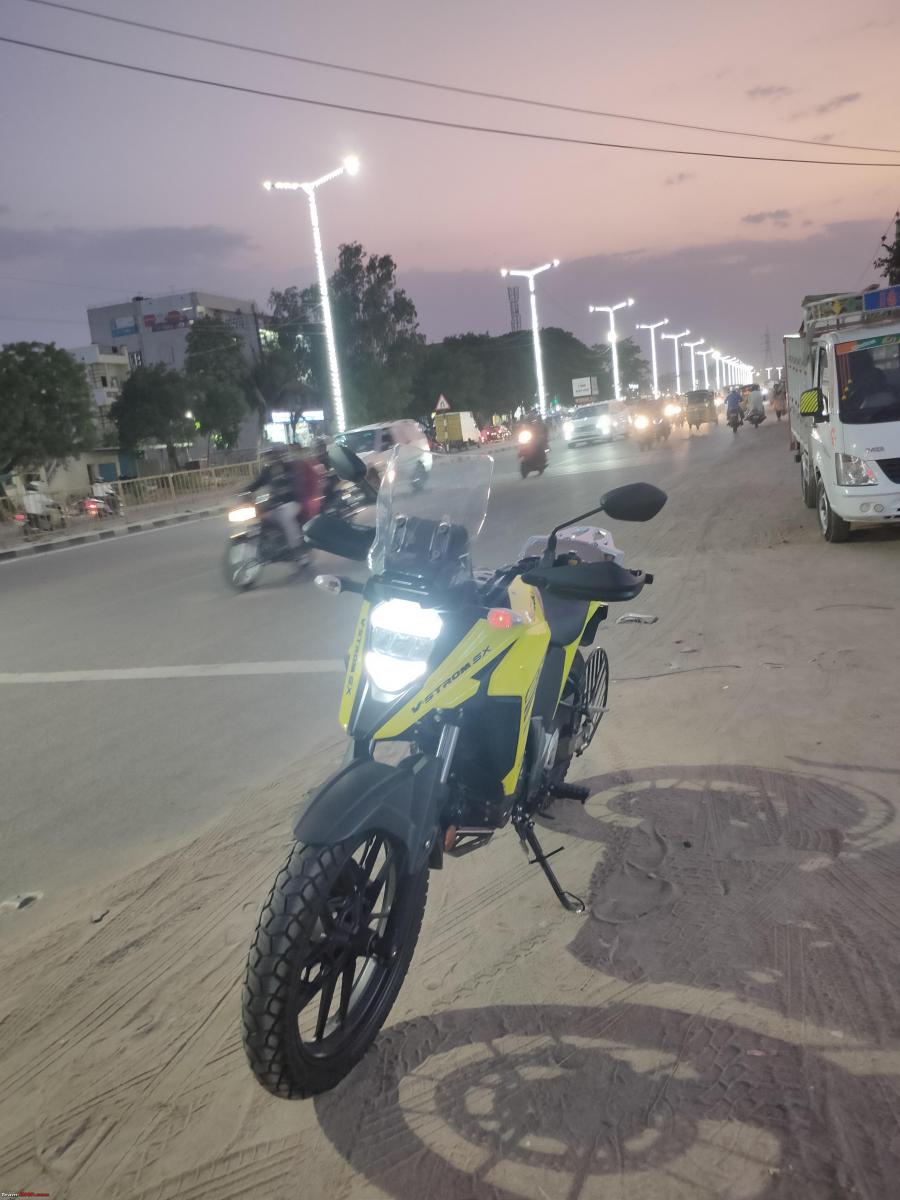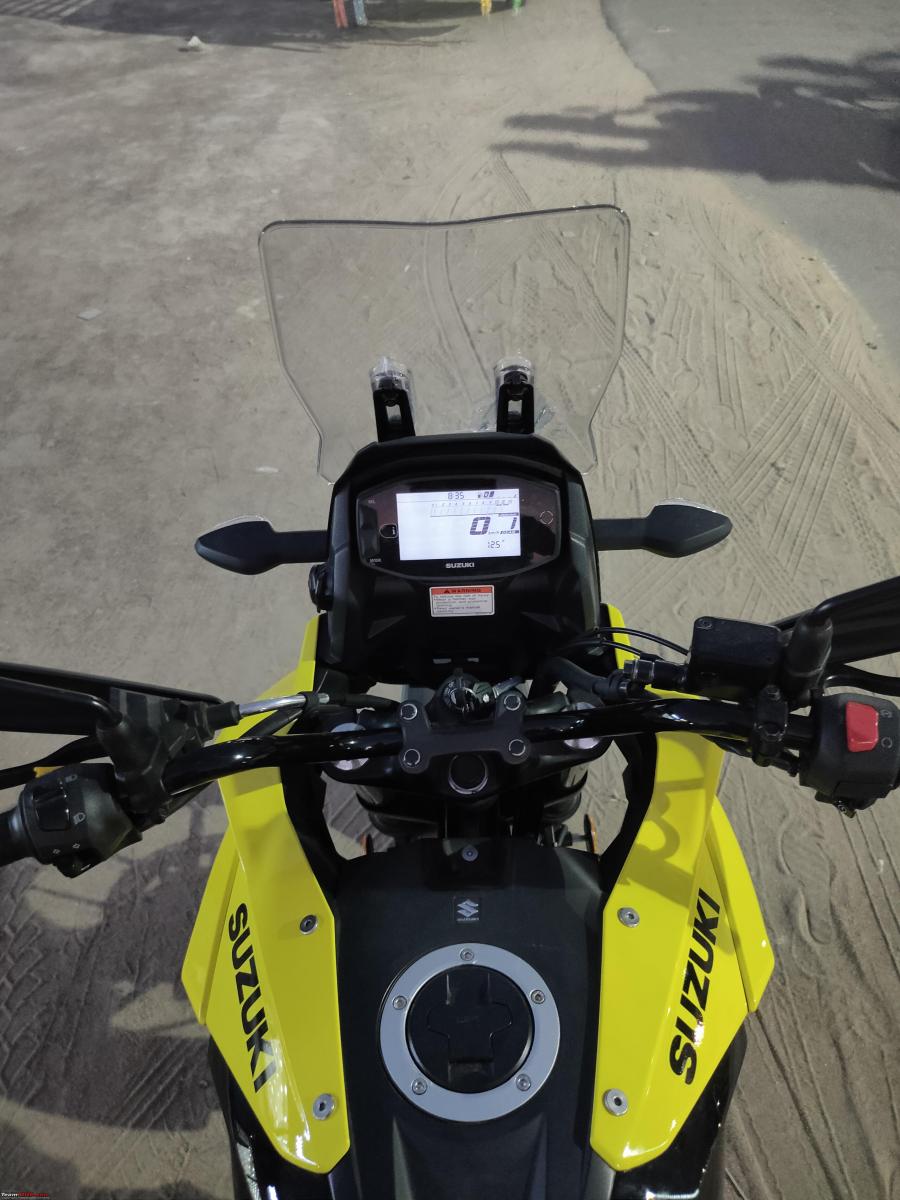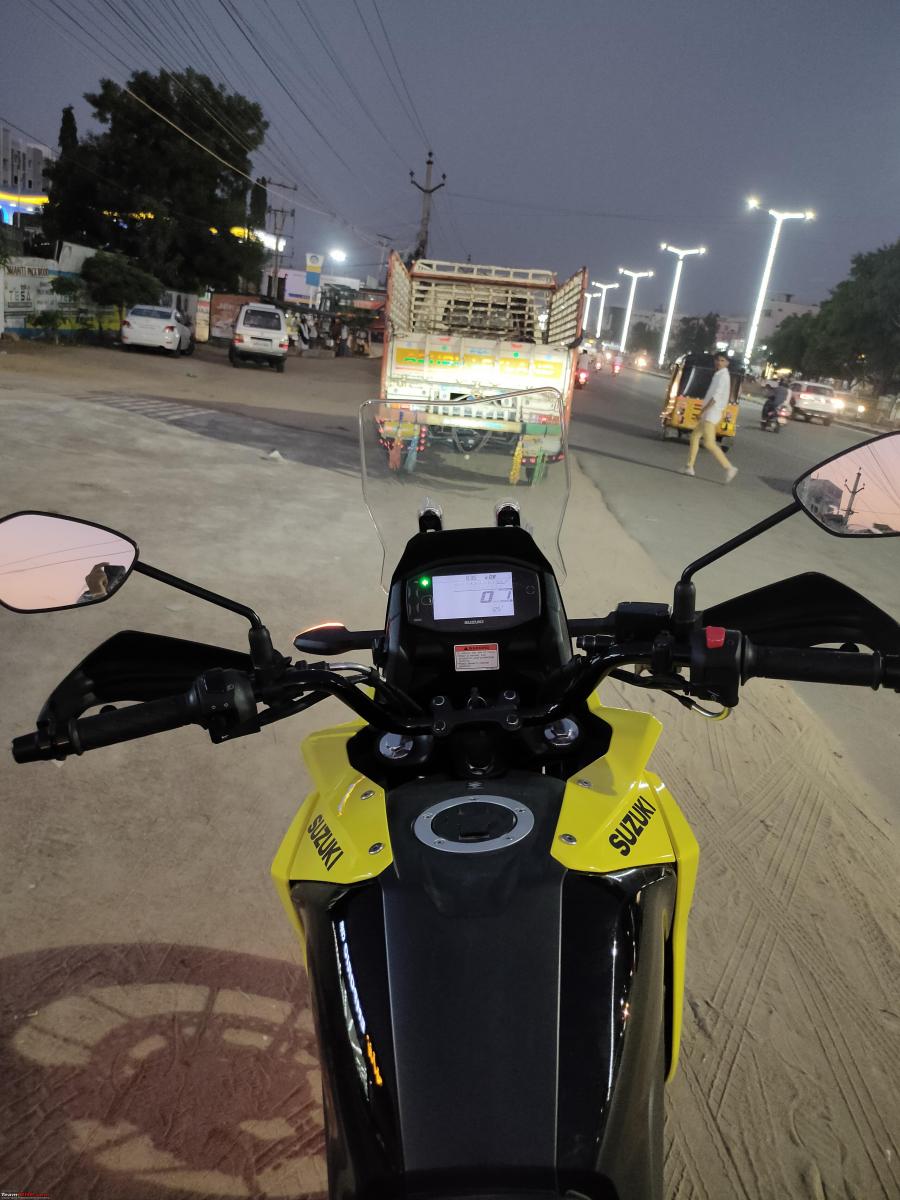 Overall, I feel this is a good bike, but not a great bike. Before I bought my 390 Duke, I did take a test ride of the SF250. Back then the bike felt the same: good but not great or impressive but not exciting. Remember that was when I had no idea of how electric the 390's acceleration can get. Now after close to 3 months of ownership of the Duke 390, I am fully used to the addictive acceleration of the 390. Now when I took a test ride of the Vstrom with the same engine as the SF250, I felt it to be boring. Boring would be a bit harsh, it just doesn't excite. This bike or rather this engine itself isn't for youngsters. It is more suited for a middle-aged person or a person who has a very mature riding style. This bike is for the person who likes to cruise along highways effortlessly at a calm speed and not for the person who wants to aggressively accelerate at every traffic signal with a drag scene in mind.
I doubt if this will sell in good numbers, as Suzuki's marketing team will doze off after a couple of months and this engine itself isn't very exciting. Couple that with Suzuki's horrible aftersales, I wouldn't really recommend this to anyone. I will only recommend this if you are really after smooth bikes with linear and predictable power delivery.
Signing off with a picture of my prized possession and the Toyota Yaris of motorcycles in one frame.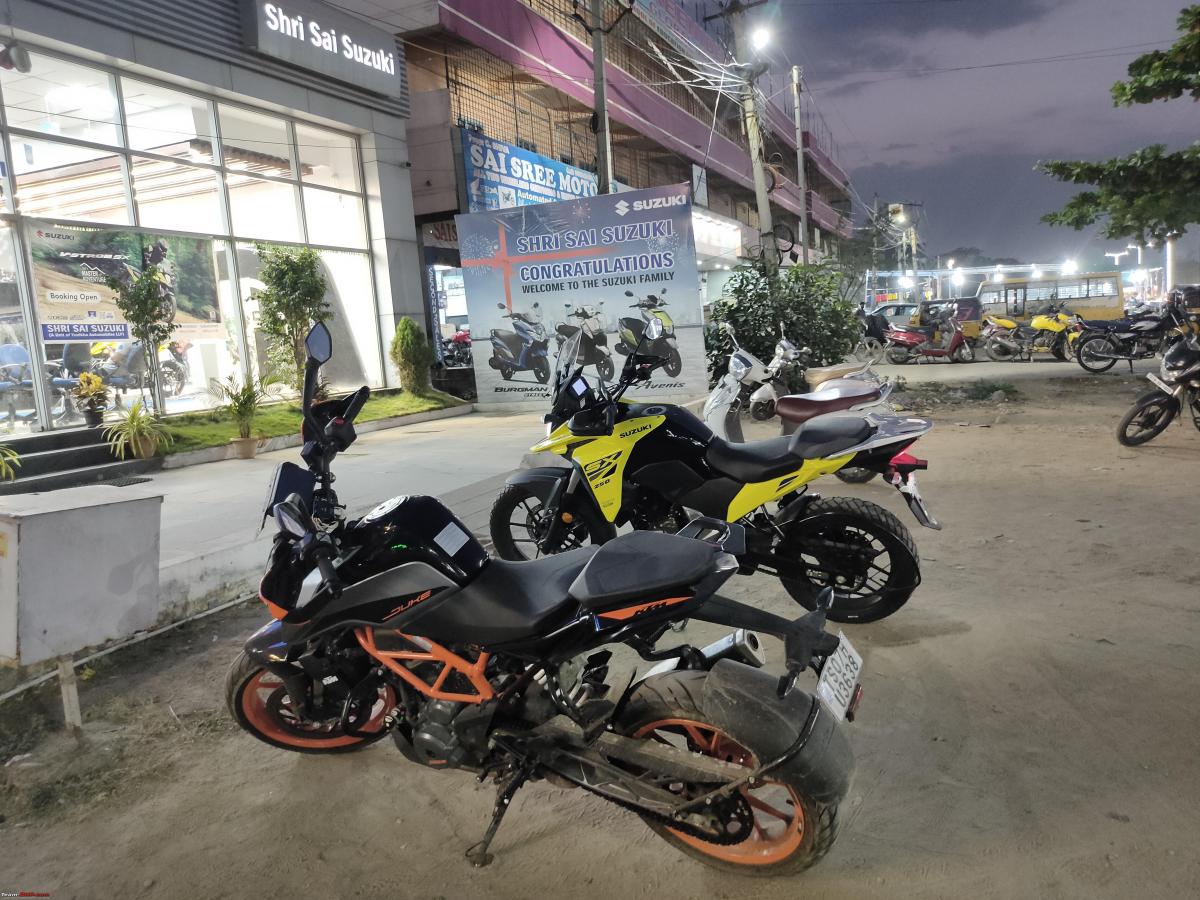 Check out BHPian comments for more insights and information.
Source: Read Full Article