Story of how we bought a second-hand Bakfietsen for our grandkids
A premium bakfietsen, electric, will cost more than what I paid for my Jeep!
BHPian Jeroen recently shared this with other enthusiasts.
Given most of the content of this thread, some of you might have gotten the impression that I am completely averse to anything new and change in particular. Nothing would be further from the truth. Change happens to be my middle name and I am a lifelong self-confessed nerd that will happily jump on any new technology bandwagon.
Hence, it should come as no surprise that we have gotten ourselves our first EV!! I will repeat that once more; I have gotten myself an EV. I will admit, it is second-hand. Well actually, probably more like third or fourth-hand. Who knows, who cares. I found it online on Marktplaats, sort of the Dutch equivalent of eBay.
Dave, the owner, had put the ad on a couple of days ago. Looked fine, decent asking price and was only about 25 kilometres from where we live. In my contacts with Dave, I learned he had done quite a bit of work on it in recent times. A couple of important upgrades and safety features.
He told me it goes like stink!! "We have yet to run out of battery power, range is simply not an issue". "Kids love it"
It has hydraulically operated brakes, all round, ventilated discs! It has a massive 36V battery and sports six gears and a fully digital display.
This afternoon I went over to see it and take it for a test drive. Long story short, I bought it on the spot. Dave was a very pleasant guy and we conducted the whole transaction in less than half an hour.
Here we have it, with Mrs D. in the driver position!
Our very first EV. I say EV, an electrical vehicle because this is an electric cargo bike. The cargo being kiddies, more specifically our three grandchildren! Very precious cargo, so nothing but the best will do obviously!
The full story is as follows;
Last weekend our daughter, son-in-law and their two children came over to stay with us for two days. We had a lovely time. Our eldest granddaughter Bella is just over 3 years old and Lucy is just over 3 months old. I love them both dearly, but you can't do much with babies. But Bella I can take out. So I put her on her little seat on one of my bicycles and we go for a ride and some adventures. We took the little foot ferry, went on the train, stopped at two cafes where they have kiddie play areas, ate ice cream, and visited two different playgrounds as well.
Also, Bella gets to eat a lot. Because no matter what time of the day, or whether she has just eaten, as soon as we leave home she says: Opa, I am hungry. Which is kiddy speak for Opa I want a nice cake, ice cream or something like that. A few weeks ago when my wife took her out she had forgotten her wallet and could not get her anything to eat. So now, when we strap her in the bicycle or car seat she will always check: Opa do you have money?
Very rewarding Opa-time!
In the evening with both grandchildren in bed, the four of us had dinner. My daughter told me I might get an email informing me I had won a bakfiets!?
Apparently, the HEMA, a sort of supermarket here, had a special action. You can nominate somebody that you believe deserves a bakfiets. My daughter had used every email address in her contacts to nominate herself!! Including my email!
I told her, what are you going to do with bakfiets, I thought you did not like them much. Where are you going to put it, it won't fit in your garden shed. She said it was for free and she would worry about the details when she (or one of us) had been informed of winning said bakfiets!
This made me very proud. My girl is very very Dutch. The Dutch and I say this with authority and proudly, are by far the cheapest people on this earth.
It is truly remarkable. One of the most prosperous nations of the whole wide world, but if somebody starts handing out free matchboxes or stickers or pens, within minutes there will be a riot. People will kill to get their hands on anything as long as it is free. Everything that is ultimately bought and paid for, is discussed afterwards for generations as "way too expensive". Dutch people never have a good deal. It was either free or it was way too expensive really! There is no middle ground.
But discussing Bakfietsen made me think. We recently had our grandson Ben staying with us as well. And sometimes we have all three grandchildren here at the same time. So I started looking for used Bakfietsen for sale in the neighbourhood. It had to be second-hand. A premium bakfiets, electric, will cost more than what I paid for my Jeep!! I kid you not.
Anyway, drove over to nearby Zaltbommel, took a test drive, had a bit of discussion with Dave, knocked off Euro 100 from his asking price and stuck it into the back of the Jeep.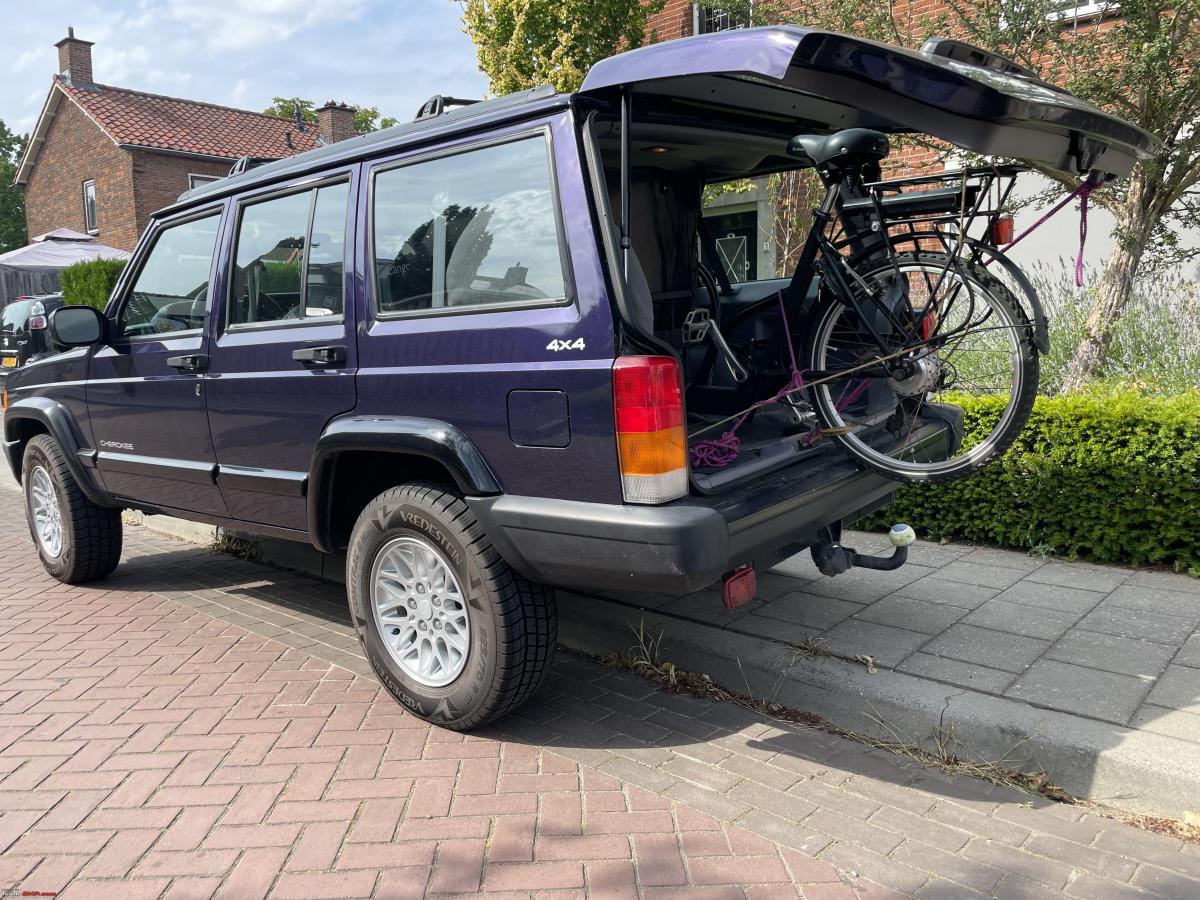 With my Alfa Spider still at Marc, I have a bit of extra space in my garage. So I will be giving it a proper service. When braking it pulls a bit to the left and I also felt it was a bit wobbly. So I need to check it out properly.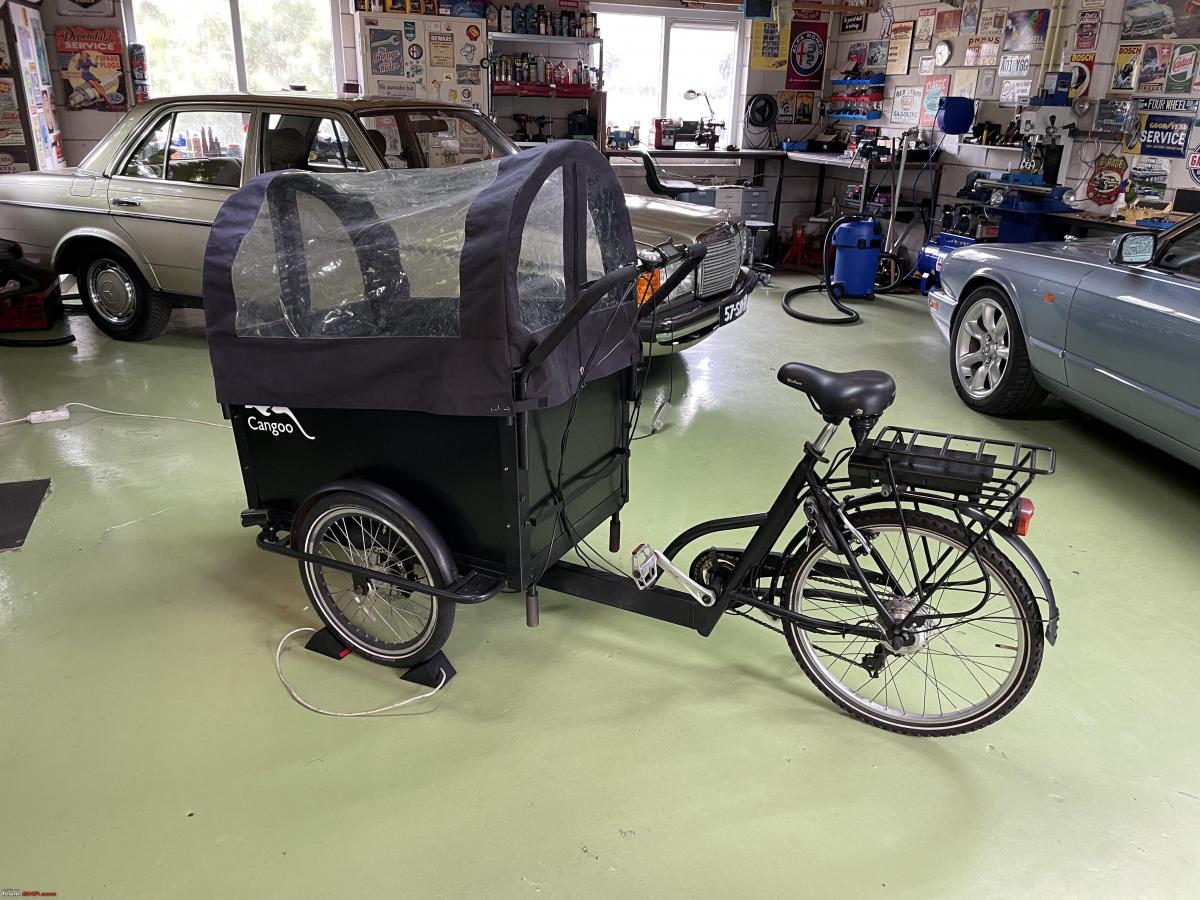 Mrs D and I are very pleased with this new purchase!
It is in very good nick. Dave had put new side panels in and also additional materials so the kids can't hurt themselves.
It has what I would call a functional style, more so than an aerodynamic style.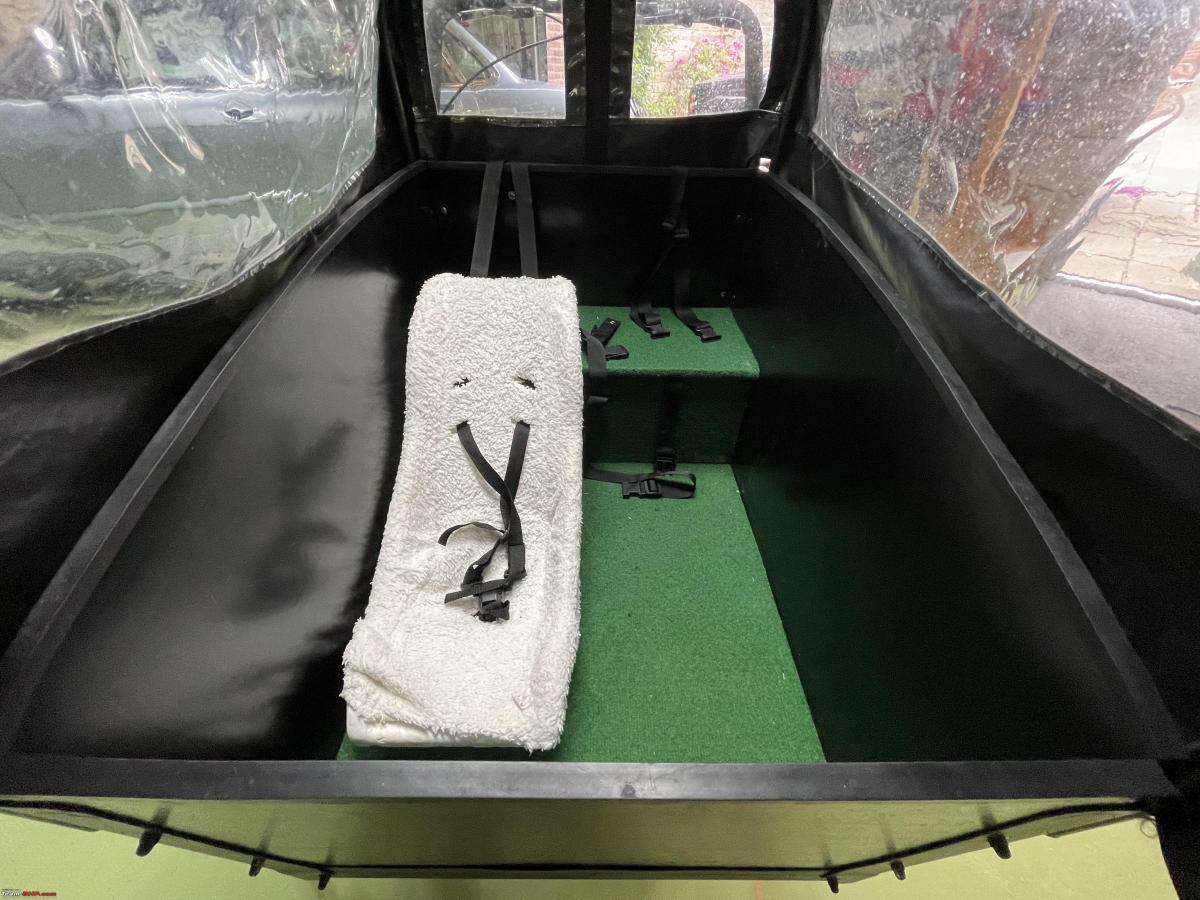 This coming Sunday Bella and Lucy are coming over so I have my work cut out for me. I also need to help my friend Berndt with his Mini and his Austin Somerset. My Jeep's clock spring should also arrive. This retirement thing is wearing me out!
Check out BHPian comments for more insights and information.
Source: Read Full Article