Sold my RE Himalayan & bought a KTM 390 Adventure: My experience so far
The Honda CB500X & BMW G 310 GS were also good options but I didn't take a test ride of these motorcycles.
BHPian rohing recently shared this with other enthusiasts.
I got the 2022 KTM 390 Adventure (one of the firsts in Bangalore) and it is awesome!
I never ended up test riding the Honda and G 310 GS. Why – got a very lukewarm response from Honda and owning a BMW and riding to offbeat destinations never settled down in my mind. Finally, call me lazy/spoilt – the thought of riding from Whitefield to MG road area in Bangalore just to test drive & the possibility of having to do so for every service/troubleshoot was a no-go. Maybe Bangaloreans will understand! I knew the compromises I was making by not choosing a twin and I made peace with it. Other than that there was no doubt about the KTM in my mind.
Aside from this, the experiences of TBHPian @RedLiner (2 months across the Eastern Indo-Tibet Himalayas | A KTM 390 "Adventure" | 2021 Report) and his travelogue to the NE played a big part in me booking the bike. If he could take the bike to the places he took with no trouble then it should be OK. I never spoke to him or commented on his log but his experiences made up my mind. Thank you! Also thanks to @NeilJerico, @AutoIndian and others who were part of this short but effective thread on my bike buying.
The delivery experience
I booked the bike with a Rs 2500 deposit and took the delivery after 8 weeks. I never followed up (as I was in no hurry) and let them take their time. I got the call, paid the money overnight and the bike was ready – no fuss. The reps were decent but the paperwork could have been more organized.
They also volunteered to get some accessories installed right there. They convinced me to install a piggyback box to get the hazard light function (fits right in and no wire-cutting) and I wanted a handlebar riser. Both were done with minimal fuss and the bike was ready to go. Here is a pic.
All was good until I started riding home from the dealership. I felt the bike was losing power, as if the clutch was being engaged and disengaged! Not a good feeling. Came home, did not feel good about it and went straight back to the dealership. Looks like the Handlebar risers stretched the clutch wire too much and it was engaging. A little bit of readjustment and it was fixed – whew! I hate it when a new machine has issues.
Work schedule/travel and all the bike was stationary for a week. Finally called up a friend over the weekend and decided to do a quick 150 kms spin on the outskirts of Bangalore on a Sunday afternoon. Like any new vehicle, it takes a little bit of time for the bike and the owner to get used to each other.
It was uneventful except for an error that kept popping up – it showed up as "Quickshifter+" at the bottom of the TFT and the warning light. Switched off the engine and it disappeared. Again, gave me an uncomfortable feeling as I like my bikes to be in shipshape but I was travelling again and there was no time to troubleshoot or go to the dealership. Here is a pic inside a reserve forest with an RE friend testing the KTM.
One more week passed and the bike was still stationary. Back in Bangalore and had to go to Coimbatore (a quick weekend trip to my native). I came home to realize that the kids were sick (the effect of going to school after 2 yrs) and that the EcoSport could be needed by my wife in case we needed to get meds or go to the doctor.
An inkling of an idea started forming about taking the bike to Coimbatore – 800kms round trip, solo ride, light rain, some random errors (that I have not solved), new bike, no storage space on the bike yet… (a little crazy). But what the heck. The guys who get these bikes are crazy anyway and this is the whole reason you buy a tourer! Nothing like an 800km ride to get to know your bike. Here are some pics and I will share the good and the issues after that.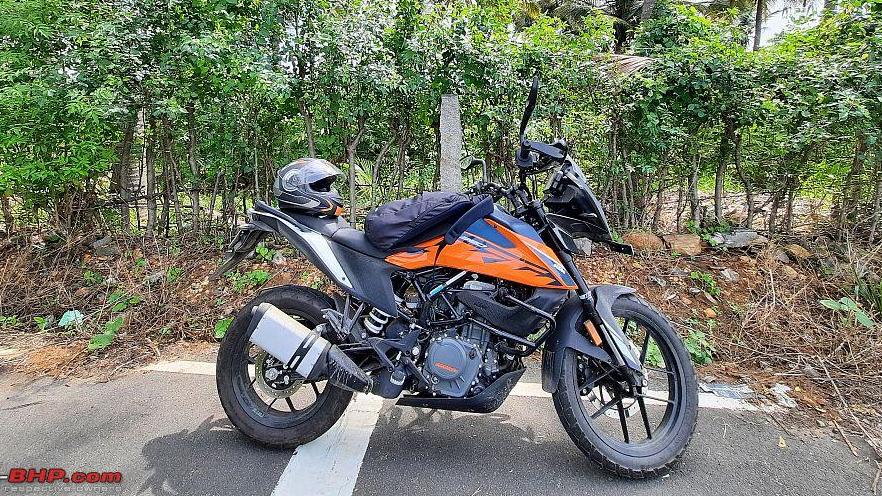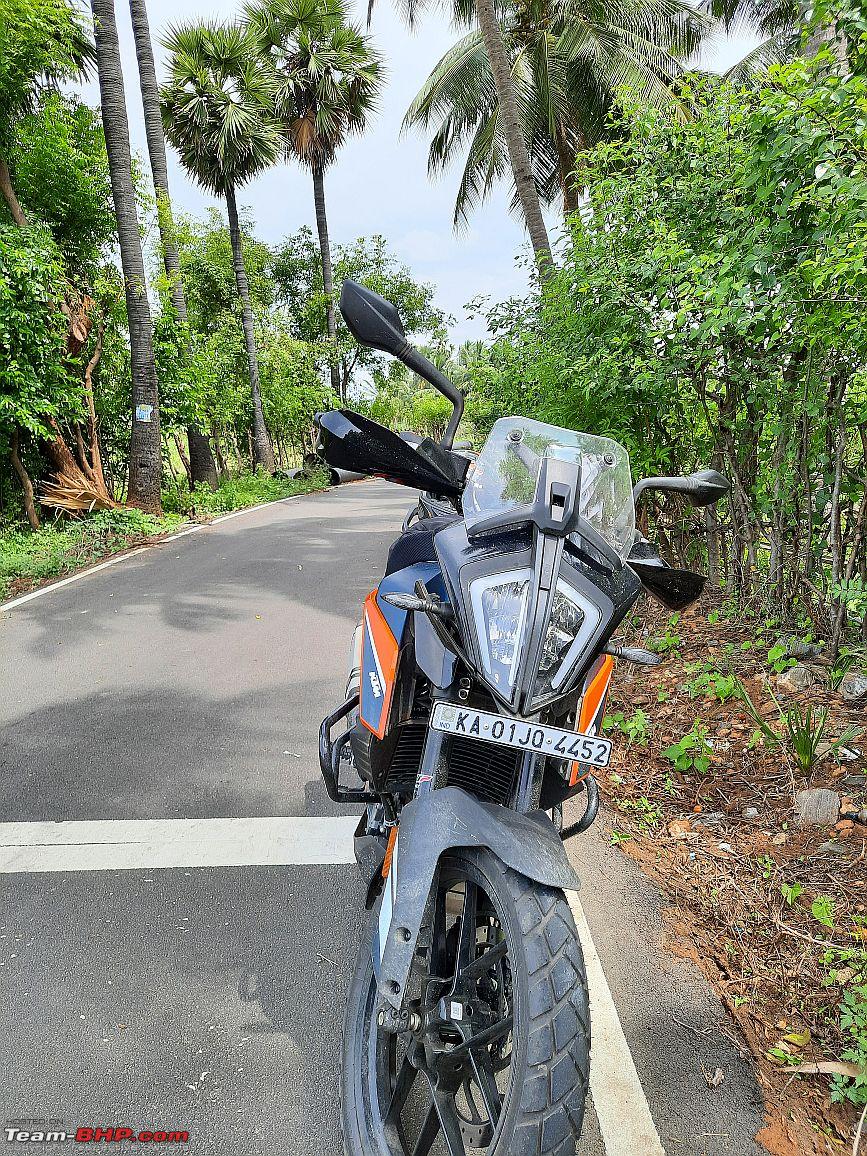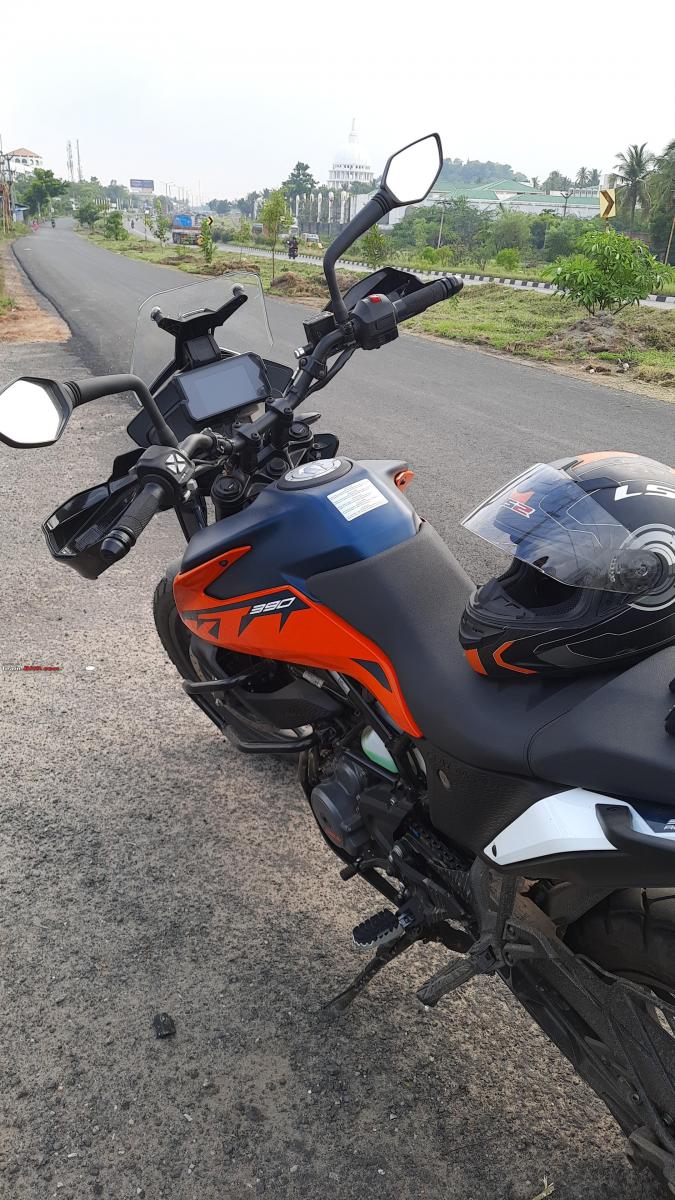 What is good
Mile muncher. Even before the 1st service, could cruise above 100 (the main reason I sold the Himalayan). No fuss. Loads of reserve power at even 110.
Suspension is great. It takes potholes and bad roads quite well. I am 40+ and my back was perfectly ok after the long ride including the bad Bangalore roads.
Very stable – TC, ABS etc. work. Never skidded or felt out of control even on wet surfaces – comparing it to the 1st gen Himalayan where precise front/back brake coordination was key else the back wheel slipped.
Informative TFT with everything you need.
All in all, very satisfied with the purchase and great value for money. The average mileage was 30km/l.
So what is not OK
The list below are my peeves but largely fixable:
Quickshifter+/ error – Keeps popping up. I am not using the Quickshifter but the error still keeps popping up. Need to get it sorted out. But has no impact on the bike or the performance. Is this a common issue?
The blue tank area is a dust magnet! What were they thinking?
Seat – Butt pain after 200kms of riding. Have to do something to the seat to make it more comfortable – any suggestions folks? The Himalayan seat/seating position was better.
No main stand – Really loved the main stand on the Himalayan. Having only the side stand is an issue – can a main stand be fixed?
Headlight is not very effective – not great for long rides. I need to get aux lights installed – any suggestions on the best brand and a nice place to do it in Bangalore?
The GPS – one would have hoped that GMaps syncs but no. You have to buy an app etc. Come on KTM! I need to get a phone/GPS holder installed and use GMaps – any suggestions on the brand please let me know?
Fuel indicator – it starts flashing red on the TFT with a warning light from <160kms mark – do not understand the logic. Is there a way to set it to something reasonable? I took it all the way to <50mark but flashing red for 100 kms does not help.
Hearing some chain noise at low speed.
Need a higher windshield. For my height, the wind buffeting is too much – any idea/suggestions?
As mentioned no biggies but initial things to be sorted out.
Other queries
Phone connects via BT and shows who is calling but how do I talk – would any suggest BT helmets or any other idea?
Any nice KTM long-distance rider groups in Bangalore? How do I get connected? I do not like the concept of 100 guys going 50 kms for breakfast and calling it a ride (forgive me if I offended someone, just my age is to blame). A nice group of slow, cautious, well-planned, long-distance riders would be my cup of tea.
Any ideas on storage – best pannier / rear box ideas? Would love a rear box with a cushion for the person in the back seat to lean on.
Any ideas on how effective gel/air seats are for the rider? I really need to solve that problem.
Thanks again to everyone who helped me with this decision. Looking forward to long rides. But first the first service now.
Check out BHPian comments for more insights and information.
Source: Read Full Article