Sold my Ford Figo & bought a Toyota Urban Cruiser
My primary contenders were the EcoSport Diesel (Titanium), Mahindra XUV 300 (W6) and the fallback option, Maruti Suzuki S-Cross.
BHPian rainmaster recently shared this with other enthusiasts.
Last week, I picked up the Toyota Urban Cruiser to replace my Dad's 2012 Figo which had run 214k kilometres. The Urban Cruiser was not there in my initial shortlisted cars. With an ex-showroom price limit of Rs 9.99 lakh, the primary contenders were the Ford EcoSport Diesel Titanium, Mahindra XUV 300 W6 and the fallback option, the Maruti Suzuki S-Cross.
Unfortunately, Ford decided to wrap India operations and with it, my booking and dream of owning an EcoSport went out of the window as well. With my budget, the XUV 300 came only with bare bones. For one million rupee cars, Mahindra is not offering rear defogger, wiper and driver seat height adjustment. So dropped XUV 300 and finalized and booked the S-Cross Zeta variant. While waiting for delivery, decided to check out Urban Cruiser. One lengthy test drive of Urban Cruiser had completely changed my perspective of the compact SUV.
After driving 300 km in a week's time, sharing my initial observation
Pros:
Commanding View from front seats, Dad and my spouse appreciate the view from the driver seat and ease of Ingress/Egress.
Good space management, comfortable 4-seater for long-distance travel and can accommodate occasional 5th passenger.
NVH levels are a big unexpected surprise for me, up to 80 KMPH not much engine or road noise. Max I have driven the car is up to 100 KMPH, at 100 KMPH there is a slight engine note and road noise. Nothing to complain about, coming Figo Diesel, I'm in bliss with respect to NVH.
Drivability – Excellent, almost similar to my Figo/Fiesta diesel up to 40 KMPH. In 5th gear, you can go as low as 1200 RPM, no engine knocking or Vibrations, as the name suggests it will be an excellent Urban cruiser. On Highways, it has adequate power.
Mileage – I'm averaging 17.2 Km/l, most of my drives were on state highways, speed varying between 55 – 80 KMPH. I'm confident of achieving 17+ mileage in highway trips. In a 50 KM trip with no traffic, I was able to achieve 21 Km/l.
Toyota Service – Expecting a better service experience than Maruti Suzuki.
4-star crash rated vehicle.
Neutral:
Found Urban Cruiser interiors are at an acceptable level when compared to Figo.
Ride quality is ok, better than my Figo but feels a little stiff when compared to my Fiesta.
Handling – Body roll is well contained, no butterflies in the stomach while taking corners at considerable speed.
Urban Cruiser comes with Apollo Alnac 4G tyres. Have a fair bit of ownership experience with Apollo Alnac in Fiesta so decided to continue with factory fitted tyres.
AC is good, not a bone chiller like Figo but it's adequate.
I bought a High variant that doesn't come with Tweeters. Audio quality is just ok, will be upgrading to better speakers down the line.
Cons:
No steering feel or feedback, it weighs up adequately on high speeds. But after enjoying Figo/Fiesta's hydraulic steering over 150K kilometres, I'm still making some adjustments and come to terms with steering behaviour.
No separate switch to open the boot.
No rear AC vent.
No ESC and 6 Airbag options.
It's a head over heart decision, the Toyota Urban Cruiser will be our primary family haulier and as of now, it looks like the Urban cruiser is up to the task. Urban Cruiser/Brezza can share the "Jack of all trades" title in compact SUV space and that might be the reason even with only a single engine option, it finds plenty of takers.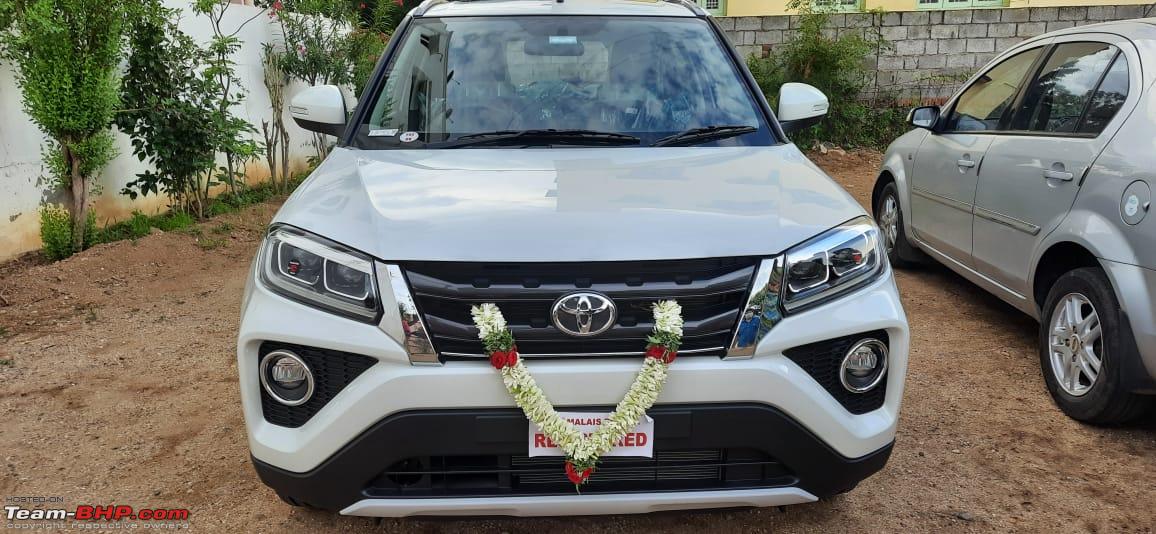 Check out BHPian comments for more insights and information.
Source: Read Full Article