Review: My VST Shakthi 130DI power tiller
The tiller has a top speed of 15 kmhr and a maximum load hauling capacity of 1 tonne.
BHPian Emvi recently shared this with other enthusiasts.
Power tillers are mostly used for ploughing fields and it was no different in our household till fag end of the 70s decade, I am told. In the early 80s, due to various reasons, paddy cultivation completely made way for commercial crops cultivation and the entire agricultural scene changed from there onwards atleast in our part of the world.
With change in topography, the power tiller that we owned was suitably adapted to our use case. While we shifted from paddy cultivation to commercial crops cultivation, forethoughtfully, my father made good provision for roads within our plantation. A trailer was attached to the power tiller to haul agricultural produce and the usage pattern of the machine got completely transformed. Agreed, this transformation wasn't our innovation, but we were probably the first ones to adapt power tillers in such a way in our locality.
Our first power tiller was "Krishi Udyog" make bought in 1970. The lesser talked about it the better. It was one of most unreliable machinaries that we have ever owned, I am told. It was disposed off pretty early and what took its place in 1973 was nothing but an engineering marvel in its own right- Kubota Power Tiller. During its initial days, the tiller was extensively and only used for ploughing paddy fields. Later on as the transformation in our agriculture took place, it was used primarily used for load hauling with trailer attachment. It was bought new for INR 19500 and after serving us well for about 25 years, it was sold off for INR 30000! The engine remained unopened during the entire tenure of our ownership! A hallmark of its rock solid reliability. Unfortunately I don't have a single picture of the legendary machine.
Although Kubota kept serving us well, as years passed, we felt the need for a bit powerful power tiller for enhanced load hauling capacity. Even before Kubota was sold we purchased our third power tiller- Mitsubishi derived VST Shakthi 130DI in 1997. This is the one which is still doing duty for us and if I may add doing it appreciably well.
Specifications:
Engine– 673cc Single Cylinder Direct Injection Diesel
Power rating-
Transmission(Non synchromesh)-
6 speed forward and 2 speed reverse(High and Low ratios combined)
Brake System-
Tiller– Hand operated internal expanding shoe type brakes.
Trailer– Foot operated mechanical drum brakes.
Steering System-
Steering clutch levers are provided on the grip of the right and left handles. When the left clutch lever is gripped, power is cut-off on left side of the wheel and the tiller turns to the left. Similarly when the right side is gripped, the power tiller turns to the right. However, on a downhill the 'wrong' clutch lever has to be gripped to steer the machine to the right direction!
Starting method– Hand Cranking
Top speed– around 15 kmph(approx.)
Max. Load hauling capacity– 1 tonne.
Driving / riding power tillers needs a bit of practice and it is never as easy as it seems. I learnt / started driving in my early teens, the time I was studying in my 8th grade. When loaded, it is quite handful especially while climbing down gradients thanks to its 'simple yet tricky' steering system. Power tiller specific tyres provide a lot of traction and can navigate through slush and muddy terrain very well. Since the roads within our plantation don't have too many steep gradients, gradeability is a non issue. The current trailer attachment is equipped with manual tipping system.
I will let pictures do the talking further.
VST Shakthi in full 'force'
Ferrying Coconuts
Hauling Firewood
A load of arecanuts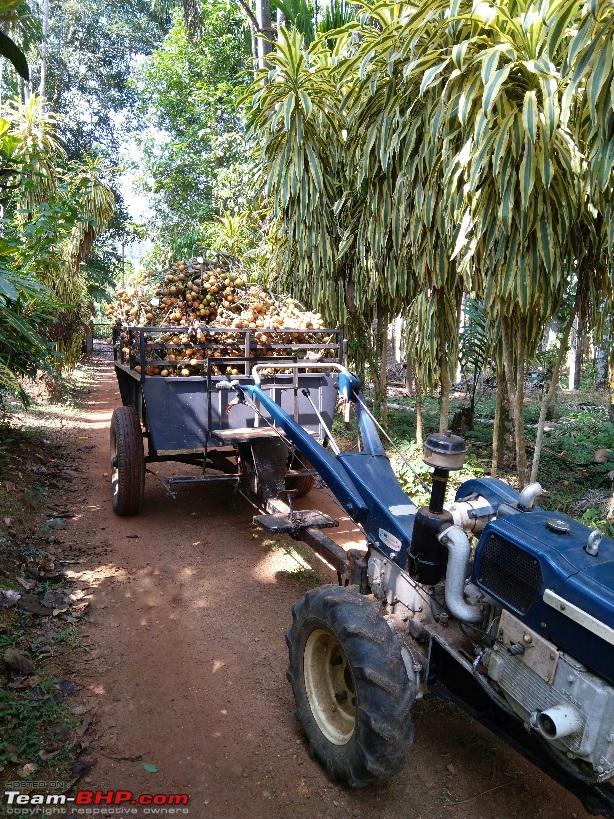 Make your own road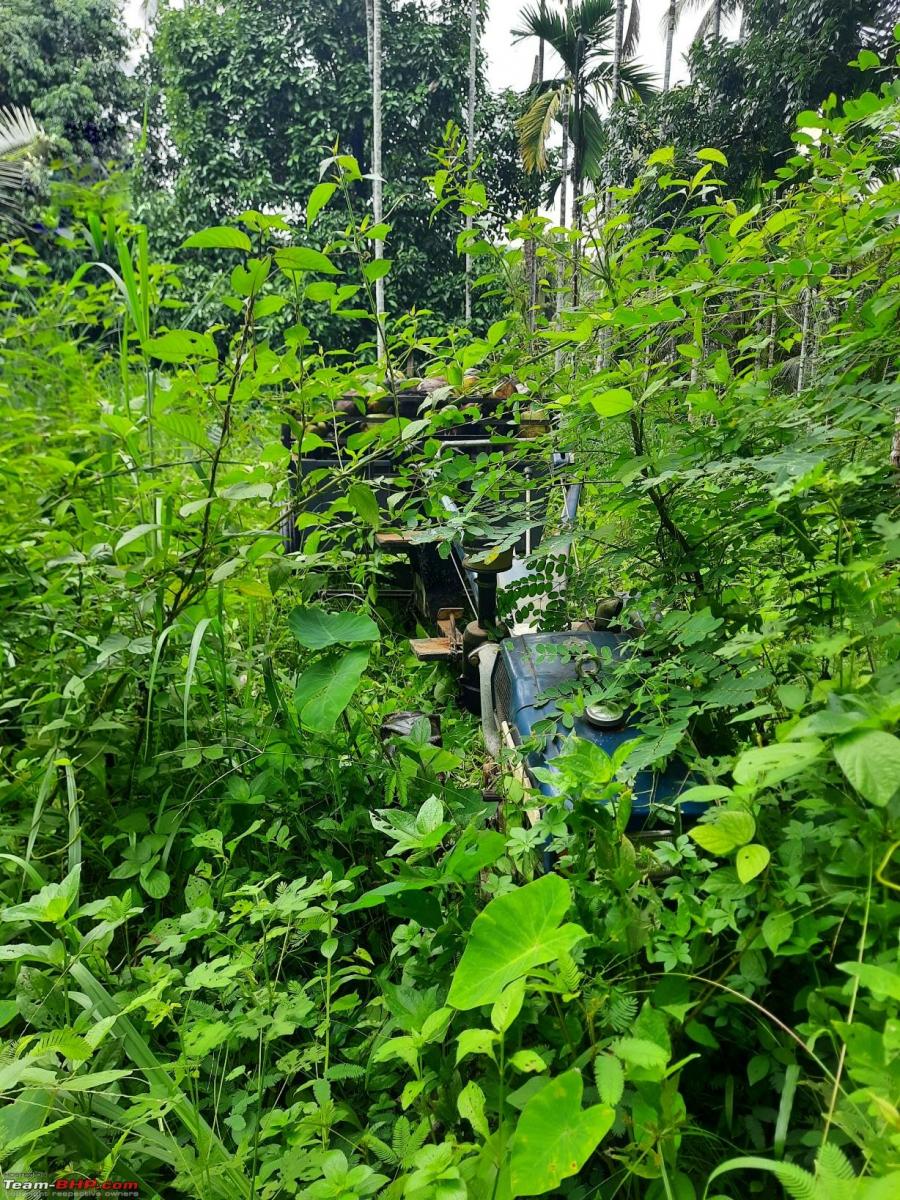 Carting water barrels
Family members enjoying plantation ride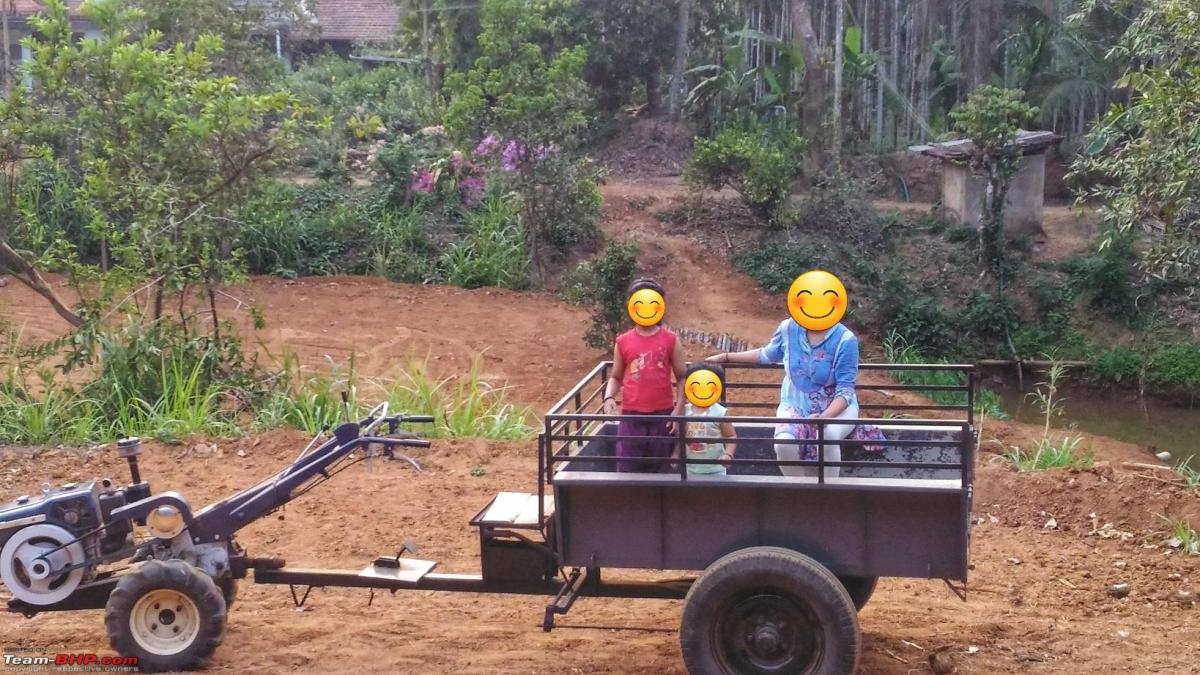 Read BHPian comments for more insights and information.
Source: Read Full Article