Replaced petrol car with EV: Fuel & electricity expenses compared
The Tata Nexon EV takes care of our daily commutes, while a diesel SUV is reserved for highways.
BHPian GS300 recently shared this with other enthusiasts.
A comparison chart of expenses
Fuel and Electricity expenses before and after we switched over to EV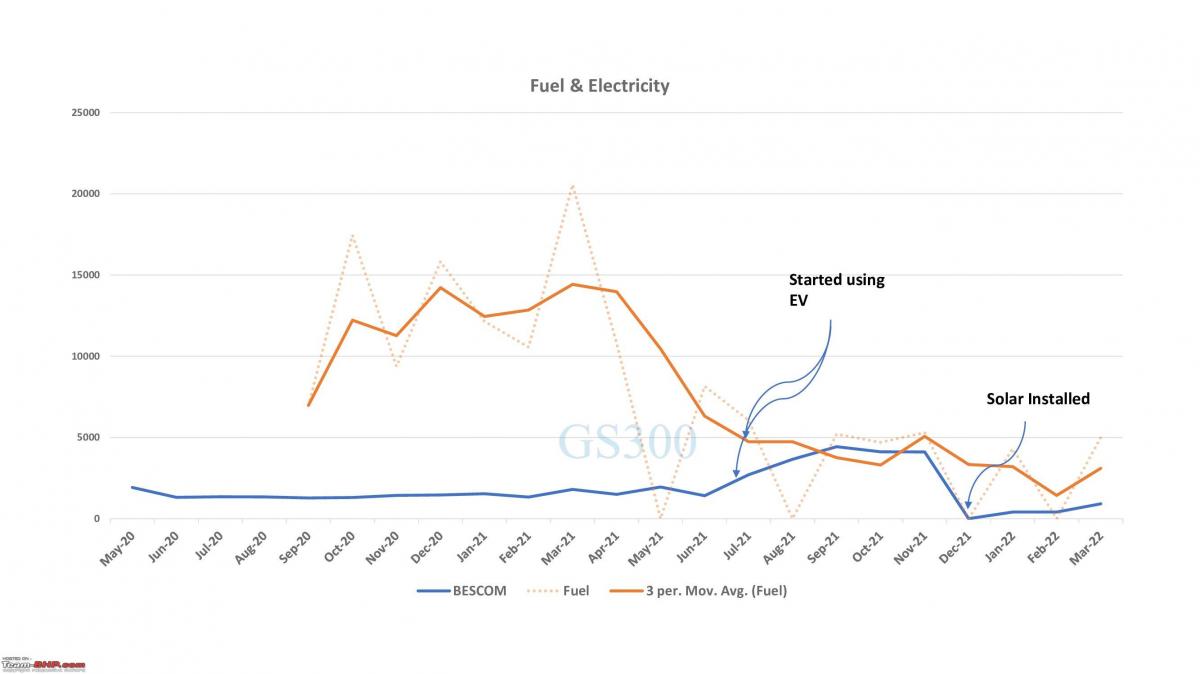 Also, the impact of installing rooftop solar panels (net metering) on electricity bills
TL;DR:
Longer Description:
We have been using an EV – Tata Nexon EV – since July 2021. I have been tracking fuel expenses and electricity expenses since then.
We were using two ICE cars. A large diesel SUV and a small petrol hatch. SUV gives about 9 km/l and hatch must have given 15-20 km/l. We used to spend around Rs 15,000 per month on fuel.
Per day commute is around 80 km. This remained constant even during Covid since my spouse is a healthcare worker. 6 days working per week, so monthly running comes to around 2,000 km almost constantly. My wife used to alternate between two cars since she did not like the driving experience of the small car she had.
We replaced the petrol hatch with EV in July '21.
We use EV approx 92% of the time. Takes out SUV only to ensure it remains in running condition and battery doesn't drain.
We have done only slow charging at home. Haven't done fast charging, except for one time 20 mins try at a nearby Zeon charger, only to check it out.
Since the driving experience of the EV is better than any car driven so far, my wife doesn't take the ICE car unless I plead with her
Chart
I had to smoothen the fuel chart because of certain noise in the data.
For long-distance trips, we haven't had the confidence to take the EV. We take the SUV for that. I have not included those fuel expenses in the chart, since it skews it entirely. Please consider this data only for daily commute expenses.
I thought of sharing this since the data may not be available for people considering the purchase of EV.
Here's what BHPian landcruiser123 had to say on the matter:
This is how EV adoption will start and people will slowly replace their larger vehicles with EVs as the technology evolves.

I know many families in CA where the person with the longer commute takes the small EV (Leaf, Bolt) and the spouse driving to the BART (metro)/Caltrain station takes the gas-guzzling SUV. Most offices offer free (or subsidized) charging and EVs give you free access to the HOV lane (for sole occupants) for a couple of years.

Unfortunately, this arrangement is tough for families who can't afford 2 cars which is the case with many people in India.
Here's what BHPian vigsom had to say on the matter:
Good insights, GS300. Thanks for sharing. The EV makes a perfect case for you since most of your usage is within the city and almost a daily affair.

Advantage 1: Early adopter advantage w.r.t monetary benefits. I remember my ex-boss in Surat was one of the first to convert his Esteem to CNG via a TVS Transenergy kit for a mere introductory ₹16,000. Most people laughed at him, but he laughed his way to the bank thereafter.
Advantage 2: Smiling when energy costs are low. While it can be argued that it would take a few years to recover the extra capital on an EV, what makes one smile every day is the ultra-low per km energy costs.
Advantage 3: Zero noise. The EVs drive past in pin-drop silence (almost). I was walking around in our quiet area yesterday, an autorickshaw went past, and then a Nexon EV and another electric bike. The noise level reduction was huge.
Here's what BHPian prasanna_indaje had to say on the matter:
Started using Nexon EV on December 21 and there is a significant reduction in fuel expenses. We are a household with an oil burner MUV, a small AMT hatch and an EV.

Fuel v/s electricity chart for last few months.

The increase in the electricity bill due to EV charging is around 1500 rupees per month. Monthly usage is around 1200 kilometres.
Here's what BHPian androdev had to say on the matter:
A lot can be argued in favour of EVs but the total cost of ownership isn't one of them. Not just yet. It costs a bomb to set up rooftop solar panels etc – ignoring that cost and saying my EV running costs are zero is not logical. If you take the total cost of owning a vehicle for 10 years and 1L km usage, an ICE car will be cheaper overall. I am not against EVs but the cost of ownership argument doesn't have merit IMHO.
Check out BHPian comments for more insights and information.
Source: Read Full Article