Replaced our Nissan Micra Active with a pre-owned Honda Jazz
As a fill it, shut it, forget it city car, the Honda Jazz is surprisingly good. This was a pure head over heart decision.
BHPian sauravpat recently shared this with other enthusiasts.
Replacing a Nissan Micra with a Pre-Owned Honda Jazz:
Our family recently completed a big overhaul in our garage wherein we bought 2 new cars. I will be compiling my views about both of the cars in different threads with a common background and car selection story since both of them were selected hand-in-hand.
I will attempt to make a case for the lowest variant of two cars in completely different segments and price points and discuss whether it is worth going for the top end variant every time if the budget permits.
Introduction: The garage vverhaul:
When the time came for us to do a major garage overhaul, the task of selling, buying, and completing the associated formalities was entrusted to me by my family owing to my interest and extensive reading of Team BHP. In the course of the last 2 months, I sold our old Nissan Micra to a big organized player i.e. OLXAutos; bought a used Honda Jazz from an individual, and sold our beloved VW Jetta to an independent garage that deals with high-end VAG cars and replaced it with a new Audi A4.
Our old trio: VW Jetta 2015, VW Vento 2018 and Nissan Micra 2014.
Our new trio: Audi A4 2022, VW Vento 2018, Honda Jazz 2019.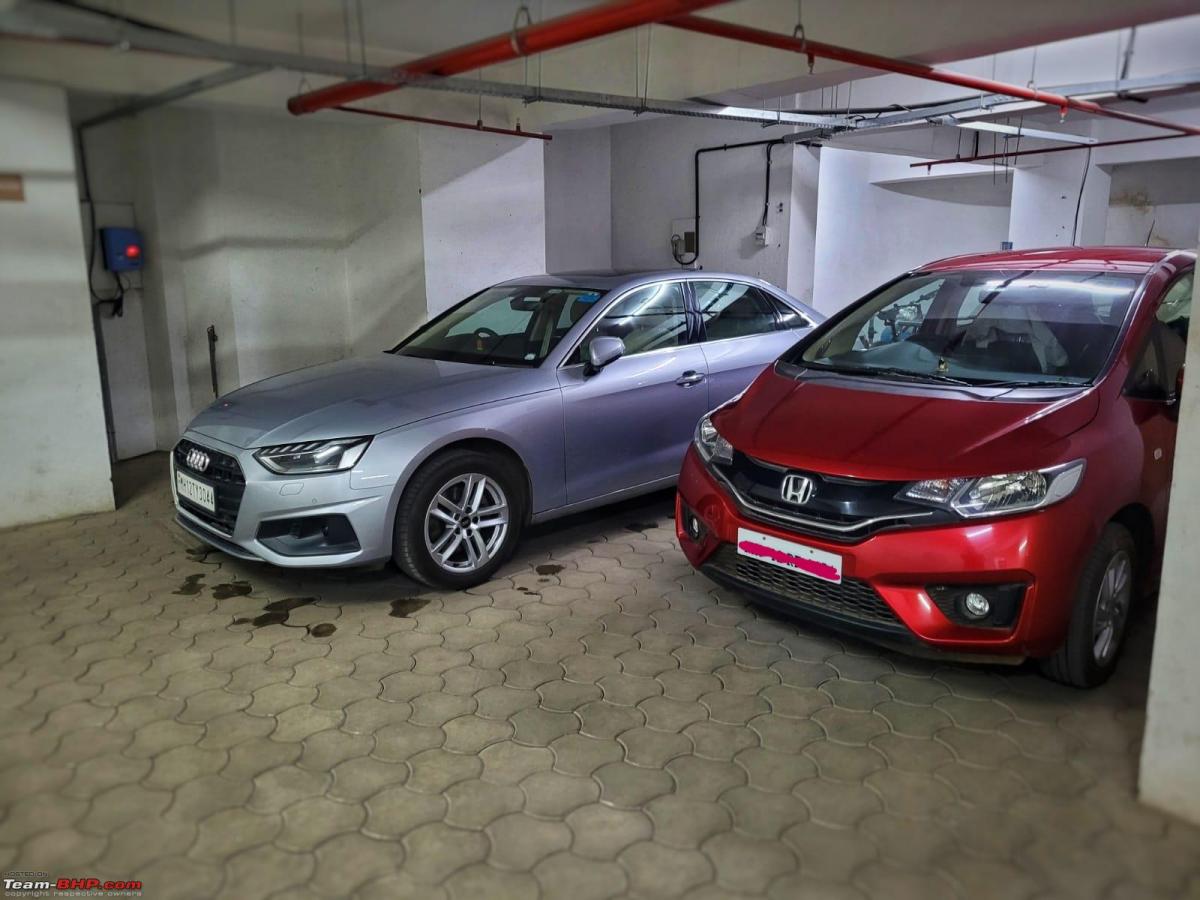 My parents are both not too tech savvy so it was me and my elder brother doing test drives, researching costs, and closing the deals.
The sale:
The time to sell our 7.5-year-old 50k km run Micra Active Safety Pack had come. Bought when my elder brother first turned 18 for 5.8 lacs, it was the car both of us learned to drive on. It was our beater car and post the first four years of ownership (since 2018), we had used it liberally.
Photo credits – BHPian fluidicjoy.
Taking the dog for trips to muddy hills and getting him back, going to intercollegiate football matches with 6-7 team members and our mud filled kits, parking it in the open in the college parking, and generally having fun with it. The Micra did it all.
The last couple of years we had serviced it at local FNGs and it was still working well. The tires were completely bald, it required a couple of major part replacements and the bodywork was in a sorry state with multiple scratches and dents over these 7 years including on the roof. We had never bothered repairing any since it was never used by our parents and we all agreed that we should use it as is.
But then, we started traveling farther distances a bit more, and the Micra was not highway worthy in my parents' eyes. So, we decided that we should replace it with another hatchback.
I began by putting the car up on Cars24, OLX Autos, TBHP Classifieds and Carwale.
Considering that the car had not been serviced in 8 months, needed the tyres to be replaced and had a ding on almost each body panel, we were not expecting a very high amount. Something between 2 to 2.5 L. The original Micra has a much nicer interior and is a well equipped city car.
The Micra Active was launched by Nissan to finish off its old stock once the updated Micra was launched by Nissan in 2013. Hence it was cheaper to buy and was a size bigger than the other hatchbacks that could be had at a price point of 5.5 to 6 L at that time (Celerio, Grand i10). We sacrificed on features in favour of dual airbags and ABS at the time.
The inspection by both Cars24 and OLX Autos was disappointing as the most they offered was 1.7x L for the car. One negative I would like to point out here is that both Cars24 and OLX Autos kept continuously calling me saying they would rerun the auction promising more than 2.25 L Rs. I gave them the benefit of doubt and wasted a week in their nonsense post which I told them call me only if you have a concrete offer in hand.
A few serious leads through OLX also materialized but not at the price we wanted. After about 10 days, the OLX Autos guy offered me Rs. 2.01L so that we would get 2L after deducting a 1000 admin charge. We accepted thinking that since they would take care of the transfer of ownership and save us the hassle, it was worth the 10-15k more we could get from an individual buyer with whom we were talking to at the time. He was ready to give 2.2L post an inspection at the Nissan workshop. Since we hadn't serviced it in a considerable time and the last service was at an FNG, I was sure the Nissan workshop would recommend a lot of work that would drive the price down.
The OLX guys promptly collected the car, paid the entire amount and collected the necessary documents from us. I thought we are done. After that I found BHPian Asit Kulkarni's thread saying that many of these companies just do not transfer the car for more than 6 months and that the possession receipt they give is not legally binding if anything goes wrong.
Post that, I was quite worried since the Micra is not a particularly popular or fast moving car and I would hate it if some problem cropped up 1-2 years down the line that my parents would have to deal with.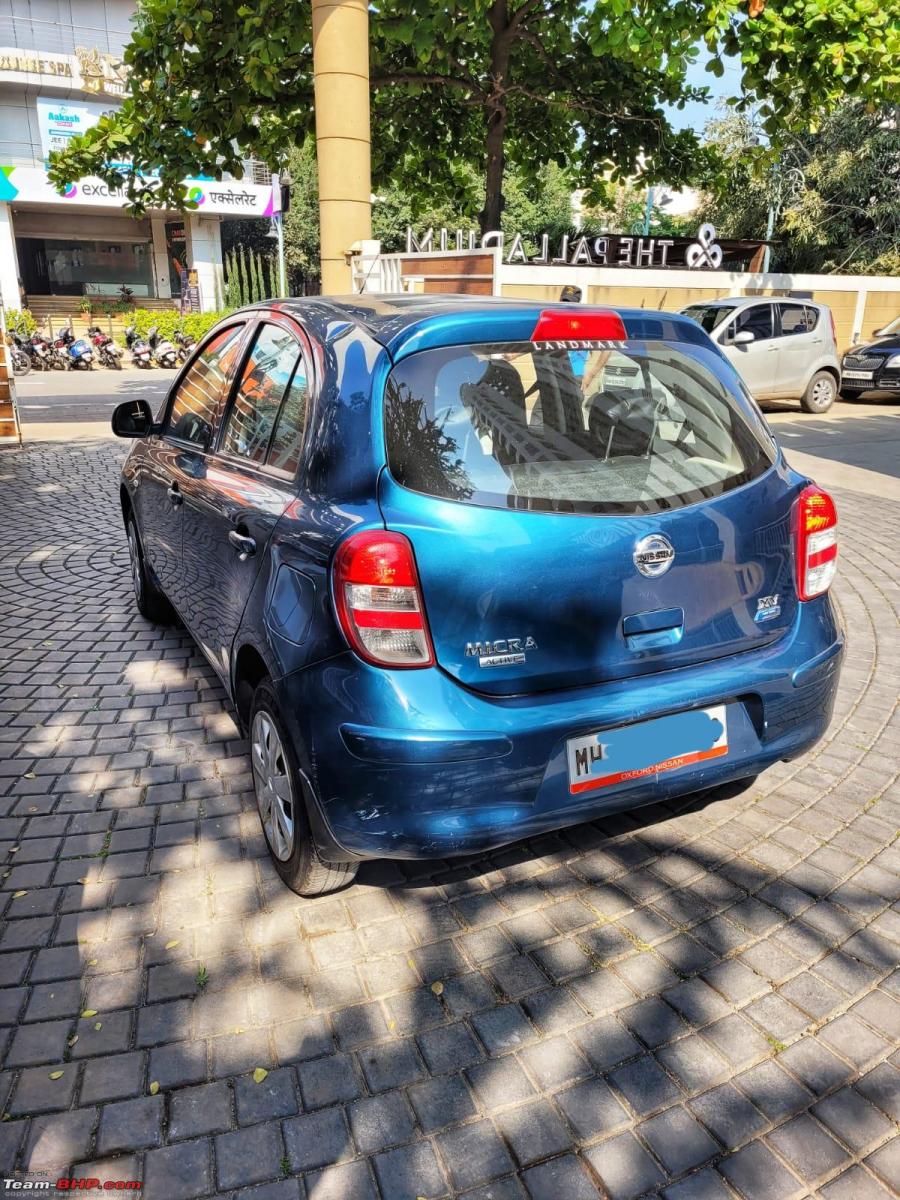 I regularly kept following up with the OLX Autos representative. The timeline for Ownership transfer mentioned by them is 60 to 120 days. Thankfully, after about 75-80 days, I got a message from OLX saying the ownership transfer has gone through. Confirmed with the representative and on the MParivahan website. They fulfilled their commitment properly and the payment was also done promptly.
All in all, OLX Autos did a good job and I have no complaints from them.
So when the task of replacing the car came about, our priorities were clear:
Space – should be at least as big as the Micra (comfortable for 4 large adults).
Safety – Airbags and ABS are non-negotiable.
Manual transmission – The only automatic which would have excited us would be the Polo. Since both of us brothers love cars, we were keen on having at least 1 manual car in the family. Who knows how much longer manual cars will exist on the market? I also followed the golden rule of simplicity – the less tech there is, the lesser things that can go wrong.
The budget:
As a family, we set a combined budget of 45-50 Lakhs for both the new cars. Since we decided on an Audi A4 for our Jetta replacement, we spent 44 Lakhs there. The selection and buying of that car can be read on this thread.
This meant we only had 5-6 Lakh for our hatchback replacement. All the full size hatchbacks like the Baleno, Jazz, i20, Polo cost upwards of 9-10L OTR for the base variants today. There was no alternative other than going the pre-owned route.
Our family had never owned a pre-owned vehicle before this over combined ownership of 10+ different cars since my parents started driving. Hence it took a lot of convincing from my side for them to agree to look at pre-owned options. After reading TBHP, I understood that there was tremendous value to be found in the used car market if I did my due diligence and remained patient, and did not fixate on a particular model or colour.
Options considered:
Volkswagen Polo: Being a family who already owned a Vento and Jetta, this was our first preference. However, searching for a good one in Pune proved to be tough. I was not ready to bring home a preowned DQ200 gearbox in any case. Manual Polos with a low ODO were hard to come by. Add to that they were severely overpriced on most platforms.
2016 Cross Polo Highline 1.2 MPI – 10k km done – I thought this was it. The car was in good condition, no major scratches or dents. Only the honeycomb grille on the bumper was broken. However, I was apprehensive since 5 years and 10k kilometres is a little too low to trust. Also this engine made only 75hp which is not a dealbreaker but could certainly be better.
Quoted price was 6.5 L. We decided we would buy it if he went down to 5.5 L. That did not happen and we were comfortable in walking away.
2018 Polo Comfortline – 35k km done – Again in good condition and everything seemed to be in order. But the dealer was asking 7.2 L for it. Ridiculously overpriced.
Honda Jazz: Before our VW Vento, my mom used a 1st gen Honda Jazz from 2012 to 2018. It was a great car and someone in my immediate family owns a 2nd gen Jazz as well. Great reliability, availability of spares, large size and nice looks meant that the Jazz was our second choice.
I was just scrolling through Carwale for used Honda Jazz's one evening. A great feature that site has is that it also shows the seller who viewed your ad along with their number.
The ad was posted by an individual buyer and the photos were really dark and washed out. So I did not bother to message the seller. That night I got a call from him asking if I was interested.
He was a software engineer moving to the UK. One of the best reasons for selling the car for a potential buyer! Add to that, the car was the post 2018 facelift.
The car in question: 2019 Honda Jazz V with 9750 km on the odo:
My ears lit up when I saw the asking price. 6.5L for what was basically a brand new car which had completed its running in. The spare had never been used. It had been serviced 6 times in 3 years. He immediately mailed me all the receipts.
I had read that these cars had a fuel pump recall. Asked him about that. That had been replaced by Honda free of cost. It had nice black leather seat covers. Even though it was the base variant, it was completely loaded. Apart from the absence of Android Auto, this car has every feature you need.
Also the fact that it is an international model meant that it would be safer and a little better built.
I checked out the car the next day with a longish test drive and I was sold. A genuine case of an almost new car with zero issues is hard to pass by. He already had an offer of 6.4L and I agreed to his asking price after looking at the prices of other used Jazz's in the market. Most 2015-2018 cars with 25 to 30k running had asking prices upwards of 6L.
The car was still in its original 3-year warranty when we bought it. He did all the RTO formalities and we got the name transferred the very next day.
One oversight on my part was that I missed checking out if there were any pending challans on the car. My brother was pulled up last month by the police since 4 challans were pending. I messaged the seller who sent me the money from the UK the next day and I paid them off.
We have completed 2000km since we bought it.
The GNCAP 4 star rating for the car which came out last month made me really happy with my decision. Hoping to keep the car for the next 6-7 years!
Honda Jazz V review:
Since this is a common and extensively reviewed car, I will keep it short and sweet. The Jazz has a 90hp engine mated to a 5-speed manual gearbox.
Post 2018, Honda removed the S variant making the V variant the base variant for this car. The variant lineup today is V, VX and ZX.
Likes:
Best in class space – headroom and legroom.
Apart from Android Auto, every feature present.
Refined engine.
Premium looks.
Centre armrest is useful.
Dislikes:
Boring to drive – engine is dead below 2000 rpm.
Lack of adjustable head rests in the rear.
Door handles feel a little flimsy while operating.
Just about average fuel economy.
Underpowered AC.
Too much piano black on the dashboard.
As a fill it, shut it, forget it city car, the Honda Jazz is surprisingly good. This was a pure head over heart decision. We have decided to not opt for extended warranty because the Honda recommended 6 month service interval will have to be maintained. Now that the car is out of warranty we will move to an FNG.
Driving experience and FE:
The car has currently done just 12000 km which is nothing for a reliable VTec engine. The driving experience is like just going through the motions of driving. No feedback from the car whatsoever. It is certainly more like an appliance than any other car. To get a move on you really need to work the gears. The gearing ratios are very tall. You can start off in 2nd gear and go from 0kph to 80kph in second gear itself. The clutch is very light and easy to use in traffic. However it needs to be used far more frequently than necessary to stay in the power band. The fuel economy we get with the AC on is just about 11-12 kmpl in the city. It is the perfect car for local runabouts and short trips here and there. Our dog loves it already and visibility while driving is really good. Despite being the base variant, it has got all the bases covered.
Suspension and NVH:
The ride is pliant enough with adequate ground clearance. NVH levels are as expected from a car in this segment. What I was impressed with is that there are no rattles and squeaks from this car. We were mentally prepared to live with a few rattles since we were buying pre-owned.
With 4 adults and a loaded boot, I haven't had any issues with the car over large speed bumps or ramps.
Interior and features:
Climate control, Bluetooth calling and audio, reversing sensors, reversing camera, speed sensing door locks, electronically adjustable mirrors, driver seat height adjustment, centre armrest, parcel tray, rear windscreen wiper and fog lamps. What else do you really need in a city car? Even alloy wheels and chrome door handles are part of the package.
The air conditioning is a climate control unit with capacitive touch buttons. It looks nice but is a little fiddly to operate. The actual cooling leaves a lot to be desired though. The fan needs to be kept upwards of 50% to have any kind of cooling in the large cabin. Definitely could be better.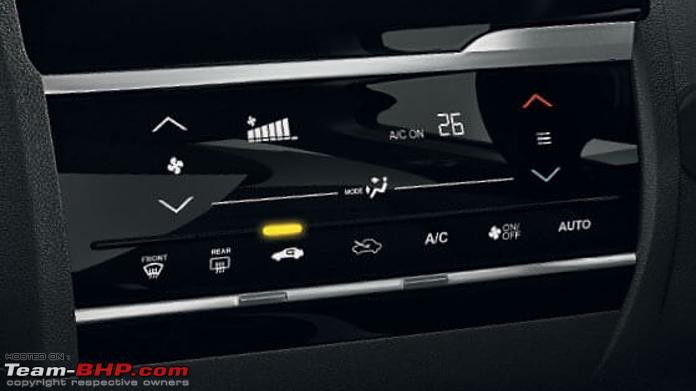 The piano black centre console certainly looks premium WHEN clean. And it is such a dust magnet that it rarely ever is pleasing to look at. It gets scratched very easily. Apart from that the interior has no signs of wear over the 3 years from its first owner. Our dog has already jumped from the front to the back seats plenty of times, put his paws on the dashboard and pressed a few buttons on the centre console during braking (dogs don't understand inertia at all ). Despite this, nothing has broken and the beige doorcards and centre armrest are also relatively clean. I can vouch for the interior quality because of this.
The instrument cluster is a three piece design and looks quite snazzy. The tripmeter is housed in a blue LCD display and is clear and legible throughout the day. The speedometer has this illumination on its sides which turns green if you are coasting or driving with a very light foot and turns blue if you accelerate harder.
The only bad thing is that the ORVMs do not electrically fold in but that is acceptable for us. The doorcards have nice padding where you rest your hands and the fit and finish of all the panels and interior trims is also acceptable. Two six footers can easily sit behind one another without any complaints. The car also has four cabin lights. Two for the front seats and 2 for the rear seats. This is also omitted in many hatchbacks.
The dual-tone theme of the cabin is easy on the eye and gives a nice airy feeling inside. The glass area is larger than any other hatchback which means no one will feel claustrophobic inside it.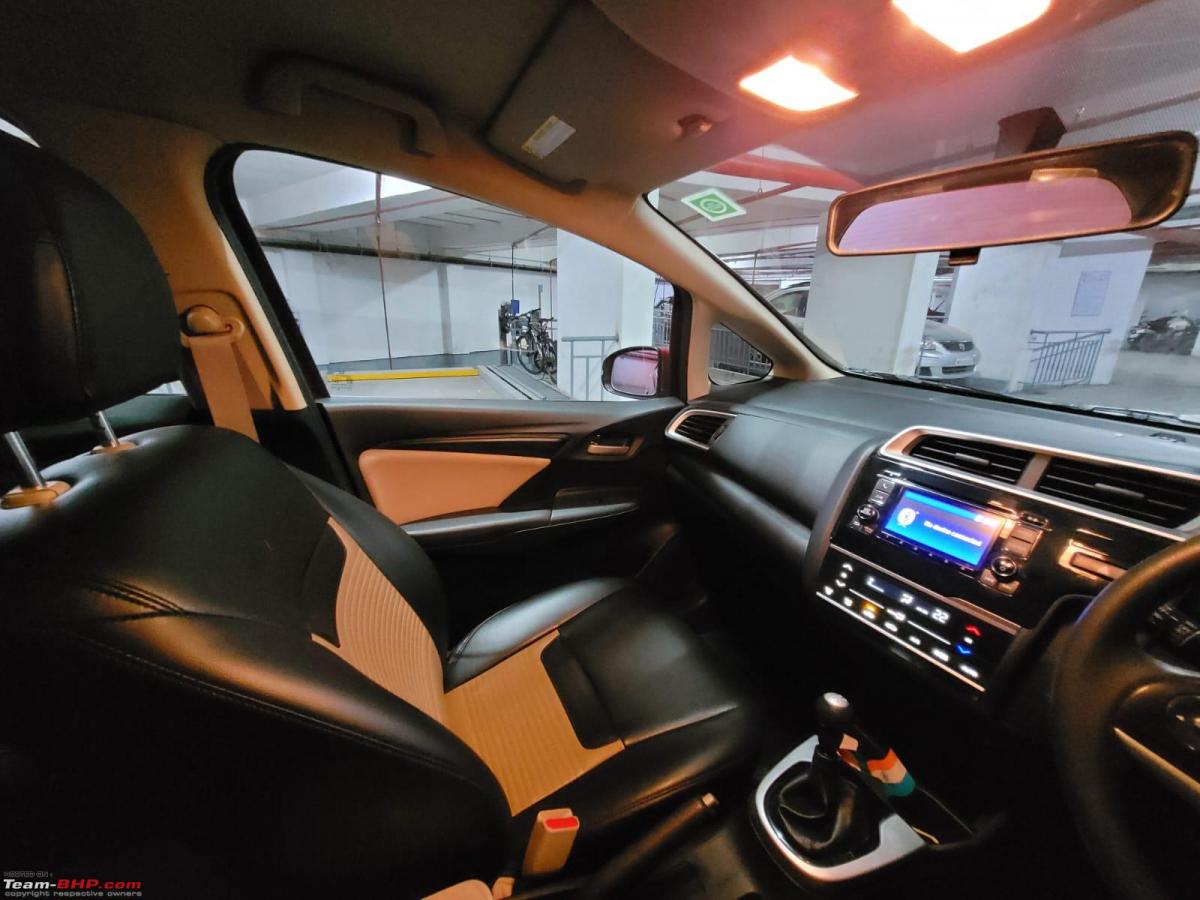 Exterior:
The Jazz certainly looks like one of the more premium hatchbacks on the market. This shade is called Radiant Red and it is a nice youthful colour. The paint still has its lustre and the car looks very nice from a distance. From the front it looks quite sporty compared to the rest of its shape. The side profile does bear resemblance to a family van/MPV kind of look but not too much. The rear is quite busy and runs the risk of looking overdesigned at times. The headlight and taillight lenses are in immaculate condition and light the car up well at night.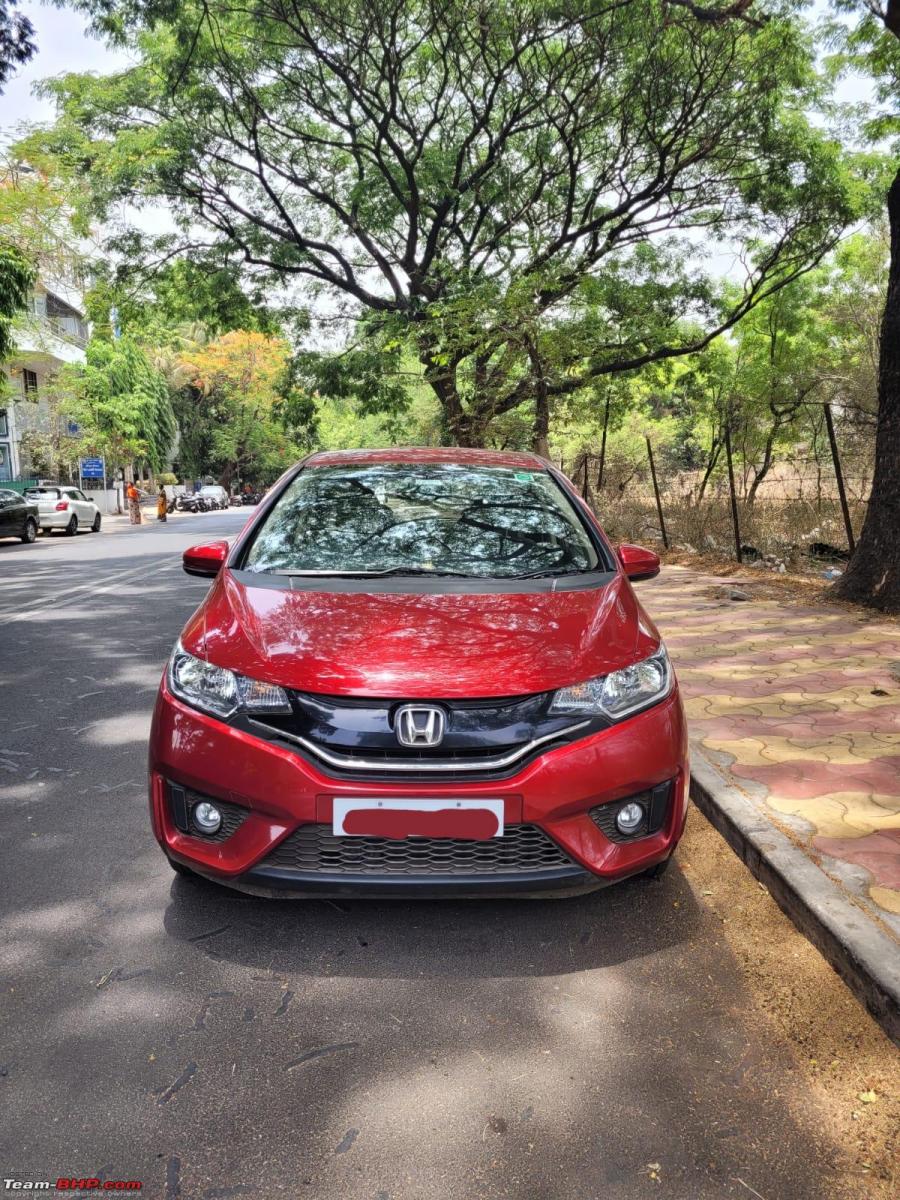 The only panel gap I have noticed is between the rear windshield and the body panel. No issues of water ingress or anything but it is larger than normal for sure. Apart from that the car has just a solitary small dent next to the rear left door. Apart from that the car is spotless.
Considering that a brand new Honda Jazz V petrol with no updates except new bumpers costs more than 9.1 L, we are very happy with our decision to go pre owned. Thanks to TBHP for that.
Safety:
The car does have dual airbags and ABS. The structure was also validated by GNCAP very recently when the Jazz returned a very respectable 4 Star rating score (higher than that of its sedan sibling). There are no ISOFIX child seat mounts though which are a must-have in a large family hatch. Another omission is ESP. But the car is still one of the safer Indian hatchbacks alongside the Altroz and Polo.
A case for the base spec?
In my last thread I pointed out the value in buying the base variant of an A4 costing 45 L. But gone are the days when sub 10L cars are bareboned and featureless even in their base trims. The Jazz V makes a very good case for the base spec here again. I remember when a left sided mirror and body coloured bumpers were passed off as features. The ZX variant of the Jazz gets a sunroof which is the most superfluous thing I can imagine. The base spec is really well equipped.
Maybe I can swap out the head unit for an Android Auto head unit and that's that. This car is the perfect city car with the ability to be taken out on short trips if needed. Will again ask everyone to evaluate the variants properly since more often than not we will go for the top variant. Most features hardly get used over time.
This whole process has also turned me into a staunch advocate for the pre owned option IF AND ONLY IF you have the time and dedication to examine options carefully. Maybe we just got lucky.
Check out BHPian comments for more insights and information.
Source: Read Full Article