Replaced my Yamaha R15 V3 with a Honda CB350 RS: Initial impressions
I just wanted something that could cut through traffic effectively and cruise at about 100 kmph effortlessly.
BHPian ValkyrieAB recently shared this with other enthusiasts.
Well, I went ahead an did it! I got my CB350 RS on the 26th of September 2022. Suffice to say, I'm happy!
A little history about my bike ownership:
I looked at the usual suspects, RE, Jawa/Yezdi and the Honda (CB350/ CB300R).
My criteria was the following:
How I arrived at the CB350 RS was the following:
A few images from the purchase day and my recent trip to Nandi Hills with the wife.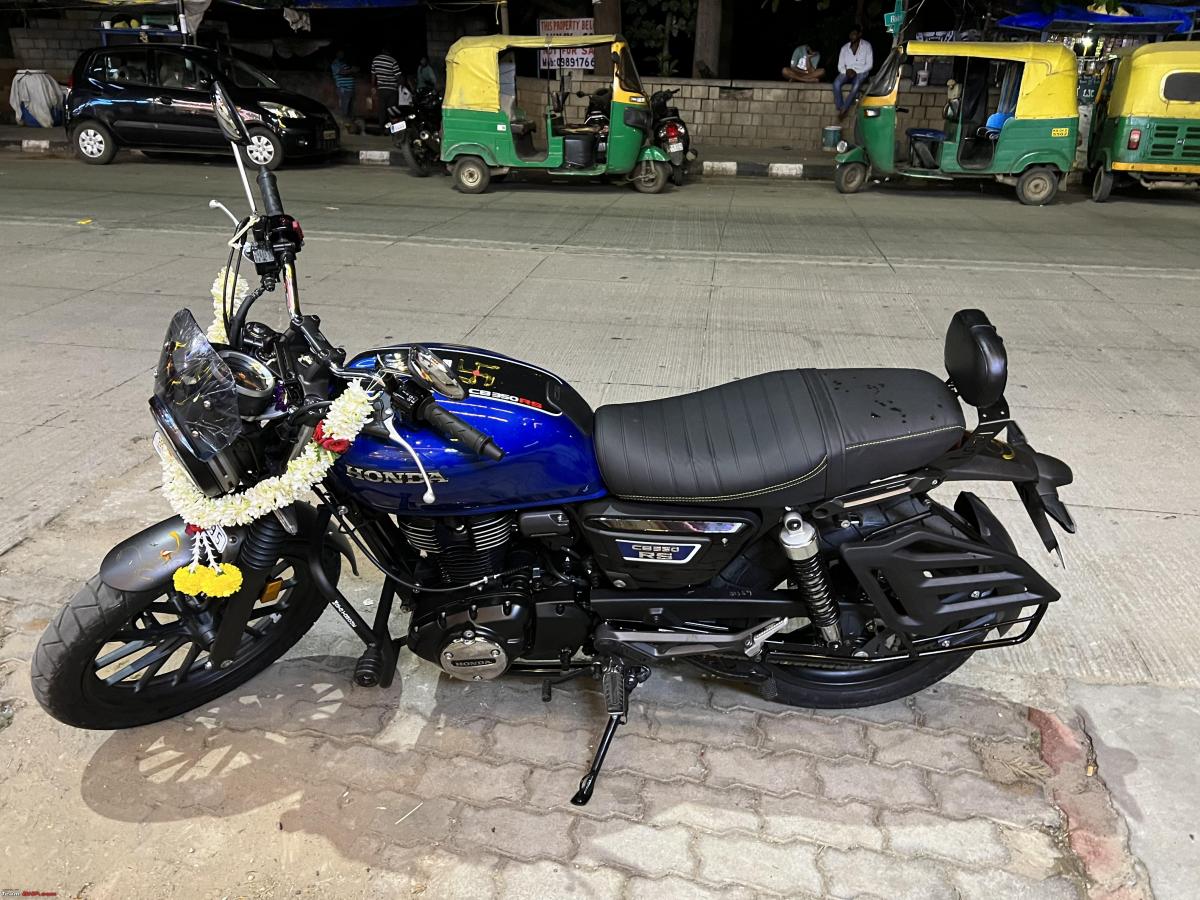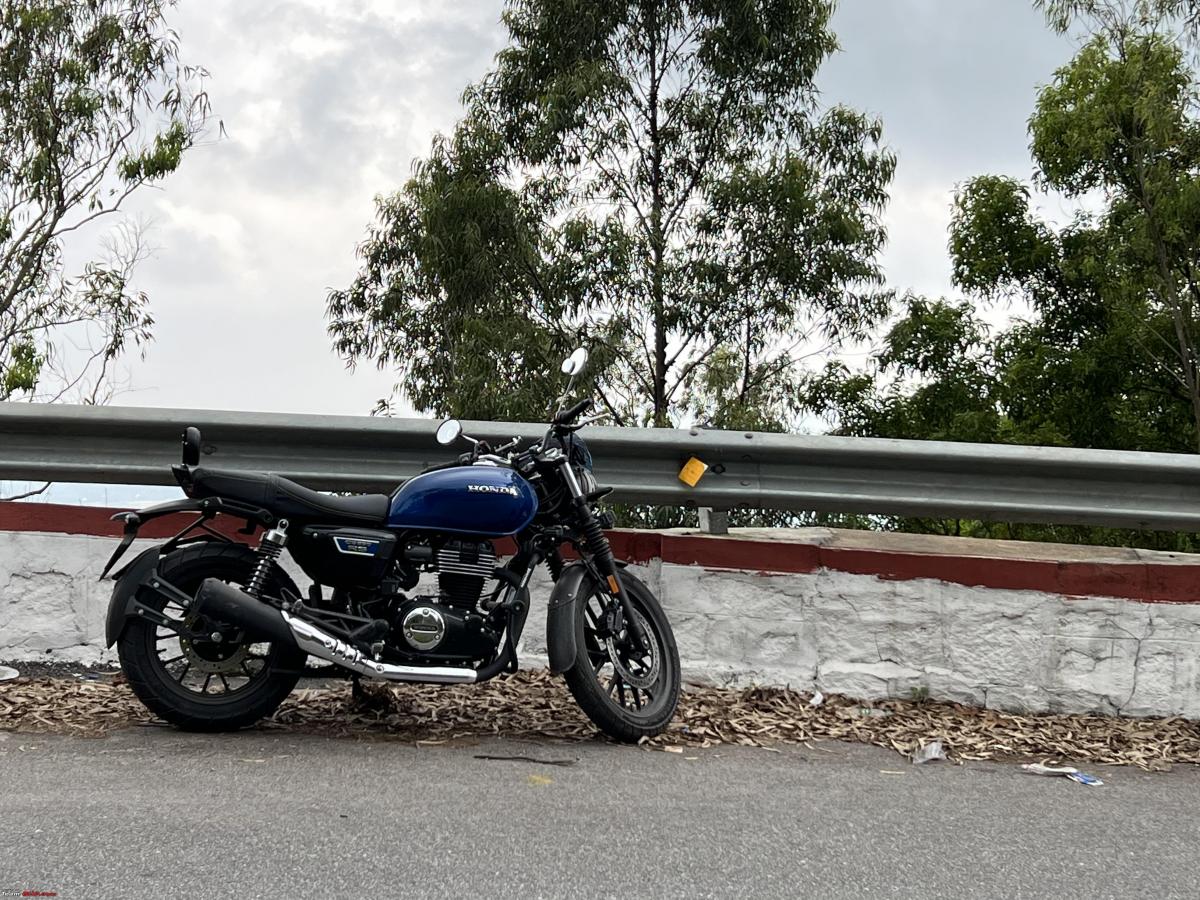 I've completed about 450 kms as I'm writing this and I'll try to sum up my initial impressions with the positives & negatives and also give a good overview of the accessories I've installed. I found that accessories was an area that lacked comprehensive info on the internet (at least collated in one place).
Positives:
The Engine: Supremely refined, amazing exhaust note, good power.
Handling: Lovely light handling (belies its weight), good grip, easy to navigate heavy BLR traffic, very easy to pull a U-Turn on even with a pillion (the handle turns quite a bit which helps)
Comfort: The suspension isn't very soft but has good damping. Some deep potholes can be a little jarring but the suspension doesn't bounce after encountering it (something I felt was missing on the REs, but they handled the initial impact better). Softer bumps and potholes are dismissed without fuss. I prefer this setup but it's a personal choice. The damping gives a very stable feel when you encounter rough patches at high speed. Seats aren't great TBH. RE seats are better (Classic & Meteor not the Hunter). There is numbness after an hour or so and I'm looking to remedy that with some air cushion seat attachments.
Negatives:
Gearbox: Annoying is how I'd put it. At slow speeds you need to be in first or second. My Karizma R was a stick-it-in-third-and-forget-it sort of bike. The REs offer similar ease in third as well. This bike lacks that due to poor ratio selection. On the highway 4th works well and 5th is only an option once you know you have an open road and wont need to decelerate.
Lack of foresight in some aspects: Mud. Mud. Mud. In the accessories section I'll describe the THREE mud prevention installations I've had to make just to ensure none of it comes onto the rider, pillion or make its way to some of the electronics. Side panel for storage needs allen key to open which can be found on the other side panel which opens with the key. Stupid design/cost control choice. Seat held on by only one bolt and it shakes if you jiggle it. Why? No idea. Glow-worms for headlights. Been mocked by my friend with a 5 year old Classic 350. "LED headlamps!" as he clutched his sides from the laughter induced pain.
The positives however fall right into place with what i expect from my bike and while the negatives are annoying, I can either eliminate them with the help of after-market Gods or learn to live with them (Gearbox )
Coming to the accessories!
1. The fight against Mud! The bike doesn't come with any usable mud guards so you need to get them installed separately. Thankfully my Honda BigWing showroom (BigWing North Bangalore) offers some during purchase.
I bought the two mudguards needed at the rear from them. That being the rear-inner mudguard & the tyre hugger. They installed them pre-delivery. I provided them with a Carbon racing front mudguard which they also installed free of charge before handing over the bike (it was installed with screws which involved drilling into the front fender – another option is installing it with 3M adhesive tape which doesn't last long).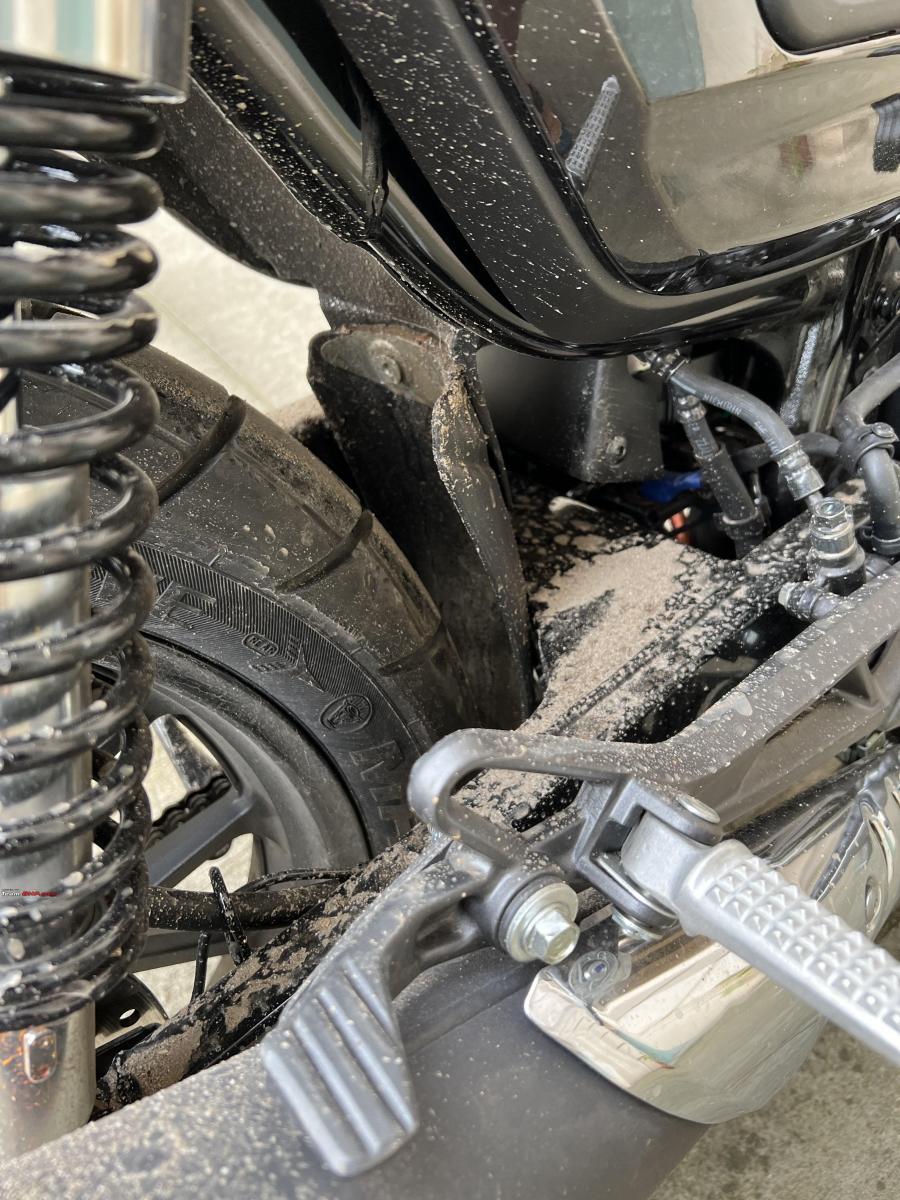 You can see how much dirt gets collected around that rear-internal mud-guard. All that would have sprayed onto some of the electrical components behind it if not installed.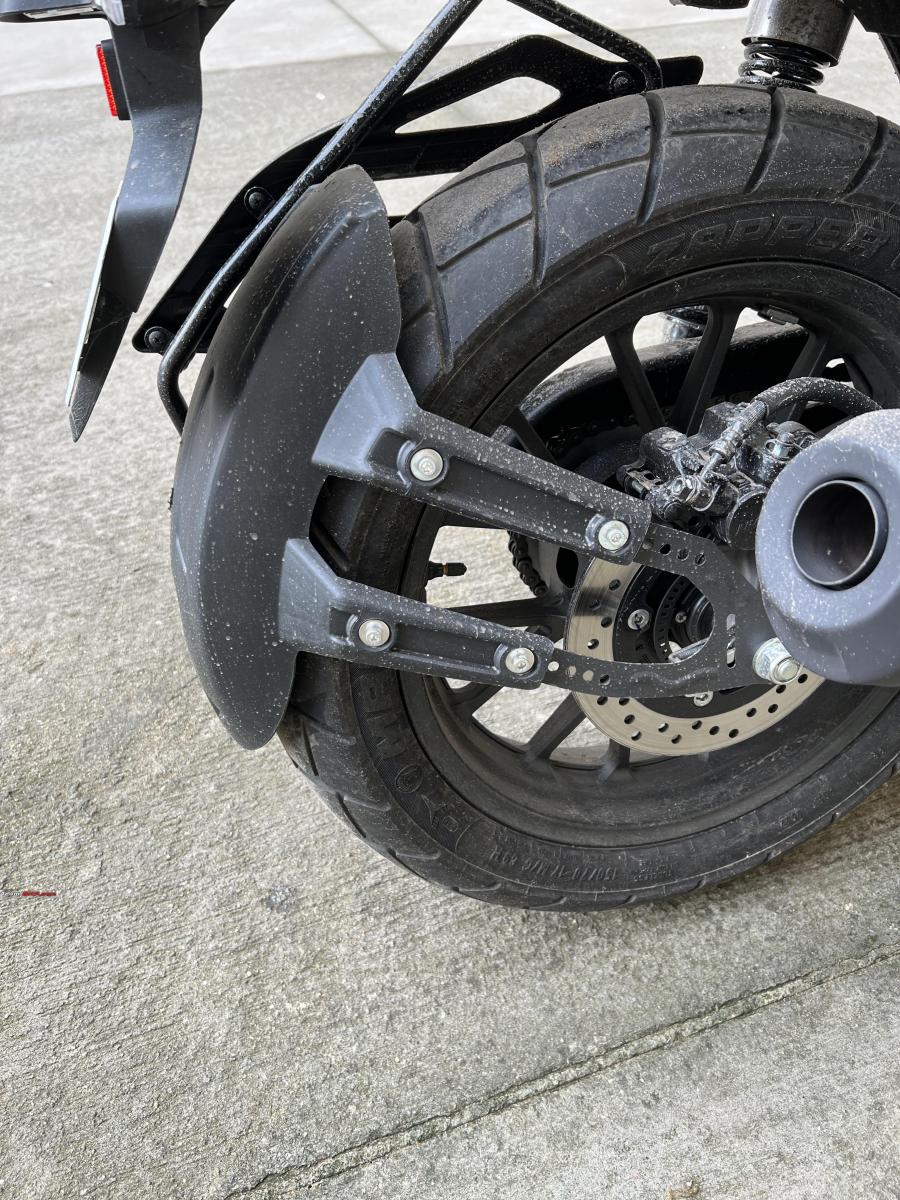 Provided by Honda themselves as an accessory. Nothing to write home about. It's flimsy but does the job.
Purchased from Carbon Racing. A MUST-HAVE if you love your trousers. Also installed by Honda (sent it to them 2 days prior to delivery)
2. Crash Guard: Part of dealer accessory. Looks good and comes with sliders.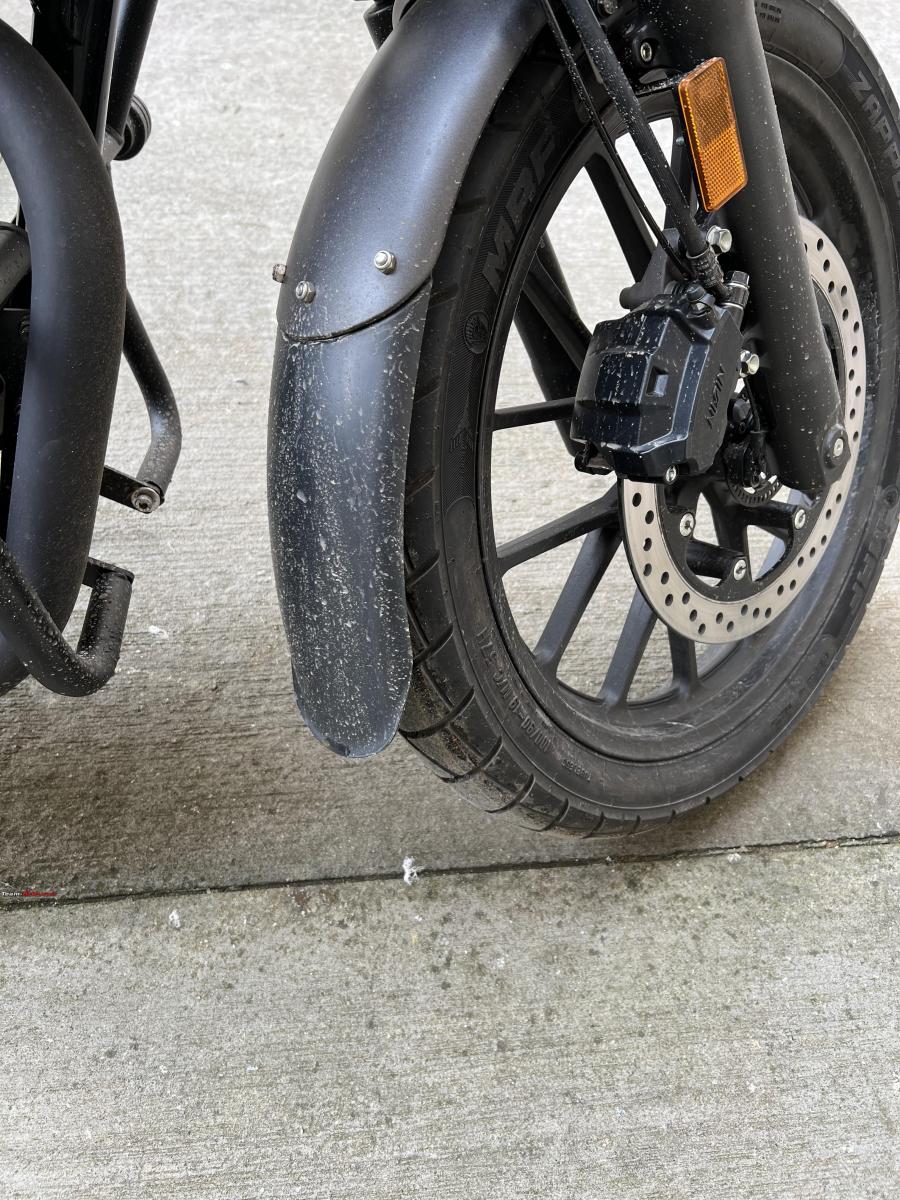 3. Lights: The lights are weak at best. Alignment helps (Factory alignment seems to low), but it leaves a lot to be desired on the highway both in terms of spread & throw. Installed Maddog Scout Aux Lights (bought the whole kit incl. mounts, harness (non-pro model) and switch (also non-pro model). Works quite well and provides enough illumination.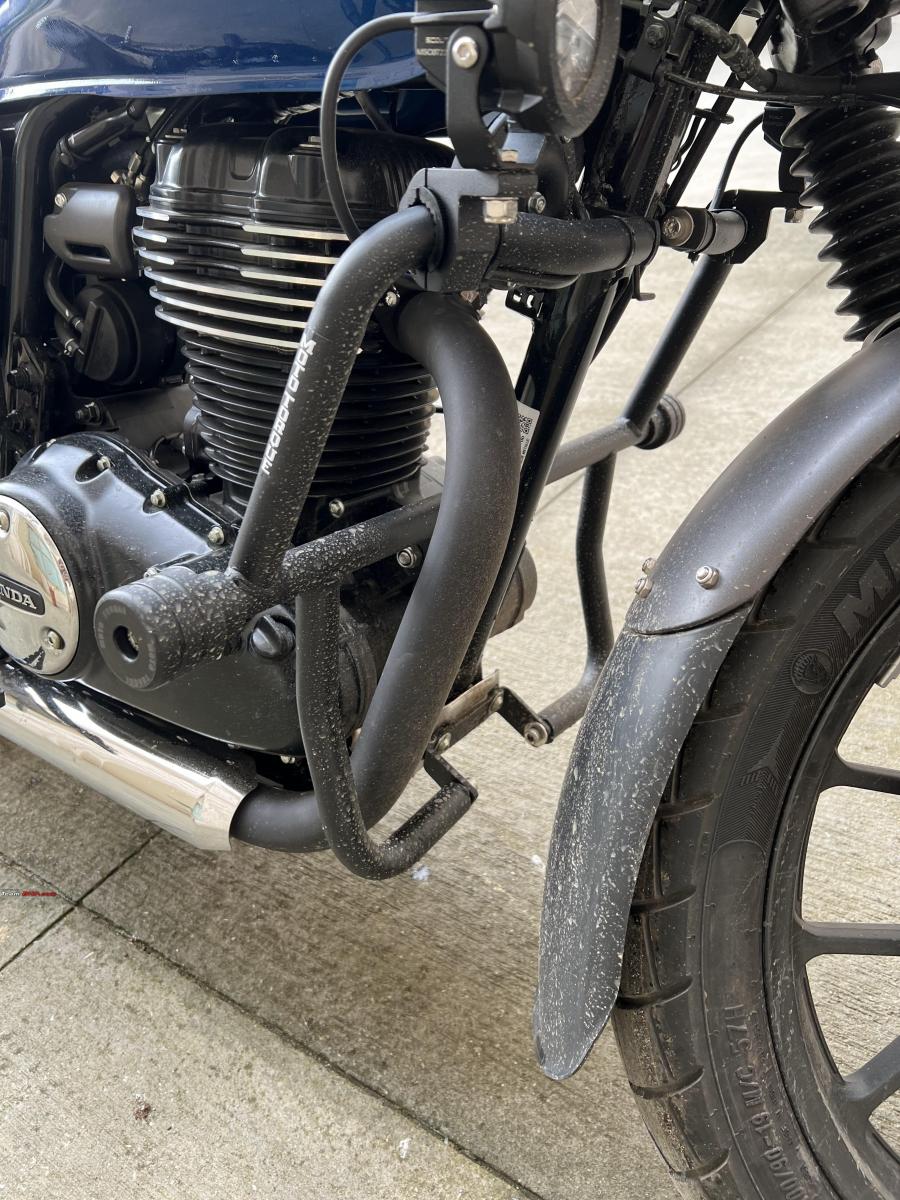 4. Rear Grab-rail and Backrest: On the test ride my wife felt uncomfortable and she had nothing to hold on to and hard acceleration made her feel vulnerable. Scouted a few grab-rail and back rest combos and settled on this one from AutoPappa out of Kerala. Most grab-rails need the OG ones to be removed leaving a gaping hole. These can be installed with the originals in place and look much tidier. Also the height and size of the backrest looks proportional (some looked hideous – they were too tall, backrest too high, grabrail too ugly etc). Again, installed by Honda free of charge pre-delivery.
5. Fly Screen & Seat Cover: Both part of Honda dealer accessory list and installed by them. Fly screen is primarily for looks, doesn't help with the wind a whole lot. The seat covers add a little extra padding and also protect the originals that came with the bike (a faux alcantara-esqe fabric that doesn't seem like it'll hold up well to wear & tear and water).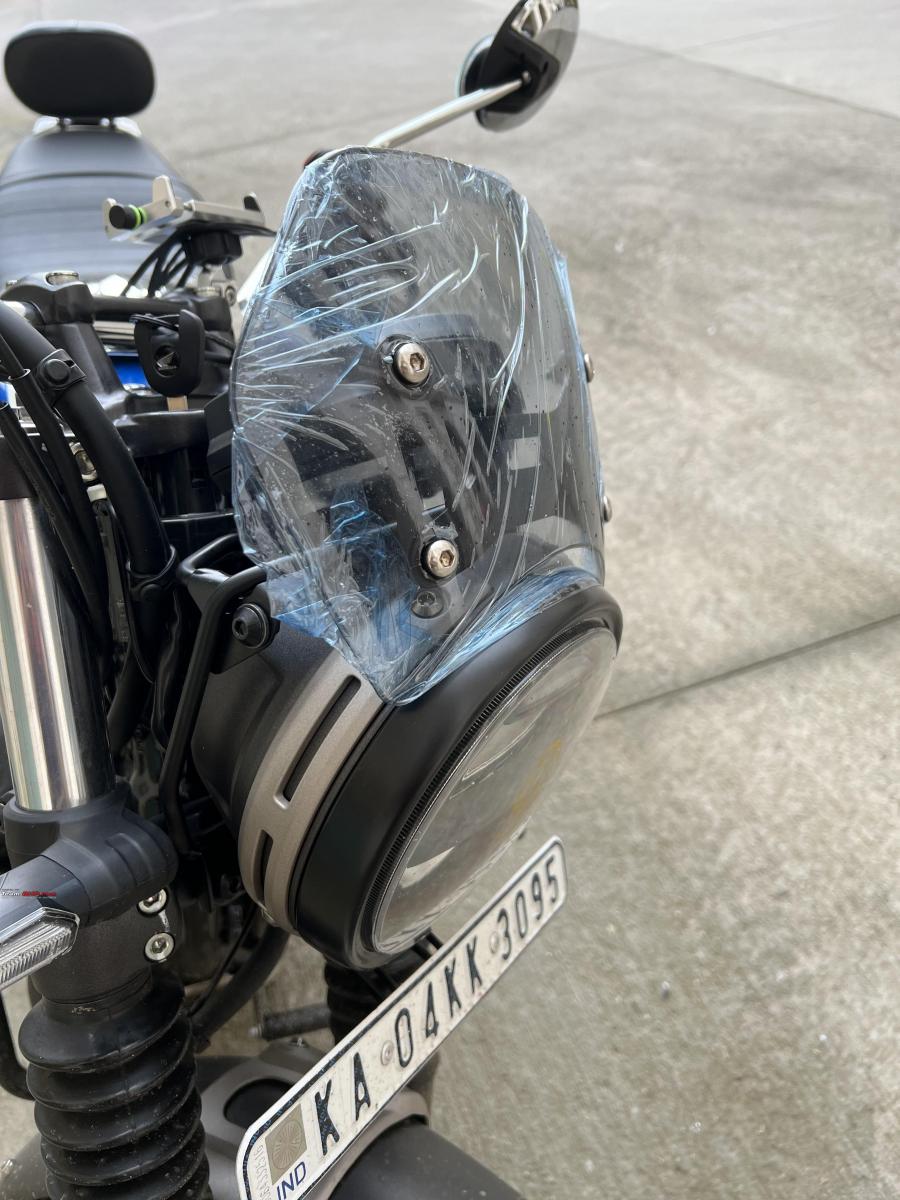 6. Carbon Racing Handlebar Risers: I bought the straight ones (inclined ones need the cables to be re-routed). They add about an inch in height and I think it makes quite a lot of difference to the posture. The original setup brought in a slight bend in the back (I'm 5'10") but these solve that problem. Some minor clutch play adjustment was needed but nothing major.
Hope this helps out other folks in their endeavor to either buy the bike or set it up post purchase!
I'll try to add other thoughts/ updates as and when they happen!
Read BHPian comments for more insights and information.
Source: Read Full Article