Replaced my Hyundai Verna with a 5th-gen Honda City: Initial experience
The fuel efficiency in the city has been around 14.5 km/l. On the highways, I managed to touch 17 km/l with the air conditioning switched off.
BHPian divirokr recently shared this with other enthusiasts.
Hello Team BHPians,
This is Divyanshu and I am super excited to take you all through the journey of my first self-owned car, the 5th Generation Honda City Petrol Manual V (Base) variant in the new Meteoroid Grey color. Before I begin the journey, here is a quick summary of my likes and dislikes based on my 1 month of ownership of this beauty.
Likes
Overall looks – The 5th Gen city surely looks a stunner from almost all angles, especially those BMW-style tail lamps.
Sheer value for money – It has every modern-day practical feature one can ask for which no other car of this size offers in this price range.
Well-cushioned comfortable seats – Something which is very helpful on the long highway trips.
Rear seat leg space – The space on offer in the rear seat is just mindblowing.
Driving Pleasure – Nothing beats the driving dynamics of a sedan.
Suspension setup – It's slightly on the softer side and perfectly suits my requirement of a comfortable ride.
Dislikes
Basic touchscreen display – The touchscreen looks bland especially compared to the ones in Hyundais and Kias these days.
Lack of Auto IRVM – The base model should be no excuse to not have something as basic as an Auto IRVM in a midsize sedan.
185 section tires – The wheels and the body seem capable of having 195 section tires which would have improved the grip in higher speeds and twisty sections.
Road noise at higher speeds – On the highway, there was a bit of road noise at higher speeds especially noticeable when the music is turned off.
Lack of 16-inch wheels – I may be asking for too much from the base model but 15-inch wheels in a car of this size feel undersized.
A bit too much chrome at the front – I wish the front grille was more like the 2019 Honda Civic, with a hint of black at the top portion of the grille.
Background
I have always loved cars and everyone in my family knows how I used to play with toy cars for hours on my own. I still remember the time when I finally turned 18 and got my driver's license. Back then, I used to drive a 1999 model 800 which was our secondary vehicle. Since then, I kept on getting the secondary car at my household as and when my father upgraded. Hence, I spent my years driving a 2005 Maruti Swift and then a 2012 Hyundai Verna, which was my ride since 2017 when my father decided to buy a Honda Jazz as he found a smaller car easier to drive in Delhi NCR. And in these 4-5 years, I developed a love for Sedans. Even though the Verna had a very soft suspension which made it tough to drive it in areas with poor roads and badly built long speed breakers, I loved its lower ride. Had its suspension and driving dynamics been as sporty as it looked, I would have probably used it for a few more years since it was a petrol model and hence had many more years and kilometers available. But having newly switched jobs, I was eager to go for a new ride.
Cars considered
I had been eyeing a car long before I sold the Verna. Being the go-to car recommender among my family and friends, I am always on the lookout for the best cars in a variety of segments and price ranges. For my own purchase, I had set a budget of roughly 12 lakhs which has probably the most number of options available across segments. I was just not able to finalize the segment of the car to go even though I loved sedans. The pseudo SUV lure was real and I was keen to go for Hyundai Creta for quite some time. But very soon I was looking at Cretas everywhere and that kind of took away the initial charm. Then, I changed my approach a bit and decided to pick 1 car from each segment and compare those.
So I shortlisted 4 cars from 3 different segments for my final lookout.
Hatchback – i20 Turbo since I was keen to get a 100 bhp + car.
SUV – Kia Carens which had just launched and I was totally loving the way it looked and sheer VFM.
Sedan – Honda City and Hyundai Verna – I loved both of them and later when I decided that the car has to be a sedan, it came down to these 2.
Test Drive Experience
i20 Turbo – Hyundai folks got the Asta model which was fully loaded and the cabin experience was superb. The build quality was top-notch however the all-black interior looked a bit too sporty for my liking. The comfort of an iMT along with the excitement of a turbo was the only reason I was considering another hatchback in my family garage. However, my test drive experience with Hyundai was a bit disappointing. They made me sign a document which said that I would be responsible for any damage to the car which I found strange and hence felt a bit apprehensive while taking the test drive. Even the executive who had arrived with the car was keen on me taking a shorter route and didn't let me drive the car on a long stretch of road. As I had signed on that document, I didn't insist and it was a short 10 min test drive. The salesperson seemed more interested in me finalizing the booking as soon as possible but I told him I also want to drive a Verna. He told me only turbo automatic was available for a test drive and since I was looking for a manual naturally aspirated model, that test drive for me was of no use. Eventually, based on all the reviews I got, I eliminated Verna as well.
Kia Carens –I went to the Kia showroom and was very impressed by the sales executives who were very courteous and thorough with the car specifications. Sadly, their test drive vehicle was in the repair shop so I couldn't get to drive it. A long 6-8 months of waiting didn't help either. Going through its video reviews, I realized it's not the car for me and hence was eliminated from my shortlist.
Honda City – Initially, I was considering the 4th Gen Honda City and took its test drive from the same dealer where I had purchased my Honda Jazz from. The experience was much better than the Hyundai. I was freely able to drive the car wherever I wanted to and the executive didn't insist to drive the car on a certain road only. I felt at home driving the 4th Gen City having driven the Honda Jazz. The only thing which I didn't like in the 4th Gen city was the interior which felt a bit dated and those touch-based AC controls also didn't feel very intuitive. Even the suspension seemed a bit on the stiffer side similar to Jazz which I didn't particularly like. 5th Gen City was exceeding my budget by almost a lakh so I thought let's give its base model a shot.
Driving the 5th Gen City, the first thing I loved was the suspension. It was tuned exactly the way I wanted it to be, not too soft, not too stiff. The interiors looked upmarket and the AC control won my heart. There was some engine noise while pushing the car but that grunt had a bit of likeability to it. I was almost sold in that test drive only. But then, the Skoda Slavia launched, and again, I was confused.
Skoda Slavia – One day before its launch, I was nearby a Skoda showroom and hence decided to check it out in the showroom. It was surely the best-looking midsize sedan overall. Be it the interiors or the exteriors, the car looked like a mini Superb which was a good thing. The doors felt so hefty and compared to it, the doors in Honda City seemed as light as a Maruti's, which, of course, isn't the case. The price was to be announced the next day and I had my fingers crossed. I kinda knew that I can only target the base variant of the Slavia and wanted to see how it looked. But as expected, it wasn't on the display. But there was a Kushaq ready for delivery in its base variant. I decided to give its interior a look to get an idea of what the Slavia would look and feel like. I didn't like what I saw. The beautiful touch screen was cut short leaving behind dull-looking grey plastic. It took away all the charm from its interior. There was a huge difference in the interior of the base model and the higher models. It looked like a base model, compromised. And then when I saw Slavia's base model videos on YouTube, my doubts were confirmed. Slavia's base model didn't look like value for money at all. I could have done without push-button start and other such features but I was just not satisfied with how the interior look of the dashboard was compromised with a smaller touchscreen which seemed like an after-market fitment. And then, hearing about Skoda's after-sales service in the TeamBHP forum, I decided to drop Slavia from my consideration list.
I also thought about waiting for Virtus but then again, I had similar expectations from its base model being similar to Taigun's which again seemed like a compromised version of the car.
Final Decision
After reading all the threads and posts related to Honda City I could find in TeamBHP, I went to the showroom and booked the City. I was in luck that only 1 model was left in the color of my liking, Meteoroid Grey, which looks so much better than the earlier grey. It was a March 2022 manufactured model and I got to take a closer look at it in their warehouse before booking it. Sitting inside, I could feel the connection, that feeling of love at first sight, and got super excited to know that the exact piece is what I was gonna drive home in a few days.
Based on my budget, I opted for the Base V MT Petrol variant at an On-road price of INR 12.6 lakhs (inclusive of insurance). Over and above that I got Leather seat covers installed for an additional INR 10,500.
I got the usual discounts which included a cashback discount, loyalty bonus, and corporate discount. I also negotiated a further 10k worth of discount from the dealership and used that money to get the leather seat covers fitted. Within a week, on April 1st, 2022, the car was ready for delivery. The high-security registration plates were fitted on the day of delivery itself. The sales team presented a bouquet, a box of car-shaped chocolates along with a framed photo taken at the time when the car was delivered.
I must say the overall sales experience with Honda was top-notch. I felt sad to see their showroom mostly void of customers but I guess that makes them pay utmost attention and dedication to the customers who do arrive.
I opted for insurance from outside (Tata AIG) which helped me save around 8k compared to what the dealer had quoted me (43k vs. 35k for 1 Yr OD, 3 yr TP cover with Zero Dep, Engine Protection, RSA, etc. add ons). I didn't even opt for the basic kit (not worth INR 8,299) or the extended warranty which I was confused about but decided to not go for it as my running of the car isn't going to be more than 500 km a month and have never really experienced any major faults in any of our cars till 5 years. I hope to take good care of the car in the 3 years of warranty and trust Honda's reliability.
Overall Driving Experience
My office is in Gurugram hence I don't really take my City to drive to the office which is currently once a week at best. It's only on the weekend when I get a chance to take it out for a ride. Currently, I have driven the car for 870 km which included one highway trip from Ghaziabad to Kathgodam which is a ~520 km roundtrip. The rest of it is all city drive and a few short rides on mini expressways incl. a short stretch of the Delhi Meerut expressway. I am yet to drive it beyond 90 kmp/h or cross the 2500 rpm as the car is in the run-in period so taking good care of her. I can't wait to experience the iVTEC kickin' in the higher RPMs. But, got to be patient as, no extended warranty.
Likes
Driving in the city is a comfortable experience thanks to its light steering and clutch combined with a smooth gear shift. The suspension, which is tuned slightly on the softer side, tackled the good and the bad roads without any issues. I actually liked the smooth gliding ride which works really well on small bumps and potholes. In a few high speed-breakers and bigger potholes, the suspension did bottom out however underbody is yet to get scraped anywhere. On the highway, I didn't feel any kind of body roll, the ride was stable and the steering also got a bit heavier which provided confidence at higher speeds.
Dislikes
The highway ride did get bouncy on patches of road with slight undulations. The engine didn't feel very smooth as there was a slight noise while accelerating beyond 1500 rpm at higher speeds along with a bit of road noise audible when the in-car music was turned off.
Exterior Design & Quality
Likes
Even though it belongs to the same segment as the Verna, it feels like a bigger car and surely looks like a worthy upgrade over it. Its sheer dimensions make it look like a car of a segment above. The BMW 3 series inspired headlights and the taillights look very elegant.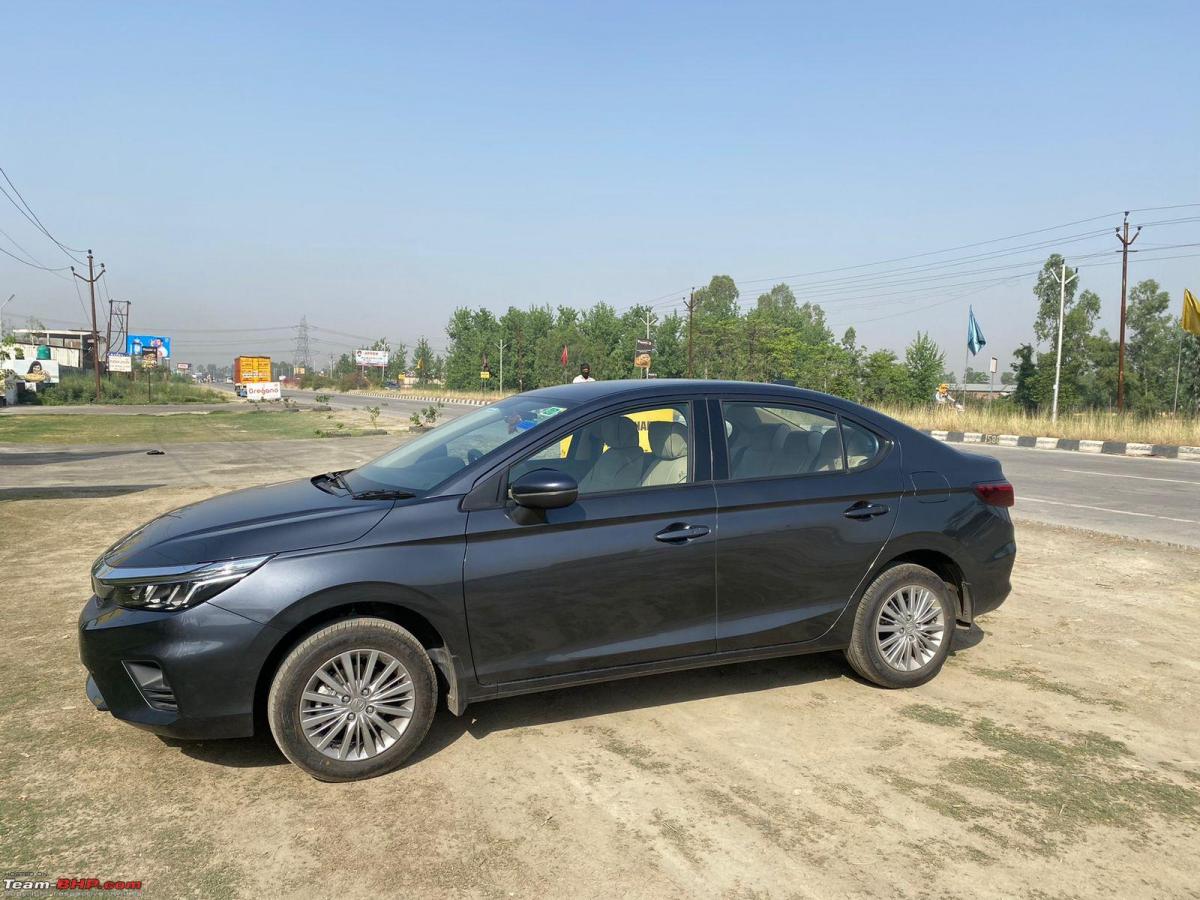 Factory fitted Goodyear Triplemax 2 tires. I read some good reviews about these online. However, I have never used Goodyear tires in any of our previous cars so let's see how they perform over time.
Dislikes
I am not a fan of the long overhangs both in front and back.
Also, the 15-inch alloys look smaller for the size of wheel arches through which the insides tend to be visible from some angles impacting the car's otherwise premium appeal.
I also felt that the doors are slightly lighter compared to my 2012 Verna fluidic and did not have a very solid thud while shutting the door. Often, my fellow passengers have not been able to properly shut the co-driver's side door, and only after pulling the door with more pressure were they able to shut the door properly.
Interior Design & Quality
Likes
At first glance, the design looks very minimalistic and straightforward, which has a calm appeal to it. I like the dual-colored black and beige dashboard combined with beige leather seat covers. The AC controls are no longer touch-based as in the 4th Gen City which is a welcome change. The way the temperature knob's backlight changes to blue or red in decreasing or increasing the temperature is a feature I always like to flaunt to my fellow passengers.
Love how the push start button glows red
The leather seats that I got installed from Honda itself seem to be durable and well-fitted. I usually get the seat covers installed from outside but I didn't want to take any chance in terms of the Airbag compatibility hence got these installed from the company.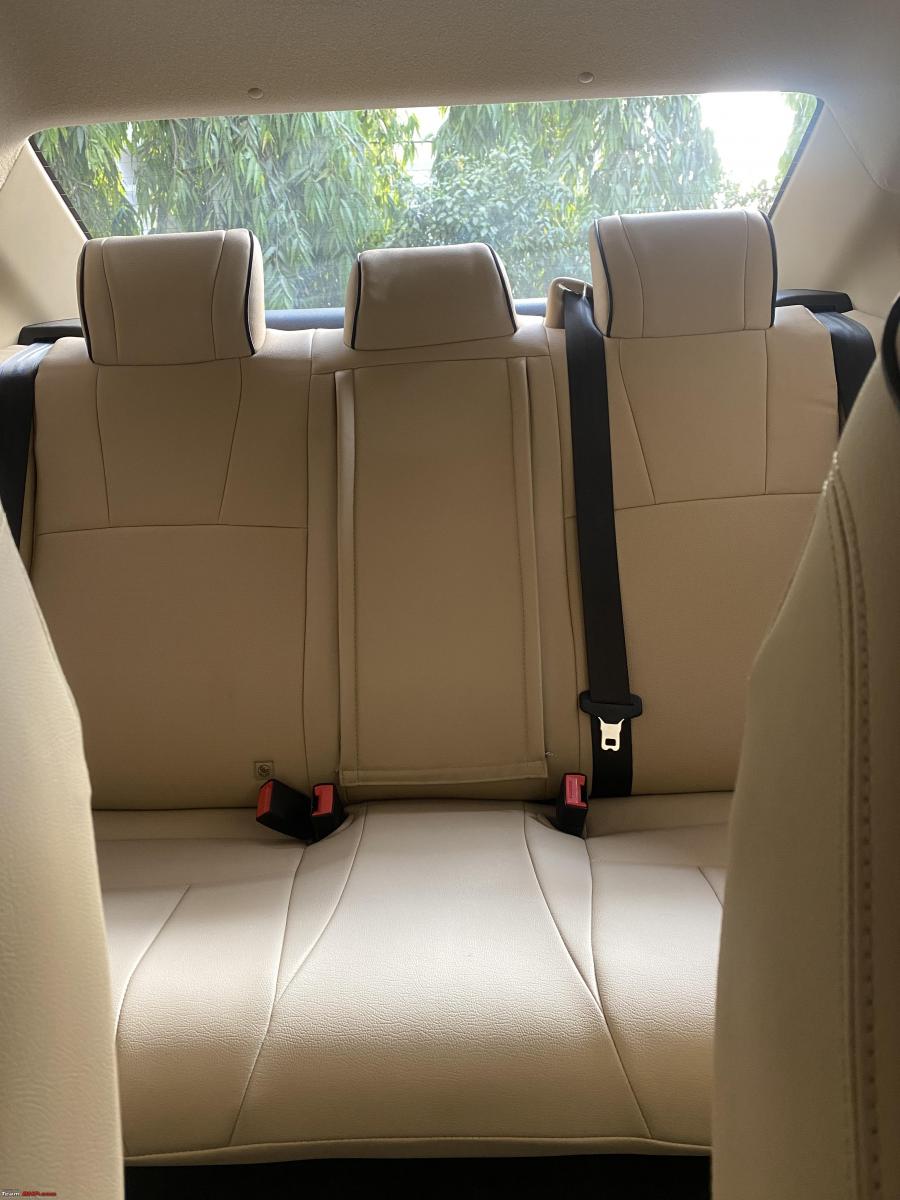 The rear center armrest is covered with a zip and velcro cover.
This is how it looks when opened. Not sure if there is a better way to keep that cover with the armrest open.
Dislikes
The quality of plastics could have been better for a car of this class. Also, I feel the infotainment system is not up to mark. More on that later.
Interior Space & Comfort
Likes
This has always been a major strength of the City. The seat cushion is neither too soft nor too hard and the back seat space is just amazing. Being 5'10", I have not faced any issues in terms of headroom. I keep my sitting position adjusted to a lower position which is the way I like so maybe that also helps.
Till now, only 2 people have sat in the backseat so yet to comment on how comfortable it will be for the 3rd passenger.
View of the dashboard from the rear
Legroom for me at the rear with the front seat adjusted to my height
Good to have the keyless entry on the co-passenger side
Cup holders in the rear armrest
Dislikes
The central driver's armrest does not slide forward and is set a bit too backward for my driving position which makes it unusable most of the time.
Even the armrest at the rear seat hangs too low and hence may not be very usable for the rear passengers.
Driving Ergonomics and Visibility
Likes
Right from the first drive itself, I felt at home. All the controls, be it the AC knobs or the audio system, are easy to use and the buttons and knobs have a solid feel. I can almost see the front of the car (not always because of my lower seating position).
Visibility at night is really good thanks to the projector halogen headlamps which are a must-have in any car, if not the LED headlamp which is never found in any base variant in this segment.
Also, I love how the side view mirror is placed in the door for improved visibility near the A-pillar while driving.
Dislikes
I do wish the volume control was in the form of a knob. They should also have added a mute button on the steering wheel as it takes a while to turn the volume down with the buttons.
I dearly miss the Auto-dimming IRVM at night which the base model sadly misses out on.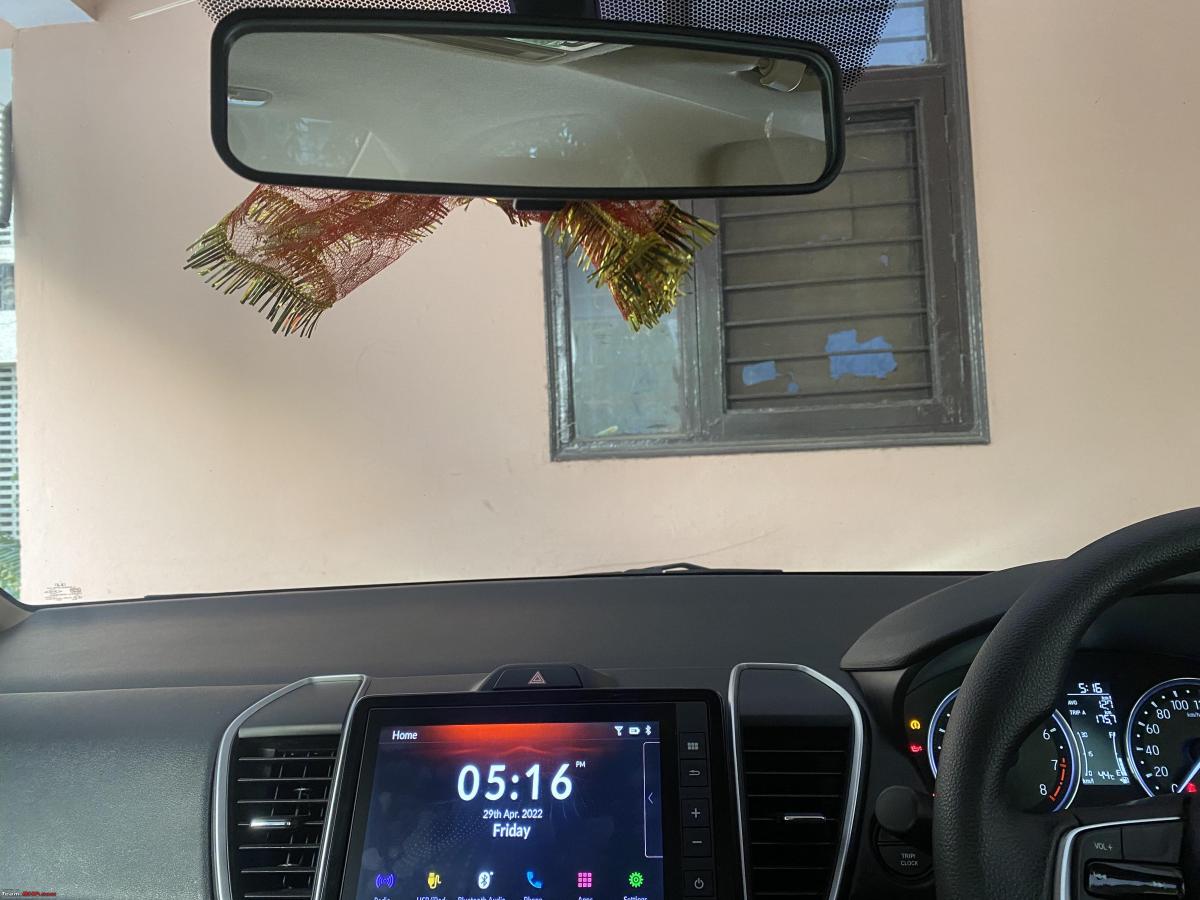 Air conditioner cooling & effectiveness
Front AC vents are well-sized and airflow speed is also up to mark. The rear AC vents have a decent throw of air which is adjustable for speed as well as direction. I think Honda ACs aren't as effective as they used to be in the 3rd Gen City which one of my relatives owned. It's not bad in any way in fact it's way better than the AC in my Honda Jazz and but perhaps not as effective as it was in my earlier Verna fluidic whose AC was among the best I have ever experienced in any of my cars. With the temperature crossing 43 degrees in the afternoon, the real test will begin in the month of May. When parked under the sun, it takes a while to cool the cabin down but once cooled, maintains the temperature pretty nicely. It also has a Max cool button which takes the temperature setting to its lowest and fan speed at its highest which is a practical feature to have.
Audio system & sound quality
Likes
The 4 speakers that this variant comes with are loud and the sound quality is also decent. The audio system is intuitive and easy to use but that's about it.
Dislikes
The only thing which I feel leaves me wanting more is the audio system in the Honda City. Firstly, they should have added at least 2 tweeters to make the audio quality a bit crisper in the base model.
Another miss here is the Wireless Apple Carplay which is now available in the cars of lower segments as well (Hyundai has set high standards in the feature department). Constantly connecting the wire is a bit of a pain. I don't like how the wire just kinda hangs around and at times tends to disconnect which could be a cable problem as we all know how Apple cables are.
The touchscreen in general has lower visibility in bright sunlight which hampers the rear parking camera view. The camera resolution is a bit low which impacts the visibility in the dark but gets the job done in well-lit conditions.
Interior storage, practicality & boot space
Likes
It has an ample amount of storage space for cups and water bottles. I like how they have sort of created a dedicated space to keep the cellphone right under the AC controls close to the USB slots.
Boot space is probably more than I would ever use.
Dislikes
They should have provided USB ports for the rear passengers instead of 2 Power outlets. Used one of them to fit in a USB charger to compensate for that.
The spare wheel inside the boot is sadly a steel wheel
Engine performance & driveability
Likes
In the city, City is a pleasure to drive. The steering is on the lighter side, which makes it easy to maneuver in traffic. The suspension as I already mentioned is tuned for such conditions and why not, it's a City.
The gear shifts are super smooth and the clutch is also very press-friendly. Considering 70% of the time I would be driving it in the city, it completely satisfies my need.
Out on the highway, the steering does weigh up to make it feel much more confident. Do note that I used to drive a 2012 Verna which had the lightest steering among all the cars I have driven which was a blessing in the city, but a curse on the highway. So to me, City 5th Gen is a much more confident car on the highway.
Dislikes
I did notice that the power delivery at the lower range of RPM (under 1000) wasn't as quick as in my old Verna 1.6 petrol hence I ensure not to change gear before reaching 2000 RPM for optimal performance.
Another thing that I noticed was that while steering in the corners at a good pace, I could feel that a wider 195 section tires would have made the car feel more stable and grippy.
Overall NVH levels
While the cabin is generally silent, there is definitely some engine noise while accelerating as well as road noise creeping in at higher speeds mostly audible if no music is playing inside the car. I miss the silent engine of the Verna which even after 9+ years and 95000+ km of running, showed an incredible level of refinement. Although at a steady lower speed, the engine is relatively silent. All the other outside noise is also well contained.
Fuel efficiency
In the city, so far I have managed to get a mileage of around 14.5 kmpl when faced with lesser traffic. Later on, after 2nd refueling, currently, the display shows a mileage of 12.5 kmpl as I drove in much heavier (sometimes standstill) traffic conditions.
On the Highway, where a major chunk of my 800 km was covered, it managed to touch almost 17 kmpl which surpassed my expectations that too with AC on at all times.
However, this can also be because I have been driving the car very gently in its run-in period.
Ground clearance
One of the major reasons why sedans are often ignored is because of the fear of their low ground clearance. This is something which I was also very skeptical of having had a tough time driving the Verna on potholed roads and enormous speed breakers. So far, I have not bottomed it in anywhere but it would be too early to judge. I anyway believe that if driven properly, a sedan can go in most places where I and the majority of the people tend to drive.
It's also good to see that the quality of roads is now slowly and steadily improving and I really hope that sedans start flourishing once again. And who knows, maybe after 10 years, I may end up buying an all-electric Honda Civic.
Here is a picture of my City with my best friend's Creta, a month older than my City, which he probably bought because my past love for Creta rubbed off on him too.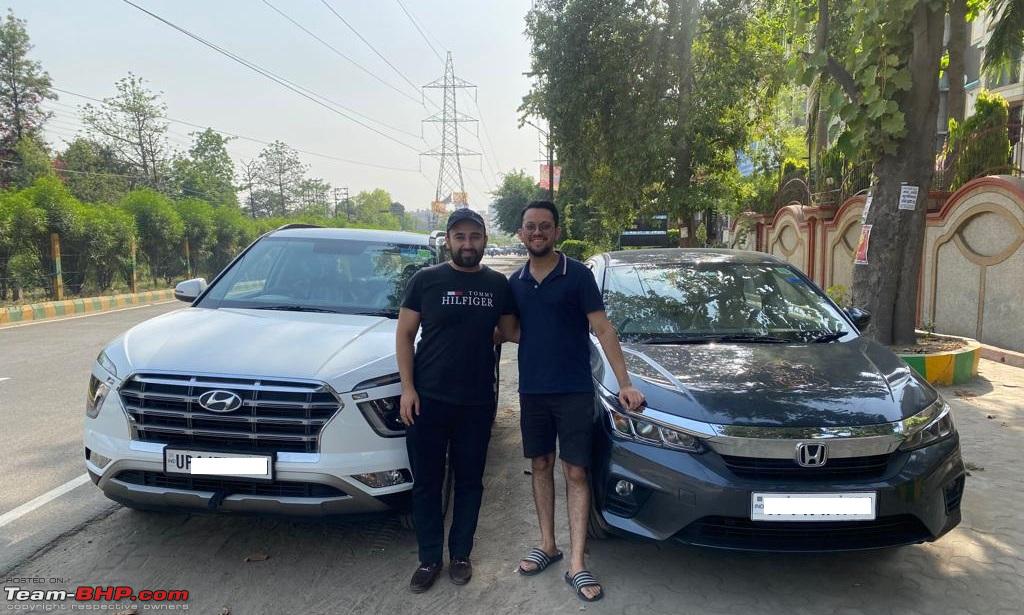 After-Sales and Service experience
Post the delivery of the car, I have been contacted by the salesperson as well as the branch sales executive enquiring about my experience with the car and confirmed if I faced any issues or not. RC was received by the showroom within 20 days of delivery and I picked it up from there only without any hiccups.
As I complete this review, my car has been picked up from my home for the first service on the date and time of my preference. The person taking care of my car's service asked me once again if I want the extended warranty of up to 5 years which I still feel I can do without. He then offered the Underbody coating for INR 3200 + GST which I bargained for and managed to get a 10% discount on the same hence costing me INR 3450 incl. GST. Even though I was skeptical to get the underbody coating done, I decided to go for it since I plan to keep this car for a long period so having the extra protection should help. He also told me that the underbody coating can help in reducing the cabin noise from tires and the inside temperature which I don't know is the case or not.
The insides of the wheel arches look cleaner after the underbody coating
Accessories purchased from Amazon
AutoFurnish Car foot mats – I purchased these for our Honda Jazz as well and they are of decent quality for the price. However, they did not fit too well in the Honda City and I had to make some cuts on them to adjust them according to the contours of the floor. Might upgrade these later. Would be great if someone can recommend a not too expensive VFM car foot mat.
Jopasu Car Duster – This is an awesome product that I use almost every time before heading out for a drive to clean the dust from the car. The biggest con of having a dark-colored vehicle is the fact that it's a dust magnet hence a duster was a mandatory thing.
3Pure Perfume Potli Air Freshener (Rose and Lavender fragrances) – Been using this car air freshener for years and they last well and have a subtle fragrance that a lot of people have appreciated and asked me about.
Conclusion
I feel this is one of the most value-for-money cars in the 12-13 lakh INR price range with the number of features it offers along with all the space, power, and Honda's reliability.
Its biggest con for me has to be its infotainment system and the rear camera quality which leave so much to be desired. I also feel they should have offered 16-inch wheels (with 195 section tires) with the same design if they wanted to keep it distinct from the higher models.
Thanks to the TeamBHP community as well the in-depth unbiased reviews which helped me in shortlisting the City with the assurance of people who I can trust. I will try to keep this thread updated and regularly share my experience with the City and hope to engage with fellow TeamBHPians and proud Honda City owners.
Thanks a lot for reading it till the end. Cheers everyone!
Check out BHPian comments for more insights and information.
Source: Read Full Article