Our Auto Expo experiences over the years: Is it still worth the visit?
In terms of logistics – it is very far and you would spend more money on commute than on the ticket itself also the food arrangements are pathetic
BHPian h3mnzu recently shared this with other enthusiasts.
This thread shall be the watercooler area, where besides auto, we discuss the experience of the expo. The good, the not so impressive and the extravagant with one rule: Do not post new car launches, components or car photos here. Photos indicative of the stalls, booths and experience zones are allowed to support the posts and replies.
We may discuss people to people connections, meet-ups, finding old friends at the expo and things which get carried away in the routine ho-hum of the event.
A lot of hype is generated at the time of Delhi/India AutoExpo. A lot of new car launches and media posts overshadow the participatory spirit of the visitors and the interactions among auto industry professionals and enthusiasts on topics besides cars and automotive.
History of Auto Expo in India (Part 1):
100 Years after the first car was invented by Karl Frederich Benz, India hosted it's first Auto Expo in New Delhi. The number of car purchases were doubling over the previous year. Promising sales numbers renewed the spirits of truck and bus manufacturers to team up with their foreign counterparts to showcase cars. The major stalls set up by automotive and engineering conglomerates saw the crowds thronging to following models:
Telco's AC Buses, Trucks and Army Vehicles (by Telco)
Bajaj Tempo – 8 Seater Limousine (By Bajaj)
Chatelec Van (By Chatelec)
Citroen 2 CV (in partnership with Escorts)
Citroen 600 cc (in partnership with Escorts)
Honda Accord sedan (in partnership with Tata Engineering and Locomotive Company (TELCO)
Isuzu Gemini (in partnership with Hindustan Motors)
Izusu Trooper Car-Jeep (in partnership with Hindustan Motors)
Mayura (a prototype by All Tools Ltd)
Nissan Sunny (in partnership with Premier Automobiles)
Toyota Crown (by DCM-Toyota)
The Automotive Component part was in limelight due to Heal Transport Equipment's Computerised Vehicle Scanning Equipment and Jakatdar Associates' Car-Jeep prototype.
The Auto Expo 1986 was a turning point for the Indian automotive industry. At the time, Ambassador and Fiat cars and Bajaj scooters were the dominant players, and Maruti, which had launched just three years prior, was still a young company.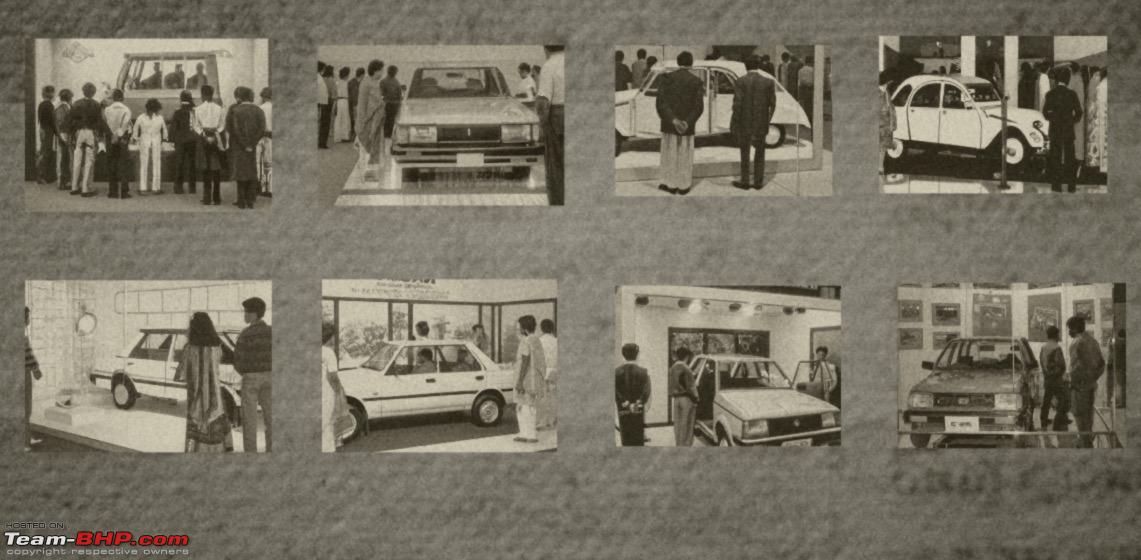 The expo focused on technology transfers and promoting indigenous research and development to absorb new technologies in India. Several companies participated in the event, including Escorts, DCM Toyota, Nissan, AP Scooters, HMT, Jawa, Kinetic, Kelvinator, Majestic Auto, Standard Motors, and Shree Chamundi Mopeds.
Auto enthusiasts had to wait for 6 years for the next auto expo.
History of Auto Expo in India (Part 2):
Here, a summary of the highlights of the expo is mentioned as a chronology:
1986:
1st Auto Expo: Debut year. Bus and Truck manufacturers made their foreign counterparts showcase Jeep-Car models.
1993:
2nd Auto Expo: Platform for dialogue between industry, dealers, consumers and government. Participation of 7 countries on the theme 'To Make The Future Happen.' Component makers were convinced with the JV's and technology transfer.
1996:
3rd Auto Expo: Launch of new vehicles by Daewoo, Hyundai, Ford, and Honda along with EU-India Business Forum. Market capabilities were realised by foreign players.
1998:
4th Auto Expo: Over 50 overseas participants and nearly 150,000 daily visitors. Announced to be held as a biennial, termed the biggest auto expo. Small cars triumphed the launch arenas, as well as modern sedans.
2000:
5th Auto Expo: More than a 1000 exhibitors participated. Green Pavilion to focus on environment and the first Asian Two Wheeler Conference. Most number of new car launches than previous expos.
2002:
6th Auto Expo: Road safety pavilion and focus on safety technology, road engineering, and enforcement. First time an F1 car was on display, Michael Schumacher's Ferrari F2001. Suv's were also launched.
2004:
7th Auto Expo: 840 Indian and 120 overseas companies participated. Many manufacturers started creating experience zones and thematic stalls. Safety, Design and next generation technologies were the focus.
2006:
8th Auto Expo: Thematic pavilions focusing on commercial vehicles, two wheelers, alternate fuels, design and styling. First time vehicle simulators were installed. First time some automakers opted-out.
2008:
9th Auto Expo: Theme of "Mobility for All." Exclusive pavilion dedicated to Diesel technologies. Trend of launching facelift models of current production cars.
2010:
10th Auto Expo: Record attendance with over 2 million visitors, 72 product launches including 10 global launches, largest overseas participation with 30 countries and 2100 exhibitors. Exhibition became synonymous with India's foothold in the auto industry.
2012:
11th Auto Expo: Around 1500 participants from 23 countries and 50 car launches, including 10 global launches and 20 two-wheeler launches, first appearance in India by Ferrari and Peugeot. The trend of concept vehicles gained prominence.
2014:
12th Auto Expo: Bifurcated into two events: Auto Expo (Components) and Auto Expo (The Motor Show). Over 105 stalls, with 47 overseas manufacturers. Globally successful models as well as Indian concepts were showcased.
2016:
13th Auto Expo: Biggest automotive show in India and second largest auto show of the world, bifurcated into two events: Auto Expo (Components) and Auto Expo (The Motor Show). Concepts closer to production were shown to public. Popularity of video shows and car reviews made the event a staple of auto enthusiasts all over the world. Entry to event was made easier for general public.
2018:
14th Auto Expo: Dominated by EV's and Concept SUV's.Participation of 12 Startups. Most number of launches on the opening day. Many automakers cite their reasons to pull out of expo. Showcase of armoured vehicles. The nearby hotels cashed-in on the opportunity of scarcity of keys around the expo, with skyrocketing prices.
2020:
15th Auto Expo: A peek into the future of mobility and transportation. EV buses and trucks exhibited. The metro line of NMRC made it's way to Knowledge Park II, connecting the venue with rest of Delhi.
2023:
16th Auto Expo: Expo to be held from 13th to 18th January 2023 after 3 years.
Here's what GTO had to say on the matter:
Perks of the job, the Team-BHP Crew is lucky enough to experience the Auto Expo on Media Days. Only media & journalists allowed in on the preview days, before the expo opens to the public. It's a lot of fun roaming around the emptier expo, checking out the cars up close and interacting with executives & engineers from the auto industry.

Crowds only there at the time of press conferences, but we usually avoid going there at the press conference time.

This time though, a lot of manufacturers bunked the Auto Expo. At one time, participation was mandatory, but the event is losing its sheen due to high costs, the internet & social media. Manufacturers are instead spending the same or lesser money on their own events. Example, BMW JoyTown in Bombay.

This is what some Mods had to say about the general sentiment at the ground level:

Lack of enthusiasm overall is noticeable, especially brands that have done multiple expos over the years.
Maruti, of all brands, would get no visitors if they hadn't brought the Jimny. Heard a lot of non-media visitors today commenting 'bhai ye toh bas bada Nexa showroom lag raha hai' (it just looks like a big Nexa showroom).
Some pavilions are well done aesthetically: Toyota/Lexus, MG, Tata.
A lot are terribly low-effort.
Didn't feel exciting…only Tata yesterday and Jimny today. Everything else was regular fare.
Here's what BHPian SJ1211 had to say on the matter:
Extremely disappointing auto expo this time around. I have never missed an Auto Expo in the last 12 years and wasn't going to miss it this time but this time around I don't have adjectives to describe how bad it was:

Disappointing products (barring a few ) from Hyundai & Kia – waste of space & money for sure.
Maruti only had two products which generated interest – rest all was showroom stuff.
Tata – probably created a whole lot of buzz but seriously? What is going to transpire in the reality? Sierra & Harrier EV? When? In 2028? Also – curvv against Creta / Seltos? Who is driving this decision??.
2W space was dead! No big players.
You would be surprised to know but Commercial Vehicle space was far better compared to PV!
In terms of logistics – it is very far and you would spend more money on commute than on the ticket itself also the food arrangements are pathetic! Sure there is the Haldiram brand in there but food quality is low grade and super expensive!!

Don't think it is worth to travel to Greater Noida to see the showroom or never to be launched products!
Here's what BHPian ledmedico had to say on the matter:
I'll pen down my review of the 2020 auto expo. I was working in Delhi at the time and Greater Noida didn't seem distant. Passes were made free of cost through a personal link.

However it was a total waste of day. Greater Noida isn't near even for Delhites. Parking was very far from the centre in a dusty ground. No rickshaws to transport us to the gates. Shoes and lungs were ruined walking out of the parking, made us pretty tired too!

Inside the pavilion, all I remember was a pretty grand affair by Haval, one of the only displays that were allowing a touch/feel/sit down of their cars. Everything else was locked. Slight interest in the Creta which was then due for its facelift reveal right before Covid hit.

Food and drink was terrible, both quality and pricing. Didn't bother with it. Overall, not a fun day out for the seasoned car enthusiast. It's ok for the more young and social media uploaders who'd have plenty of fodder to click selfies with.
Here's what BHPian sajivkk had to say on the matter:
I like many others here on TeamBHP living in NCR have never given Auto Expo a miss. Following are things that I noticed about expo:

Greater Noida is a bit far from Delhi but I do not mind it at all. I love a drive to the place and think Pragati Maidan was too ancient for this type of event.
Entry: One word for this HORROR. People who buy pass from app or site (bookmyshow), I bought Business pass and then had to stand in a row with over 200 people which was extremely slow. Their staff was saying that 'sir server is slow' the regular excuse with every support staff. Whats the point in today's age to buy a ticket online which has QR code on it, then collect ticket from a counter which again has a QR code in it, to validate and enter the facility. There were people shouting at their staff about sheer bad management of supposedly a world class event. This was the same experience that I had 8-10 years ago that I had at last Pragati Maidan event.
Exhibitors: Best was MG with their venue design and layout, they really put in a lot of efforts there. Maruti, Toyota, Kia, Hyundai with their jawdropping Ionic 5 and all the other participants should be appreciated for their efforts.
Two wheeler: what two wheelers, seriously felt very disappointed that no real player was present their.

The venue is great, all the attendants gave a good show, what is disappointing is really companies which decided to pass the event. I consider Mahindra as a great player at our country level, they should have never missed an event like this.

Also new brands like Citroen, Isuzu, etc. should use this venue to really promote their brand awareness.

I really worry, going by this level there will be really a time soon when the event would be probably be canceled altogether. I think its a national shame to have this event organized with this little participation from main Indian players. There was ample crowd there, but mismanagement need to be looking into. In today's age where QR code and UPI are so prevalent, how can an international level event be managed like this.
Here's what BHPian [email protected] had to say on the matter:
I had visited Auto Expo on 16th Jan 2023, been to the component expo on 15th Jan too, that was my business and I have to be there.

Coming to the Auto Expo, my observation was passenger car OEMs who are in EV space/getting in-to EV space had displayed their products for testing the waters. However the buzz was mainly at Maruti's pavilion for the Jimny and @Tata's pavilion for Curvy, Harrier EV and Sierra. MG's pavilion is a big attraction though, good to see so-many products being displayed. BYD stall is also quite worthy to visit. I personally got a chance to touch and feel the Jimny as I desperately wanted to know about the cabin size and feel with two adults in the front seats. One more key observation is the Korean, Japanese and Chinese (barring MG) OEMs had "Models" alongside their cars which was not there for Tata. Observed fellow visitors commenting that Tata's are saving the cost, but I rather feel it's the Tata's respect towards women, I personally feel that Models are not needed in these Expo's as they were obstructing the photo sessions of the cars.

Commercial Vehicle OEMs who are working on alternative Fuels like LNG, Hydrogen Fuel Cells have displayed the products barring the Tata ACE and Ashok Leyland Dost EVs. Unfortunately I haven't noticed the interest from these OEM's explaining/demonstrating the products except VECV who at-least deployed a resource to brief their Engine which runs on Hydrogen. Company like Bharath Benz giving a miss in this space is bit surprising.

Coming to the two-wheeler companies, no main stream company barring Beneli and Suzuki (only premium bikes) have their products for display. Majority are the new start-ups in the EV space and few regular products in the Ethanol pavilion.

So with this experience will I be visiting the next Auto Expo? may be not. Rather I will follow the T-Bhp's Auto Expo articles for the individual OEMs, which is good enough. Hoping the Expo will improve on the participation from OEMs and more engagement with end consumers.
Check out BHPian comments for more insights and information.
Source: Read Full Article