My Nissan Magnite turns one: 1st free service & ownership update
I have noticed that the fuel efficiency of the car has improved. In fact, it has become more efficient than my Maruti Alto LXi.
BHPian swiftvxi06 recently shared this with other enthusiasts.
Update – 1st Free Service
On 1st April 2022, White Beauty was taken to Autorelli Nissan Topsia Workshop for repainting a part that had peeled off on its own. This part was part of the new boot which was replaced following an accident which we met in February 2022.
The paint peel off
The car was inspected and sent for repainting of the whole panel. It was done in a heat chamber in the paint booth. The car was masked in a very professional manner and the painting was done.
The car being masked at the paint booth
The whole car under the mask
The peeled off area applied with putty
Voila! The newly painted panel
After painting, the car was sent for its First Free Service. The technicians at the service center changed the engine oil, gear oil, air filter, done wheel alignment, as per the First Service protocol.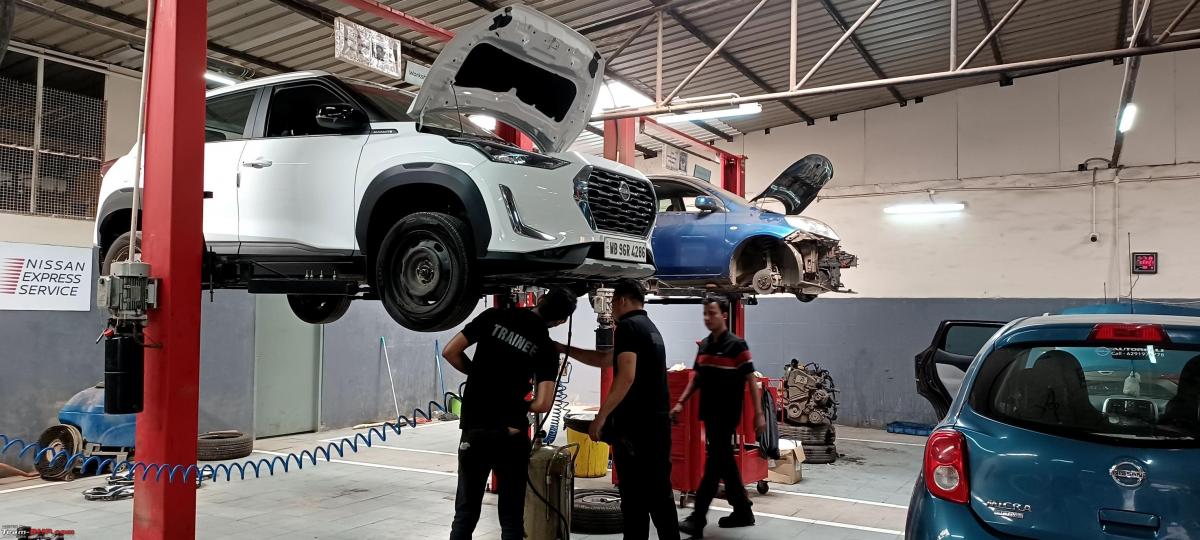 White Beauty raised for servicing
Since I had Nissan's Pre-Paid Maintenance Pack (Gold Care), I only paid Rs 324 as the final bill amount (for wheel weights that aren't covered under the package). Overall servicing was done very well.
The Maintenance packages of Nissan are superb value for money and are very much cost-effective compared to the competition.
White Beauty Celebrates Her 1st Birthday
On 12th April 2022, Our White Beauty (Nissan Magnite Turbo XL) turned one year old. We celebrated the day with a small cake cutting ceremony. Here are the pics: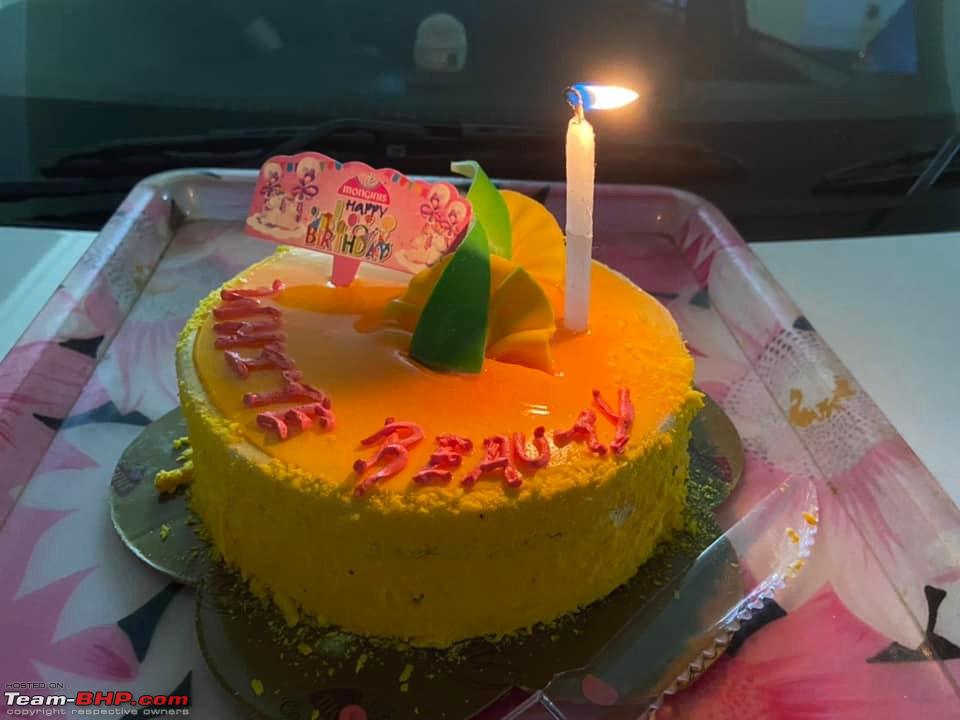 White Beauty's 1st Birthday Cake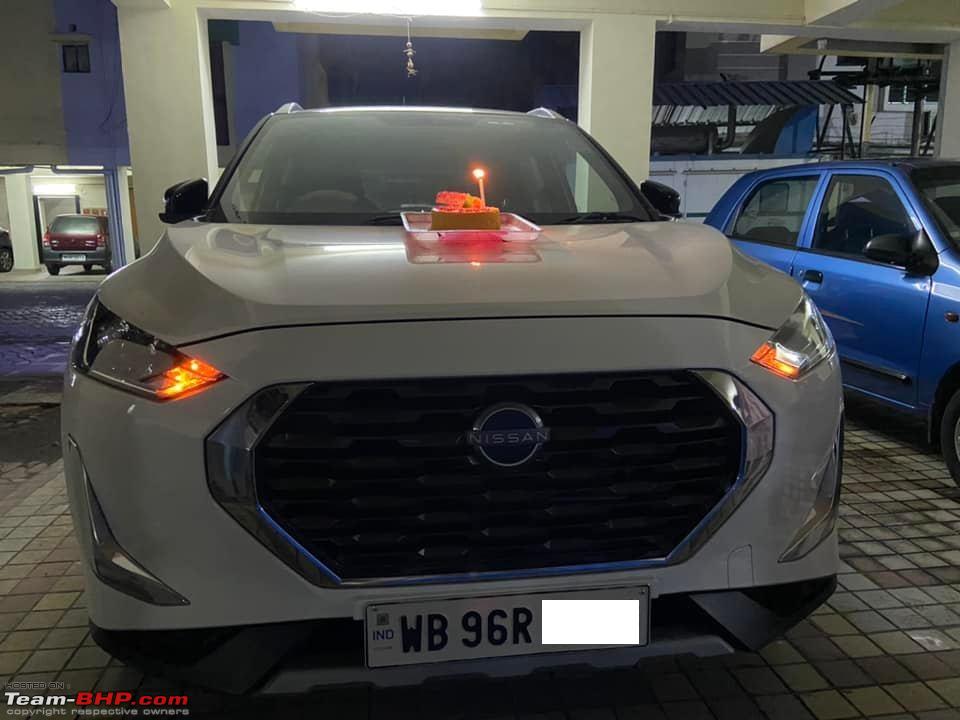 White Beauty posing with her cake
Glimpses of 1st Birthday Celebration of Our White Beauty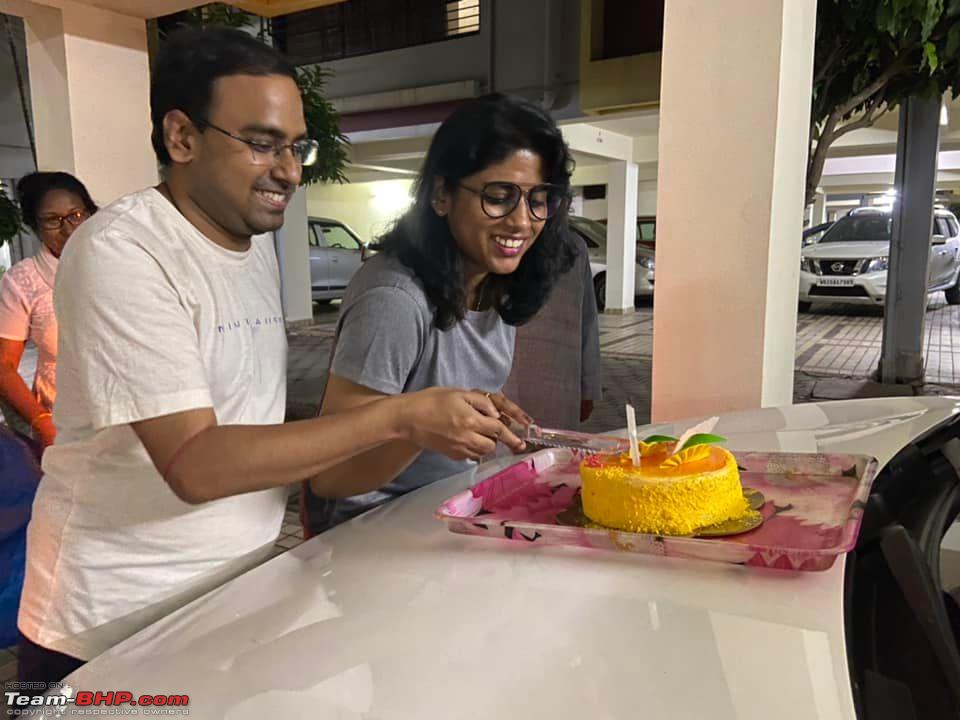 Yours truly cutting the cake with his better half Sudeshna
Old Memory- Delivery Day Picture from Autorelli Nissan Kolkata
Over the last 1 year, White Beauty has been driven a total of just 2600 kms majorly owing to working from home due to the pandemic and not being used regularly since we use our other car ie the 2008 Alto LXI Celebration Edition for going to congested parts of Narendrapur and Kolkata where it's easy to drive in an Alto, negotiating the tight small lanes.
Over this 1 year of ownership, I have noticed that the car has become much more fuel-efficient compared to its initial days (maybe it was still in its run-in period, experts can surely throw some light here), from 10-11kmpl in the city, it was now gone above 16-17kmpl (with AC on) and without AC it is returning around 17- 18kmpl in a city like Kolkata (Tankful method calculations). This actually stunned me and it's more efficient than my Alto LXi. The engine and pick up are still very smooth and there haven't been any rattling issues in the car till now (touchwood). Heard that initial prototypes had some issues with respect to fitment and rattling. Nissan's Service Center in Kolkata has been very supportive and their service quality is good.
First pic of White Beauty at home after the delivery ceremony last year
Check out BHPian comments for more insights and information.
Source: Read Full Article