My Kia Carens turbo petrol: Key observations after 2 months & 1200 kms
All round visibility is excellent. Those little windows in the third row help when reversing or checking the IRVM.
BHPian heavenlybull recently shared this with other enthusiasts.
So, here are some initial observations of my Prestige Plus TGDI after completing 1,200 km in 2 months. All driving was in the NCR, with mostly 2-3 occupants.
Positives:
Even though a turbo, the car has acceptable low-end power. It seems that the pulling power at low rpms (1-1.5k) gets better once the engine warms up after the initial 2-3 kms. Believe it or not, I find this car's low-end better than the Honda Brio, which has been my daily ride for the last 9 years.
The AC is powerful, especially when you turn on the rear one also. Impressed.
Passenger leg space is fine, unless all 6 passengers are over 5'10.
The short back rests of the 2nd and 3rd rows can be a boon or bane, depending on your requirements. Since, except me (6′), all the family member are below 5'7, we have no issues at all. Moreover, shorter backrest means that I have a great rear view in the IRVM.
All round visibility is excellent. Those little windows in the third row help when reversing or checking the IRVM.
Negatives:
It's a 7 seater, but has only a lap belt for the middle passenger, and no headrest either. That middle space in the second row is for torture only, with a hard seatback and less thigh support.
Useless mud guards provided by Kia/dealer. They're so small that all the mud/muck splashes onto the plastic claddings. Better get functional ones installed outside.
Ultra-cheap hollow, plasticky click sounds when operating the horn, and also the power window switches. The official review mentions the same. Looks like it's a trait of all Hyundai cars, since our Grand I10 also has such irritating 'clicks' when using these door buttons.
Keyless door unlock sensor button is only on the driver side! Man, this is such a horrible miss from Kia. A real convenience feature reduced to half in effectiveness. How many times I have come to the passenger side, and wish that door had the unlock button.
The front center armrest is fixed too far back, and it's also non-sliding. So, for most people, it'll just be used as an elbow-rest.
No roof grab handles in the third row. Maybe higher variants have them?
The headlight leveler is illuminated, but not its dial!
All door buttons are illuminated, but not the ORVM adjuster.
The glovebox has a BIG gap inside at the top (refer to the image below), so if you fill it to the top, stuff will easily slide into that gap. I found this the hard way when some leaflets I had kept in there slipped through.
There should have been an option to manually disable the front parking sensor. It comes on each time you engage the reverse; I find it a nuisance at most times.
This is my first car with a rear camera, so I don't know if that's how it's supposed to work, but the camera shows objects further away than they really are. The field view and quality of the camera is good though.
Other points:
MID showing a mileage of 8-8.5 kmpl. Totally acceptable in the short city runs (AC always on) that I have done (the Brio gives 11). Haven't gone beyond 2K RPM yet, but the turbo does kick in at around 1.5, and gives a strong push!
Overall, the Carens is looking to be an excellent family car. I think it's virtues will really shine on the highway trips with our 6-member family aboard. On the other hand, the little negative observations I have made till now means that real attention to detail is lacking in some places.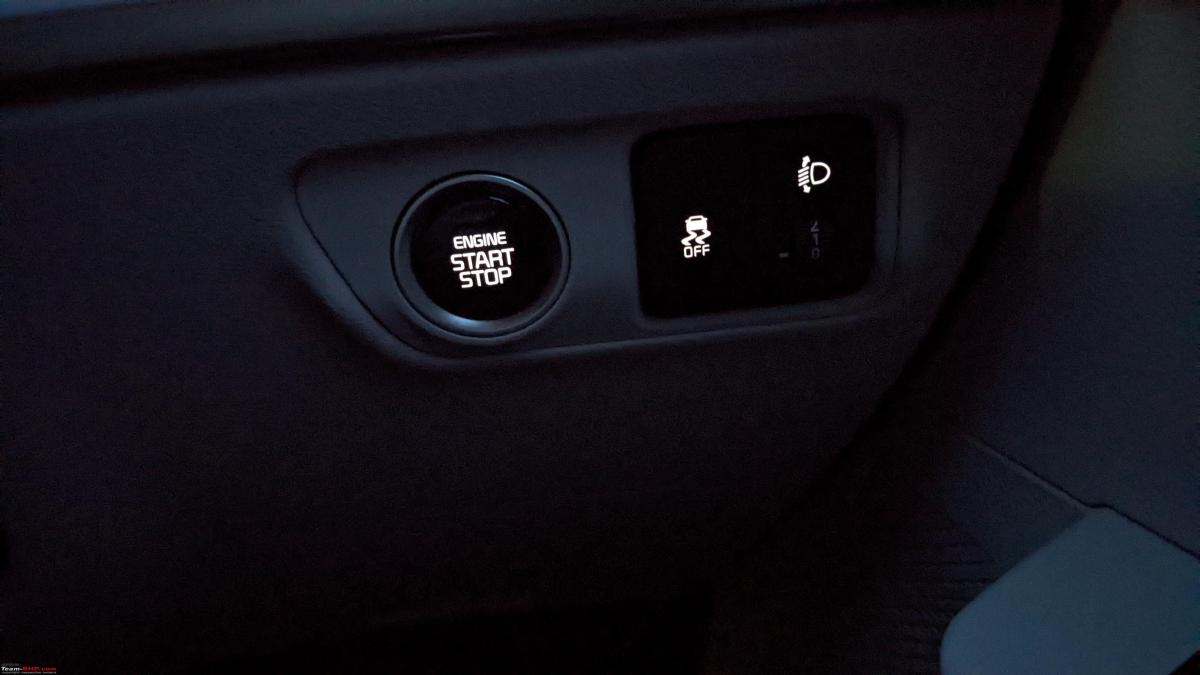 Check out BHPian comments for more insights and information.
Source: Read Full Article