My Honda CB350RS's mudguard broke: Looking for sturdier replacement
The metal mudguard from the H'ness anniversary edition costs 4 times more than the regular part on the RS.
BHPian SVK Rider recently shared this with other enthusiasts.
A minor update on my Honda CB350RS.
Last Friday, during my daily commute to the office, suddenly the front mudguard got broken exactly from the middle.
I had front mud flaps installed as genuine accessories from the showroom itself.
Upon visiting the service centre they mentioned that due to the mudflap itself this thing happened, which most of the owners have already faced.
The issue with the mudguard of 350RS is actually due to its material. On the H'Ness Honda uses a metal mudguard, however, in the RS version it's made of plastic. Moreover, the H'Ness has a slightly bigger metal mudguard than the small unit of the RS. Hence due to added weight, they tend to break in this way.
Attaching a few pictures of the broken mudguard for reference.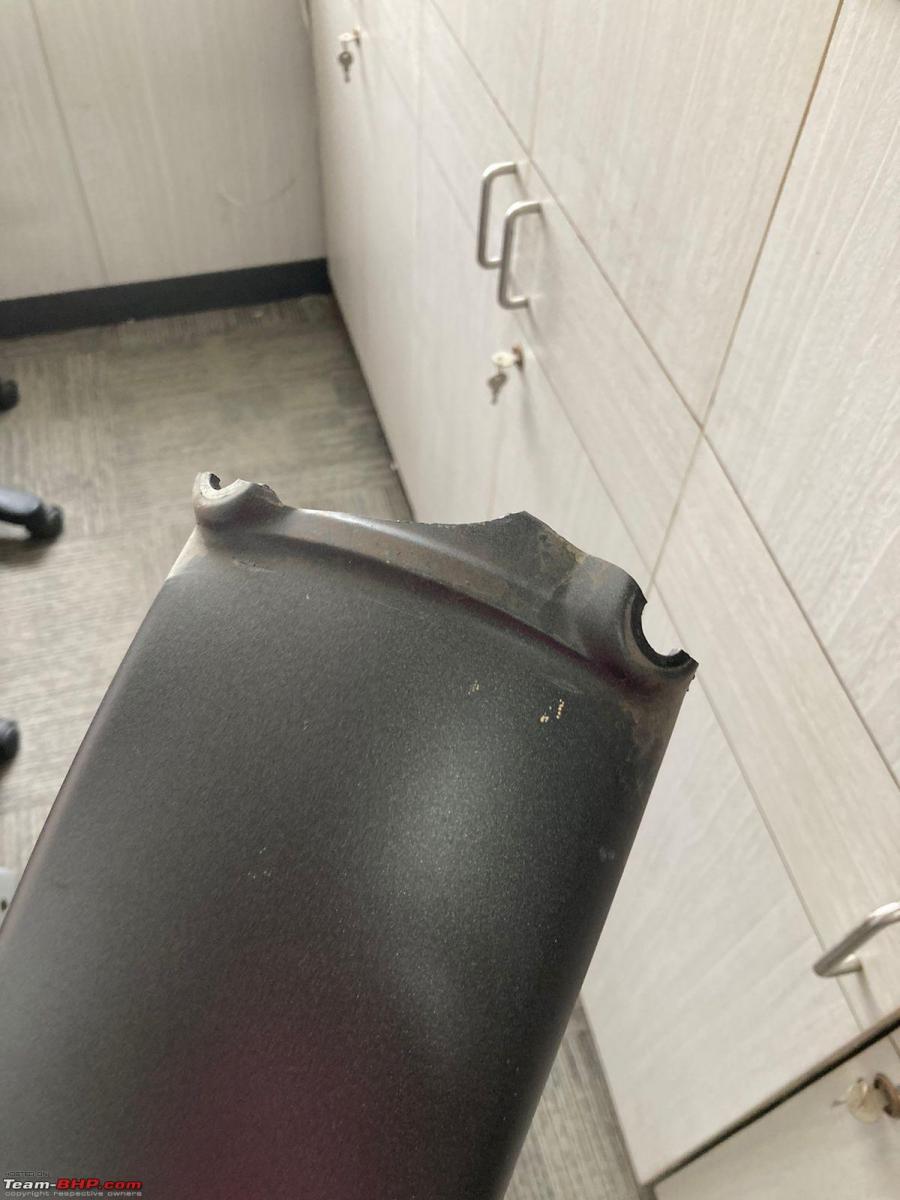 The damage was exactly from the middle of the mudguard where it is attached with the front forks.
However, I have already mentioned that Honda has thought very less about the muddy conditions of Indian roads during monsoons and rainy days, and there is very less to almost zero protection from the dirt & muddy surfaces.
Hence many of us opted for the extended mudflap for the front as there are no official accessories available for the rear for mud protection, but if the quality of the mudguard is so vulnerable then it will be difficult to use them on daily basis. Moreover, if the extended mud flap is installed also, they make a bad sound whenever you ride through the undulations or even bad roads.
Honda guys suggested going for the black metal mudguard of the anniversary edition of the H'Ness along with the mudflap, but it is almost 4 times more costly than the regular mudguard of RS and to me, it spoils the looks also. Hence I installed the normal mudguard only for 700 rupees all-inclusive and planned to keep it like that without any added mudflaps.
Attached is the bill for the job done also for reference.
However, I am looking for a proper metal mudguard where the extended mudflaps can be installed, and if I do get something will update in this space.
In the meanwhile, if anyone has installed something similar then please do suggest it.
Check out BHPian comments for more insights and information.
Source: Read Full Article