My Grand Vitara AT: Buying process & observations after first 1100 km
The driver's seat is very comfortable. I have completed two 300 km round trips and there was no sign of any fatigue. Good seat quality and silent cabin goes a long way!
BHPian buntee90 recently shared this with other enthusiasts.
We brought our blue Grand Vitara Zeta MT home on 12th October. I have driven it just below 1100 (800km highway:300km City) kms over the past two weeks.
What I like:
Good safety package; 6 Airbags, Disc Brakes all round, ESC, Hill Hold Assist, Safe Global C platform.
Looks handsome from the back and sides, okayish front.
Big car feel, commanding driving position, good ergonomics;everything essential falls in reach easily.
Consistent build quality and nice looking interiors. No rattles and squeaks till now.
Very refined and silent engine. Top class NVH; almost at par with 1.5P NA Creta.
Very tractable engine in the city; 20Kmph in 3rd gear no problem, press the accelerator lightly and torque boost from from 48V mild hybrid system ensures there is no lag. We can easily potter around town in 3rd and 4th gear. Part throttle response is good enough for the city speeds.
Comfortable and sorted suspension; small speed breakers at speed; no problem, flyover joints; no problem. The ample ground clearance of ~210mm ensures there are no under body scrapes on rural roads which I frequent regularly in south western part of Haryana.
Responsive and glare free 9″ infotainment system. Wireless CarPlay and Android auto works flawlessly with iPhone 13 Pro and Oneplus 9 Pro.
Mileage is very good; 19-20Kmpl on highways at speeds of 90-100 with AC on and 2 occupants on board. 14-15 in city is easily manageable with AC.
What I don't like:
Front end of the car could have been better; Toyota Hyryder has better looking front end in my opinion.
Engine performance is just okay for my needs; nothing exciting like the 1.5NA of Honda City. Further compounded by the fact while i was waiting for delivery formalities, I drove the Grand Vitara Hybrid variant for a short distance and I was blown away by the the initial acceleration of the Hybrid ! I don't think any car below 25L(non- electric) can touch it till 80Kmph. Afterward it tapers off.
Engine noise creeps in after 3000RPM. But in don't drive over 3000RPM either way.
Light doors; they don't close in one attempt 5 out of 10 times- very irritating.
Sound quality of 'Arkymys Tuned' infotainment. It is acceptable after a few tweaks.
Creta has plusher ride at low speeds.
Okayish headlight performance; good at low beam but struggles at high beam on undivided roads with vehicles coming from opposite direction. I believe Brezza has better headlight throw and brightness.
Initial shortlist:
Brezza Zxi AT:
Reliable, Spacious, Efficient, Good AT GearBox, No head room problem for my 6'2" Dad, Looks Okay. Booked in 1st Week of September. Was offered a Silver Dual Tone Zxi AT by a SA from Pasco Gurgaon but I was in two minds at that point. When I called the SA a day later after consulting my family, the car was sold already. Otherwise this post would have been about the Brezza AT!
Sonet HTX D AT:
Great Engine Gearbox Combo, Cramped cabin , Stiff Suspension Bouncy Ride. Ruled out.
Seltos HTK Plus petrol MT:
Overall a good car with 6 Airbags, all wheel discs, ESP as standard. Ruled out because of Poorer looks as compared to HTX variant which was overpriced by a good margin despite not offering many upgrades over HTK plus. The questionable safety rating of almost 3 Stars and unstable shell finalized the decision.
Creta S Plus Knight Edition P MT:
Same as Seltos but plusher ride and panoramic sunroof. Ruled out due to safety issue.
Taigun and Kushaq were ruled out due to less than normal AC performance which I experienced during a TD. The 1.5L variants were going out of budget. Road presence was an issue too. They look like Nexon, XUV300 competitors.
While waiting for the Brezza Zxi AT, I was thinking that the Grand Vitara Zeta AT variant should not cost more than 1.5-1.8L than Brezza Zxi AT but Maruti had other plans. The GV Zeta AT was around 3.2L dearer than Brezza Zxi AT. Thought of going with Grand Vitara Delta AT for a short while; it was costing around 1L more than Brezza Zxi AT. But that idea was dropped due to too many misses as compared to Zeta variant.
Meanwhile, I was calling all the dealers in Delhi NCR about a lucky Brezza Zxi AT cancellation. Some dealers were pushing 20-30k additional accessories to which I said a firm NO. The wait continued.
Test drive experience;
In the meantime, Grand Vitara deliveries commenced before the test drives started! and I inquired about TD of MT version just out of curiosity. Got a call from Rana Nexa Gurgaon and immediately I jumped at the TD. The location was 25 km from my residence. The TD car was a blue Alpha MT. First thing I noticed that the interiors were so much nicer than the Brezza. We were 4, 80 kg plus persons in the car and I took a long Test Drive from Rajiv Chowk to Kherki Toll Plaza and back(~20Kms). The gear shift was precise and easy. The car had good low end response. It was calm and composed at 100Kmph when it went over undulations on the highway. The engine response was fine as I was upgrading from a 2014 wagon-R. The Grand Vitara has confidence inspiring brakes. I found them superior to a friends' Seltos.
Came back home and started calculations: Zeta MT variant was perfect for us. 6 airbags, alloy wheels, rear wash and wipe, all wheels disc brakes, ESC, Hill Hold, Great headroom for my 6'2 father, 9" responsive infotainment among various little other things like thoughtful cabin lights at inside door handles. For 1.6L over Brezza AT I was getting a far better looking car, 6 Airbags, 17" wheels, 9" Infotainment. Misses were sunroof which my father was already against (he was pushing me towards Brezza Vxi AT) and AT gearbox. Since the use case was 30:70 City:Highway running a decision was made in favor of MT Grand Vitara.
Booking and delivery experience:
My ongoing booking of Brezza AT at Pasco Gurgaon was coverted to Grand Vitara Delta AT and later to Zeta MT at Pasco Nexa Gurgaon. Further, I had a feeling that Grand Vitara will be available easily because of the 'High' price And I was right ! Magic Auto Dwarka, Delhi called me a week later about a Blue Zeta MT available for immediate delivery. No accessories were pushed, insurance matched to my quote, overall a very good experience at Magic Nexa Dwarka.
For loan I went with SBI; minimum documents and best deal at 7.85% , the Branch Manager even sent the documents to my office for signing. Overall a great experience with SBI.
Delivery date was finalized and after a little drama with the dealership accounts people (over the Loan payment not coming through) finally got the car at 7:15 PM on 12th October with all family members.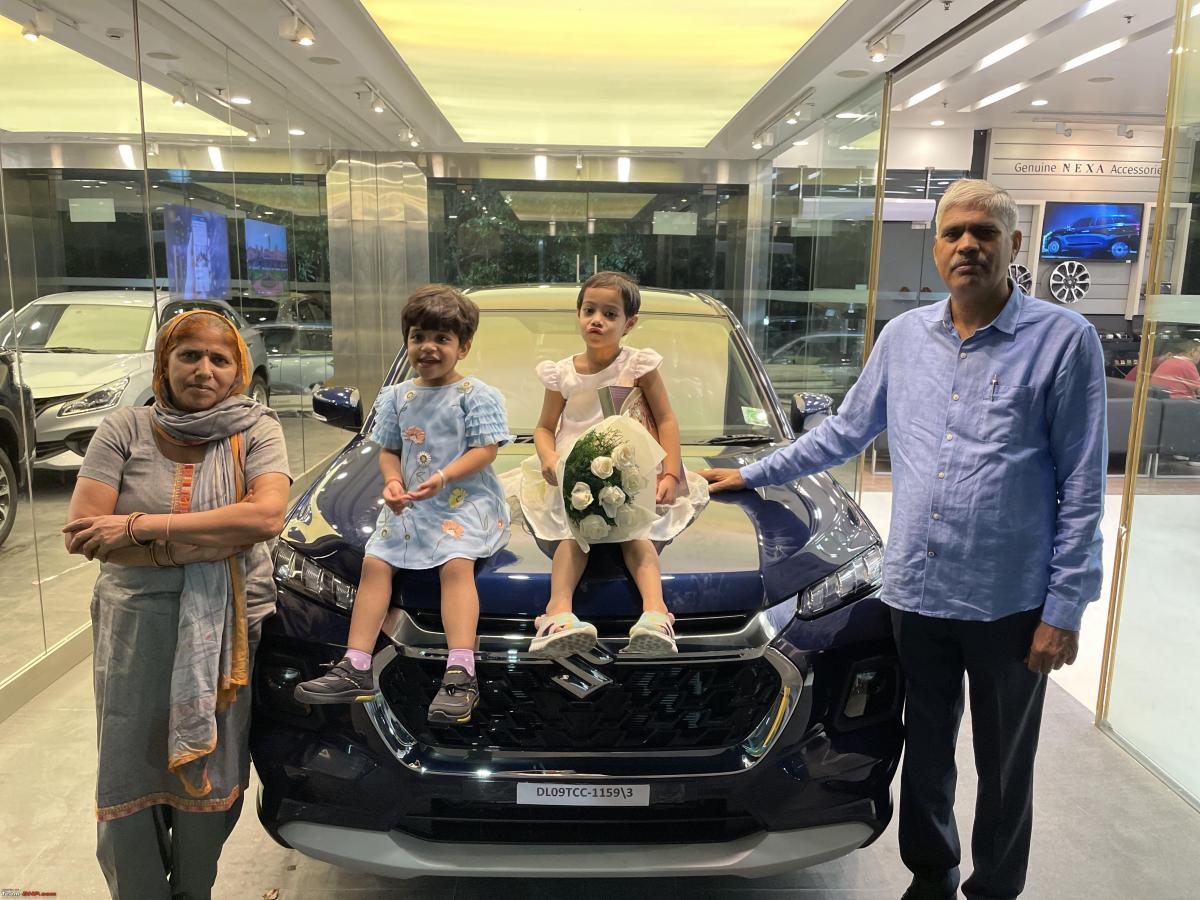 With Mom, Dad with daughter and niece taking delivery.
Cost breakup:
1389000 ₹: Ex showroom
103500 ₹: Registration and road tax Haryana (with 10% Roadtax rebate for mild hybrid in Haryana)
40500 ₹: Insurance SBI General with RTI, Zero Dep, Engine and Gearbox Protection and lock and key replacement.
885 ₹: Maruti rewards.
5070 ₹: Accessories: Nexa branded 3D doormats , Visors, Mudflaps.
13890 ₹ :TCS.
23600 ₹: extended warranty up to 5th Year.
Total: ₹ 15.76L on road Gurgaon.
Here are my initial impressions after driving just shy of 1100 km.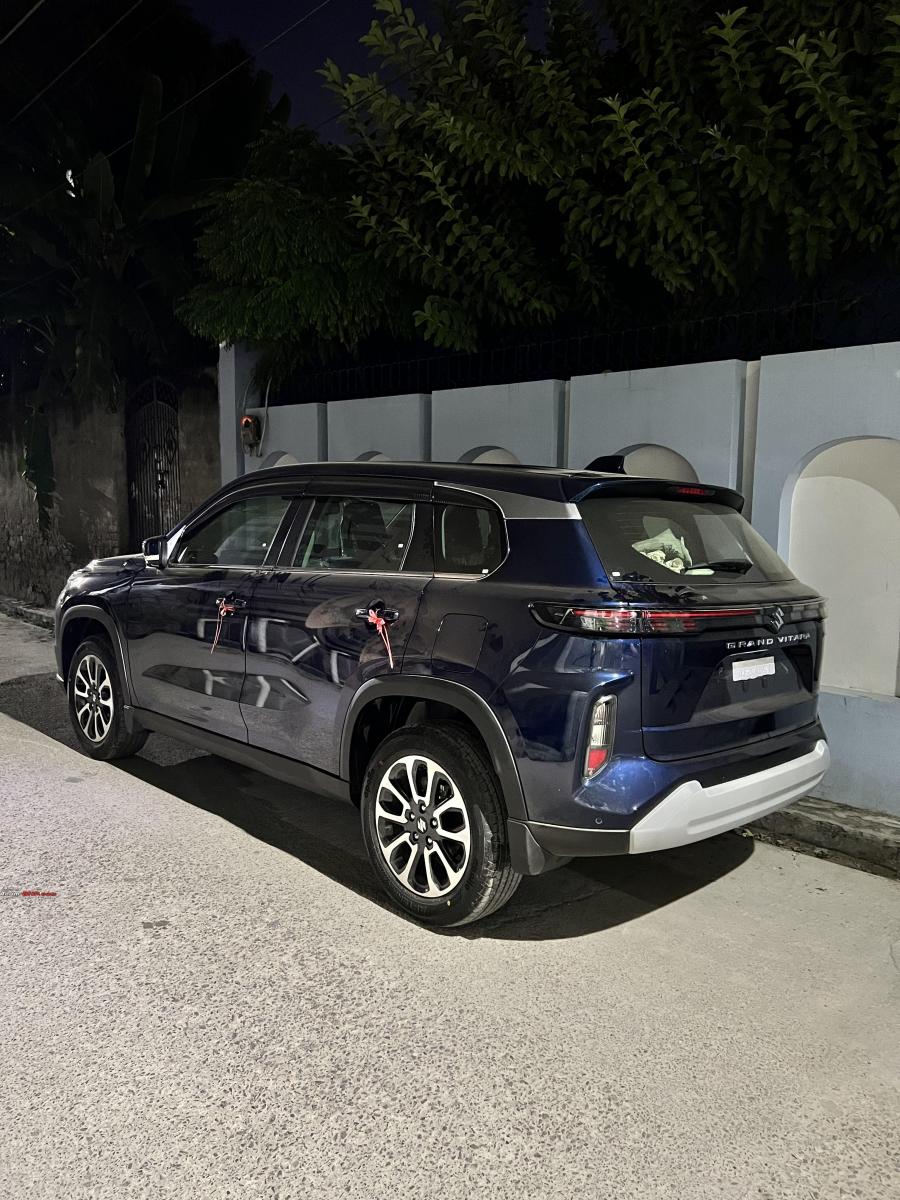 Rear three quarters.
Side view.
Looks:
The car looks great! It looks like a Range Rover from behind and from side it looks like the Jeep Meridian. It looks big from the outside. Looks was the primary reason I went for the Grand Vitara over the Brezza Zxi AT. Other reason was Brezza AT were nowhere to be found after a month of booking.
Comfort and NVH:
I am upgrading from a 2014 Wagon R; first thing I noticed was how eerily silent the Vitara is! No outside noise, you can just cruise at 90-100 kmph all day and talk to each other without any disturbance. Second is ability to soak up bumps and undulations on highways. The Wagon R was wobbly and unstable over 70 on uneven roads. The Grand Vitara is planted and unfazed by potholed marred Delhi-Jaipur NH-48.
AC performance:
With UV cut glass and rear AC vents the cabin should cool down quickly. Can't comment on the AC performance much as temperatures have mellowed down in NCR in past couple of weeks.
Ergonomics and interiors:
The driver's seat is very comfortable. I have completed two 300 km round trips and there was no sign of any fatigue. Good seat quality and silent cabin goes a long way! The view from the driver's seat is just great. It has good seat adjustment range and with tilt and telescopic steering driving position is also very comfortable. Coming a from Wagon R, I found the  interiors to be well appointed, but the large grain hard plastic on the top part of dash board and door trims could have been better. There are plenty of storage spaces, doors can hold 1L Water bottles. place to keep key and misc stuff is also there.
Engine gearbox and mileage:
The engine has good low end response and you can easily potter around town in 3rd-4th gear at speeds above 20KMPH. The Gear shift is precise and clutch travel is just right. You will have no problem with gearbox in the city with light traffic. The boost from 48V battery does help with the part throttle response. On the highway, the car is very comfortable at speeds of 90-100. As already mentioned in the review the car maintains 100Kmph with Engine spinning at 2900rpm. The instantaneous mileage on MID hovers between 19-20 kmpl. I was skeptical about the mileage and engine noise at such high cruising rpms earlier, but after driving over 200Km on the awesome NH 152D Trans Haryana Highway that doubt was laid to rest. Some amount of engine noise does creep inside after 3000rpm but nothing some good music can't handle. I believe 19-20Kmpl on highways at speeds of 90-100 and 14-15 in city is easily manageable with AC on. In the first tankful over 550Kms the average was 16.9 kmpl with 500KM of highway and 50 Km of dense traffic with lot of Idling.
Infotainment and sound quality:
Wireless CarPlay and Android Auto works flawlessly with IPhone 13 Pro and Oneplus 9 pro. The 9" Infotainment is smooth and responsive. No problems there. Sound quality is nothing to write about. It does the job after a few tweaks to the equaliser.
Tyres and brakes:
The Grand Vitara Zeta comes with 215/60 R17 Apollo Apterra Cross. They are rated for Mud and Snow. I found them better in terms of comfort and road noise than Yokohama Earth 1's shod on my cousin's Swift and a friend's Brio. Braking is excellent all round. Got an opportunity to test brakes once on the highway when a stray dog appeared from nowhere, the car shed speed quickly without any drama and was planted throughout. Credit to the tyres too. I think the Apollo Apterras are underrated.
First service done at 1080 kms. No issues.
Cheers!!
Check out BHPian comments for more insights and information.
Source: Read Full Article