My experience travelling by bus and train in the Netherlands
The train peaked a speed of 140 kph (maximum service speed) and it was maintaining great average speeds. It was perfectly on time for each station.
BHPian RRA_Blogger recently shared this with other enthusiasts.
Round travel review between Eindhoven and Den Haag (The Hague).
Onward:
Flixbus|GG BW 445(Deutschland/Germany)|Mercedes Benz Tourismo|Third generation.
Line/Lijn/Linie – N116 Tübingen/Darmstadt <> Amsterdam Sloterdijk,
Via: Stuttgart Flughafen/Airport<>Heilbronn<>Heidelberg<>Darmstadt<>Frankfu rt Flughafen (Terminal 1)<>Frankfurt Central<>Siegen<>Dortmund<>Bochum<>Essen<>Duisburg <>Venlo<>Eindhoven<>Rotterdam Zuidplein<>Rotterdam Centraal<>Den Haag<>Amsterdam Schiphol Plaza.
Fare: €6,99 (Base fare), €1,49 (Seat reservation fare for a normal seat).
Timelines:
Scheduled/Actual Place-log
05.30/05.50 Eindhoven Centraal Arrival
05.30/05.53 Eindhoven Centraal Departure
06.50/07.10 Rotterdam Zuidplein Arr/Dep
07.10/07.30 Rotterdam Centraal Arrival
07.10/07.40 Rotterdam Centraal Departure
07.40/08.10 Den Haag Centraal Arrival.
Expected Journey time: 2h10m.
Actual Journey time: 2h17min.
Description:
This was my first official bus trip at a foreign country. As the Flixbus was way cheaper than the NS trains (Except for the scenario when we book a group ticket), I decided to book both ways (Eindhoven<>Den Haag and Rotterdam<>Eindhoven), in order to go to collect an official document. The previous day, I was sure that I had to wake up early as I was not supposed to miss the bus. Hence, I slept way too less, and managed to get ready just on time. Just as I departed, Flixbus mailed me saying that my departure was delayed. Therefore, I decided to walk slowly to the pickup point for the Flixbus (John. F. Kennedylaan). It serves as a pickup point for all intercity operators, namely Flixbus and Sindbad. It was cold and drizzling, and it was indeed fortunate with thermals and umbrella on. The roads were eerily quiet and rather unoccupied, which is the typical early morning scenario literally everywhere.
The N116 arrived with a delay of 20 min all the way from Tübingen. It was a Mercedes Benz Tourismo (apparently the standard one with 4×2 configuration and a length of 12.2m). I think it may have been delayed due to border checks or rest stops. There were two crew, both being drivers. They opened the luggage rack, and the passengers kept their luggage themselves. One of the drivers asked for the ticket, and since it was coming from Germany, apparently the front seats were not open for passengers who reserved normal seats. Those were thus, the panorama seats. All passengers boarded via the rear entrance. The driver was not that interactive, and just said okay after the ticket verification. He neither was able to communicate that I had to magnify my screen for him to read my QR conveniently.
Upon entering, all I noticed was passengers sleeping like logs, and hence I had to enter with utmost silence. Somehow, I found my way to the seat, and I didn't have much time to check the ambience of the bus immediately. I did that element by element, as an FEA solver would do. It was a 43-seater; hence it was easily 12.2m long. The first elements I saw were that of the seats – The recliner button, the seatbelts, the USB type chargers overhead (for other seats, it was in the sides), the AC vents and the reading lamps. Well, it was also the first ever time for me in a Mercedes Benz. I was quite impressed by the top-notch ambience from the inside. The lights were dim throughout, in order that the other passengers don't face disturbed sleep. The fleet also had a western closet, as should all Flixbuses be equipped with. The support from the foot to the spine was perfect, but I didn't find enough neck and head support. The seat design in my perspective could be better. The cooling was quite okay, and I didn't adjust the AC vents due to the cold weather outside (also the fact that I might switch on the reading lights by mistake disturbing other passengers). The degree of recline was perfect, but a co-passenger, also a colleague, had quite some trouble finding the recliner button.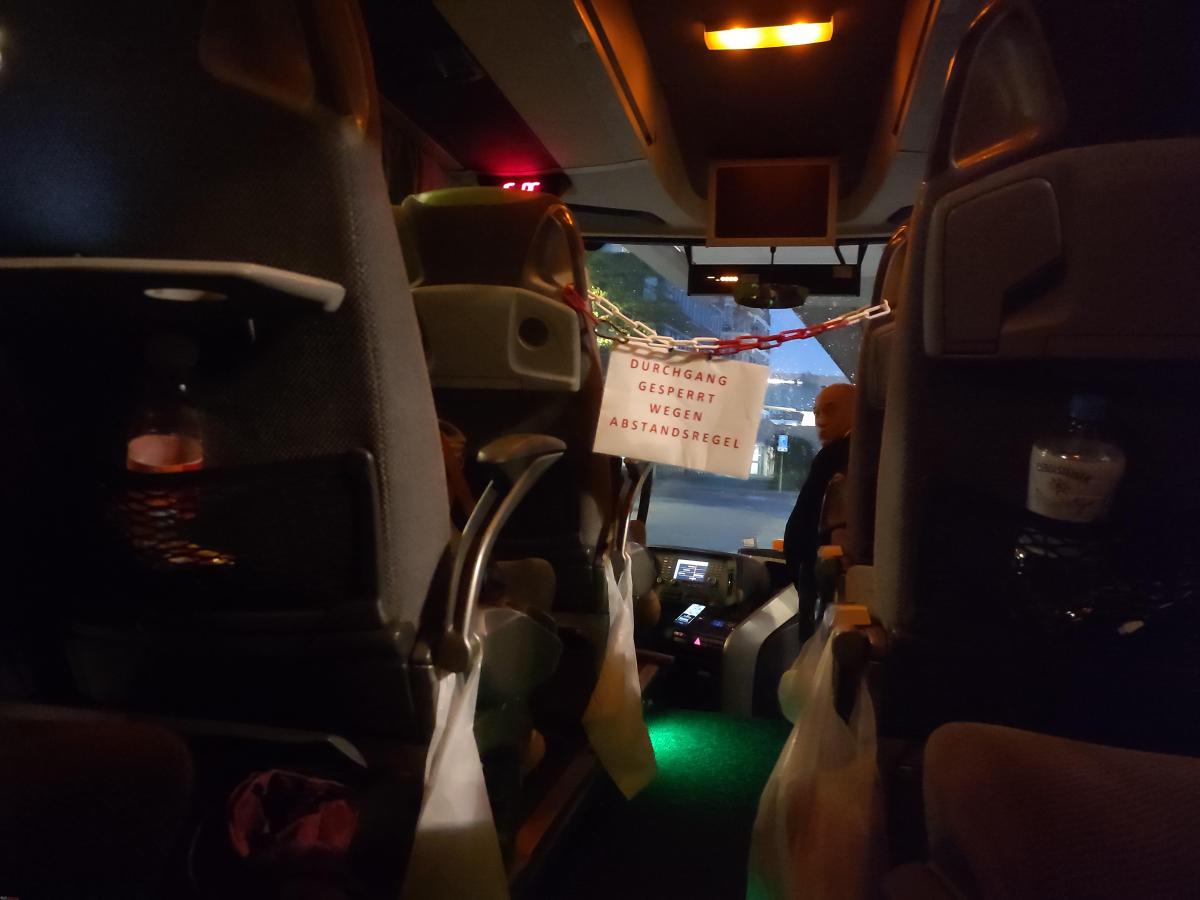 The USB chargers were provided clearance, and the bus did have Wi-Fi inside. However, upon connecting to the Wi-Fi, a 404-error popped up instead of the Wi-Fi authentication page. This was rather dissuading, and I had to use mobile data throughout (it is not the data usage being a matter of concern but the fact that the batteries of mobile phones drain faster while connecting with mobile data than connecting with Wi-Fi dissuaded me more). I am not sure if this was a problem with my phone or the Wi-Fi.
The journey started, and the driver maintained perfect speed limits almost everywhere. 70 kph in a 70 kph stretch, 100 kph in a 100 kph stretch. While overtaking, he adequately informed the other road users, and never used the horn (the light horn is more than sufficient during these times). The driving was very sleep friendly. Enroute, a truck was giving quite some trouble (he wanted to overtake every other truck and we had quite some hard time overtaking this one, not forgetting to mention he used the indicators after entering the other lane), and after we overtook, we entered a feeder road to the next highway, and we were trailing behind a slow van, when, the truck driver gave a very long horn, but our driver didn't pay heed. Finally, it was relieving to have ended the competition with him after that. His thrust-gearshift ratio was optimal, and the fleet had a consistent pickup. The braking alone was sharp at times, from both the drivers.
The other driver drove for a short distance within Rotterdam. His driving was good too, and at a tight curve, there was no option but to curve near a signal pole. He nailed it. But he approached it a bit faster. His thrust-gearshift outcome was a little low. The drivers took a 10 min break at Rotterdam Centraal. The engine and AC was switched on throughout the break. In all cases, the drivers announced the stops via the mic.
The engine specs are listed below:
Engine: OM-470 6-cylinder diesel engine.
Power: 265/290 kW.
Transmission: MB GO 250-8 PowerShift 8 speed automated manual.
I got off at a cloudy and extremely shivering Den Haag 2 hr 17 min into the journey. The timing was indeed managed such that the incoming and outgoing delays were conserved or the outgoing delay was a little less than the incoming delay. The comfort was heavenly inside for a short nap with all the silent ambience (passengers have to talk in whispers or they get shushed by a sleepily irate passenger in front of them (this happened to me when I was talking in a normal voice), excusing the head and neck support. The overall outcome of the ride was good and satisfactory, but I was not very enthralled by the ride (maybe as I am used to having Indian journeys and I am new to the European bus rides). However, it is indeed worth the money, this being quite the cheapest fare possible for the stretch. I'd have maybe liked it better if the Wi-Fi were functional, and Flixbus could work towards the Multimedia entertainment in all buses. I feel that the communication quotient of the drivers must be improved though.
Reminder: Always wear your seatbelts on a Flixbus once seated!
Return:
NS Intercity (IC)|E 186 013|Intercity Direct (ICD)|2e klas.
Locomotive info-Class 186|B-B Electric locomotive|Bombardier|TRAXX F140 MS2|Pantograph pickup|Build year-2014|Owned by Akiem.
Coach: 2e (2nd class).
Route: Den Haag Centraal (Track 2) <> Eindhoven Centraal,
Via: Den Haag HS<>Delft<>Rotterdam<>Breda<>Tilburg.
Intermediate stops: 5.
Fare: €22,50
Timelines:
Scheduled/Actual Place-log
15.39 Den Haag Centraal
15.42 to 15.44 Den Haag HS
15.51 to 15.53 Delft
16:03 to 16:05 Rotterdam Centraal
16:36 to 16:38 Breda
16:51 to 16:53 Tilburg
17.15/17.14 Eindhoven
Expected/Actual journey time – 1hr 36min/1hr 35min.
Description:
I was supposed to explore Rotterdam and board the N93 from there, but unfortunately as my energy depleted exploring Den Haag, my heart and brain worked together telling me to cancel the Flixbus ticket and take a train though it was much costlier. Since I was too tired to undergo anymore exploration, I decided to invest on a cancellation and I now have a €4.99 voucher with flixbus which I can use for my next trip.
Meanwhile, I checked in and was doing some railfanning with depleted energy levels, and finally my train arrived. I was rather waiting for the passengers to get off, as I could board the train and seat myself comfortably. Once I got onboard, I decided to charge my mobile with the laptop (as the train didn't have one). I think NS could consider including mobile chargers, irrespective of class. The legspace was ample enough to have a peaceful train ride.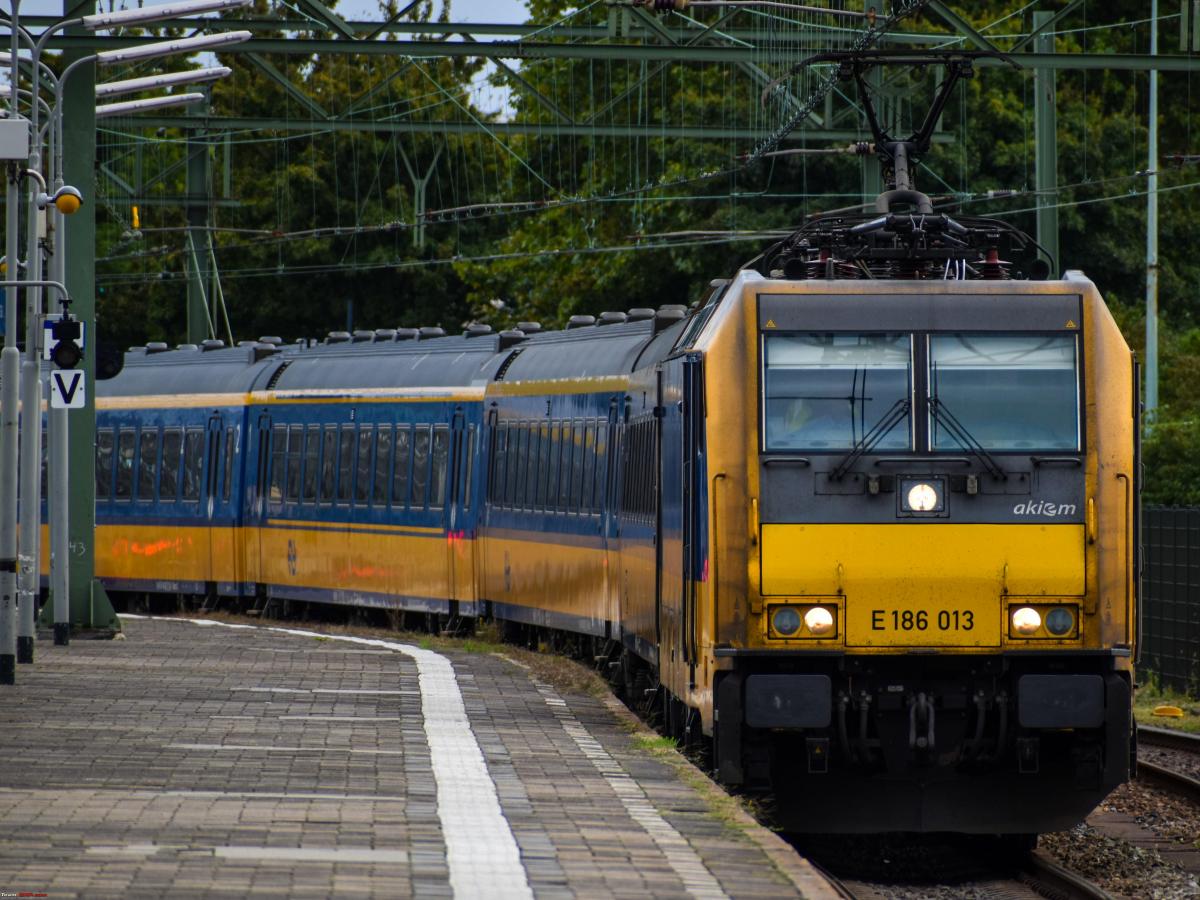 The second-class coaches have a western closet as well, and I found that it was maintained really well and clean (the Dutch love being neat). This was something I wish we Indians also should be vying for. Apart from that, they're air conditioned (of course). The seats are blue in colour, so as to differentiate the first-class seats that are red. The first-class seats are told to have more legspace and few more features, but I found that the comfort of a second-class coach was more than enough for a train ride. I found that the comfort was perfect and optimal throughout, and I also decided to listen to some songs to enjoy the ride with a half nap. In fact, I liked the comfort of the single deck trains, compared to that in the lower deck of the double deckers, which was rather bumpy.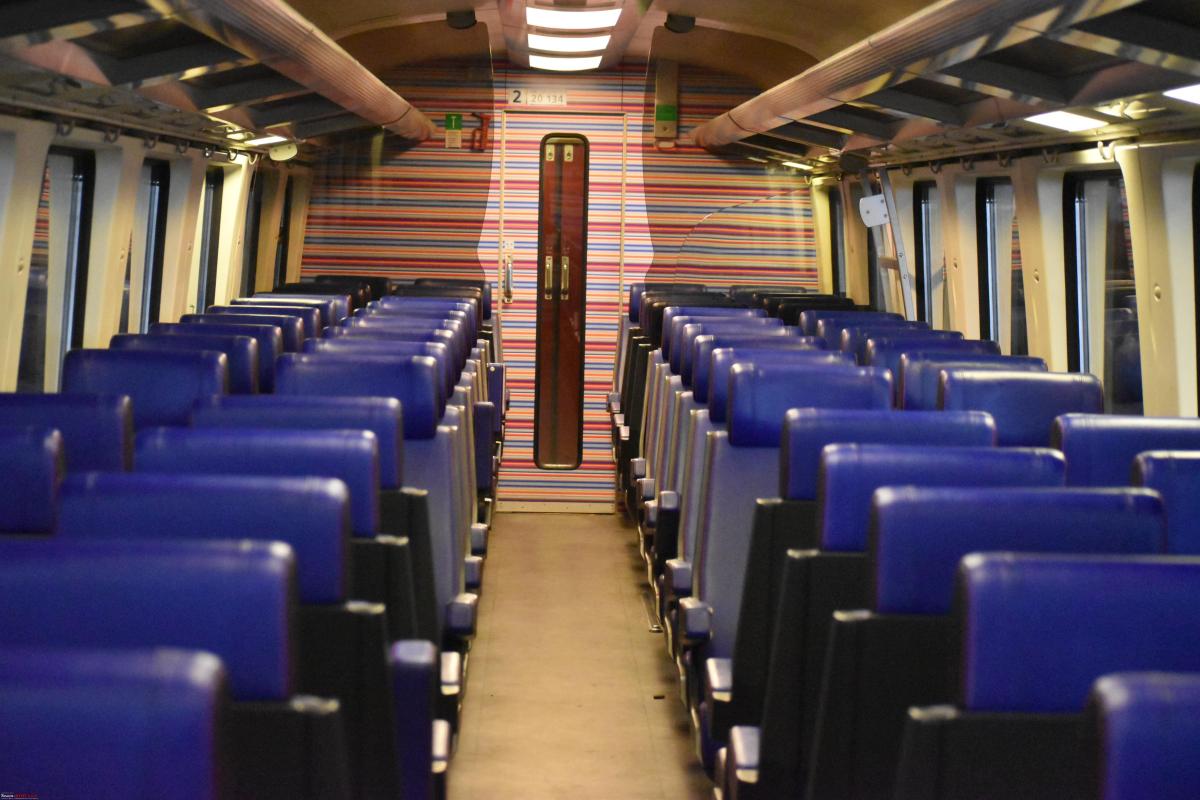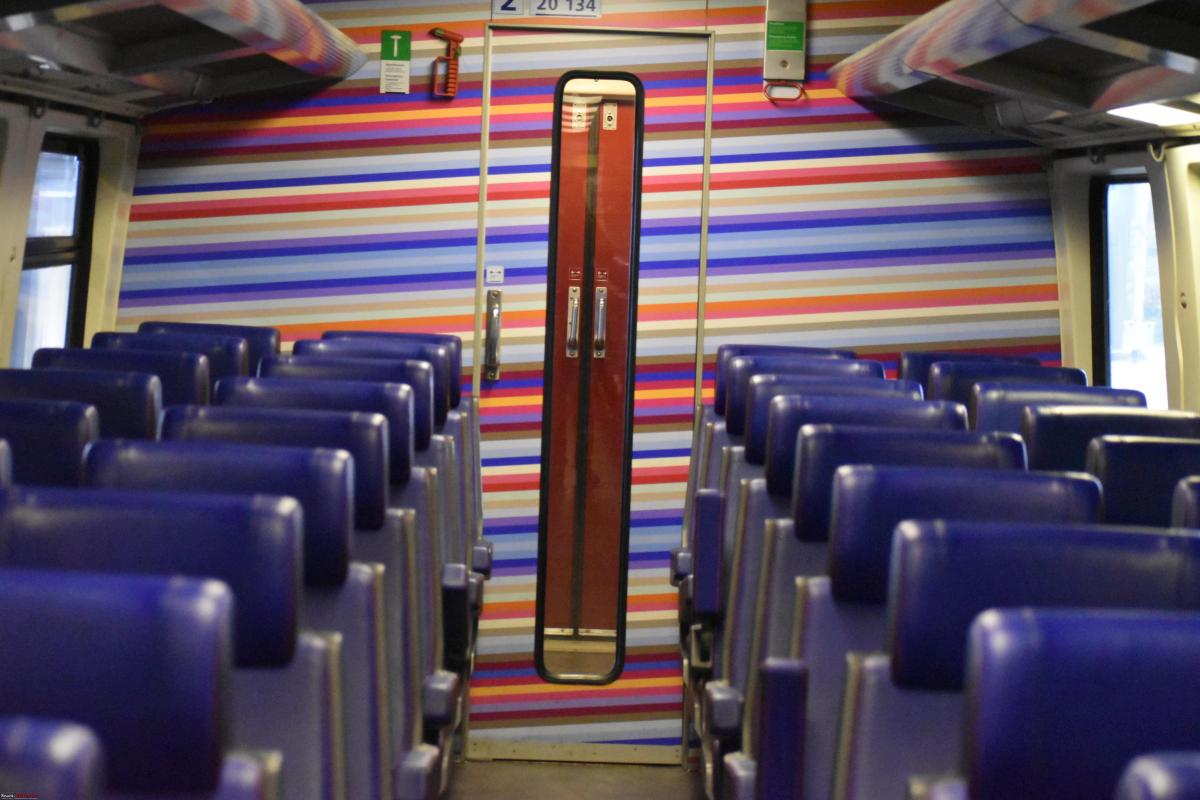 The train peaked a speed of 140 kph (maximum service speed) and it was maintaining great average speeds. It was perfectly on time for each station, and throughout the ride, I was gazing at the varying landscape across station to station, and city to city. I arrived at Eindhoven Centraal with perfect comfort, an outcome of any typical rail ride.
NS is highly recommended to try with group tickets on weekends (7 people maximum, and you are levied the least possible fare per person for the ride). In this case, NS edges out very well on journey time, but if there are maintenance works that require us changing at stations, it would be harrowing with all the luggage around, however the directions given by NS staff would be very comforting for an easy change. In case of temporary redundancy of rail tracks due to maintenance, NS organizes snelbuses (through touring agents) as a feeder between the two stations. They are easy to access too. Hence, as a general suggestion, while travelling as a group of 6 or 7, there's no or very little difference between the Flixbus and NS, and one can save 50 min of travel time. For solo travels, Flixbuses are more economical and are comfortable too, but do come with some unexpected delays and delayed arrivals at times. There's also a luggage constraint on Flixbus, wherein NS edges out again. In terms of bicycles, Flixbus allows to accommodate two normal bicycles behind. I have not come across about this in the NS. When NS goes on strikes, Flixbuses come in handy, so do be reminded that we need to book them up really fast during such events.
I liked the NS ride a tad better, mainly due to the zero hassle in comfort for a second-class train (except that they could have really had a charging port per seat). In general, a train ride is always more comfortable than a bus ride, this being said from an ardent bus fan who's also aging.
I saw the information of the locomotive online through Wikipedia, and more in-depth information is provided there.
So, this brings my first international travel review to an end,
Thanks for reading!
Hereby,
Akshay Arvind.
Read BHPian comments for more insights and information.
Source: Read Full Article