My experience owning a Suzuki Max 100 2-stroke for 1 year
Why did I choose a Max 100 among the sea of other two-strokes? Two reasons. Cost & Personalization Potential.
BHPian Abhyjith.KA recently shared this with other enthusiasts.
Passion drives us to do a lot of things. Passion makes us reason away our chronicles, however irrational and illogical they may be. But at the end of the day, it's all always worth it. Always. No exceptions whatsoever.
It's already been a year. Time flies faster than one can ever ride. Time always flies fast when one does something in tune with what one desires. Even if one's weapon of choice is a dinky little 100cc two-stroke from two decades ago, who's roots trace back nearly double that ago.
The 20th of February, 2022 was when I finally took the plunge and got myself, what I call, my little conqueror. It's the 20th of February, 2023 now. Do I regret my decision? Have I been conquered by my conqueror or are we still standing side by side, hand on handlebar, looking forwards to conquering the horizon, together?
I titled this thread, 'The Reality' and not something like 'The Harsh Reality'. That in itself should say a lot. The fact of the matter is, although there were harsh moments, I'd say the experience as a whole was delightful in general, with just a few caveats, that we'll get into.
For all those considering two-stroke ownership in a time when everything is talked about turning electric and eco-friendly and whatnot, my advice is to go ahead with it. My dad used to own a Maroon Red Yamaha RX 100 that he purchased brand new in the 90s after getting started with his career in the government. He sold the same motorcycle in the early 2000s, around the time I was born, after years of blissful, trouble-free ownership, despite constantly pushing it to its limits throughout his ownership of it. Why so? The possibility of two-strokes getting banned.
Fast forward about 20 years, his son goes ahead and gets himself a two-stroke as well. Why so? The possibility of two-strokes getting banned.
It's not as simple as that. If I never had this rational or irrational thought of our wonderful machines getting banned, I'd probably have been more patient and got my set of wheels later when I could comfortably do so. But oh no, a twenty-year-old college student has to go ahead and do it, lest his passion becomes history in a matter of time. Does he regret it? Not in the least. In fact, he's proud of himself for it!
Two-Strokes are simple machines. That is a fact. But at the end of the day, we all start out as amateurs and require guidance from those in the know. I have been tremendously lucky in this regard. My friend who's into two-strokes himself, helped me a lot in getting my bike and teaching me how to use it properly. I have also been lucky in finding good mechanics who can work on these machines. Probably the fact that I live in the great city, has been a lucky guiding factor as well. For those interested in two-stroke ownership, ensure you always have a knowledgeable helping hand before you take the plunge. This is practical thinking for what may be an impractical affair.
Why did I choose a Max 100 among the sea of other two-strokes? Two reasons. Cost & Personalization Potential. Currently, the Max 100 is the most affordable two-stroke you can find that's a proper motorcycle and not a moped or a scooter. Good choice for a college student on a tight budget. When it comes to Personalization Potential, the bland, demure nature of the Max 100 and the fact that they were mass-produced and quite common makes me feel not guilty about altering it to my tastes and making it my own. My goal from the beginning was to make it, my blank canvas for showcasing my creativity. I'm just slowly getting started on that front. Automotive design is a topic close to my heart.
I wouldn't feel particularly comfortable in doing the same to an RX, an AX, a KB, or any other two-stroke that's becoming rarer than ever and are historical treasures. Sure, RXs aren't particularly rare, but I feel they were so well designed from the factory itself that they don't require any design changes whatsoever. As far as I've seen, most modification work on RXs only make them worse-looking. The only exception to this rule being RXZs. But those have shot through the sky in terms of market value.
Yes, the Max 100 isn't really a looker at all when it's bone stock. That's why I have personalised mine. She's a beauty to my eye in her current state. She's got a piano black Yezdi Roadking's headlamp dome with the grill, she's currently sporting timeless RX mirrors, she has the round tail lamp of the first generation AVL Thunderbird, her seat has been beautifully reworked in a step-pattern, with a hand-stitched coffee brown cover with gold diamond quilting. To go with the seat is the beautiful tank cover, again hand-made with the same material and colour as the seat. The brown beautifully complements the dark forest green shade of the tank and side panels, whose stickers I have removed for a clean, classic look. Apart from all this and the side-box, she's bone stock in every other regard. But these little things in themselves, make all the difference. I have further plans for a wonderful paint and colour scheme that I'll update here as well.
As for the mechanicals, I had the engine fully opened and rebuilt from the ground up, earlier this January. It was about time that it required it. Let's talk about the backstory.
When I bought my bike last year, I unknowingly ran it for about 15 kms without oil, the folly being pointed out by my friend on meeting with him. As far as I know, this has been happening under the previous owner as well too. He was relying on the oil pump, but the pipelines were in fact, not even connected. You can read the full story on my first thread of the same. As a result, the engine had indeed taken quite a beating. But on the application of pre-mix in the tank, she soldiered along like nothing had ever happened. That's how my bike runs to this very day.
Then in July last year, she seized up on a slightly longer trip. Dropped off my friend at an NCC camp and while returning, she went. I was pre-mixing 40ml of 2T oil per litre of petrol and wringing her neck on the highway. It was 8 PM and the highway near the airport was free and I was making the most of it. Right when I was descending the ramp, was when she cut out. In hindsight, I should have simply pulled over and waited for some time for her to cool down. But I tried roll-starting her again and again as we were already coasting at speed. Then I finally pulled over and waited for 10 minutes for her to cool down. Lo & behold, she fired right back up on the second kick!
But my joy was short-lived since she would go fine for about a kilometre or so, and then cut out again, making me wait for her to cool down again and again. Then, I thought that's that and I had a heavy bill on my hands.
When I took her to my mechanic, he simply took out some 20W40 and poured it in the tank, and told me to ride her as it is and that it'll be fine. He told me to add extra 2T oil in the tank and she'll keep on going. No need to open up an engine that can still run. I didn't believe him, but when I rode her after that, she went on as if nothing happened! I kept the speed below 50 kph for about a week and after that, I let loose and found out she was still going fine as if nothing happened. What a pleasant surprise that was.
The next fill-up came and I was thinking of the oil ratio to use. Since 20W40 is thicker than 2T, I thought I may have to add 100 ml/litre to match it. Tried it and it worked a charm. For all the seniors reading this and possibly facepalming or shaking their heads in disbelief, yes, this is exactly what I did and this is how I rode her for the next seven months. And no, I never experienced spark plug failure at all. But I still kept a spare plug and plug spanner always with me, just in case. I rode her like this, every single day for my daily commute. And even on long trips. Including my trip to Pondicherry that I wrote about here. Yes, on a semi-seized engine. Long live two-strokes!
Then, this January, while I was on my way to college, she suddenly started bogging down (The same way she feels when she runs out of fuel). But I had filled her up just the previous day. She slowed down gradually and stopped responding to my throttle inputs. Then, I looked into the mirrors as I pulled over only to be able to see nothing behind me. That's how much smoke was behind me. I instinctively knew that was the end of the line. Thankfully I was just 4 kms from college and pushed her to the campus. After college, we used my friend's Classic 350 to tow her to my mechanic, who confirmed what I already knew. So, there she spent another week getting fixed.
The tragedy here was that I couldn't participate in the Vintage Rider Motorcycles 2023 Event. The ride to spread awareness on drug addiction and child abuse. The same ride in which more than 1500 classic motorcycles participated, the majority being two-strokes. I had already registered for participating, but now, couldn't bring her as she couldn't be made ready on time. I ended up going to the event anyway, as a visitor. Trust me, it's truly painful to be in such a situation.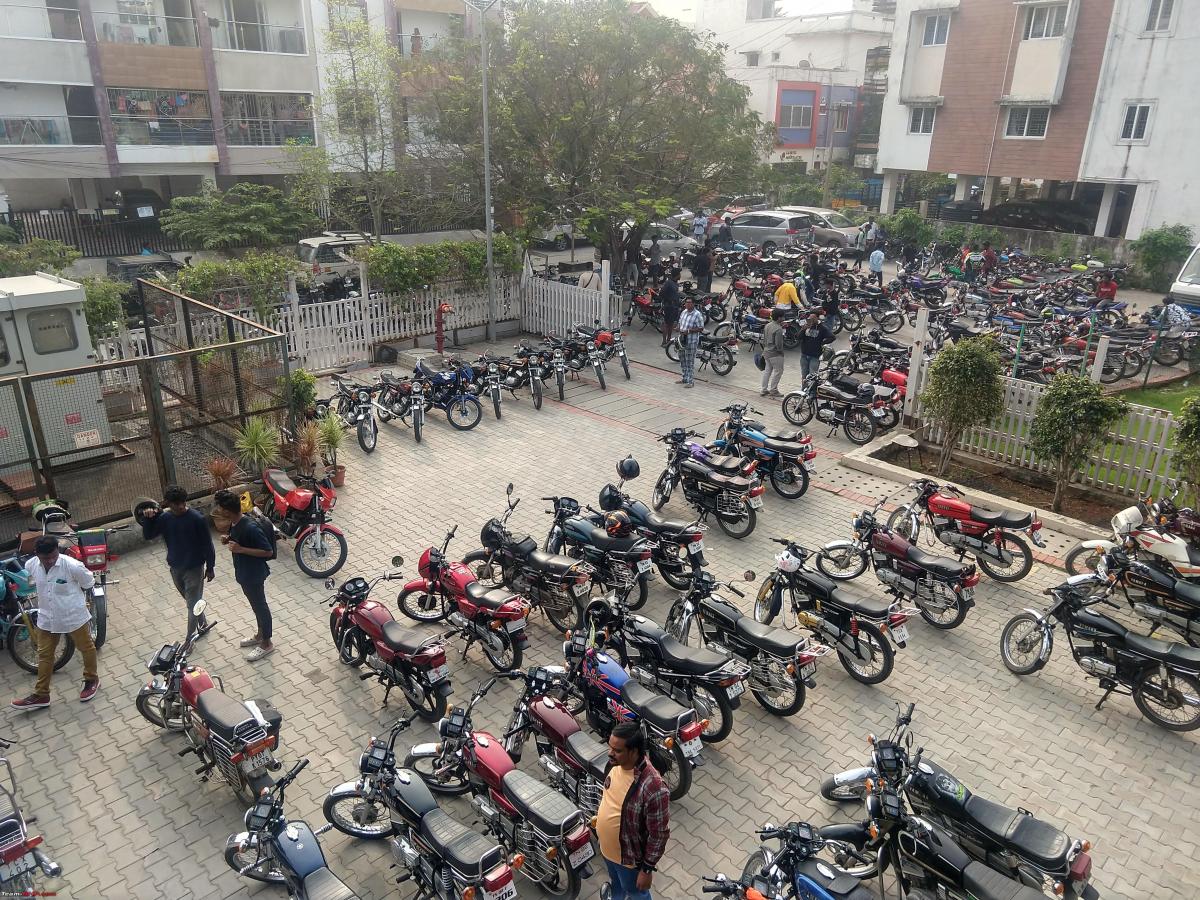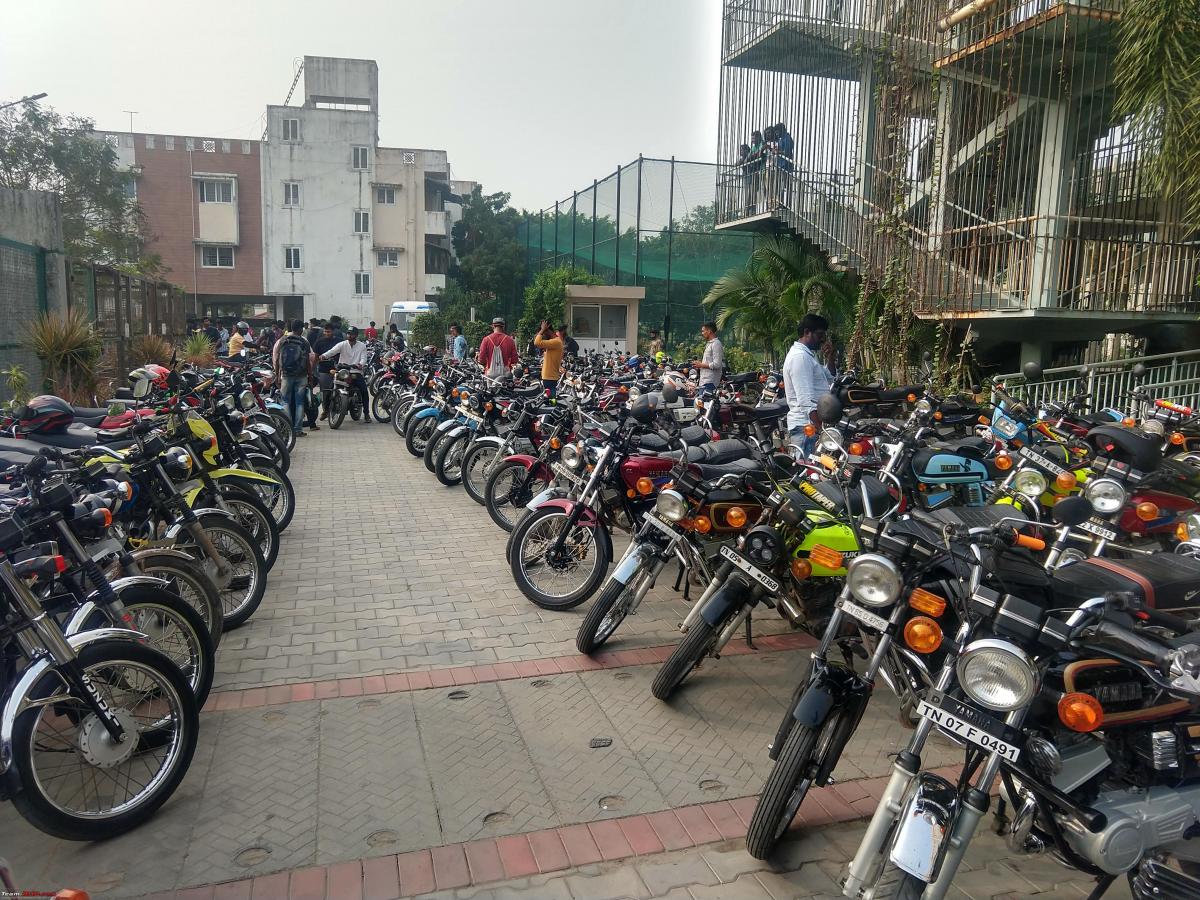 Group rides are just so soul-satisfying!
Let's take a look at some of the highlights :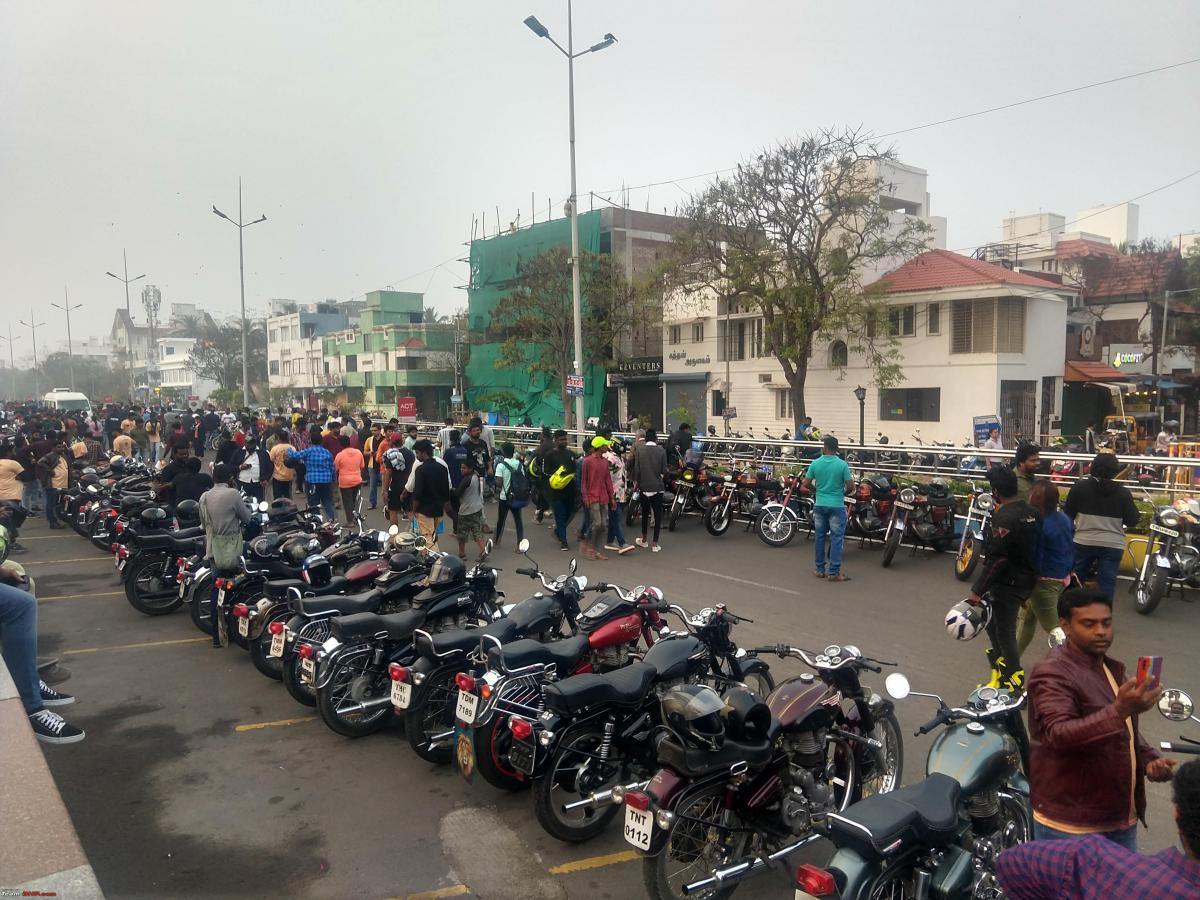 A sea of Bullets, complemented by the mythical Yezdis.
The Jawas. Close to my heart.
Two-stroke scooters. Vespas and Chetaks. Unfortunately no Lambrettas this time. Beauties.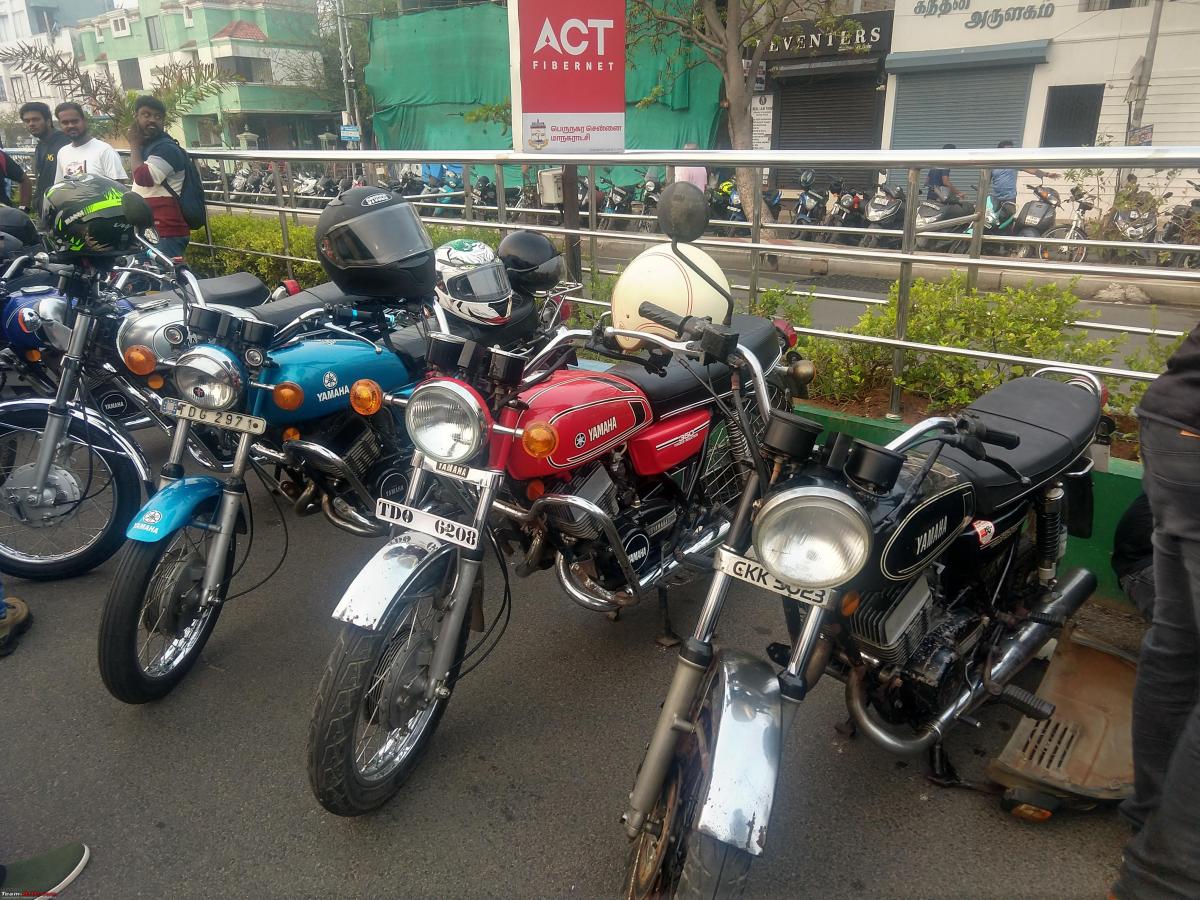 The Yamaha RD350s. Possibly the greatest motorcycle ever manufactured in India. God knows what they were thinking when they decided to bring this masterpiece to our shores. I'm truly glad they did!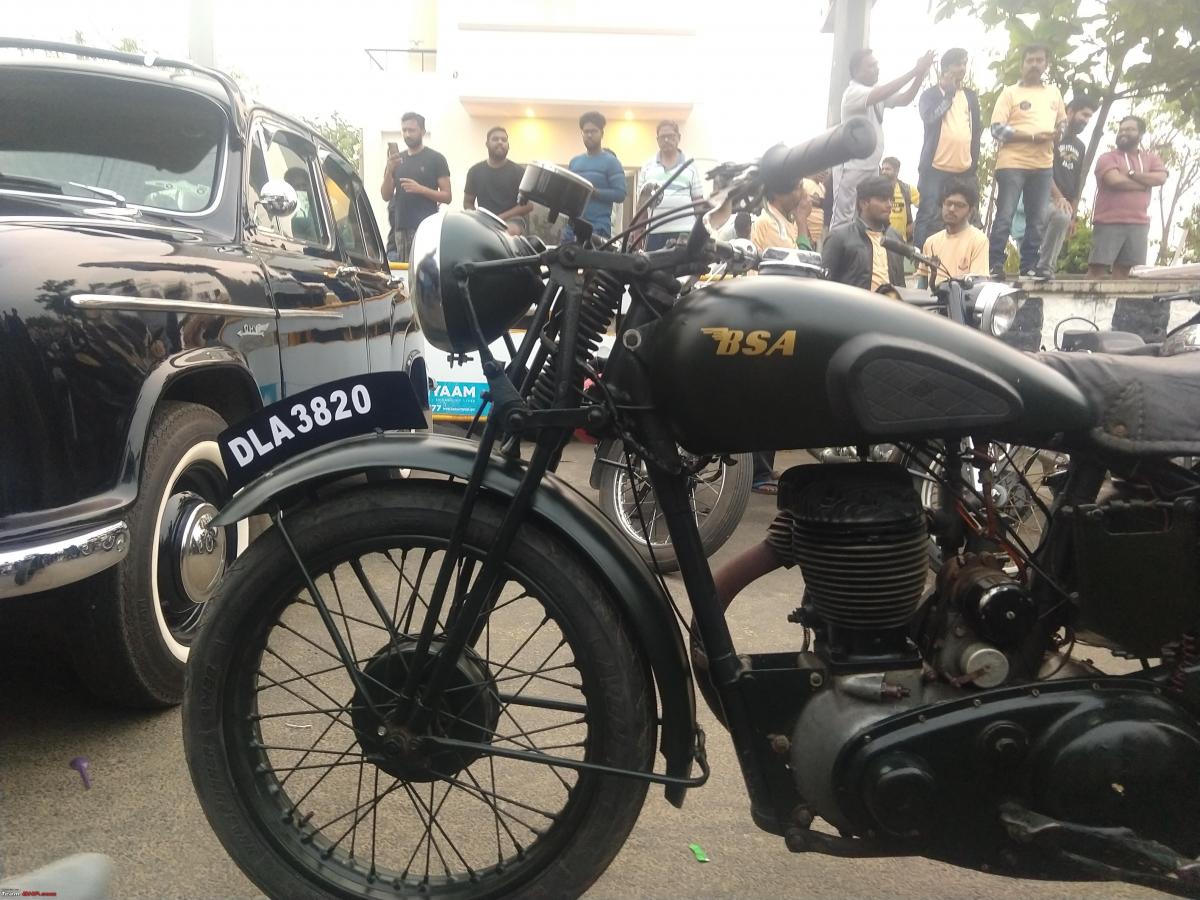 The Vintage BSA along with the good old Mk1 Amby. Aesthetics.
The Suzukis, Yamahas, Hondas and Kawasakis! Japanese gems.
On the positive side, my pride & joy was getting a new makeover! I went and purchased the aforementioned Roadking Headlamp and Thunderbird Taillamp and gave them to my mechanic for installation. The headlamp is a direct fit while the taillamp requires slight modification on the rear mudguard, but something pretty easy to do. She was running Honda CB Shine mirrors at that time. So I switched back to the stock, rectangular Max 100 mirrors. I also got some leatherette handle grip wraps in the same brown colour as the seat to complete the look. The wraps look beautiful, as well as keep your palms comfortable. The stock grips when used bare, always result in calluses on the palms and hurt to ride for more than 100 kilometres straight.
The Roadking Headlamp installed
The Thunderbird Taillamp installed
As for the engine itself, I got quite a lengthy bill. But that was expected. When it was opened up, it was running a cheap local piston on the 0.25 mm size, meaning it had been rebored once and had been run on quite a tight budget. So the 40k kilometres on the odo when I got her may as well have even been 140k. I wouldn't be surprised either way. The crank was severely imbalanced and the rod was moving the wrong way. There was lots of play on the clutch bell as well.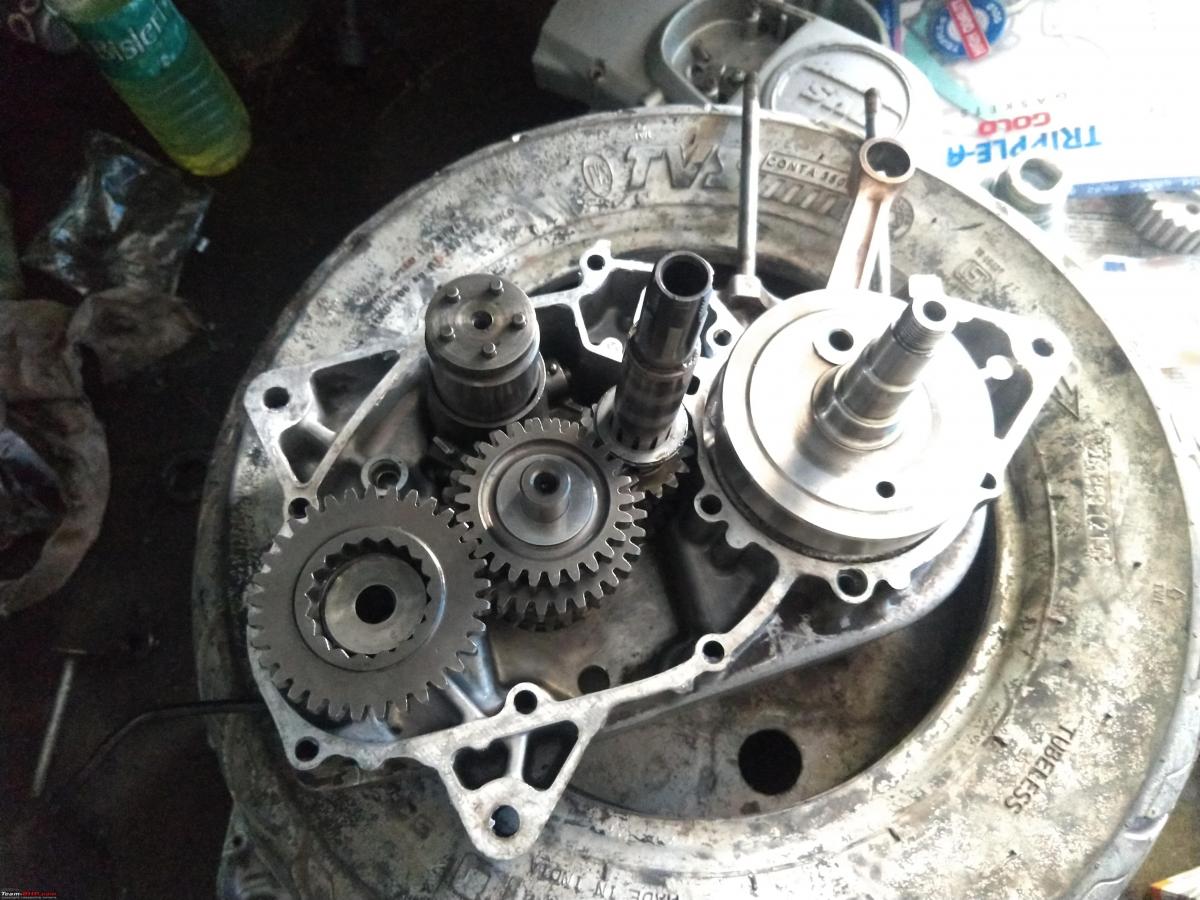 The engine after assembly has been almost done. Just bolting the head back on.
While reboring and lathe work on the crank and clutch is not too costly as a whole, the other parts just kept adding up. I usually don't do this, but for the sake of helping out those who want to start on the two-stroke journey, here's the summary :
This is the initial cost for refurbishment right when I bought her last year.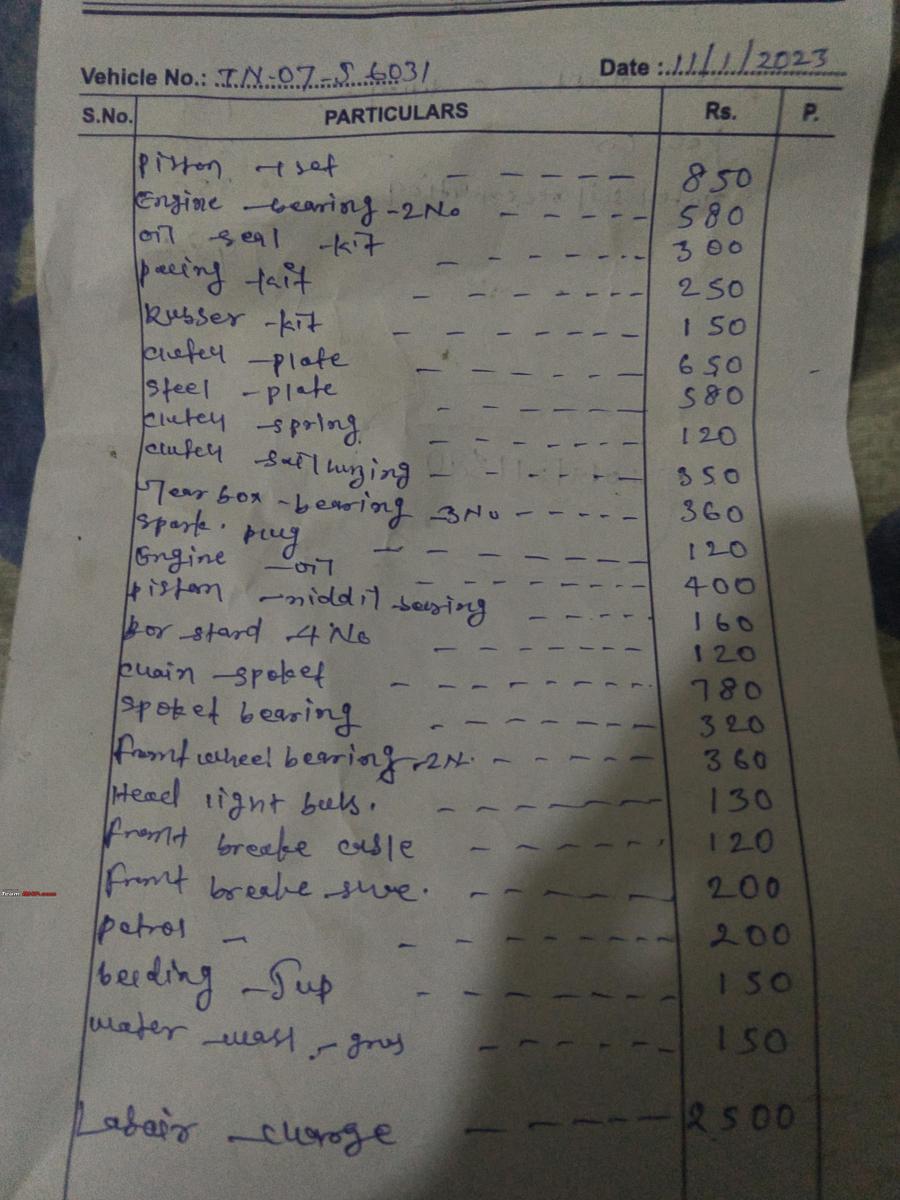 This is the cost for rebuilding the engine this year. Including lathe work, it totaled to 11.39k. In hindsight, I could have saved a lot of money if I had gotten it fixed at the earliest. They say the wise learn from others' mistakes. Hopefully, my experience helps aspiring two-stroke enthusiasts know the reality of two-stroke ownership. On other machines, the rates will vary for sure.
Now, she's running a 0.5 mm Sam piston and the engine has been reworked thoroughly. Whenever you rebuild an engine, it's important to run it in properly and carefully for about 1500 kms. My mechanic suggested 500 kms is enough, but I felt the engine still had more of opening up and freeing up to do even after that. But after I passed the 500 km mark, I did start slowly opening up the throttle more and more. She's still a treat to ride, save for some jerking during coasting, owing to what I guess, is the new and tight piston that'll eventually loosen up and settle in.
For those who desire to start the two-stroke journey, let's talk about actual running costs. So far, I haven't talked anything about costs before. But my calculations say I have spent right about 45k on my bike including the purchase, restoration, document renewal, and rebuilding the engine, as well as for the personalizations. If we take the personalizations out of the picture and just visualise a bone-stock motorcycle, then we end up with what is in fact, quite excellent value for money. This is the figure for one year. She's quite economical on fuel and returns 40-50 kmpl in the city depending on how gentle I am with the throttle, and almost always gives 60 kmpl plus on the highway. Service costs depend on your mechanic. The sheer number of these bikes still running around fine, despite being in completely neglected condition with nothing else other than the engine working on them, is a testament to their toughness. However, you have to follow a strict maintenance schedule if you want to keep the machine pristine.
This is the maintenance schedule I personally follow :
Every 2500 kms, change the transmission oil, clean and lubricate the chain, and clean or replace the air filter.
For every 5000 kms, do the above, as well as do a full carb clean, get the silencer cleaned, and replace the spark plug. Check the brakes if they require work on them. Do it as and when required.
Replace the clutch and throttle cables once every 6 months as they are prone to snapping and giving way without warning. Happened with the clutch cable already for me. Better be safe than sorry. Similarly, replace the fuel pipes once every six months.
Routinely check the tyres for wear and maintain good tyre pressure. I usually keep 25 PSI at the front and 35 PSI at the rear and always use Nitrogen. I do this once every two weeks at the fuel station.
Always wipe your pride and joy clean with a microfiber cloth every morning. You won't have to do water washes this way. Lesser chance for rusting. On the shiny parts, you can use chalk powder and the cloth on occasion, maybe once a month, to maintain the shine.
I use 40 ml/litre of 2T oil as pure pre-mix in the tank in the city and 70 ml/litre on the highway for long periods of fast cruising. This applies only for the Max 100. I don't substitute 2T oil for 20W40 or 20W50 like some people do, but may give it a try one day. I always use properly branded and contained 2T oil that come in 500ml bottles and not the loose kind in fuel stations. I already wrote about that on my other thread on touring.
Do all of this consistently and your little two-stroke will serve you well for ages. Mind you, different bikes require different maintenance schedules, but for the Max 100, this works well, as far as I've seen. It always starts up every morning on the second kick and serves me well as my daily ride. Just make sure it's properly warmed up before letting the throttle loose.
As far as the documentation is concerned, I never faced a single hiccup in getting the Fitness Certificate, Pollution Under Control Certificate, or insurance. My bike is a lifetime tax vehicle, so that was a blessing too. My bike always passed the pollution test with ease and I employed the services of my agent for getting the Fitness Certificate renewed till 2027. It's only an issue for bikes with long periods of expired registration. The fines have increased a lot since March last year. So, you may have to put aside money for that, depending on how old your bike is. But I'd suggest you do it immediately and always keep your motorcycle road legal. As far as what I spent, it cost me 3.5k for the FC, 1.5k for the name transfer, 1k for the insurance and 100 or 200 rupees for the PUC (Don't remember). My motorcycle now has the Smartcard RC as well.
What I've learned the most is that it's becoming more and more important to take care of our older vehicles as the quality of the vast majority of spares we find these days are on a decline. There is little to no manufacturer support and the aftermarket supply of spare parts just can't match the quality of OEM spares. Since I got myself a fairly common two-stroke and since I live in a metropolitan city, I never faced much trouble in finding spares. Facebook marketplace and groups are also a good spot for hunting rare spares, but its always advised to use these resources with caution and at your own risk. For those with rarer bikes, it's best to build a good network by joining the regional rider clubs to help each other out when it comes to maintenance and also for having fun, organising group rides together.
All in all, I'd say the journey was entirely worth it so far and has kept me always coming back for more. So yes, I'm happy to declare that I'm part of the small number of the younger generation who has had the privilege of enjoying two-stroke ownership right around the time these machines are shooting up in value. Yes, I'm truly grateful for everything she's given me. Nothing is more precious than wonderful memories to cherish forever!
Read BHPian comments for more insights and information.
Source: Read Full Article